You will love the layers in this No Bake Lemon Macaroon Cheesecake. The sweet cookie crust, creamy cheesecake, and tart lemon curd work so well together.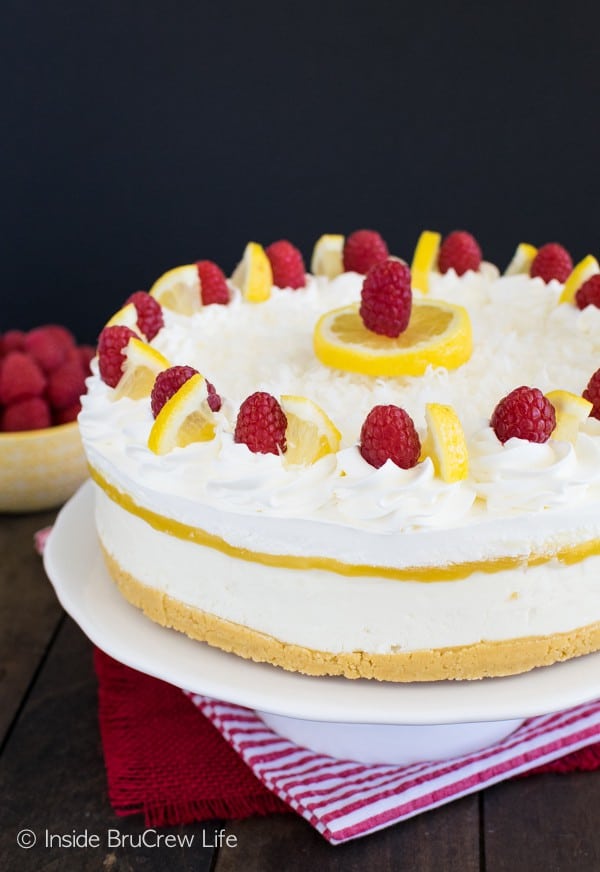 Can you believe that it is August 1st already? Summer has flown by so quickly this year! In fact, the past 7 months have gone by in a blink of an eye. It seems crazy that we have been in TX for that long already.
At least it is still crazy hot here, so it will still feel like summer here when the kiddos go back to school in a few weeks. Hot weather means more no bake desserts around here need to happen.
I have already shared 7 new ones this summer, so what's a few more, right? I mean we can always use more things like Nutella no bake cookies, right?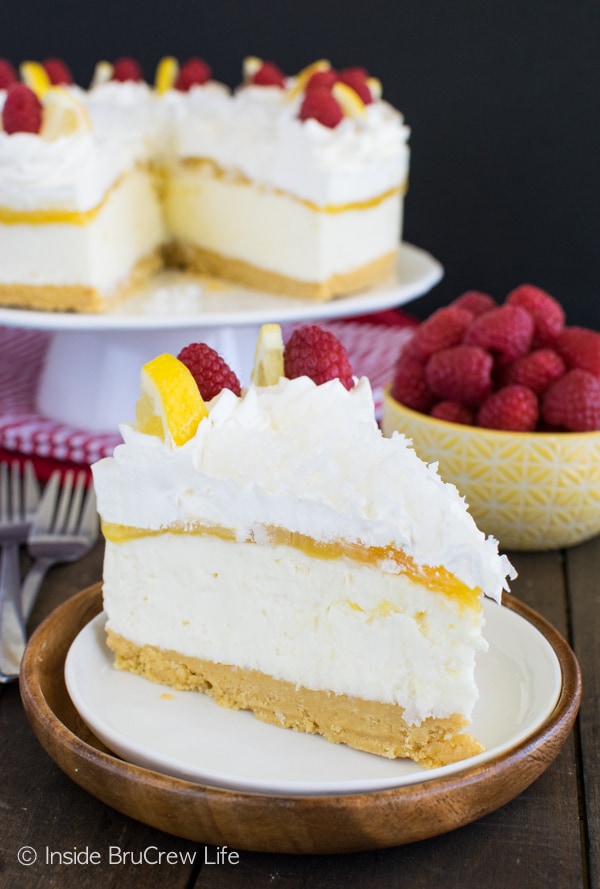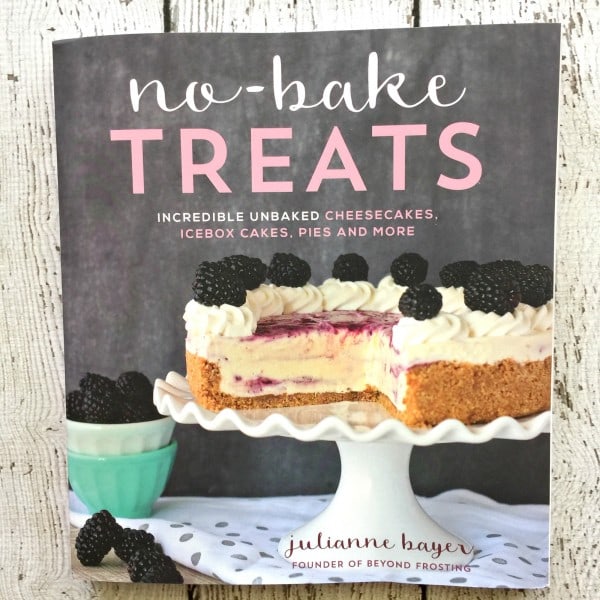 Today is a very special day. I am sharing a fabulous no bake recipe that comes from my good friend Julianne and her new cookbook, "No Bake Treats"! Julianne is seriously one of the sweetest people you will meet, and she makes and photographs the most amazing desserts!
Over the years I have accumulated quite a few different cookbooks. Some are old, some are new, some are used, some are one the shelf for looks...
But out of all those books, I did not have one dedicated to no bake desserts. Until now. Julianne's book is full of fun desserts like cheesecake, icebox cakes, pies, and so much more. And they are all no bake recipes which means they are perfect for whipping up quickly on hot days when you do not feel like baking!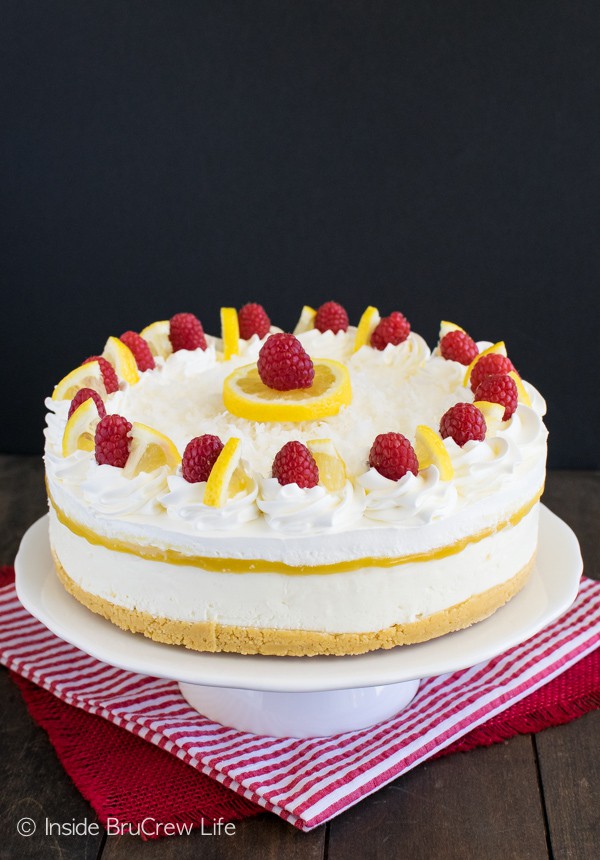 Since I'm all about cheesecaking (yes, that a word...in my vocab anyway) all the things in my life, I knew I was going to pick a recipe from the cheesecake chapter.
It was hard to choose, but this no bake lemon macaroon cheesecake won me over pretty quickly. Give me all the coconut goodness! Plus, it reminded me of these lemon coconut cupcakes that I adored.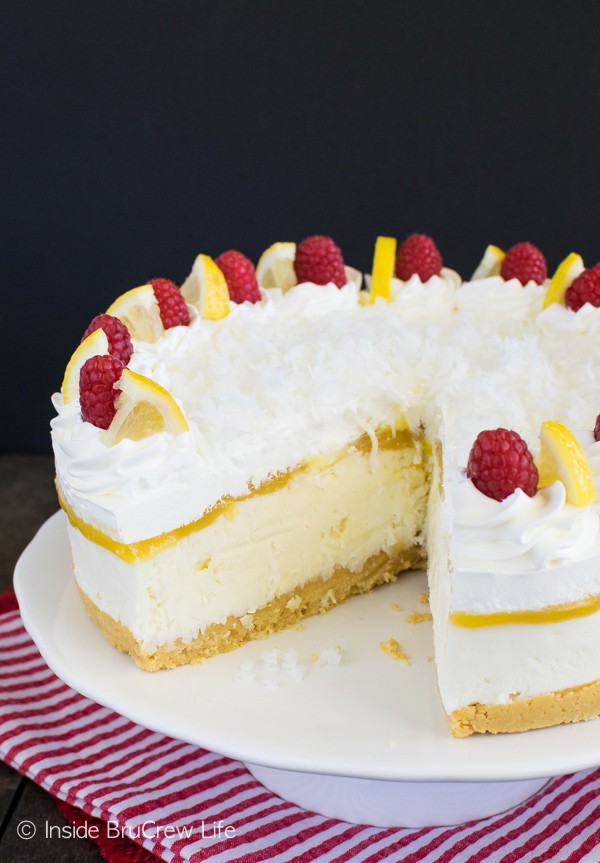 I did change up the recipe just slightly by using lemon Oreo cookies instead of Golden Oreos for the crust. I also like to see the layers in my desserts, so I pressed all the cookies in the bottom of the 9-inch springform pan instead of going up the sides.
Then I accidentally threw 4 blocks of cream cheese in my mixer instead of three. Trying to multitask and make a couple things in the kitchen at once is not the best idea.
A little bit of extra chocolate and some extracts made my little oops turn out fabulous though! To finish it off, I used a container of Cool Whip on top. What can I say? It's my favorite, but you can totally purchase her book and make homemade whipped cream like the original recipe, if you like.
I love how tall the cheesecake turned out this way. It seriously looked like a fully baked cheesecake. But you and I both know that it didn't take that much time to put together.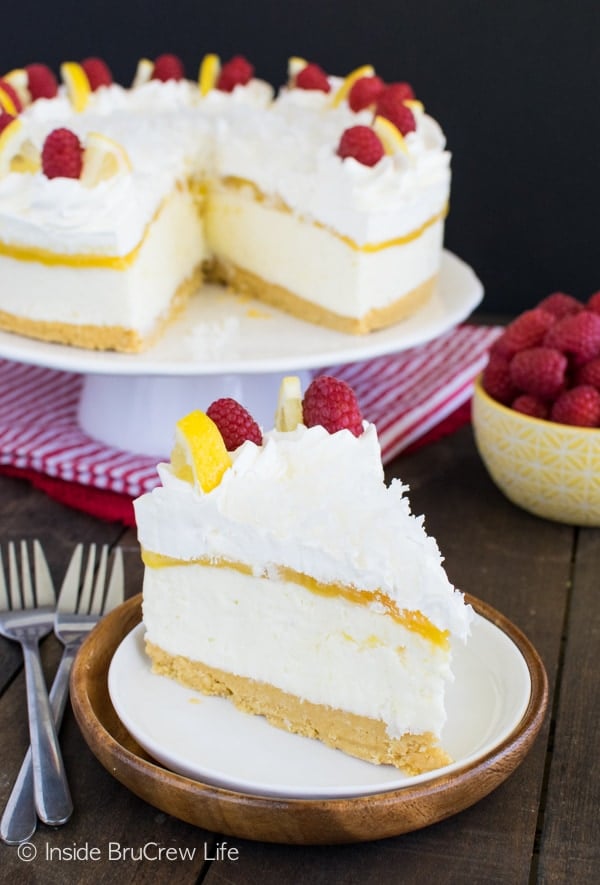 Excerpted from No Bake Treats: Incredible Unbaked Cheesecakes, Icebox Cakes, Pies and More by Julianne Bayer. Copyright © 2016. Reprinted with permission from Page Street Publishing Co. All rights
*This post contains affiliate links. By clicking on them or purchasing items, I may receive a small compensation. Thank you so much for allowing us to share products that we love and use and for supporting BruCrew Life this way. See my disclosure policy for more details.