Fluffy lemon frosting and a pocket of lemon filling makes these Lemon Coconut Cupcakes a bright and refreshing spring dessert!  These would look great on your Easter or Mother's day dinner tables this year.
*I am partnering with Lucky Leaf this year as a blog ambassador bringing you delicious recipes using pie filling.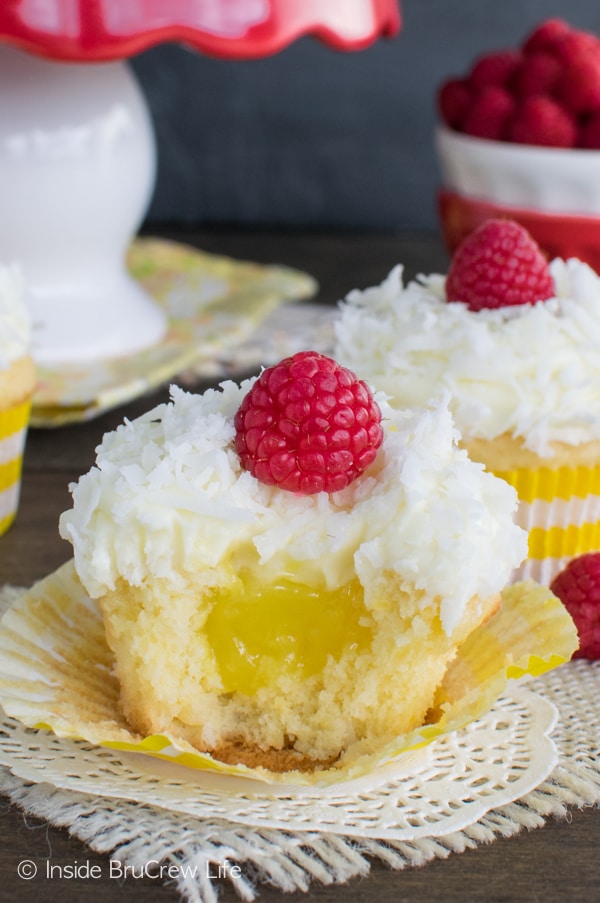 It's official.  I have gone completely gaga for lemon.  Well, as long as it is not overly tart.  My tastebuds can only handle the lemon if it is a mild lemon flavor.  Lemon treats used to not even get a second glance from me, so I have to keep taking baby steps with this flavor.
Last month I couldn't stay out of the pan of the best lemon bars. In fact, I'm pretty sure I ate most of the bars since my husband gave up sweets for Lent, and our kids think they do not like lemon.
Baby steps are needed to get them on board with the lemon goodness too, I guess. I thought for sure the mild lemon frosting and the hidden pocket of lemon filling in these cupcakes would do the trick.  Unfortunately, I still don't have them in love with coconut, so they boycotted my attempts.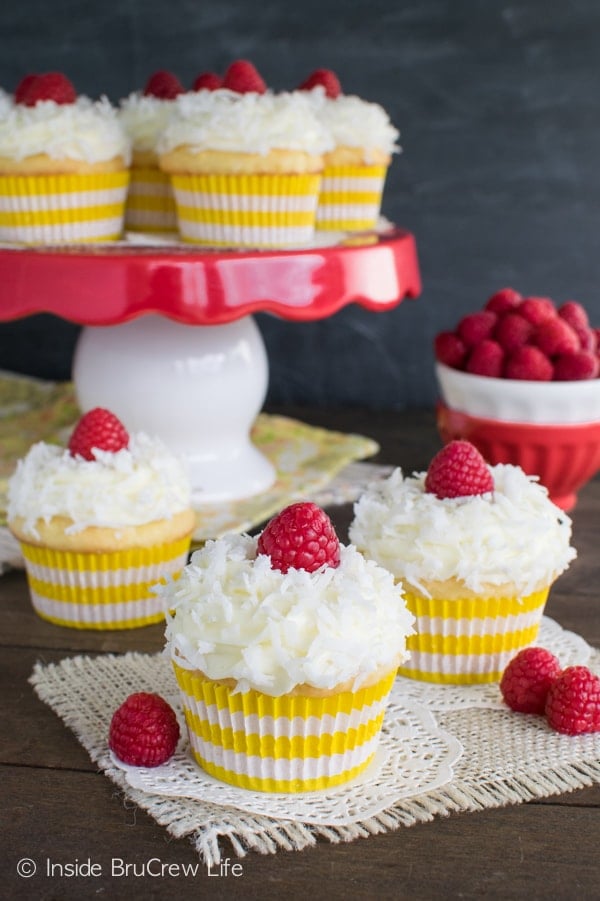 I knew I wanted to create a dessert for Lucky Leaf® using their lemon pie filling since lemon has become a flavor I like now.  Don't get me wrong, I liked it before…just not as much.  I mean last year I made these lemon cheesecake rolls and ate my fair share of those too.
Lemon is just getting a little more love from me these days.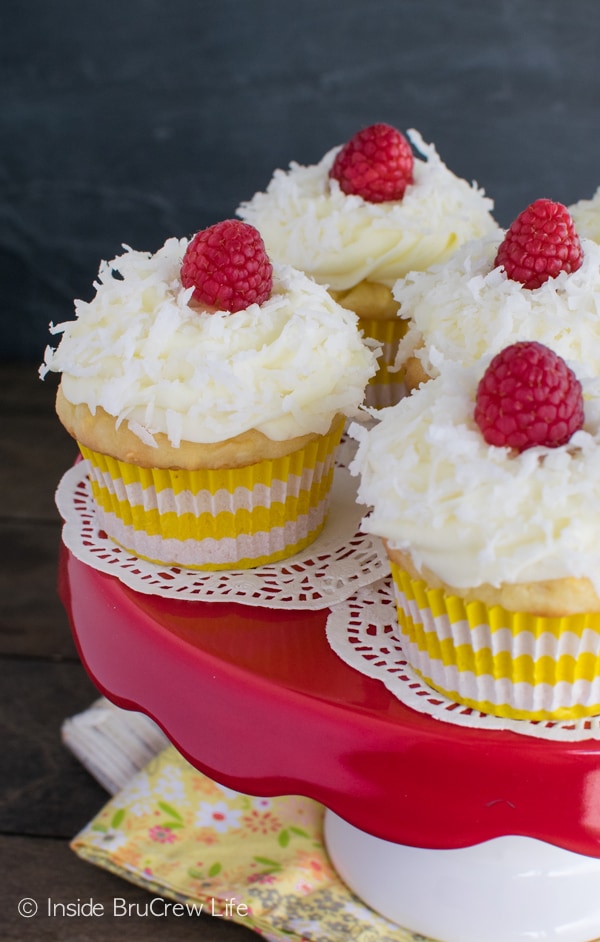 As I thought about what dessert would be the perfect way to showcase the lemon pie filling, I kept coming back to cupcakes. It has been a few months since I have done a cupcake around here, and I thought these would be the perfect flavor to carry us into spring.
For these cupcakes, I decided to marry lemon and coconut together.  Both flavors are the perfect spring flavors, so why not combine them.
Coconut milk, coconut extract, coconut pudding, and shredded coconut gives these fluffy cupcakes a great coconut boost. These are not shy when it comes to coconut goodness!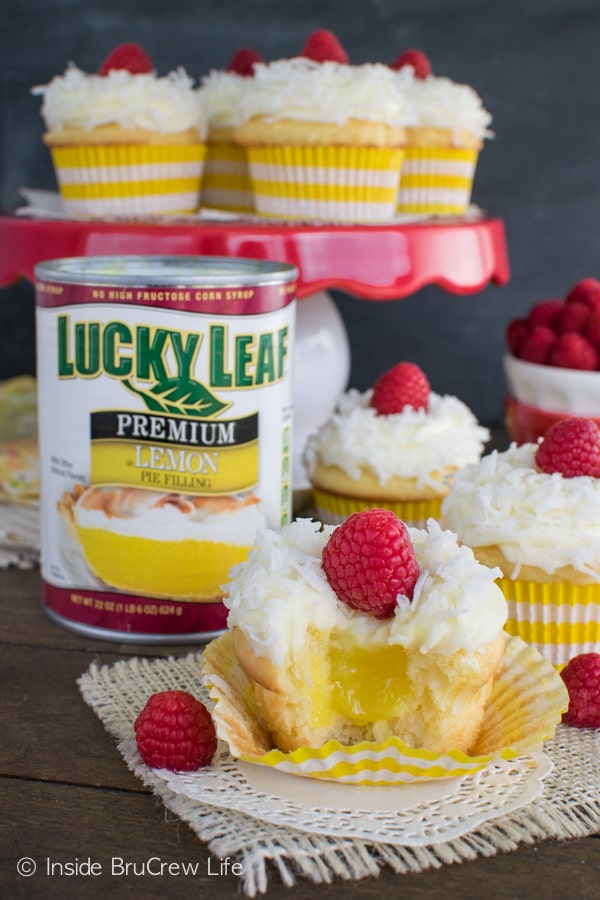 After the cupcakes were baked and cooled, I cut out the center of the cupcakes and filled them with a good pocket of lemon pie filling. And yes, I did eat a few small spoonfuls of the pie filling straight from the can.  It is absolutely delicious, so I couldn't resist it.
I also added some pie filling to the frosting to give it a slight lemon flavor.  A little bit of coconut and a fresh raspberry on top makes these lemon coconut cupcakes pretty enough to bring to any party or dinner.
Just make sure your friends and family have come over to the lemon side, or you will have extra cupcakes to eat by yourself….which isn't necessarily a bad thing.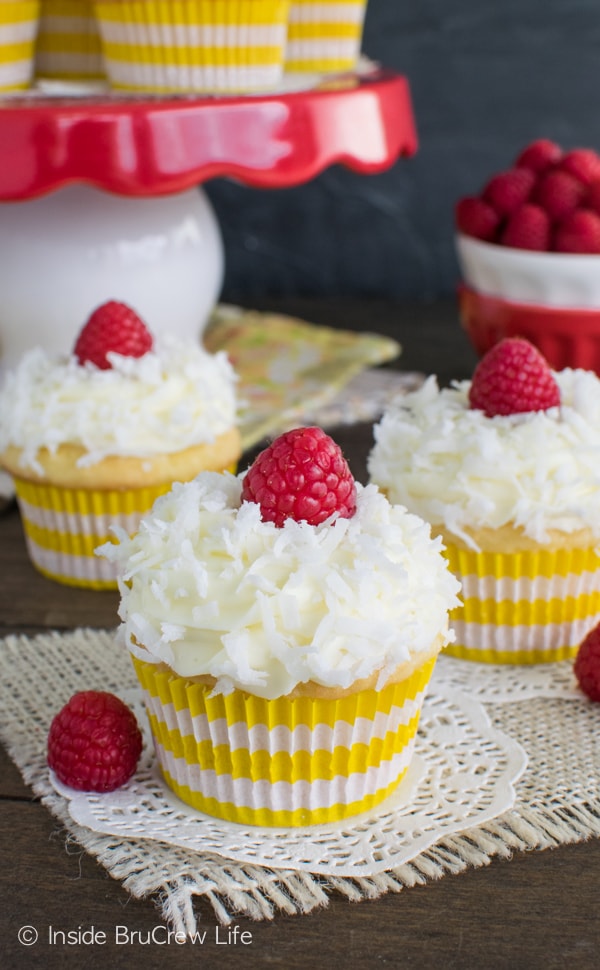 Connect more with Lucky Leaf®:
Twitter | Facebook | Pinterest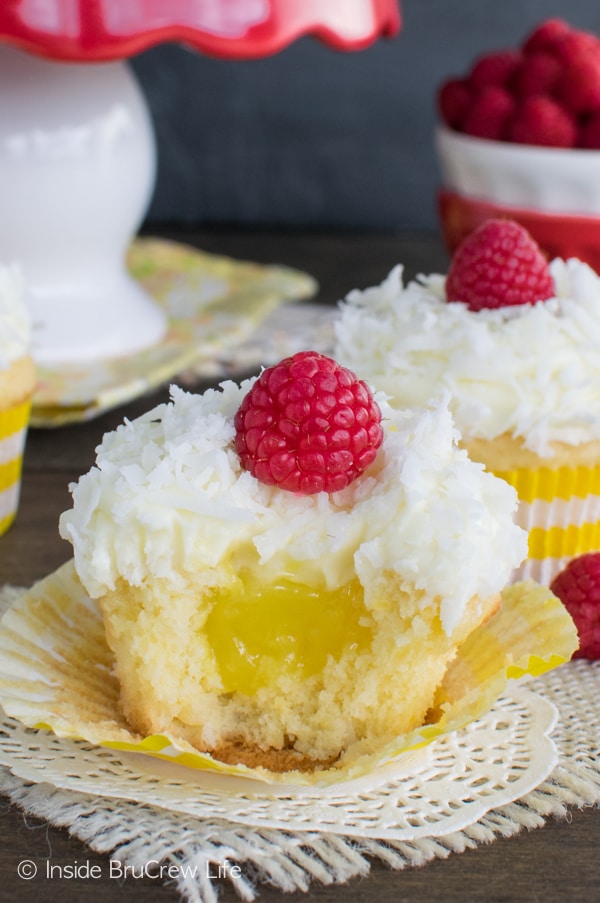 A pocket of lemon pie filling adds a fun flair to these easy coconut cupcakes. These are the perfect dessert for spring dinners.
Ingredients
For the Cupcakes

1 white cake mix
1 - 3.4 ounce box instant coconut pudding
4 eggs
1/2 cup oil
1 cup coconut milk
1/2 teaspoon coconut extract
1/2 teaspoon rum extract
1 cup shredded coconut
1 - 21 ounce can Lucky Leaf Lemon Pie Filling, divided
For the Frosting

1/2 cup butter, softened
1/2 cup marshmallow cream
1/2 cup lemon pie filling
5 1/2 cups powdered sugar
1/2 teaspoon salt
1 cup sweetened shredded coconut
24 fresh raspberries
Instructions
Mix together the cake mix, pudding mix, eggs, oil, coconut milk, and extracts. Beat on low for 1 minute, then increase speed to medium and beat 2 minutes. Stir in the shredded coconut gently.
Divide the batter into 24 cupcake liners. Bake at 325 degrees for 22 minutes. Remove and cool completely.
Set aside 1/2 cup lemon pie filling. Remove the center of each cupcakes and fill with the remaining pie filling.
Beat the butter until fluffy. Add the marshmallow cream, reserved pie filling, and salt and beat again. Slowly add the powdered sugar until it is all mixed in. Swirl the frosting on top of the filled cupcakes and top with shredded coconut and a raspberry. Makes 24 cupcakes. Store in a covered container in the refrigerator.
https://insidebrucrewlife.com/lemon-coconut-cupcakes/
Copyright Inside BruCrew Life

More lemon treats for spring parties: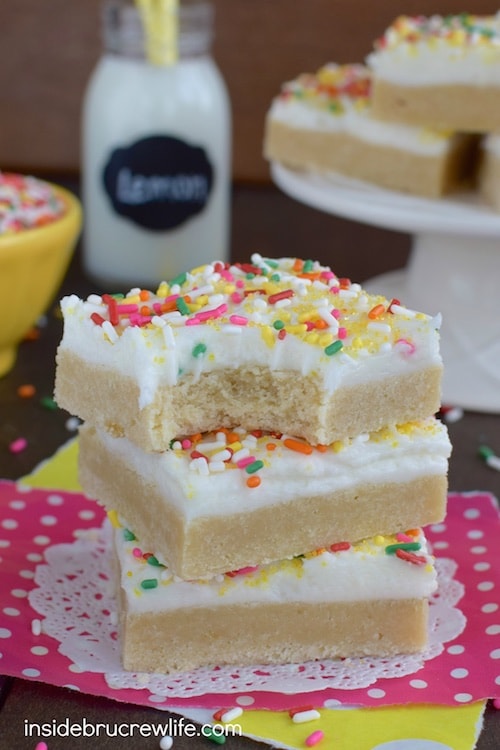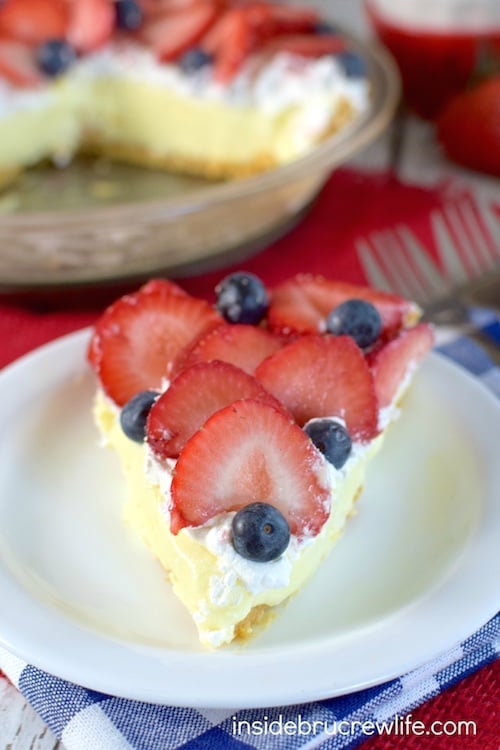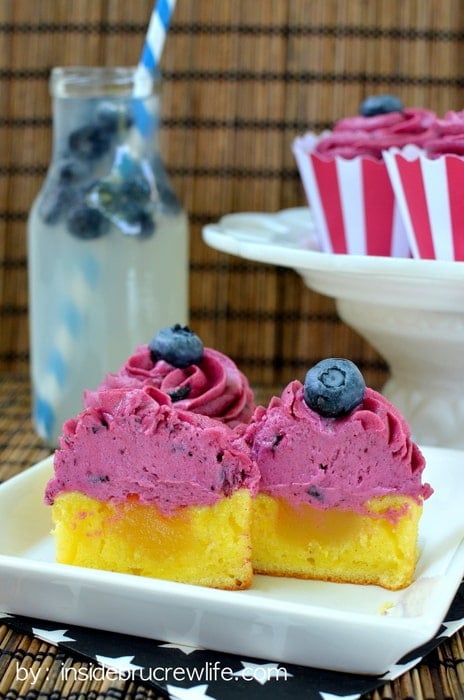 *This recipe was sponsored by Lucky Leaf. All opinions expressed are 100% my own. Thank you for letting me share products and brands we use and love. See my disclosure policy for more information.*