In just 15 minutes you can make a delicious Strawberry Pie Filling that has a vibrant red color and is bursting with flavor. This pie filling recipe is easy to make with 5 simple ingredients and is great for pies, cakes, cheesecake, or breakfast pastries.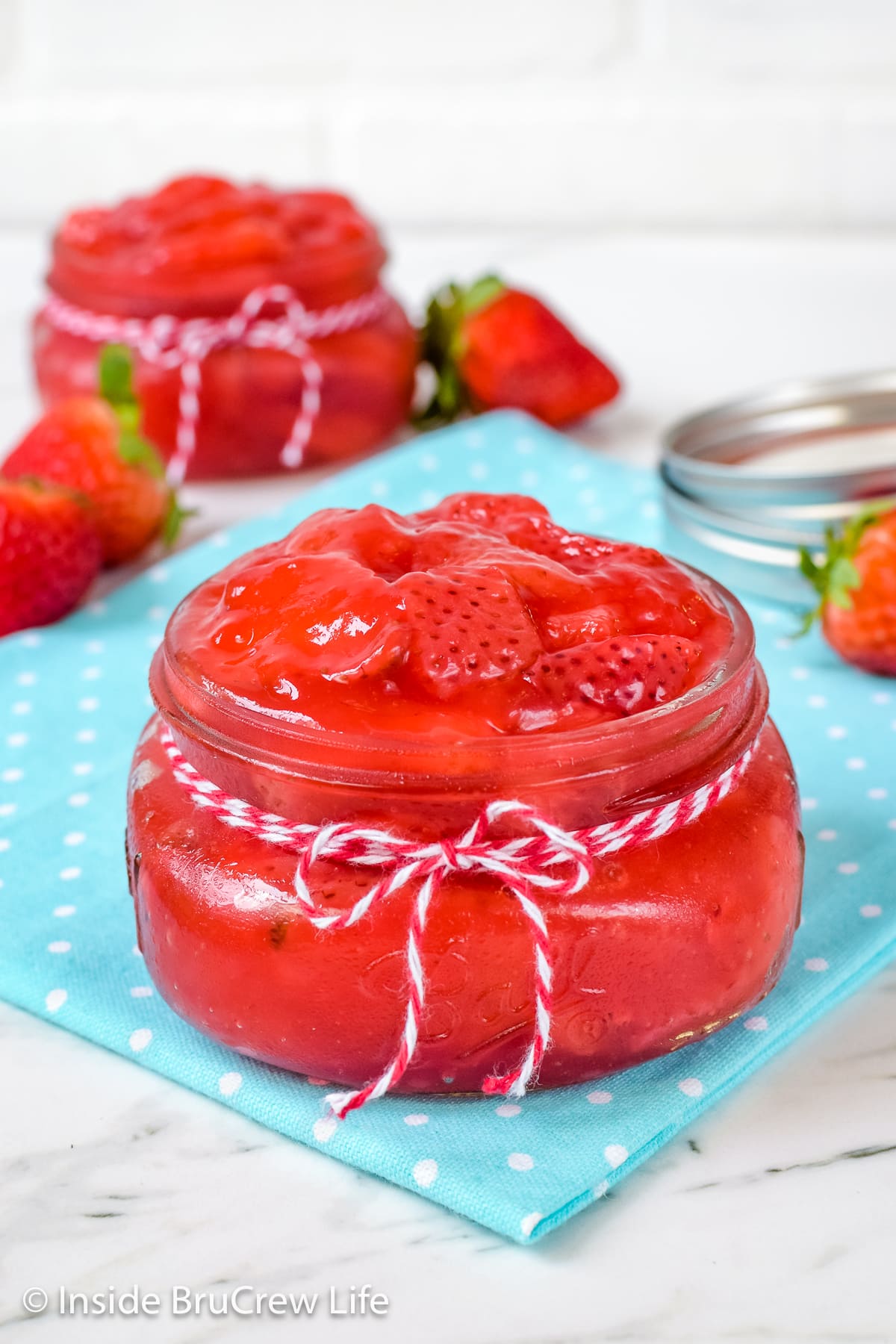 Jump to:
One of my favorite things to do when our kids were younger was picking strawberries. I'm sure the kids ate more berries than they put into the buckets. There is nothing like eating fresh strawberries on a warm spring day!
We love using those fresh picked strawberries in easy desserts like strawberry cobbler, strawberry pretzel pie, and this fluff salad. But one of my favorite things to make is a batch of strawberry pie filling.
This homemade filling is sweet, thick, and loaded with sliced berries. You are going to love how simple it is to make.
Why You Will Love Strawberry Pie Filling
Homemade pie filling is actually easier to make than you think. Most canned strawberry pie filling is full of gel and very little berries. When you make your own pie filling you can control what ingredients are in it and how sweet it is.
Easy to Make: This pie filling is easy to make in 20 minutes with just five simple ingredients. Plus, it tastes so much better than canned filling.
Sweet and Tangy Flavor: Fresh strawberries provide natural sweetness, and a hint of lemon juice adds a tangy flavor. Together, they create a delicious and amazing taste.
Homemade Goodness: Making your own pie filling offers many benefits. You can control the amount of ingredients used. Plus, you can customize the sweetness and thickness of the filling to your preference.
Versatile: Strawberry pie filling can be used in so many different types of desserts. Try mini strawberry pies, cheesecake brownies, or this lemon strawberry cake.
Freezer Friendly: It freezes well, so it is a great way to use fresh strawberries when they are in season.
Key Ingredients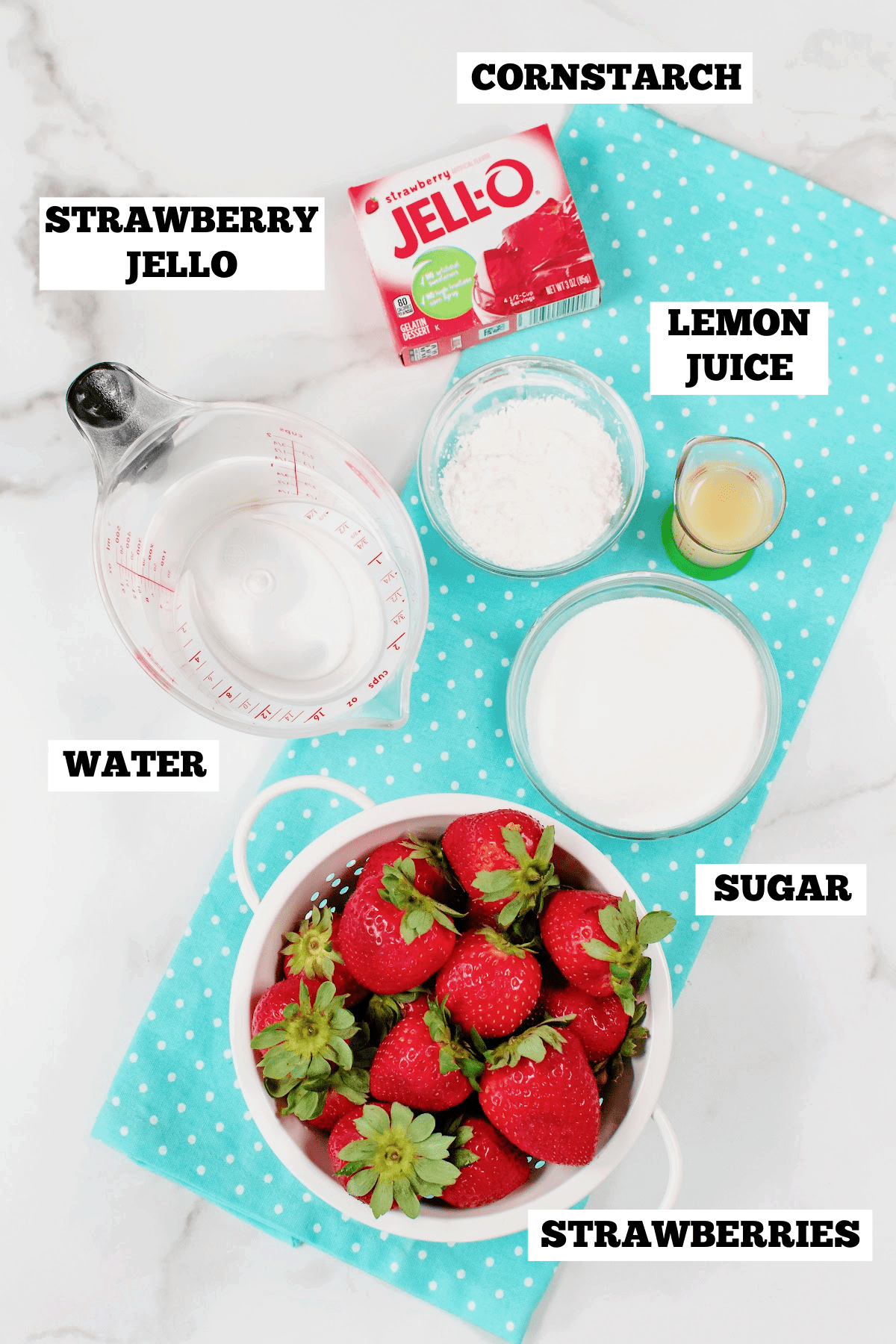 Five ingredients and one pan are all you need to make a delicious strawberry pie filling recipe. This dessert is sure to impress your family and friends.
Strawberries - This recipe is a great way to use fresh strawberries when they are in season. We like to slice them, so they are smaller in the filling. Store bought berries can be used all year long.
Lemon Juice - Adds some acidity and brightens the flavor of the mixture. Other options are lime juice or orange juice.
Sugar - Granulated sugar sweetens the homemade pie filling.
Cornstarch - Helps to thicken the glaze. Check the expiration date on the container because expired cornstarch will not thicken properly. Clear-jel or tapioca can also be used in place of the starch.
Strawberry Jello - A box of Jello helps to thicken and sweeten the filling. Plus, it adds a bright red color and intense strawberry flavor.
How to Make Strawberry Pie Filling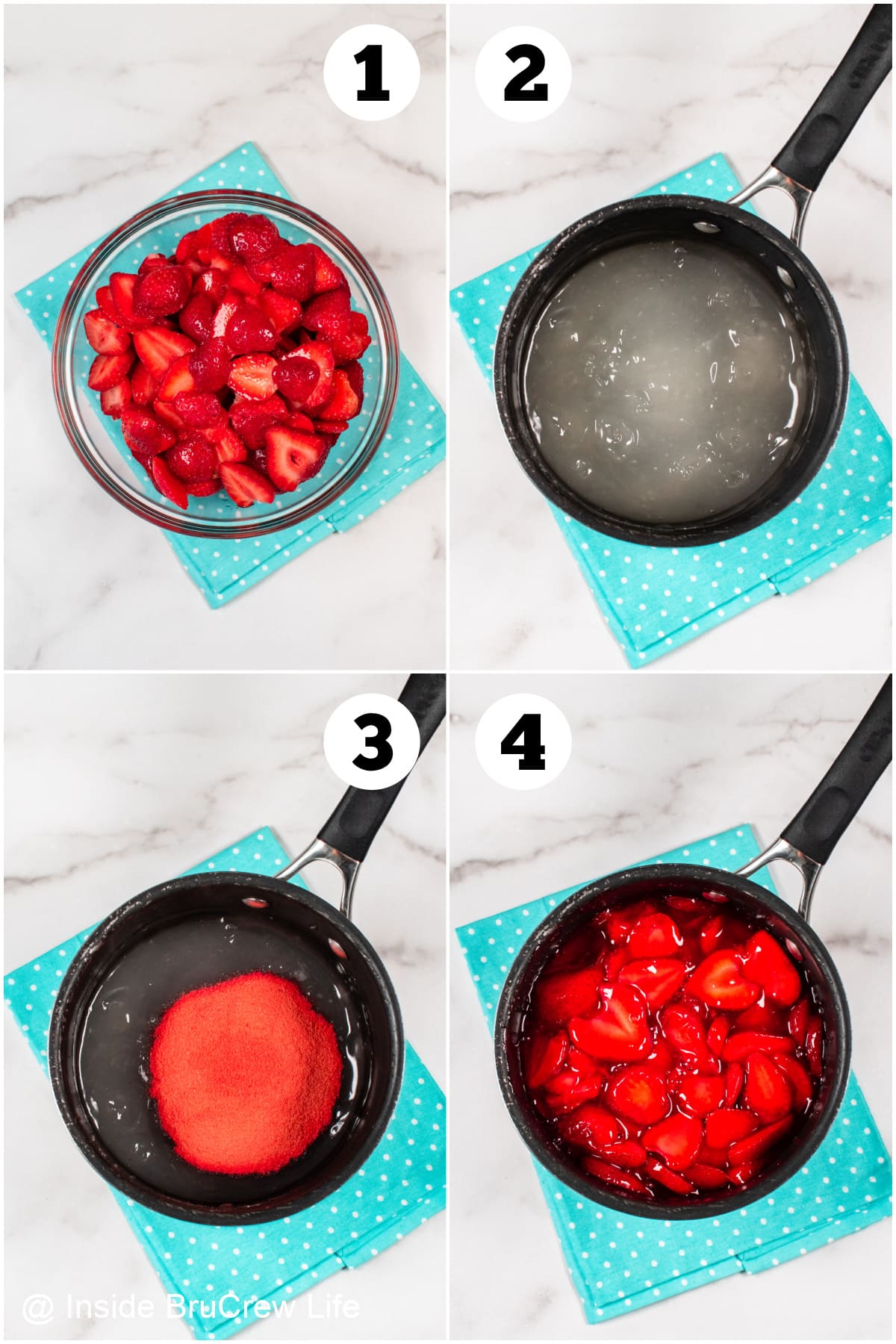 This strawberry pie filling is made in one pan and comes together in less than 20 minutes. The hardest part is waiting for it to cool off, so you can eat it.
Prep the strawberries. Wash and dry the berries, remove the stems, and cut into slices. Stir the sliced strawberries with lemon juice and set aside.
Make the glaze. Whisk together the sugar and cornstarch in a pan. Stir in the water and bring to a boil stirring constantly. Remove the pan once it bubbles and turns slightly clear.
Stir in strawberry Jello. Add a small box of strawberry Jello powder and stir until dissolved. This thickens the filling even more and gives it a vibrant red color.
Add the strawberries. Pour in the sliced strawberries and stir until everything is coated. Allow the strawberry filling to cool on the counter for 1-2 hours. Spoon into a container. Cover and chill in the refrigerator until thickened.
BruCrew Tip: Make the strawberry pie filling the night before, so it is ready to use or eat the next day. If you are making a strawberry pie, pour it into the graham cracker crusts before chilling.
Storing Pie Filling
In the Refrigerator - Store the strawberry pie filling in a sealed container in the refrigerator for up to 5 days.
In the Freezer - Spoon any leftover pie filling in a freezer safe bag or container. Freeze for 2-3 months.
Thaw it overnight in the fridge before using it. When you thaw the frozen pie filling, there may be a little bit of extra water on top. Pour it off before using the pie filling.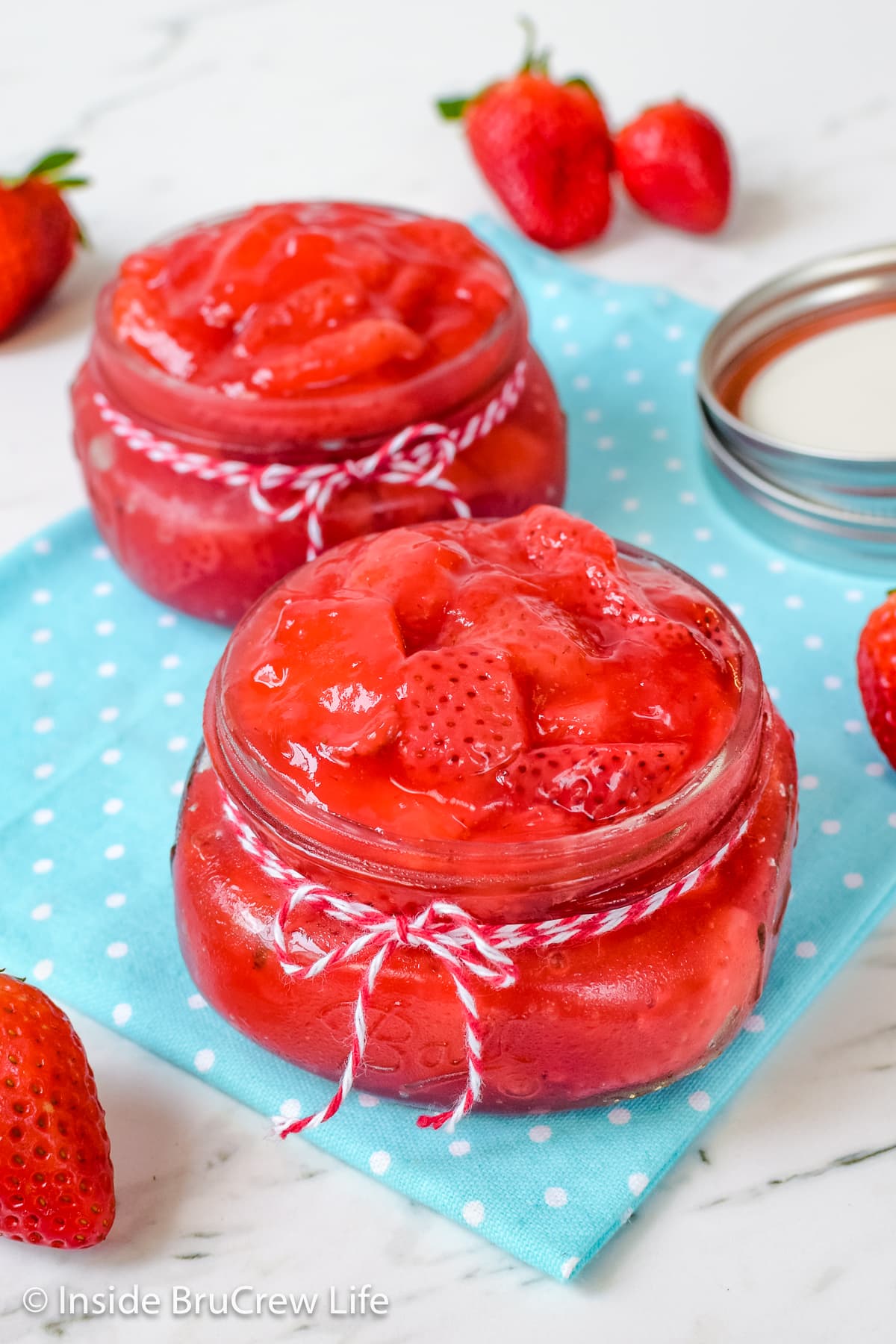 Tips and Tricks
Avoid lumps. In order to avoid lumps in your glaze, whisk together the cornstarch and sugar ahead of time. This will ensure a smooth consistency when the filling is finished.
Adjust the amount of sugar. If your berries taste extra sweet, use less sugar in the filling.
Do not overcook the glaze. Cornstarch starts to break down with too much heat. If this happens, your filling will not be as thick or firm when it chills.
Use ripe strawberries. The natural sweetness from the strawberries will shine through and give the filling a delicious flavor. Avoid berries that are mushy or moldy.
Add other fresh fruit. Use any mixture of sliced strawberries, raspberries, blueberries, or blackberries to change it up.
Prevent a skin from forming. Place a piece of plastic wrap right on top of the filling while it is hot.
Cool before using. This allows the pie filling time to set up and thicken before adding it to other desserts.
Want to can the filling? Use clear-jel instead of cornstarch, if you are going to can the filling.
FAQ
Can you freeze strawberry pie filling?
Yes, it freezes just fine. Make sure the strawberry filling is completely cooled. Spoon into a freezer safe container or bag and freeze for 2-3 months.
Can you make this strawberry pie filling without cornstarch or Jello?
Both of these ingredients help thicken the strawberry filling. If you are looking for a strawberry pie filling without cornstarch or Jello, you may enjoy this strawberry reduction.
Why didn't my filling thicken?
Make sure you check your cornstarch container for an expiration date. Expired cornstarch will not thicken as well as fresh.
Can you use frozen strawberries?
I don't recommend using frozen strawberries because they can make the filling too watery and it won't set up as well.
Can you can this pie filling?
Cornstarch is not safe to use in canning, so I do not recommend canning this particular recipe. If you want to can strawberry pie filling, you would need to use clear-jel in place of cornstarch.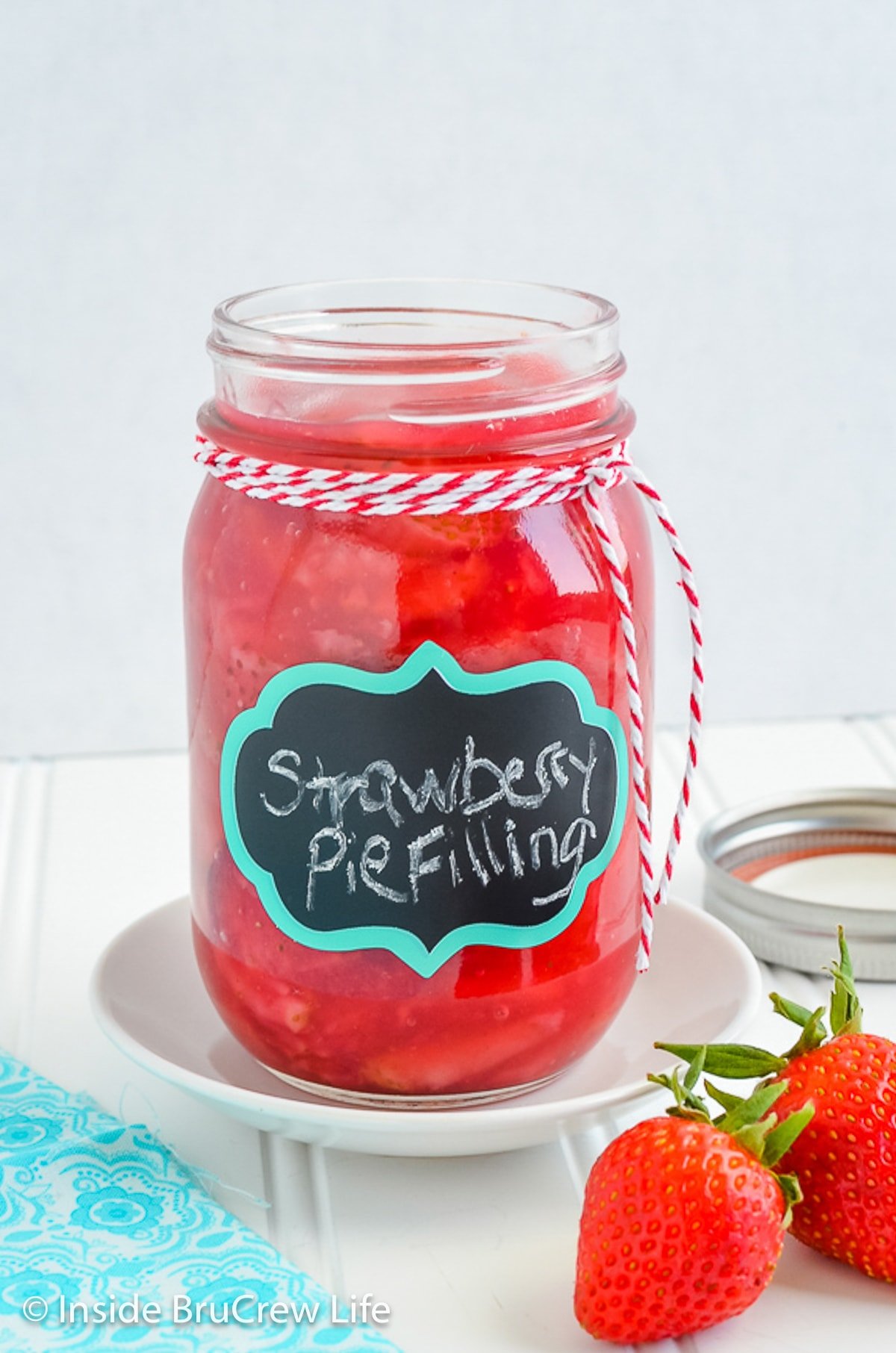 Ways to Use Strawberry Pie Filling
There are so many delicious and easy ways to use this fresh strawberry recipe. Here are just a few of our favorites.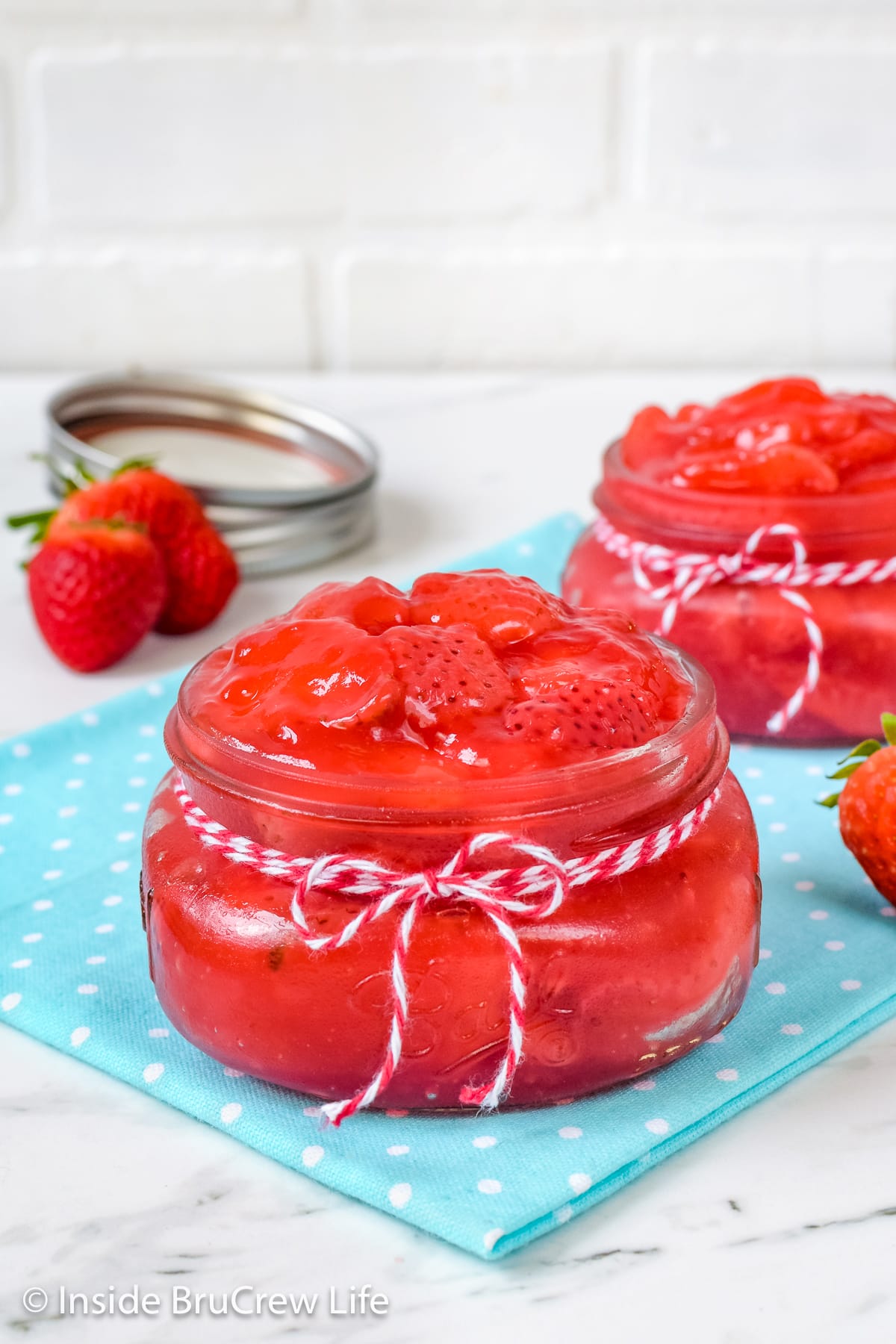 More Strawberry Desserts
Do you love a recipe you tried from Inside BruCrew Life?
Please leave a 5-star ⭐️ rating and a review in the comments section below.
*This post was first published March 2014. The photos were updated February 2019, and it was republished April 2023.