These individual Strawberry Pretzel Salad cups have the best combo of sweet and salty AND creamy and crunchy in each one. This easy strawberry pretzel dessert recipe is the perfect treat to bring to summer picnics and barbecues.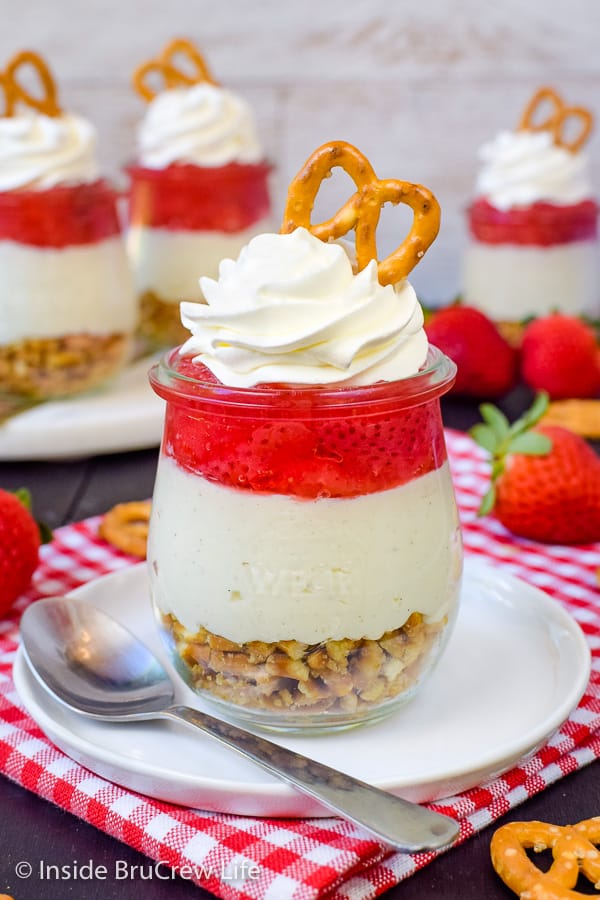 Strawberry Pretzel Dessert
Right now I'm all about strawberry desserts. A few weeks ago I made a few batches of this Strawberry Pie Filling. It's so easy to make and is perfect for eating with cheesecake, waffles, and ice cream.
Another one of my favorite no bake desserts in the summer is strawberry pretzel salad. This easy Southern dessert has layers of crunchy pretzels, no bake cheesecake, and strawberries in Jello.
I decided to combine that pretzel salad with my homemade strawberry pie filling. Holy cow!!! These little strawberry cheesecake parfaits turned out so good.
Each jar has the perfect blend of sweet and salty, plus creamy and crunchy.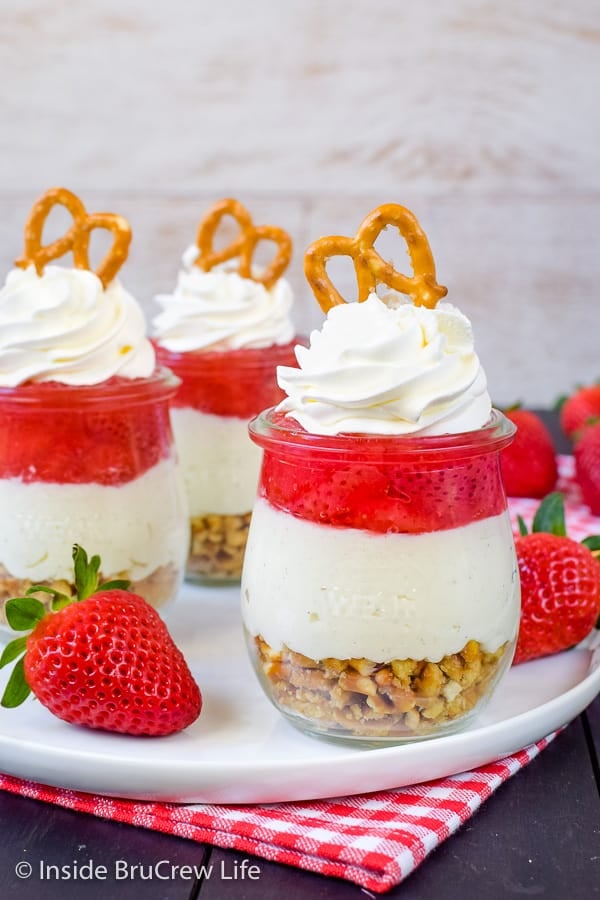 Ingredients for Pretzel Salad with Fresh Strawberries
You will only need a few ingredients for each layer in this strawberry Jello pretzel salad recipe. Find the full recipe at the bottom of the post.
For the Crust
Pretzels - smaller salted pretzels work best
Granulated Sugar - adds sweetness to the crust
Butter - holds it all together
For the Cheesecake Filling
Cream Cheese - set it out ahead of time to soften
Powdered Sugar - sweetens the filling
Vanilla Bean Paste - adds a fun flavor and vanilla bean specks to the filling. You can also use vanilla extract.
Cool Whip - gives the filling a light fluffy texture. Feel free to use this Homemade Whipped Cream if you prefer.
For the Topping
Strawberry Pie Filling - made with fresh strawberries. Feel free to use your favorite flavor pie filling instead. This Cherry Pie Filling or this Blueberry Honey Sauce would be great too.
Cool Whip - optional topping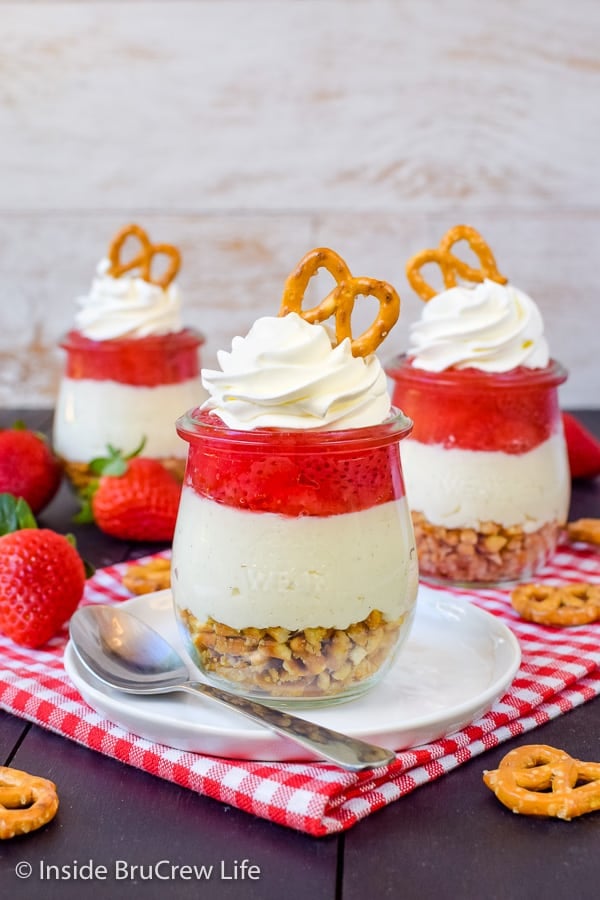 How to make Strawberry Pretzel Salad Parfaits
The layers in these easy little cheesecake parfaits are so easy to put together. This recipe makes 4 large jars, but it can be divided into smaller jars to make more desserts.
Step One: Pretzel Layer
Use a food processor to crush the pretzels into small chunks. Do not over pulse or you will end up with pretzel dust.
Mix together the crushed pretzels, melted butter, and sugar.
Spoon a pretzel layer into the bottom of four jars and set aside.
Step Two: Cheesecake Filling
Beat the room temperature cream cheese and sugar until creamy.
Stir in the vanilla bean paste and Cool Whip until completely mixed and fluffy.
Use a piping bag and large decorating tip to swirl the cream cheese layer evenly into the jars.
Step Three: Strawberry Pie Filling
Top each parfait with strawberry pie filling. Cover and refrigerate.
Right before serving add a swirl of Cool Whip and a mini pretzel.
BRUCREW TIP: Don't have a food processor? Smash the pretzels in a ziplock bag.
Storage
Refrigerator - Place the finished strawberry pretzel parfaits in the refrigerator as soon as they are made. They will keep for 1-2 days if covered properly. Any longer and the pretzel crust will start to soften.
Freezer - The cheesecake filling and strawberry pie filling can be frozen WITHOUT the crust. I do not recommend freezing the crust because as the parfaits thaw, the moisture will make the pretzels soggy.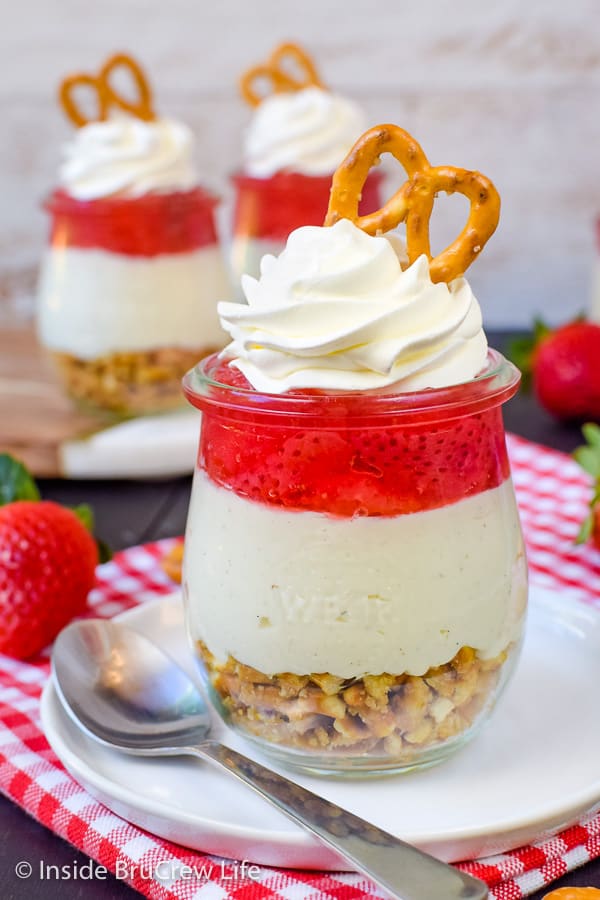 Frequently Asked Questions
Can you make strawberry pretzel salad the night before?
These pretzel parfaits really are best if served the day they are made and served within 24 hours. The pretzel crust will start to soften if it stays in the refrigerator for more than 2 days.
What kind of pretzels are best for pretzel salad?
The smaller twists, waffle pretzels, or sticks work the best in these kind of desserts because they can be crushed easily. Make sure you buy salted pretzels, so you get a good sweet and salty flavor in your dessert.
Can I use a different pie filling in these cheesecake parfaits?
Definitely. Feel free to use any flavor of pie filling that you love. Cherry, blueberry, raspberry, or peach are all delicious in these cups.
How big are these strawberry pretzel parfaits?
I used four tulip Weck jars that are about 7 ½ ounces each. You can also use small 4 ounce mason jars and make 8 cheesecake parfaits with this recipe.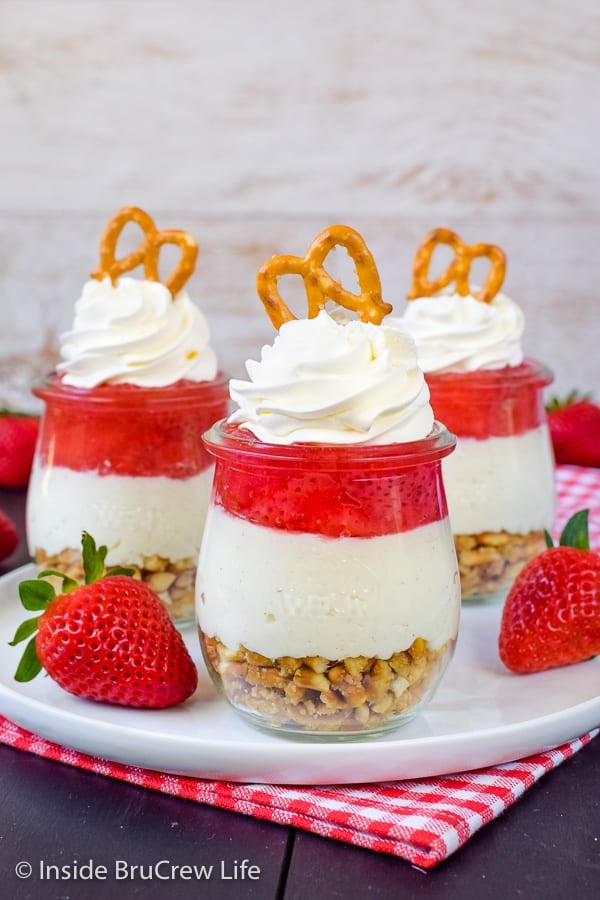 Other Strawberry Desserts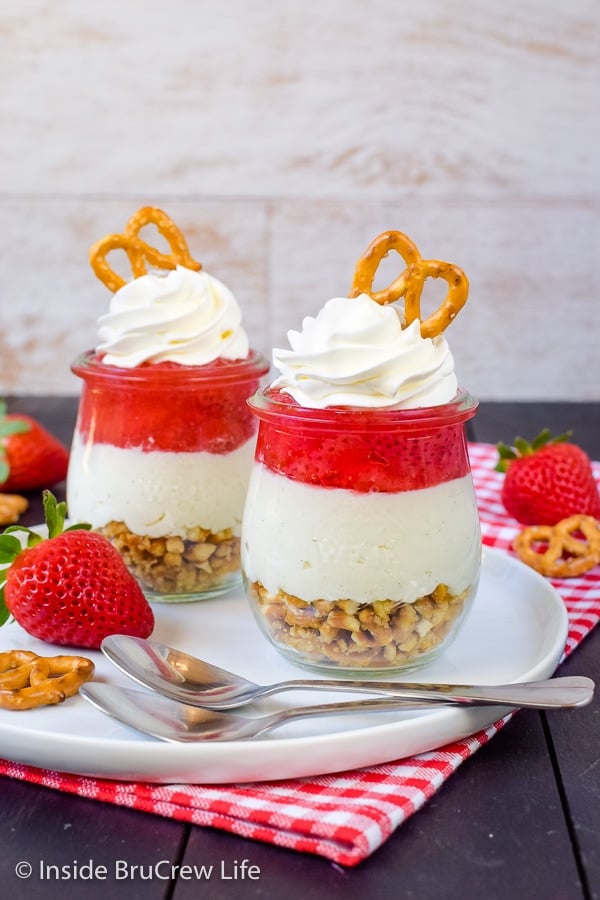 Do you love a recipe you tried from Inside BruCrew Life?
Please leave a 5-star ⭐️ rating and a review in the comments section below.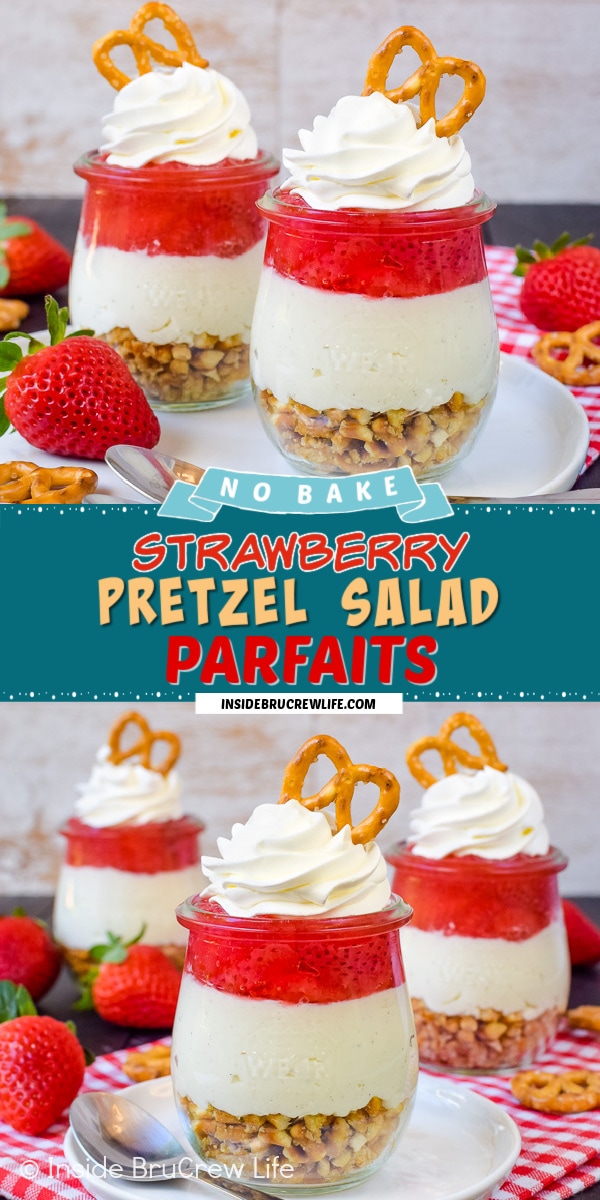 *The post for Strawberry Pretzel Salad Parfaits was first published March 26, 2019. The post was updated and republished June 19, 2021.