This rich and creamy pie is perfect for enjoying any day of the week. Nutella and cookies and cream pair together in one amazing No Bake cheesecake pie. Surprise your favorite sweetie with one of these pies for Valentine's Day…or just because.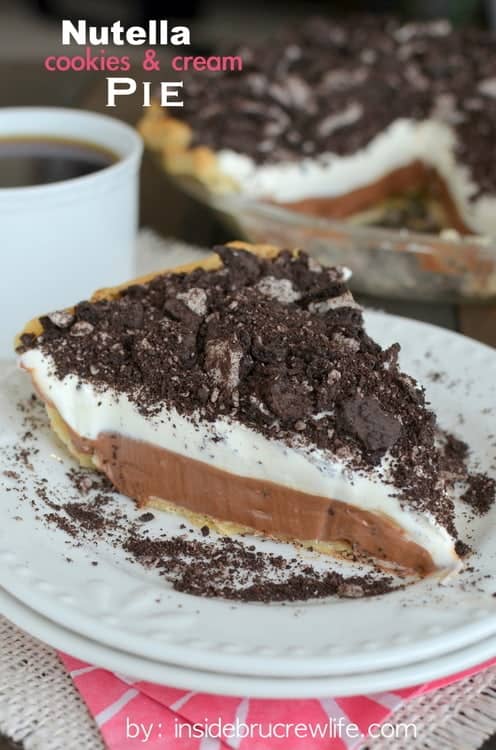 The other day I had a craving for pie. A rich decadent piece of pudding pie was all I could think about. Never mind the fact that I am still trying to watch what I am eating, and pie is not on the approved food list.
That didn't matter! All I could think about was making pie…and it had to be right away! I started looking through my cupboards to see what I had available to use. With freezing temperatures outside I didn't want to run to the store just to satisfy my pie whimsy!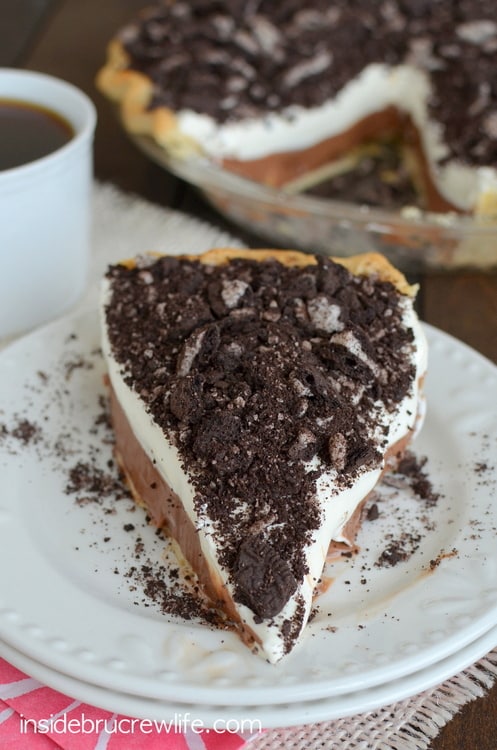 I found chocolate cookies and a jar of Nutella in one of the cupboards. How either of those has remained unopened is a mystery to me! My kids usually devour cookies and milk if I don't keep them hidden. Maybe all my food warnings have finally made an impression on them. They have recently started to ask about EVERY food item now.
My son actually asked if a box of cereal was ok to eat or if it was for a treat. I'm not sure whether to be happy that they know not to eat without asking…or sad because they think all food that I buy has a purpose. Sadly yes, most sweet stuff does have a recipe or idea in my head 🙂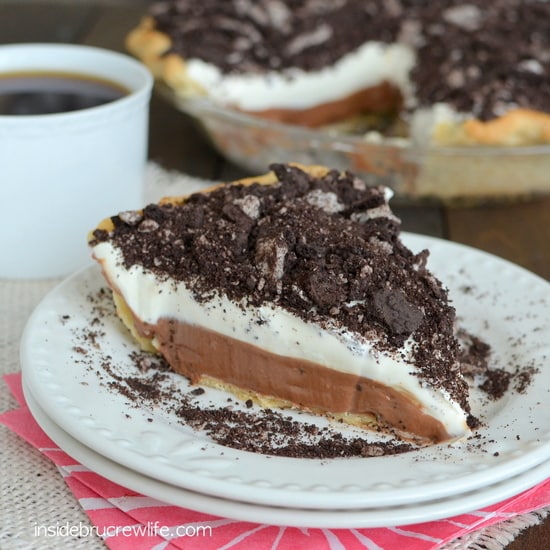 Moving on to my refrigerator I pulled out cream cheese, pie crust, and Cool Whip. Yes, those are pretty much staples in my refrigerator.
What? I have to be prepared for crazy baking whims. You never know when those pie cravings are going to happen. Am I right?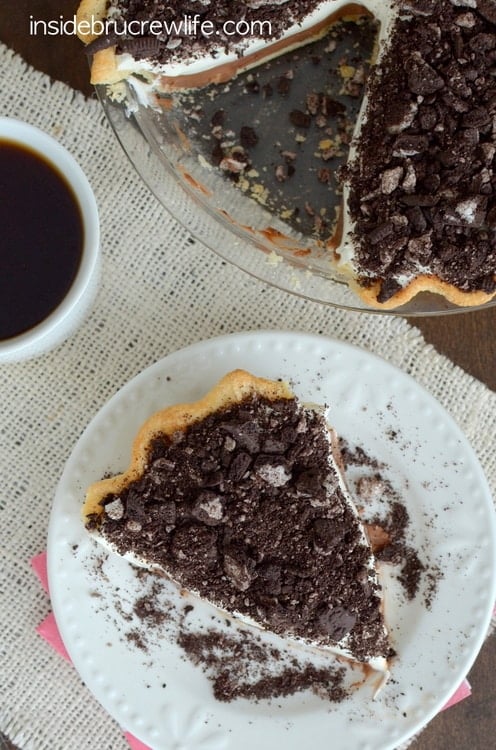 This is mostly a no bake pie…other than the pie crust. That is only going to take you about 10 minutes, unless you want to go homemade. I happen to love the Pillsbury pie crusts because they are easy, delicious, and save me time in the kitchen. Anything that let's me eat pie faster is a plus in my book.
After your pie crust is cooled, it is time to layer some no bake cheesecake and cookies. This will take some time to set up, so if you are craving pie like a mad person keep that in mind. Maybe do some laundry, dishes, or vacuuming to get your mind off the pie in the refrigerator. I know it will be hard, but the end result is worth the time. Although, there is nothing stopping you from just digging in right away. You could skip the pie crust if you wanted and just layer it in jars for a fun portable treat. It's all about the options that make it easier and faster to consume!
The best part of this pie was seeing my oldest son's eyes light up when he got home from school and saw it in the back of the fridge. And yes, he did ask if I had already photographed it before he started digging in 🙂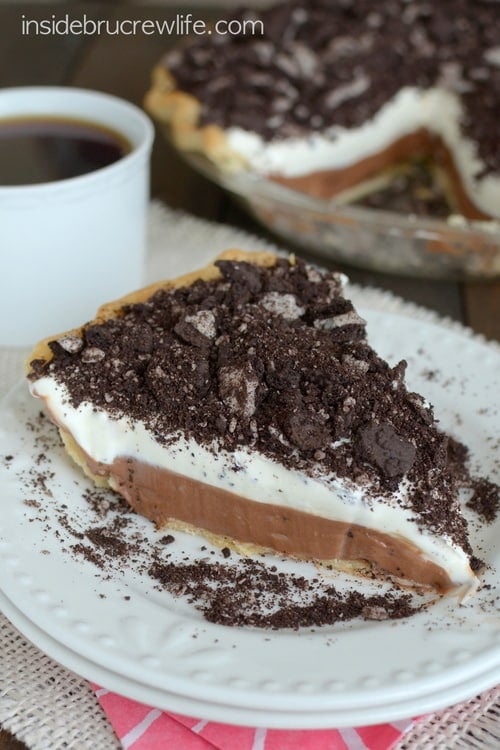 Make sure you don't miss any recipe ideas
by following the BruCrew here:
FACEBOOK | PINTEREST | GOOGLE+ | TWITTER | INSTAGRAM | BLOGLOVIN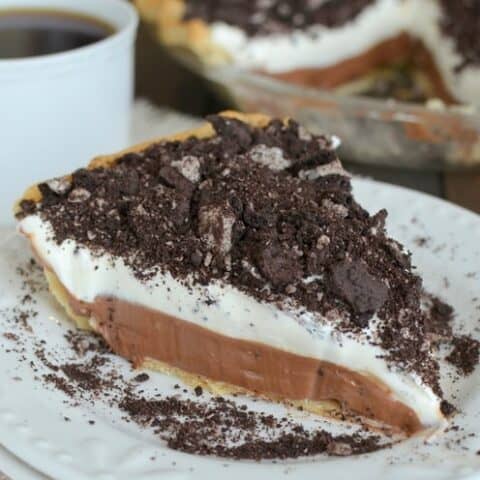 Nutella Cookies and Cream Pie Recipe
This creamy Nutella cheesecake pie topped with chocolate cookies is sure to have you smiling in no time at all.
Ingredients
1 refrigerated pie crust
1 - 8 ounce package cream cheese, softened
3/4 cup sweetened condensed milk
3/4 cup sour cream
1 cup Nutella spread
1 - 8 ounce container Cool Whip, thawed and divided
12-15 Oreos cookies, chopped
Instructions
Preheat oven to 400 degrees.
Bake the pie crust in a 9 1/2 inch deep dish pie plate according to the package directions. Let cool completely.
Beat the cream cheese until creamy. Add the milk and sour cream and beat again. Remove 2 cups of batter and set aside.
Beat the Nutella and 1/2 cup Cool Whip into filling. Spoon into the bottom of the cooled pie crust.
Fold 2 cups of Cool Whip into the reserved batter. Spoon gently onto the Nutella batter in the pie crust.
Refrigerate for 4 hours or over night. Before serving, cover the top of the pie with the cookie crumbles.
Notes
This is a very soft set pudding like pie. You could also freeze it for a thicker consistency.
Nutrition Information:
Yield:

12
Serving Size:

1
Amount Per Serving:
Calories:

463
Total Fat:

29g
Saturated Fat:

18g
Trans Fat:

0g
Unsaturated Fat:

6g
Cholesterol:

34mg
Sodium:

225mg
Carbohydrates:

47g
Fiber:

2g
Sugar:

33g
Protein:

6g
Nutrition facts are an estimate and are not guaranteed to be accurate. If you need special diet advice, please see a registered dietician.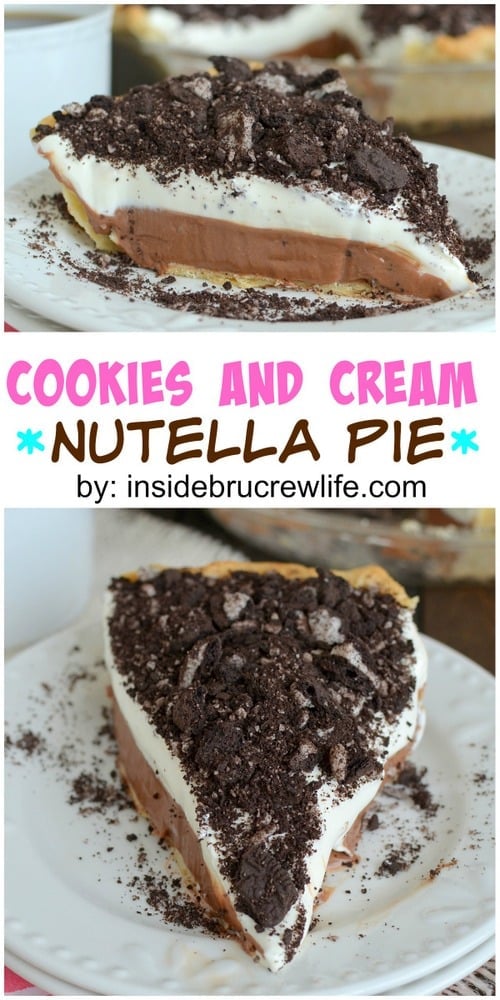 More recipes you will enjoy making with Nutella: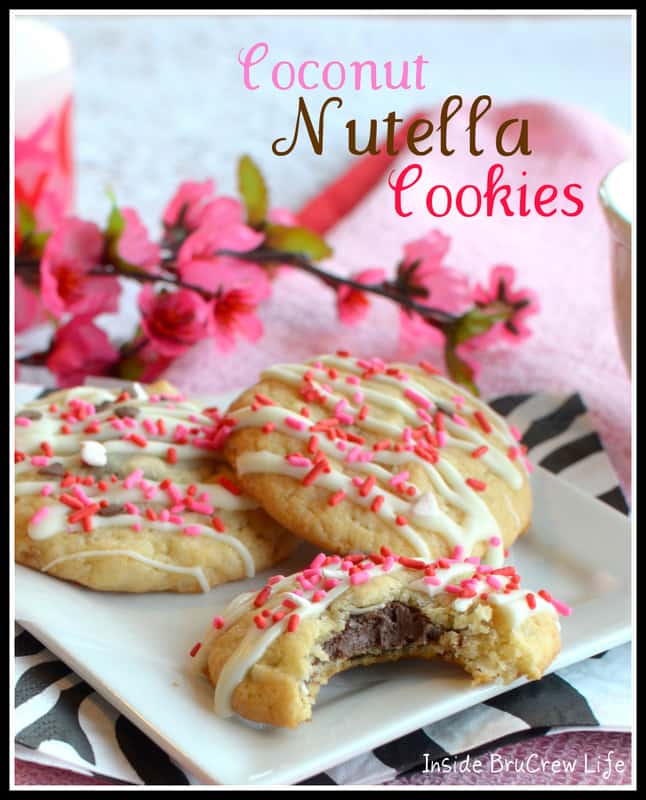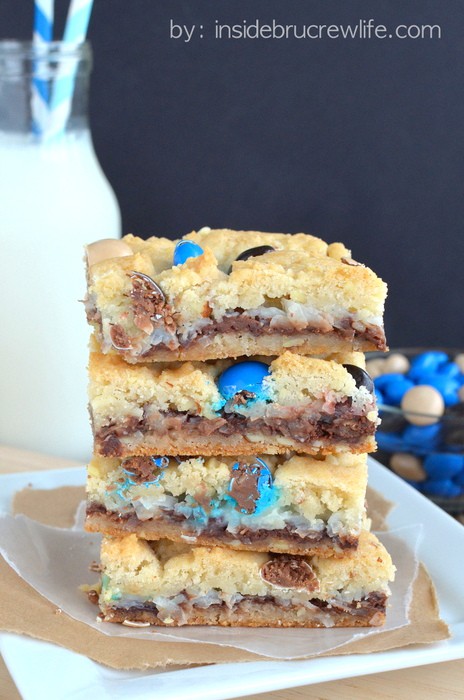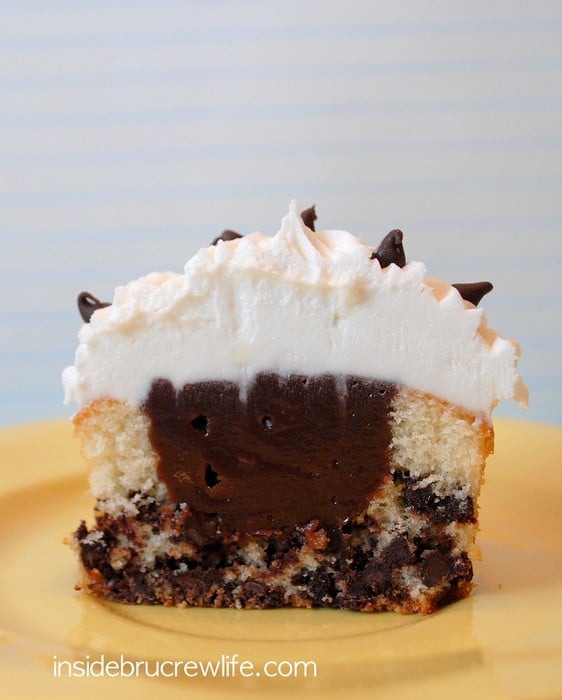 Chocolate Chip Nutella Cheesecake Cupcakes