Want an easy and fun roll in under 20 minutes? These Nutella Crescent Rolls will have everyone in your family smiling when you serve them at breakfast or after school.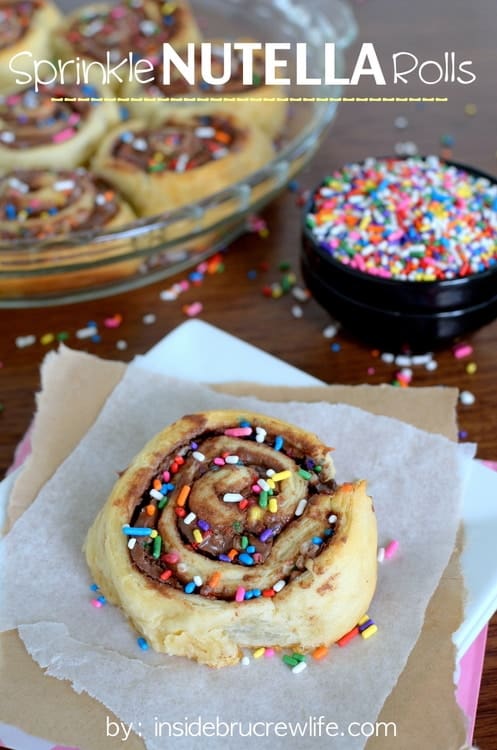 I realized this week that it has been 5 years since I started this fun little hobby called blogging.
FIVE YEARS people!!!
That's five years of me rambling on about stuff and posting odds and ends with lots of sugar goodness in between. You guys deserve an award for letting me ramble so much and for filling your bellies with everything and all things sugar.
Of course not all 5 years was sugar.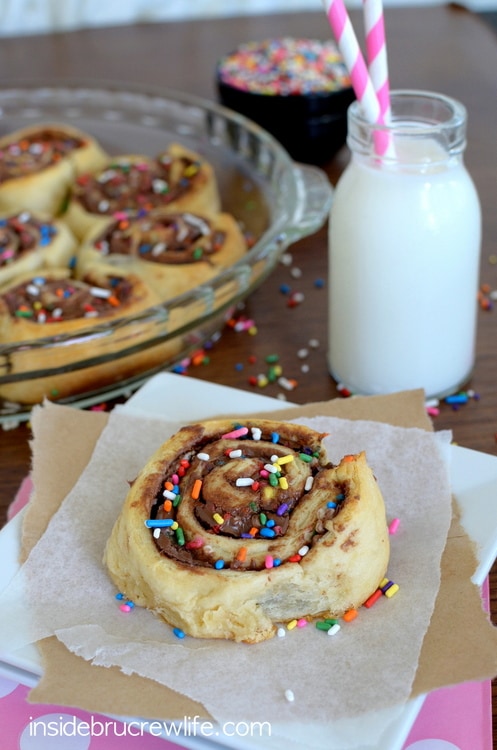 I started this blog when my youngest went to school full time. The days were long, and I really didn't want to clean house all day. So, I started reading blogs, and thought to myself that I could do that too.
The first 2 years were really just a whole lot of random. Mostly family stuff and crafts that I had made. Yes, I used to do more than just bake and photograph all the time. That's when this was still just a hobby...ie. a time waster. If you have some time to kill, check out this post for Peanut Butter Truffle Brownies. Let me just warn you though...it is a BAD picture. I still can't believe I even posted stuff like that! LOL! I keep it just for kicks and giggles. Most of the old posts have been deleted...just the family ones though. The old funny food photos are there to remind myself of how much I have learned over the years.
About 2 ½ years ago, I realized how much I adored sharing the recipes that I was making. I also started learning about food photography and styling and realized how much I enjoyed that too. Slowly my blog took a turn for the dark side that is food blogging. Is there anyone that still reads from when the blog used to be just random thoughts?
Those of you food bloggers reading understand when I say I think and dream of food all the time. Random food ideas pop into my head all the time. You would not believe the amount of things on my list of "to makes"...well, some of you would believe it because I know you have the same long list 🙂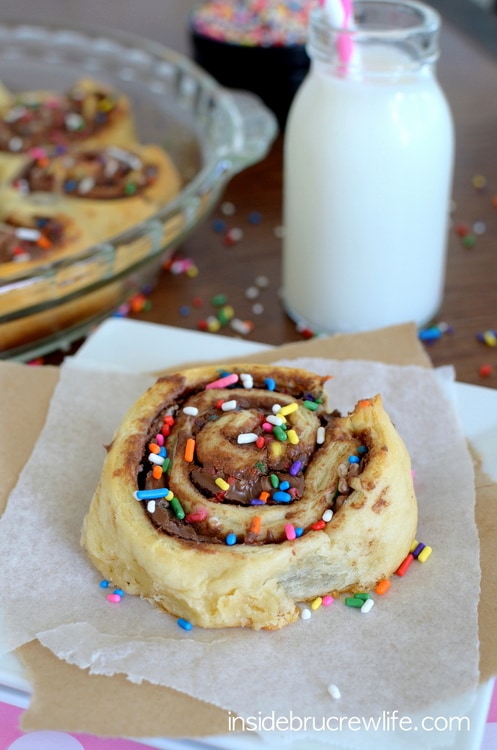 Today we are celebrating 5 wonderful years of blogging with some sprinkles.
You will always find Nutella, crescent rolls, and sprinkles in my kitchen. Well, except for today, because I used up everything when I made these fun rolls for my kids. I love to make these easy Mocha Chip Cinnamon Rolls for breakfast, but there are times I want an even easier roll.
That's where crescent rolls come into play. You can fill them with just about anything. and they will turn out down right amazing!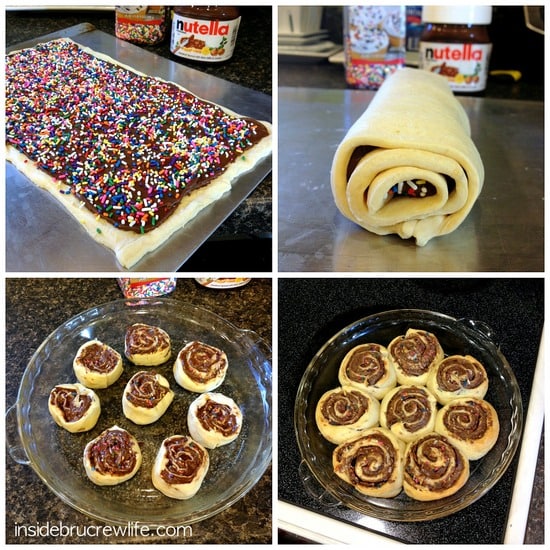 Unroll the crescent rolls and press together all the seams. If you can find the crescent dough sheet, this is even easier.
Spread your rolls with Nutella. Go ahead and taste test a few spoonfuls...just to be sure it is ok to feed your family. Then go to town with some sprinkle fun. Roll it up and cut into 9 rolls. Bake in a glass pie plate with room to grow. You could also bake these on a baking sheet.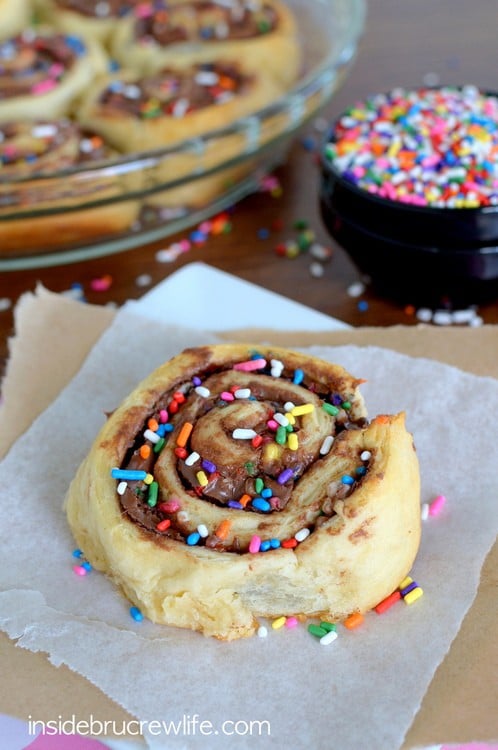 Wait a minute or two before diving right into the plate of rolls, or you will burn your tongue on hot Nutella. Believe me, that's not as fun as it sounds. I didn't wait and boy, does Nutella get hot.
These rolls are great fresh from the oven, but they also keep for a few days. Just place one on a plate and heat for 10-15 seconds, and they are just as good as the day they were made.
What are you waiting for? Go bake a batch right now because we have celebrating to do!!!!
Thank you so much for letting me ramble for 5 years. I can't wait to see what happens in the next 5!!!
Do you love a recipe you tried from Inside BruCrew Life?
Please leave a 5-star ⭐️ rating and a review in the comments section below.