This Party Peeps Eclair Cake Cups recipe is a fun and easy no bake Easter dessert. Layers of funfetti pudding and graham crackers in little jars are sure to be please everyone.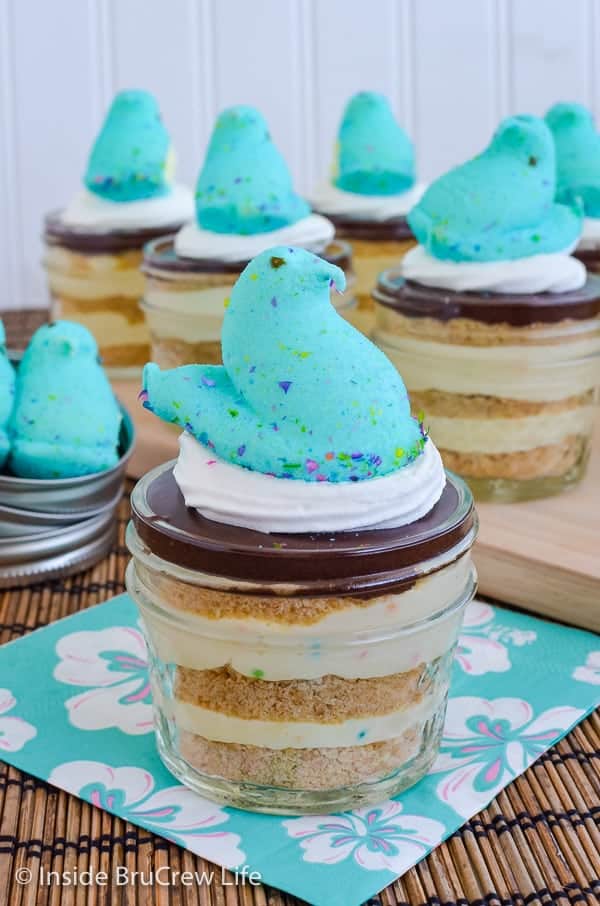 My mom used to put marshmallow Peeps in our Easter basket every single year when I was growing up. The one thing that she always did was open the package and divide them between five kid's Easter baskets.
Now you know the problem this presents, right? There was always green Easter grass stuck on the sticky parts of the Peeps. The other problem with an open package of Peeps? They get stale.
Now trust me that is NOT a problem for me because Peeps are the best once they get stale. I have been known to open a package of marshmallow Peeps, and then shove them in the back of the cupboard for a few weeks before devouring them. Best thing ever!!!!
Don't get me wrong, I like them soft and squishy out of the package too and top of these Easter Dirt Cupcakes.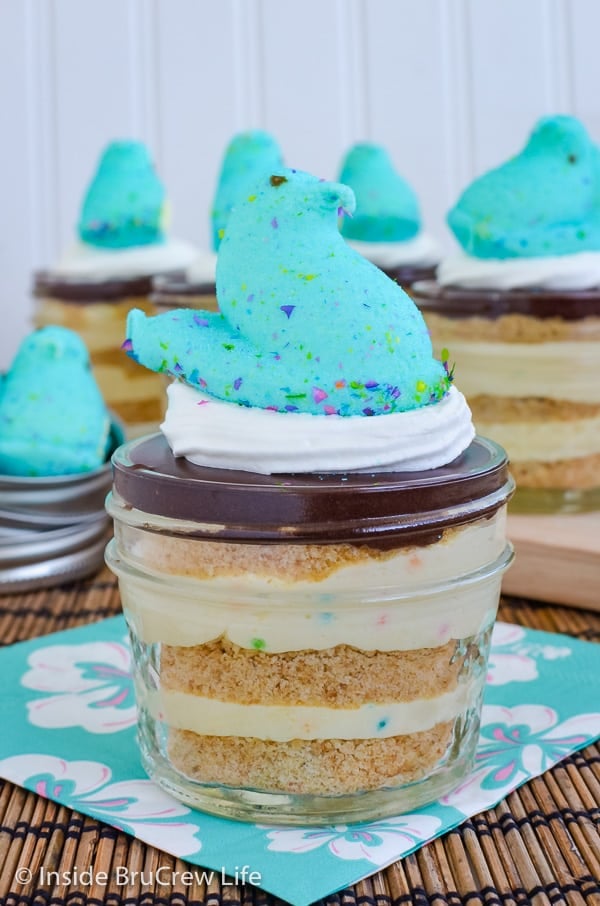 A few years ago, I noticed that Walmart had a few new Peep flavors to choose from. I saw these bright blue chicks, and I was smitten with the pretty color.
They are party flavored and have some fun, glittery sugar colors sprinkled on them.
The party ones are still available, but they are white with the sparkly flecks of color in them now. Honestly, any color of marshmallow Peeps will be so cute on these eclair cake cups.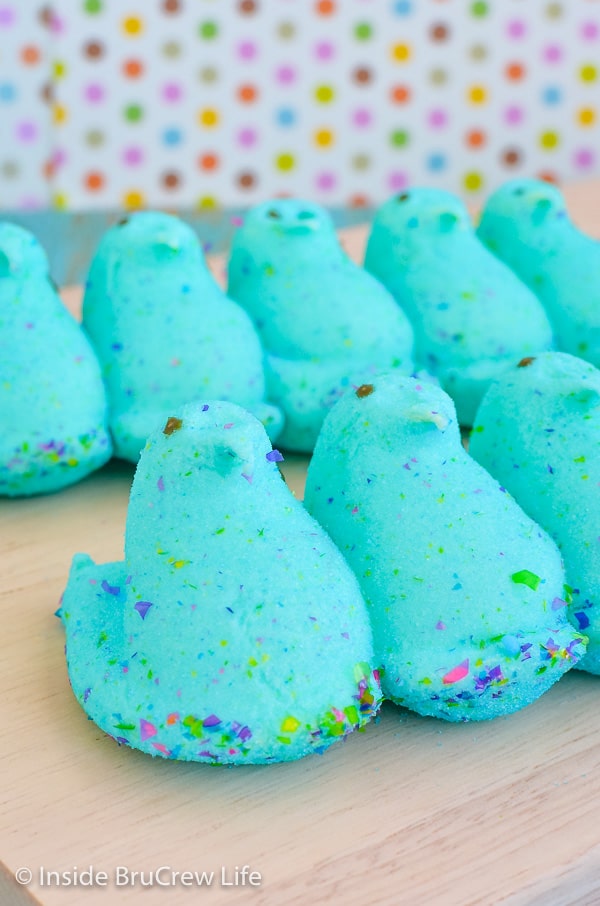 I brought them home, and there they sat until the day I decided to make some pudding cups for our kids. But not just any pudding cups. These are a fun variation of the popular no bake eclair cake.
Hello, Party Peeps Eclair Cake Cups! Say that 10x fast!!!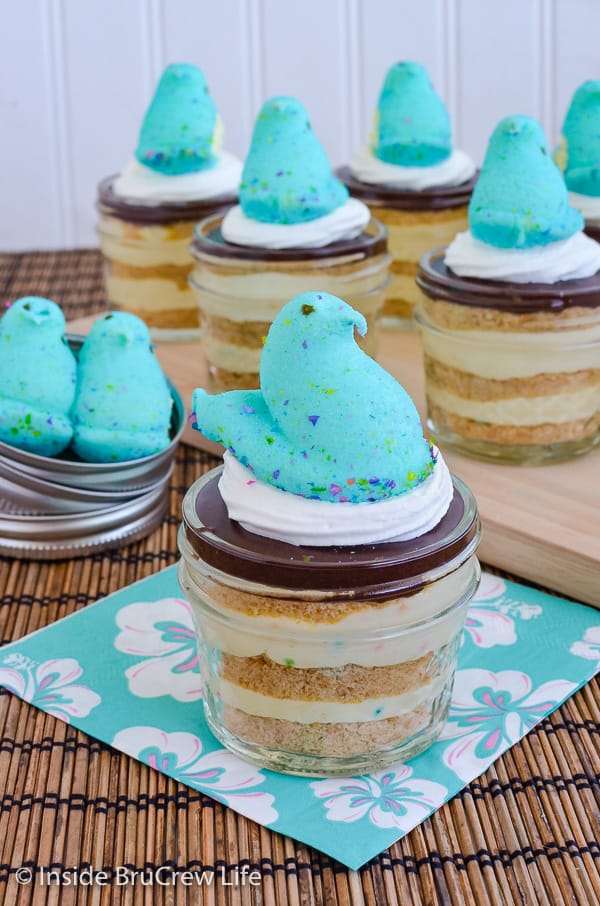 In order to get the cake batter flavor, I added a whole cup of the dry party chip cake mix into some instant vanilla pudding. I wasn't sure how adding dry cake mix to pudding was going to turn out, so I had to take a big bite. For product review, of course!
The pudding tasted just like cake batter!!! You know you all lick your bowls clean when you make cake, too. The best part of this pudding is that you don't have to worry about eating raw eggs!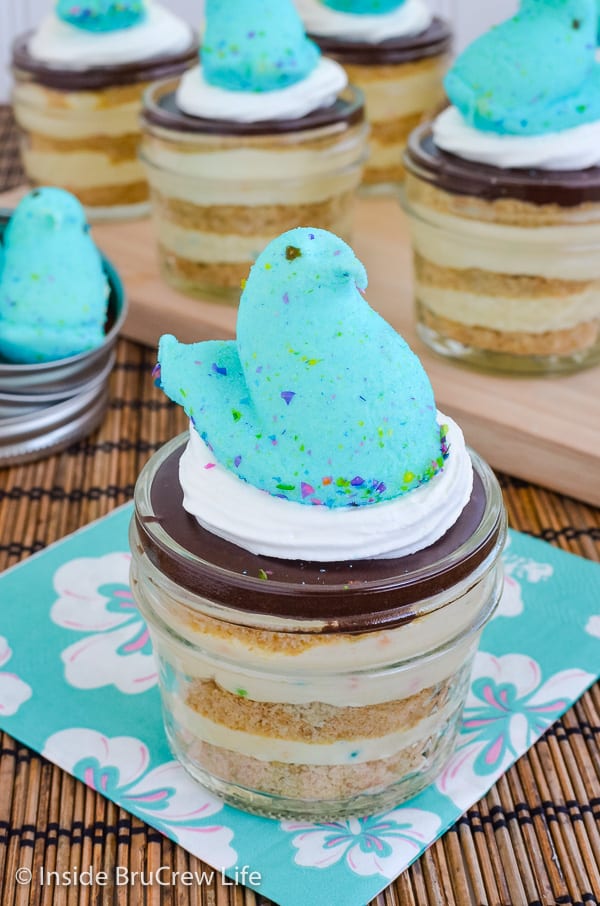 How to make Party Peeps Eclair Cake Cups:
Whisk together the pudding mix, cake mix, and milk. Let it thicken slightly. Fold in some Cool Whip until it is light and fluffy.
Layer the pudding and graham cracker crumbs in 16 small 4 ounce Mason jars. You could also layer it in an 8x8 pan if you don't have that many jars.
Open the container of chocolate frosting and remove the foil lid. Microwave the container for 30 seconds. Stir until creamy. Top each pudding cup with a large spoonful of melted frosting.
Refrigerate the eclair cake until set.
Right before serving swirl Cool Whip on top of the cups and add a marshmallow Peep.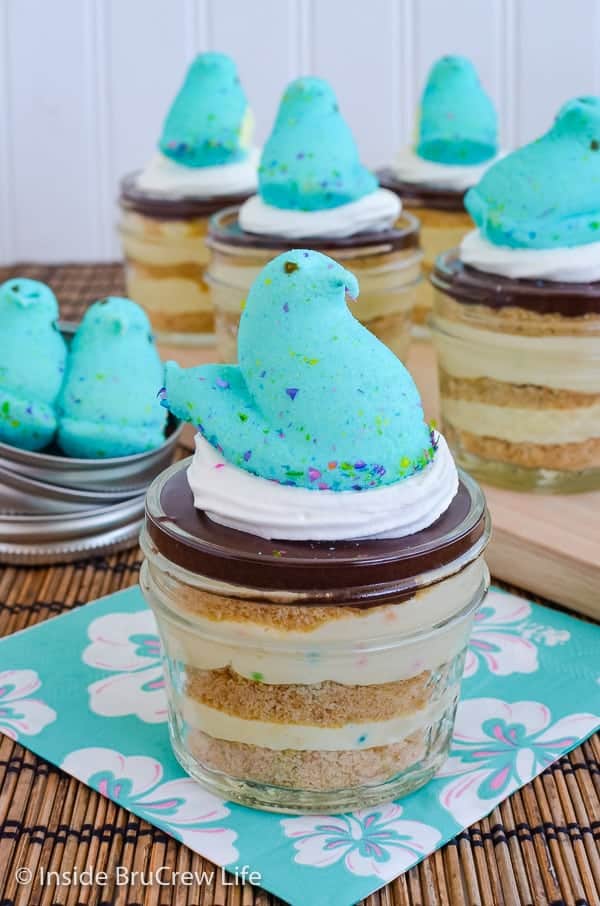 More easy Easter recipes you may like:
CLICK HERE TO PIN THIS RECIPE FOR LATER!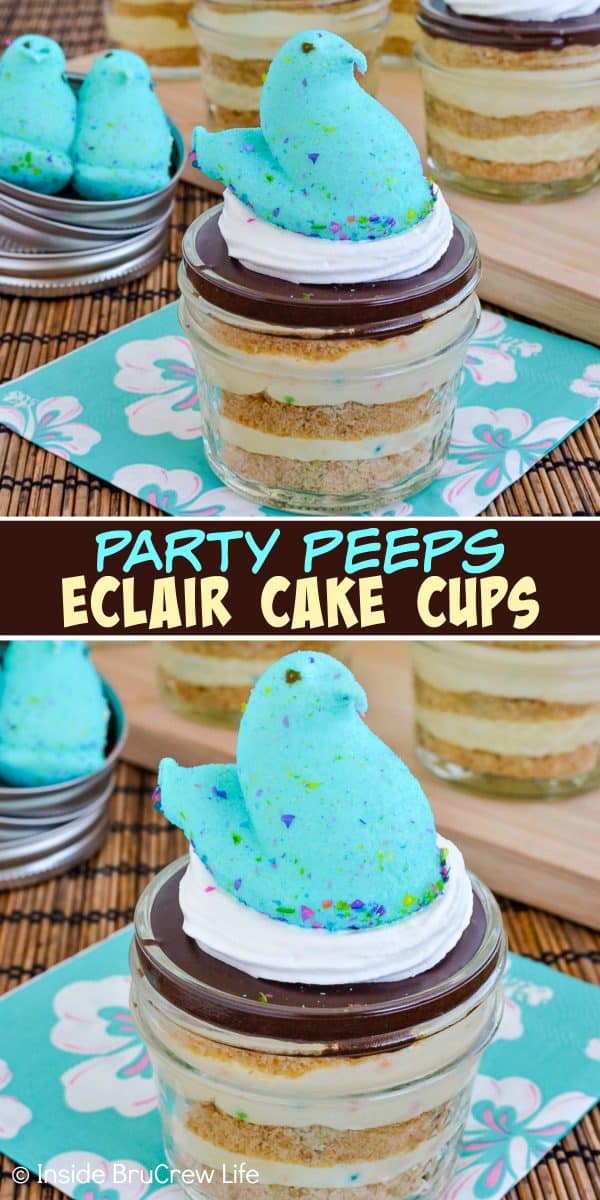 *The post for Party Peeps Eclair Cake Cups was first published on March 19, 2013. The photos and post were updated and republished April 10, 2020.