How do you eat your marshmallow Peeps?  Can I confess to you that I like to eat them stale, but I also like them sitting on top of  Party Peeps Eclair Cake Cups.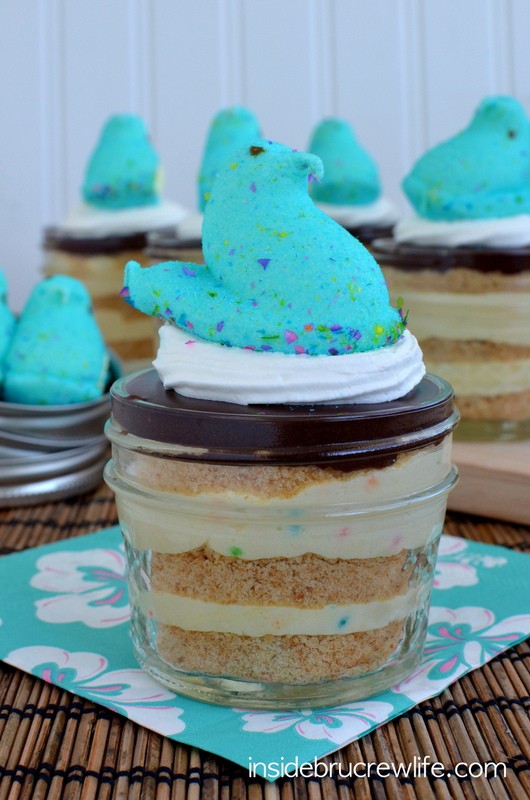 PIN IT FOR LATER!

Easter is only a week and a half away.  Have you started to think about what desserts you will be serving?
 One of my all time favorite Easter treats are marshmallow Peeps, so I knew I want to incorporate these fun sugar coated marshmallows into a fun dessert that my kids would gobble up.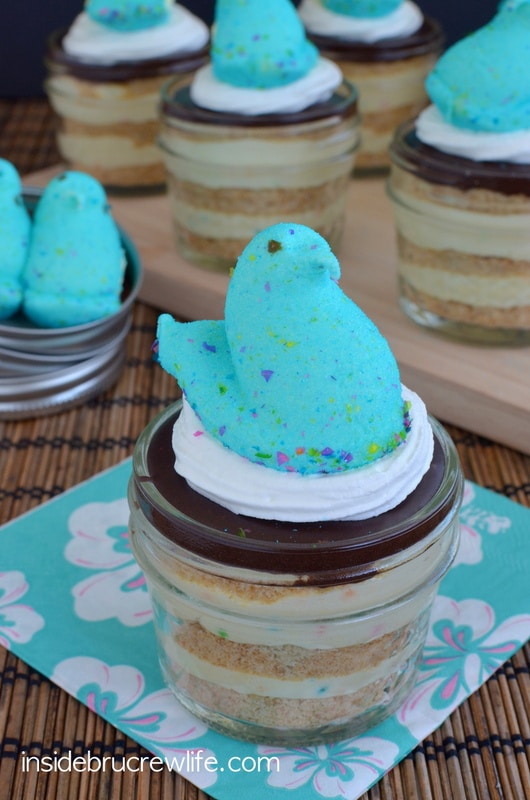 My mom used to put them in our Easter basket every single year.  The on thing that she always did was to open the package and divide them  up between our baskets.  Now you know the problem this presents, right?  Easter grass was always stuck on the Peeps.
The other problem with open Peeps?  They get stale.  Now trust me…that is NOT a problem.  Peeps are the best once they get stale.  (I have been known to open a package of Peeps and then shove them in the back of the cupboard for a month.)  Best thing ever!!!!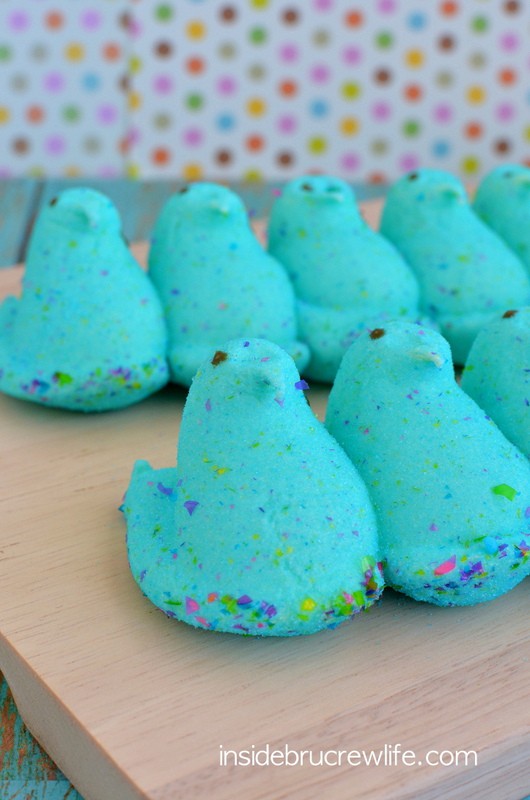 When I was at Walmart a few weeks ago, I noticed they had a few new Peep flavors to choose from.  I saw these bright blue chicks and I was smitten.  They are party flavored Peeps, and they have some fun glittery sugar colors sprinkled on them.
I brought them home, and there they sat until the day I decided to make some pudding cups.  But not just any pudding cups…these are a fun variation of eclair cake.
Hello, Party Peeps Eclair Cake Cups!  Say that 10x fast!!!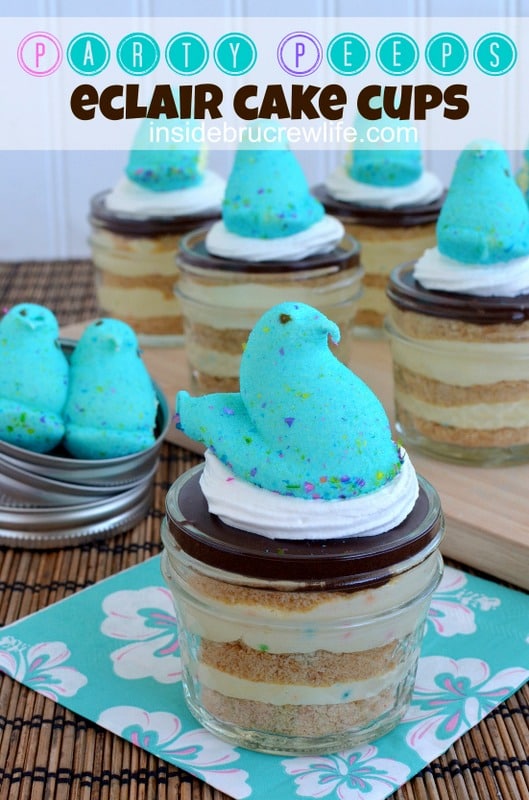 I added a whole cup of party chip dry cake mix into my pudding and whisked away.  I wasn't sure how adding cake mix to pudding was going to turn out, so I had to take a big bite…for product review, of course!
The pudding tastes just like cake batter!!!  You know you all lick your bowls clean when you make cake too.  The best part of this pudding…you don't have to worry about those pesky eggs!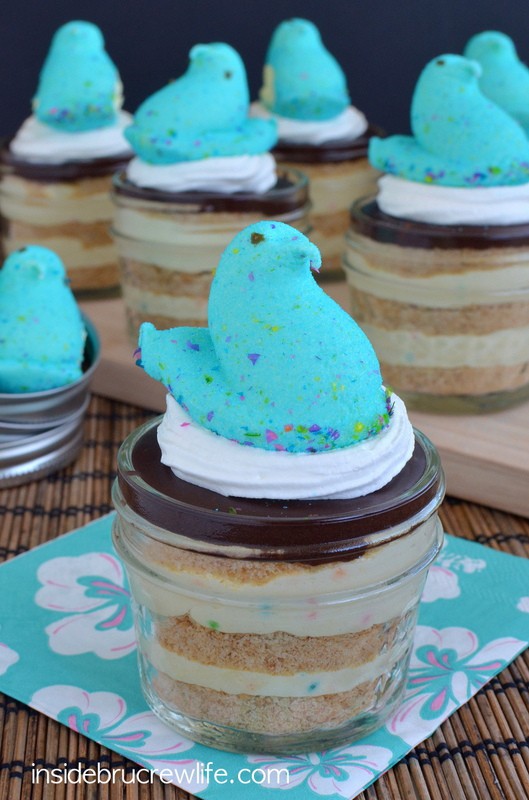 Look at all the layers in these pudding cups!!!
 I layered graham cracker crumbs with the cake batter pudding (look at the fun sprinkles in there!) and ended with a chocolate icing topping.  The marshmallow Peep got a bed of Cool Whip to sit on as the topping.
Don't you just want to dive right into these cups???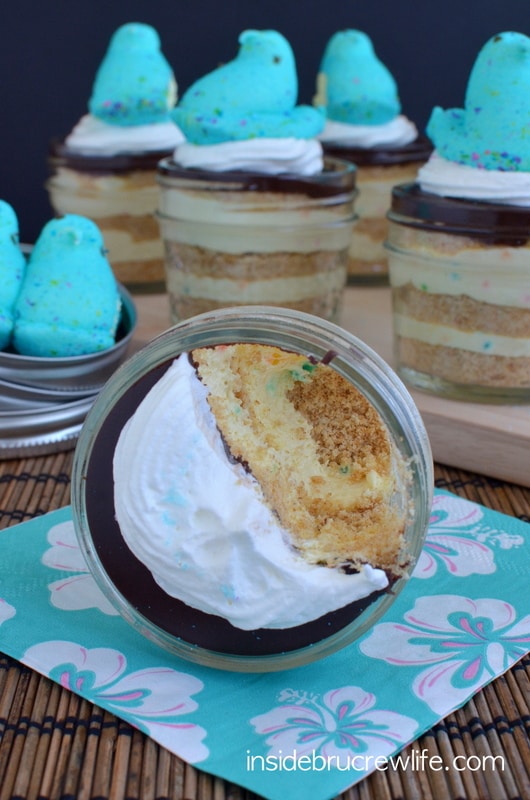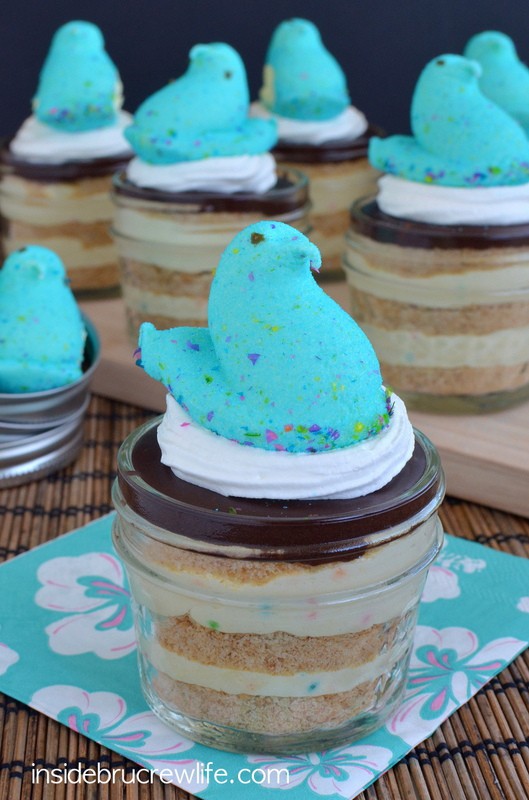 Easy no bake pudding cups topped with a marshmallow Peep is a fun way to serve dessert this Easter. The pudding mix gets a fun cake batter flavor from adding dry cake mix to it.
Ingredients
1 - 3.4 ounce package instant French vanilla pudding mix
1 3/4 cup milk
1 cup dry Party Chip cake mix
1 - 12 ounce container Cool Whip, thawed
3 cups graham cracker crumbs
1 - 16 ounce container Chocolate Fudge frosting
16 marshmallow Party Peeps
Instructions
Whisk together the pudding mix, cake mix, and milk for 2 minutes. Fold in 3 cups Cool Whip.
Layer the graham cracker crumbs and pudding in small jars.
Place the frosting in a microwave safe bowl and heat for 30 seconds. Stir and repeat until pourable. Top each pudding cup with a large tablespoon of melted frosting. Refrigerate until set.
Top with Cool Whip and a marshmallow Peeps before serving. Makes 16 - 4 oz. jars.
Notes
If you don't have any jelly jars, you could also layer this in an 8x8 baking dish.
https://insidebrucrewlife.com/party-peeps-eclair-cake-cups/
Copyright Inside BruCrew Life

I have some more fun for all my blog peeps today…a fun Peeps Hop Along.  You definitely want to check out all these great ideas!!!
Ready for more fabulous PEEPS recipes and ideas???  Visit the following websites, each is sharing an amazing PEEPS post for you today, so hop on over and check them all out!   Happy Spring!
PEEPS bunnies in Chocolate Easter Eggs from The Decorated Cookie
PEEPS Cupcakes from Hoosier Homemade
Spring PEEPS Truffles from Java Cupcake
Pavlova Peeps Nests from Crazy for Crust
PEEPS S'mores from The Southern Institute
Giant PEEPS Cereal Treat from Dollhouse Bake Shoppe
PEEPS Candy Bars from The Domestic Rebel
Rice Krispies PEEPS from Creative Food
Easter Cake with White Chocolate PEEPS from Bird on a Cake
Hula Bunny PEEPS from Sugar Swings! Serve Some