Easter Rice Krispies Treats with M&M's are a fun and colorful treat that everyone will enjoy. Sprinkles, candies, and extra marshmallows make these the best rice krispies treats you will ever have.
Invite the kids to help you make a pan of these rice krispies treats today. Buy an extra bag of candy and make these vanilla pudding cookies too.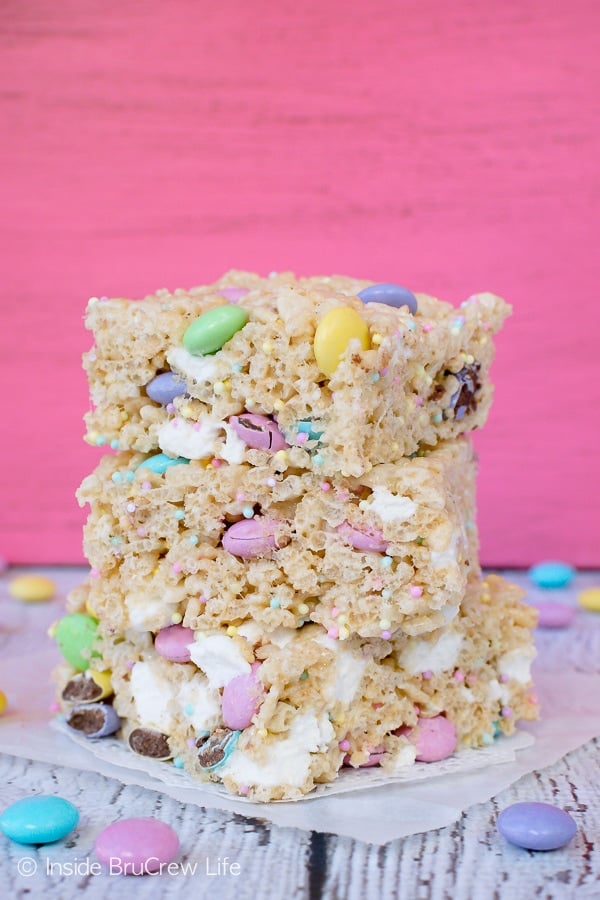 Today though we are talking about the easiest and best treat around. Rice Krispie Treats are seriously so easy to make for just about any reason.
I literally have no self-control around these easy no bake treats, so I usually try to take them to different parties or get togethers. Last week I came across this old recipe for cherry rice krispies treats, so I have had no bake treats on my mind.
Since I had bags of Easter M&Ms and lots of sprinkles in our pantry, it seemed like another pan of these M&M rice krispies treats were the answer.
Why You Will Love These
These fun rice krispie squares are loaded with M&Ms and sprinkles. The bright colors pop out on these sweet treats. Feel free to use any variety of M&M's to match your theme or mood.
Just make sure you let the warm marshmallow and cereal mixture cool before you add the candies, or you will end up with unicorn treats because the colors will melt and spread.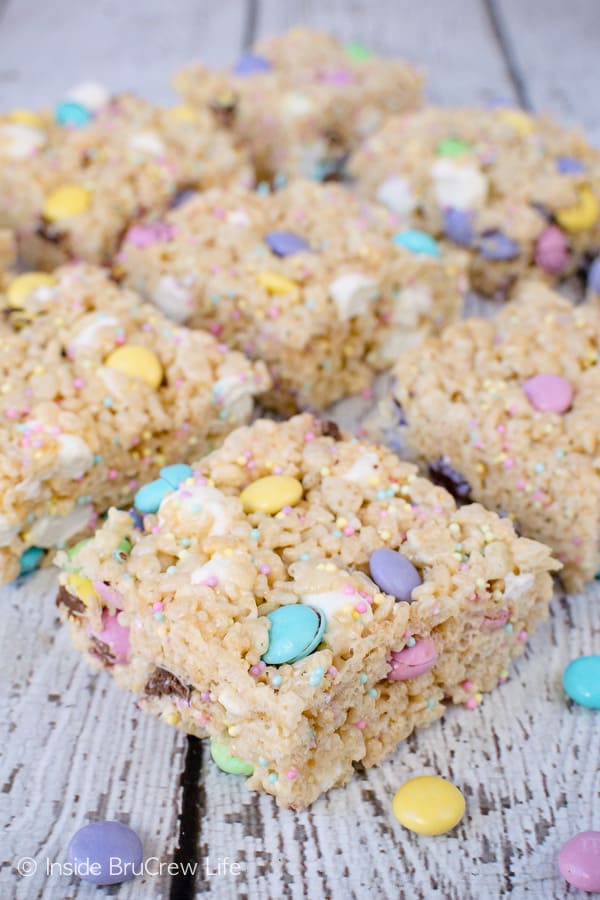 Ingredients Needed
My version of rice krispie treats uses less cereal and more butter than the original Rice Krispies treats recipe on the cereal box. I find that this ratio makes the krispie treats softer, chewier, and so much better.
Mini Marshmallows - you will need a 10 ounce bag for the marshmallow mixture plus the extra marshmallows in the treats
Butter - salted or unsalted is fine
Rice Krispies Cereal - one box of cereal will give you enough for the recipe. Change it up by using chocolate krispies.
Sprinkles & M&M's - any color will work. Use different colors to match your party or holiday.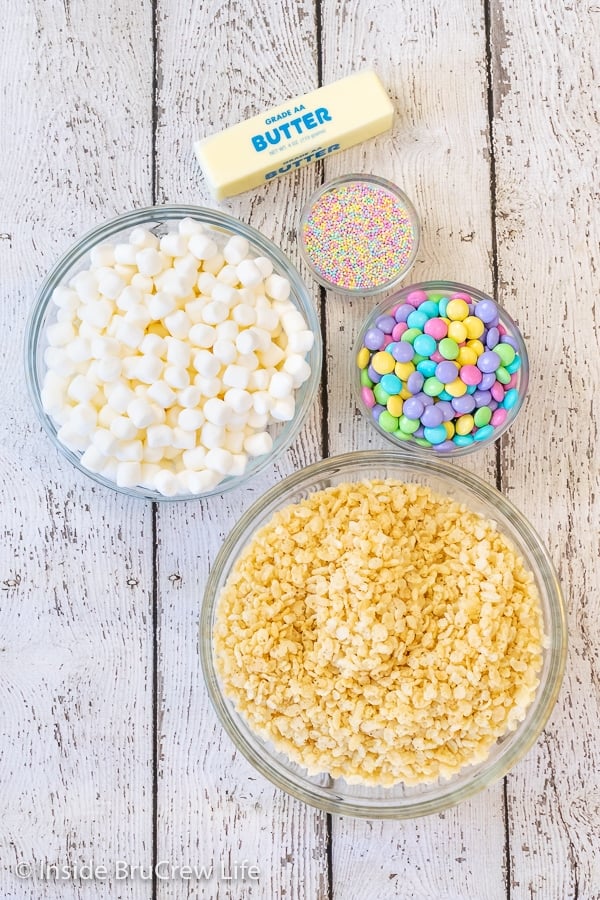 How to Make
These Easter rice krispie treats with M&Ms are so easy to make. They are a great no bake treat to make for parties and bake sales. The colorful candies and sprinkles will catch everyone's attention right away!
Grease a 9x13 pan with a thin coat of softened butter or place a sheet of parchment in the bottom of the pan.
Melt the butter and marshmallows in a large saucepan over low heat until they are melted and creamy.
Stir in the rice cereal until everything is completely coated.
Let the mixture cool for 3-4 minutes, then stir in more marshmallows, pastel M&M candies, and sprinkles. Work quickly, so these mix-ins do not melt.
Spoon your cereal mixture into the prepared pan. Spread butter or spray nonstick spray on your hands and gently press the mixture down. You can also use a sheet of wax paper.
Let the Rice Krispies treats cool at least 30 minutes before cutting into squares and devouring.
BRUCREW TIP: Press the mixture into a smaller 8x8 pan for extra thick rice krispie treats!

Recipe Tips
Make sure your marshmallows are FRESH. Do not use an already opened bag because they do not melt as well.
Use LESS cereal than the box calls for in this rice krispies treats recipe because then your treats will be softer and chewier.
Do NOT press the warm mixture firmly in your pan. Pressing the cereal down too hard can create a harder, crunchier bar. I personally prefer softer, chewier Easter Rice Krispies treats.
EXTRA marshmallows added to the Easter treats adds pockets of soft gooey marshmallows in each bite.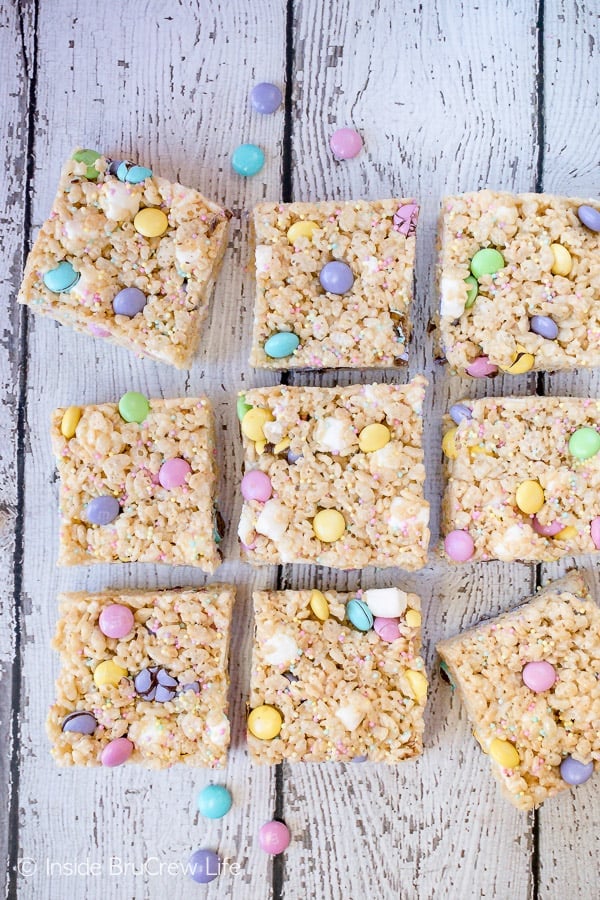 FAQ'S
How long will these treats last?
They will last 2-3 days if kept in a tightly sealed container. But we have never had them last that long in our house.
Can you use a different candy in cereal treats?
You betcha. Change it up each time you make rice krispie treats. Try Reese's Pieces, Peanut Butter Cups, Twix bars, Snickers, Oreos...
How do you keep rice krispie treats from getting hard?
Make sure you are pressing the mixture GENTLY into the pan. If you press them too hard it creates dense, hard cereal bars. Store the treats in an airtight container.
Soften hard rice krispie treats by placing them in the microwave for a few seconds before eating.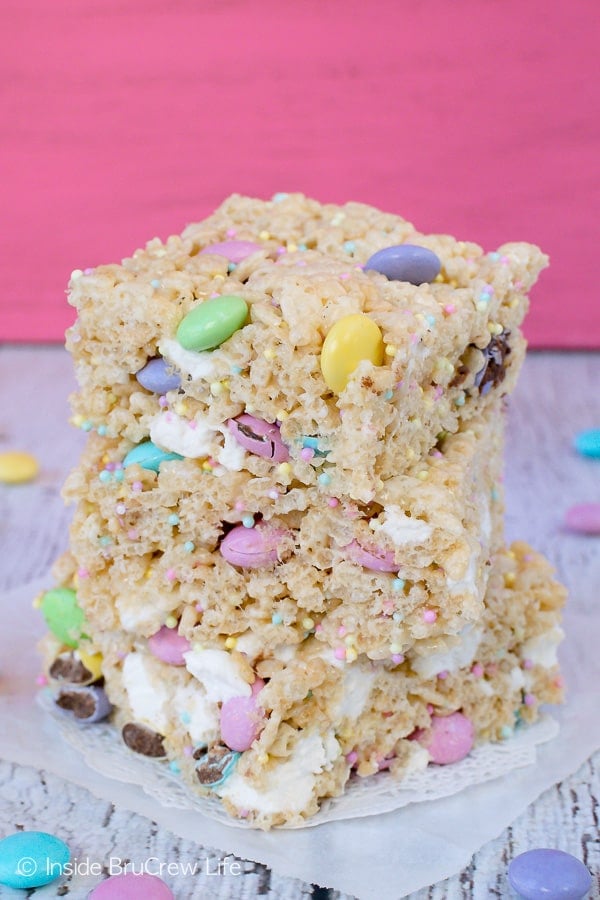 Other Rice Krispie Treats Variations
More Easy Easter Desserts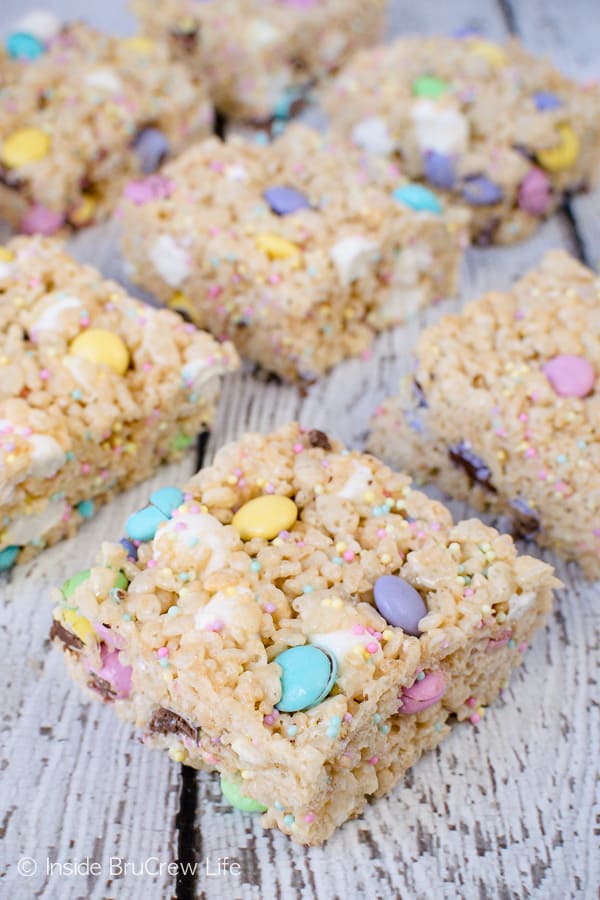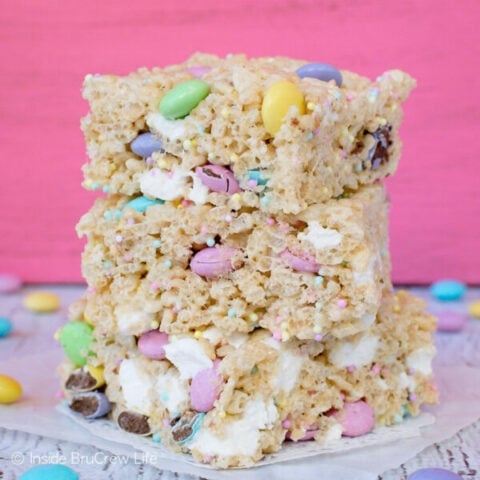 Easter Rice Krispie Treats Recipe
Add sprinkles and M&M's to these Easter Rice Krispies Treats for a fun and colorful treat that everyone will enjoy. Invite the kids to help you make a pan of these rice krispies treats today.
Ingredients
1 -10 ounce bag of mini marshmallows, divided
4 Tablespoons butter (salted or unsalted)
5 cups Rice Krispies cereal
¼ cup pastel sprinkles
1 cup pastel M&M's + extra
Instructions
Grease a 9x13 pan with butter or line it with parchment paper.
Place 4 cups of mini marshmallows and butter in a large pan over low heat. Stir until melted and creamy.
Add the cereal and stir until completely coated. Let cool for 3-4 minutes.
Stir in 1 cup mini marshmallows, sprinkles, and M&M's quickly .
Spoon the mixture into the prepared pan. Coat your hands with butter or nonstick baking spray and press the mixture down gently. Do not over press the mixture or your treats will be harder and crunchier.
Press a few extra M&Ms into the top of the treats before they cool.
Let the rice krispie treats cool for at least 30 minutes before cutting into squares. Store in a tightly sealed container.
Notes
Press the mixture into a smaller 8x8 pan for extra thick rice krispie treats!
Recommended Products
As an Amazon Associate and member of other affiliate programs, I earn from qualifying purchases.
Nutrition Information:
Yield:

24
Serving Size:

1
Amount Per Serving:
Calories:

97
Total Fat:

3g
Saturated Fat:

1g
Trans Fat:

0g
Unsaturated Fat:

1g
Cholesterol:

5mg
Sodium:

70mg
Carbohydrates:

18g
Fiber:

0g
Sugar:

9g
Protein:

1g
Nutrition facts are an estimate and are not guaranteed to be accurate. If you need special diet advice, please see a registered dietician.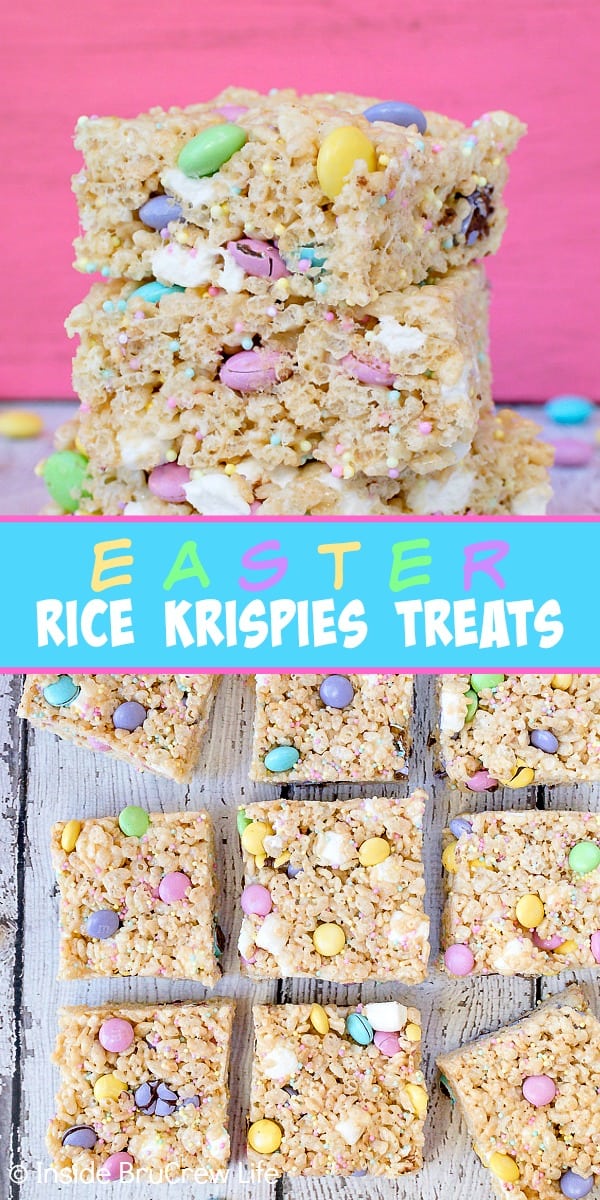 *The post for Easter Rice Krispie Treats was first published March 26, 2018. The post was updated and republished March 27, 2021.