Homemade Reese's Peanut Butter Eggs are the best Easter treat for peanut butter lovers. These easy homemade chocolate peanut butter eggs are decorated with Reese's Pieces and chocolate sprinkles. Watch everyone smile when they find them in their baskets on Easter morning.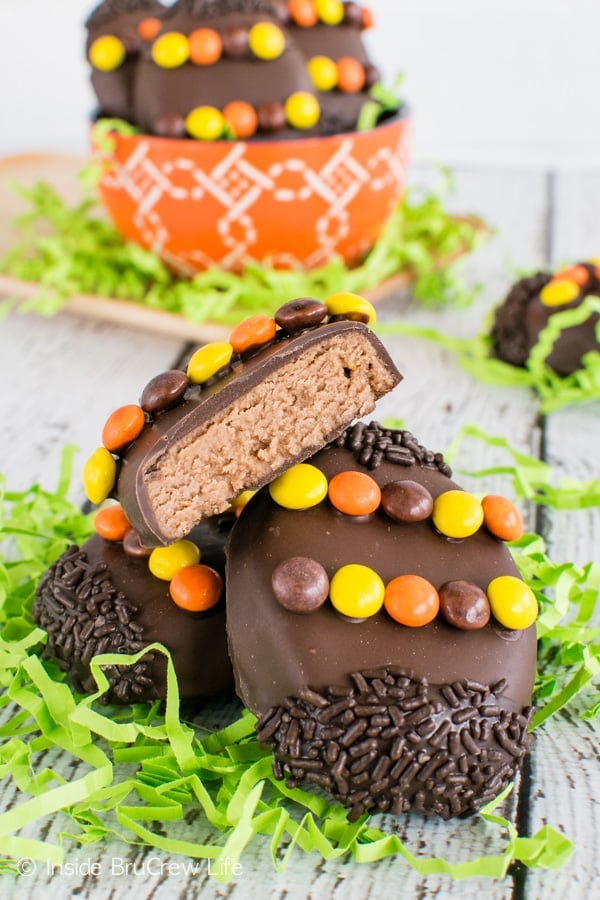 Now that are kids are older, we do not hide eggs and candy in our yard. But I still put together a little basket for them with some Easter candy and some marshmallow bunnies.
It's the one thing that I haven't given up doing. My husband likes to hide the baskets in very obscure spots, so they have to really search for it.
Our boys love these peanut butter balls, so every year I turn them into peanut butter eggs with their names on them. It is something that I have been making for them since they were little.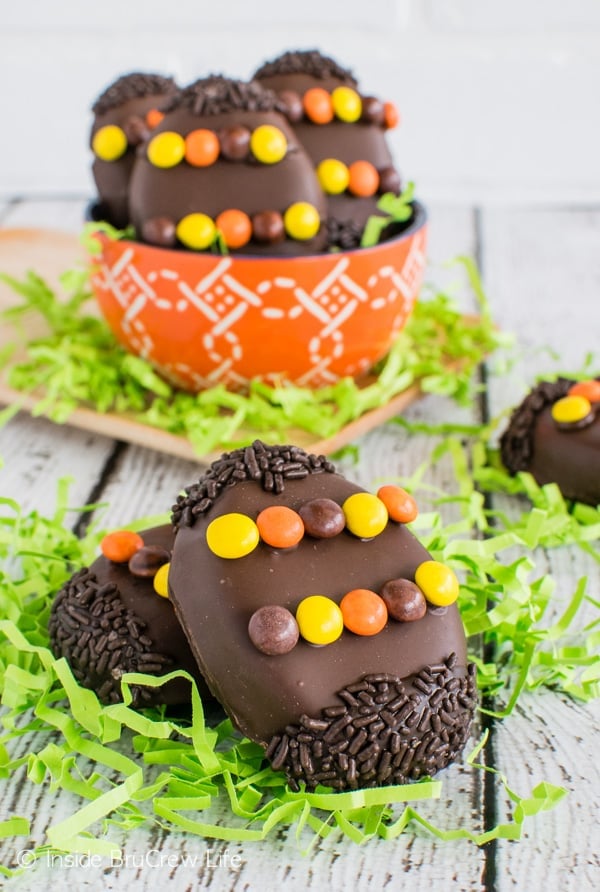 For the past few years I have been making a new Easter egg version too. So far, I have made Nutella eggs, coconut cream eggs, and these cookie butter eggs.
Does anyone remember the Reese's spread that you could buy years ago? It was an amazing chocolate peanut butter spread that was delicious with pretzels or in marshmallow fluff sandwiches. It was amazing in these homemade Reese's Eggs.
Now that the spread is discontinued, I have been using the Reese's creamy peanut butter to make Reese's peanut butter eggs for Easter.
Main Ingredients
Butter - take the butter out ahead of time, so it is soft when you mix it
Reese's Peanut Butter - this creamy peanut butter gives it the true Reese's taste. You can use any peanut butter you have though.
Marshmallow Cream - adds a fluffy texture to these homemade Reese's eggs
Vanilla, Salt - adds flavor and balances the sweetness
Powdered Sugar - thickens and sweetens the peanut butter filling
Milk Chocolate Melting Wafers - I like to use the Ghirardelli melting wafers because they melt so well and taste amazing.
Reese's Pieces, Chocolate Sprinkles - use to decorate the tops of the peanut butter eggs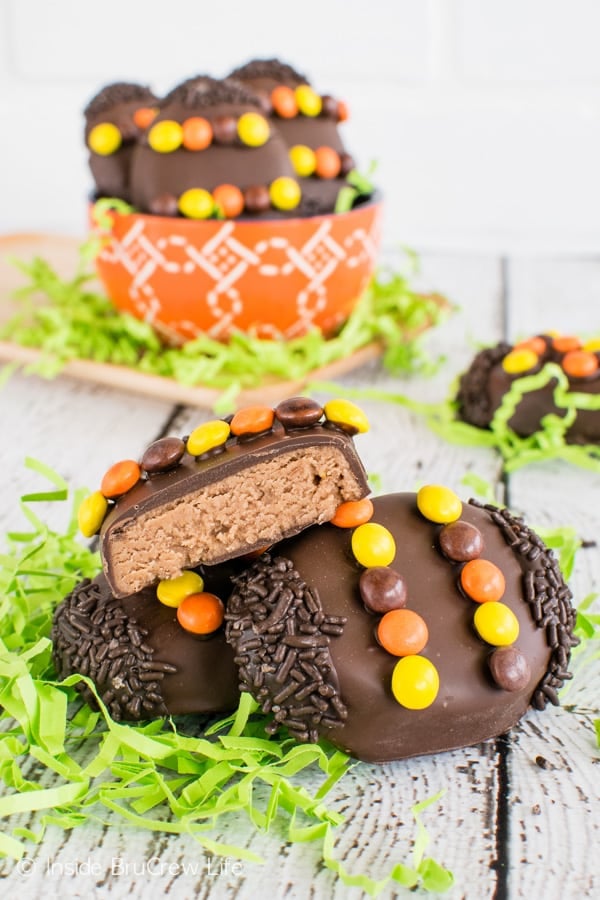 How to Make Reese's Eggs
A batch of these peanut butter eggs are so easy to make. They are seriously one of the easiest and tastiest Easter copycat recipes.
Mix together the butter, peanut butter, marshmallow fluff, and vanilla extract until nice and creamy.
Slowly beat in the powdered sugar until a soft dough forms.
Roll this dough into 12 even balls.
Press each ball flat with the palm of your hand and then gently shape into an egg shape with your fingers.
Place the homemade peanut butter eggs on a wax paper lined tray and place in the refrigerator for 45-60 minutes.
Melt the bag of chocolate melting wafers according to the package directions. Drop one peanut butter egg at a time into the melted chocolate and cover it using a spoon.
Use a fork to lift the peanut butter egg out of the chocolate. Gently tap the edge of the bowl to remove some of the excess chocolate.
Place the Reese's cream eggs on a sheet of wax or parchment paper and let set.
How to Decorate
Decorating these peanut butter Easter eggs is so much fun. You can use any candy or sprinkles to decorate the tops of the chocolate eggs.
Reheat the remaining chocolate in the bowl.
Use a toothpick to place dots of melted chocolate where you want the candies to be. Press the candies in place. You can also place the melted chocolate in a small ziplock bag, cut a tip off, and drizzle it on too. Let them set up.
Dip the ends of the eggs in the rest of the melted chocolate and add sprinkles. You can use chocolate jimmies, but an orange sanding sugar would look nice too.
I have a feeling these pretty little peanut butter eggs are not going to make it until Easter. That just means more egg decorating is in our future.
CLICK HERE TO PIN THIS RECIPE FOR LATER!
Variations
Dip the eggs in melted white chocolate for some variety.
Use orange sanding sugar to add a pop of color to the eggs.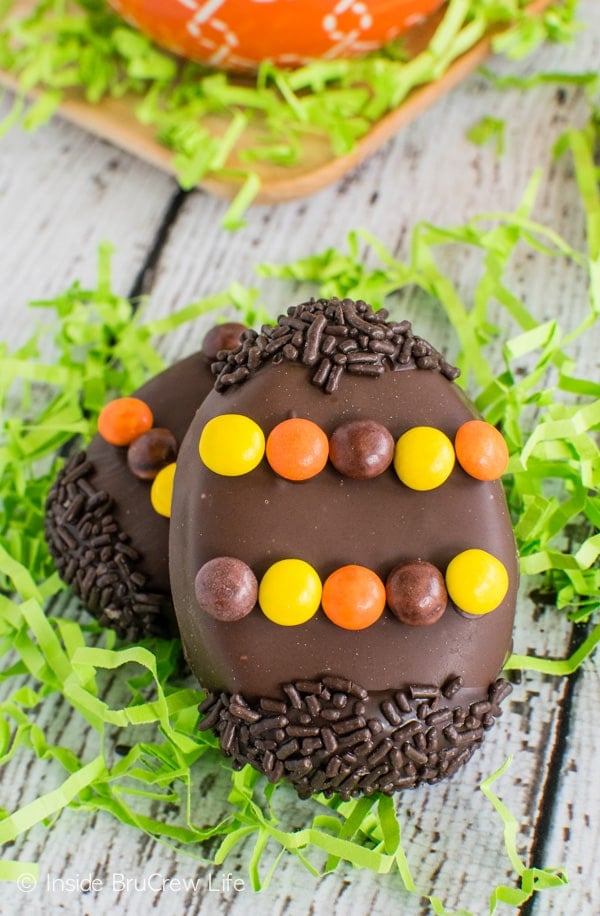 FAQ'S
How many Reese's eggs does this make?
If you are making the filling into eggs, it will make 12 eggs. You can also roll it into 36 small balls and dip them in the chocolate to make smaller truffles.
Can you make these ahead of time?
This recipe is easy to make ahead of time. They will keep for up to a week if kept in a sealed container in the refrigerator. The only thing you may notice is a little bit of discoloration on the Reese's Pieces when they start to come to room temperature.
How do you store these?
The peanut butter eggs will keep in a container on the counter for 1-2 days. If you have leftover Reese's eggs longer than that, store them in a sealed container in the refrigerator.
Can you freeze peanut butter eggs?
Yes, you can freeze these Reese's eggs. Wrap the chocolate peanut butter eggs tightly in wax paper and place in a freezer safe bag or container. They will keep for 1-2 months. Thaw overnight in the fridge.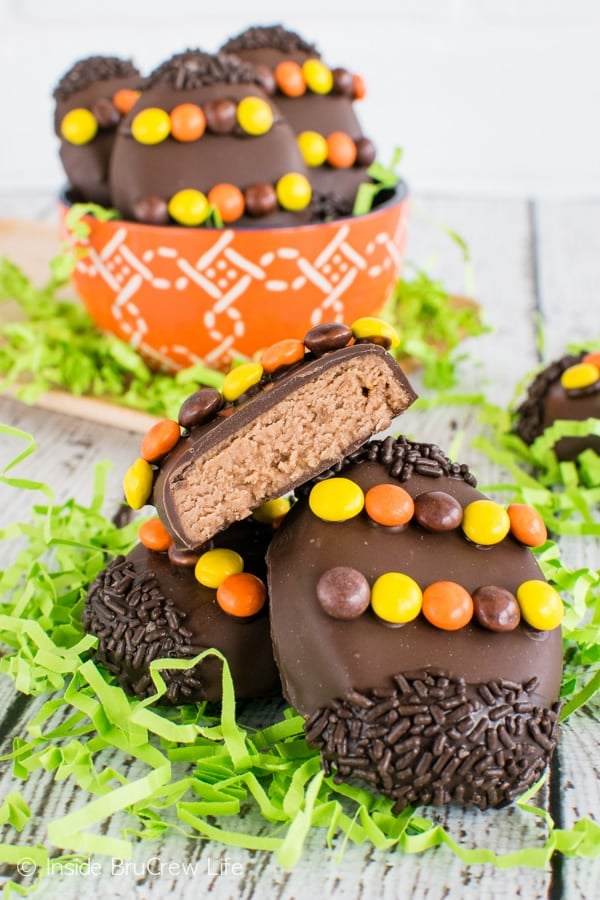 Other easy Easter Desserts
More Easter Recipes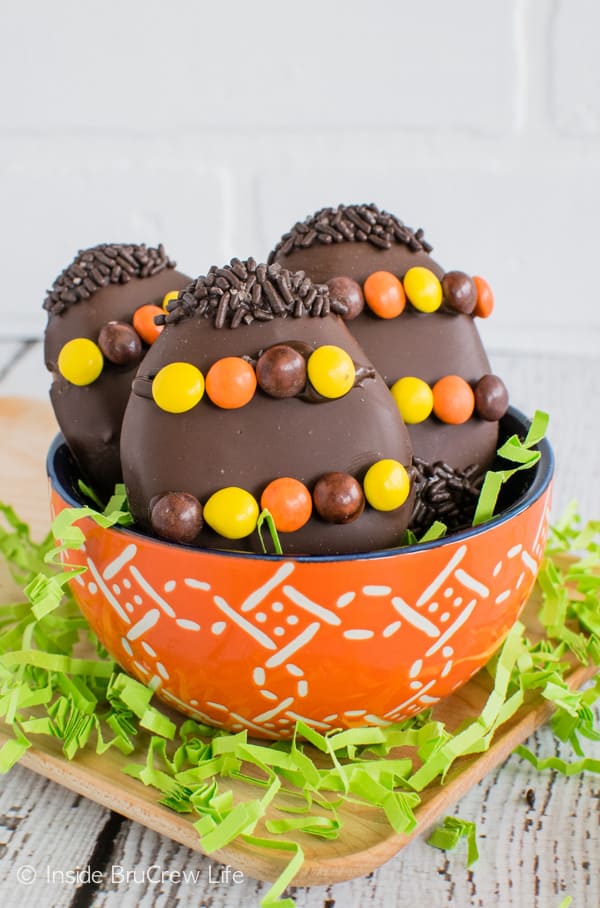 Love a recipe you tried from Inside BruCrew Life?
Please leave a 5 star ⭐️ rating and/or a review in the comments section further below.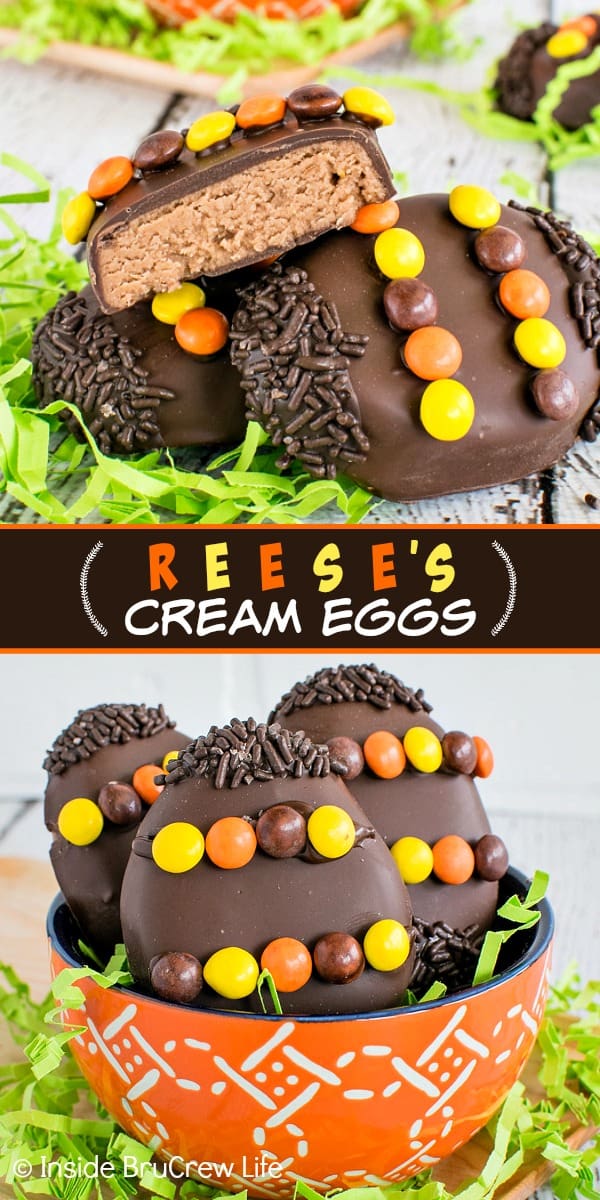 *The post for Reese's Cream Eggs was first published on March 7, 2016. The post has been updated and republished on April 4, 2019.