Say hello to fall with a magical Cinderella Latte! This pumpkin spice and white chocolate mocha combination is the perfect drink for PSL lovers everywhere. Just make sure you enjoy the magic before the clock strikes midnight and pumpkin season is over.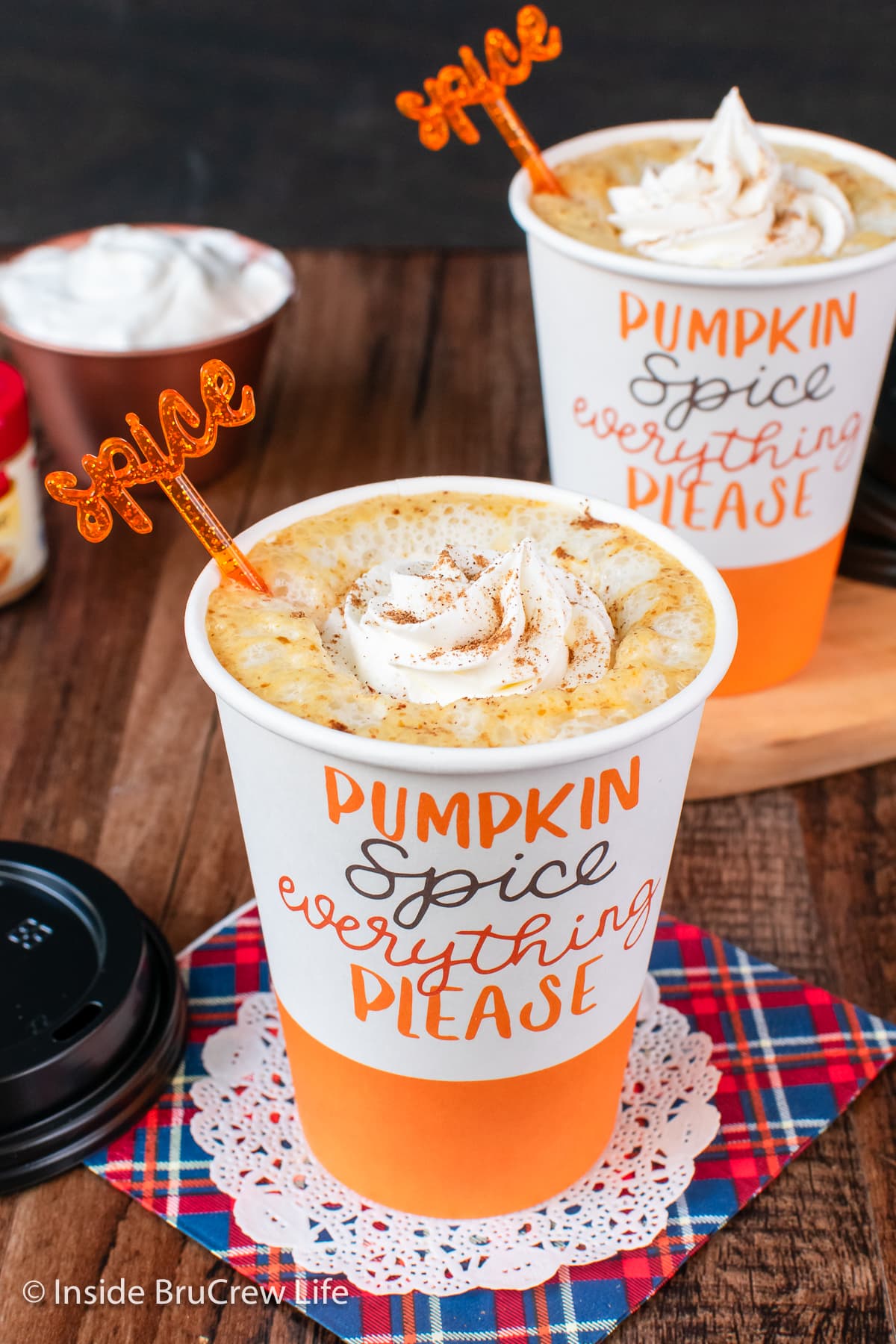 Jump to:
Fall is here, and one of my favorite drinks is a pumpkin latte. Years ago I combined a white chocolate hot chocolate with leftover pumpkin puree to create this fun drink recipe. I knew after one sip this would be my new go-to coffee!
Last year, I came across the same drink created by the girl who owns Happiest Tees on Earth. The former Starbucks barista added a white chocolate twist to the pumpkin drink. As a huge Disney fan, she called it the Cinderella Latte because the flavors reminded her of Cinderella's pumpkin carriage.
I love that we both had the same idea to pair pumpkin spice with white chocolate. It's a magical twist to the classic pumpkin spice latte!
Why Make a White Pumpkin Mocha
If you are a Starbucks pumpkin spice latte fan, you need to try this fairy-tale coffee. It is absolutely delicious, and I'm here to spill the beans (pun intended) on how you can enjoy it at home.
You do not need any special tools. You can create this Disney-style drink with a coffee maker and a blender.
It's made with real ingredients. The warmth of pumpkin puree and spices and the sweetness of white chocolate add a nice balance of flavor to the fall coffee.
Perfect for pumpkin lovers with a real sweet tooth. White chocolate chips are used to add sweetness and creaminess to the drink.
What is a Cinderella Latte
The now famous Cinderella Latte is a coffee drink that combines the classic pumpkin spice latte with a white chocolate mocha.
Remember that not all baristas in various coffee stores will know how to make the Starbucks secret menu item, so be prepared to explain it.
How to Order a Starbucks Cinderella Latte
Order a hot or cold pumpkin spice latte, but ask the barista to substitute half of the pumpkin spice syrup for white chocolate syrup.
This Cinderella drink can also be made into a blended frappuccino if you have a real sweet tooth.
Main Ingredients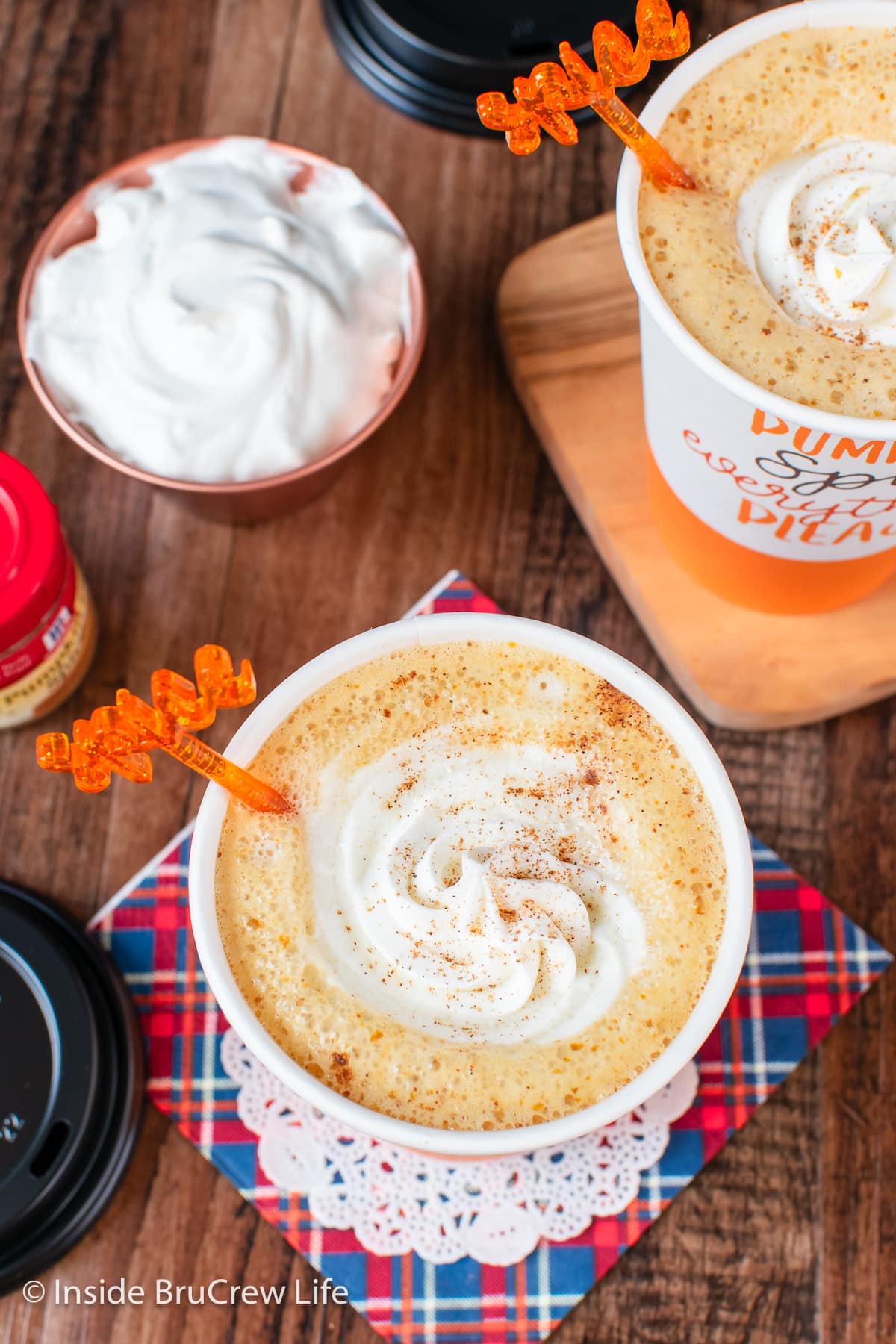 This Cinderella latte recipe is easy to make at home. Here's what you'll need to experience this enchanting storybook drink.
Coffee - One cup of extra strong brewed coffee or two espresso shots.
Pumpkin Puree - Make sure you buy pure pumpkin because the mix has added sugars.
Milk - A mixture of heavy cream and Low-fat or skim milk will froth the best, but you can use any milk in this coffee.
White Chocolate Chips - Use good quality chocolate for the best taste.
Extras - Vanilla extract and pumpkin pie spice add a rich, warm flavor.
How to Make a Cinderella Latte
Creating this white chocolate pumpkin latte is easier than you think—no fairy godmother's wand is required.
Combine milk, heavy cream, white chocolate chips, pumpkin, vanilla, and spice in a small saucepan. Heat over low heat until the chocolate has melted, stirring constantly.
Remove the pan from the heat and froth the mixture with a little magic from a handheld wand or blender.
Pour strong coffee into a cup, then top it with frothed milk.
Garnish with whipped cream and pumpkin spice topping for an extra sweet treat.
BruCrew Tip: Looking for more Starbucks copycat recipes? Try this pumpkin cream cold brew and this salted caramel mocha.
How to Froth Milk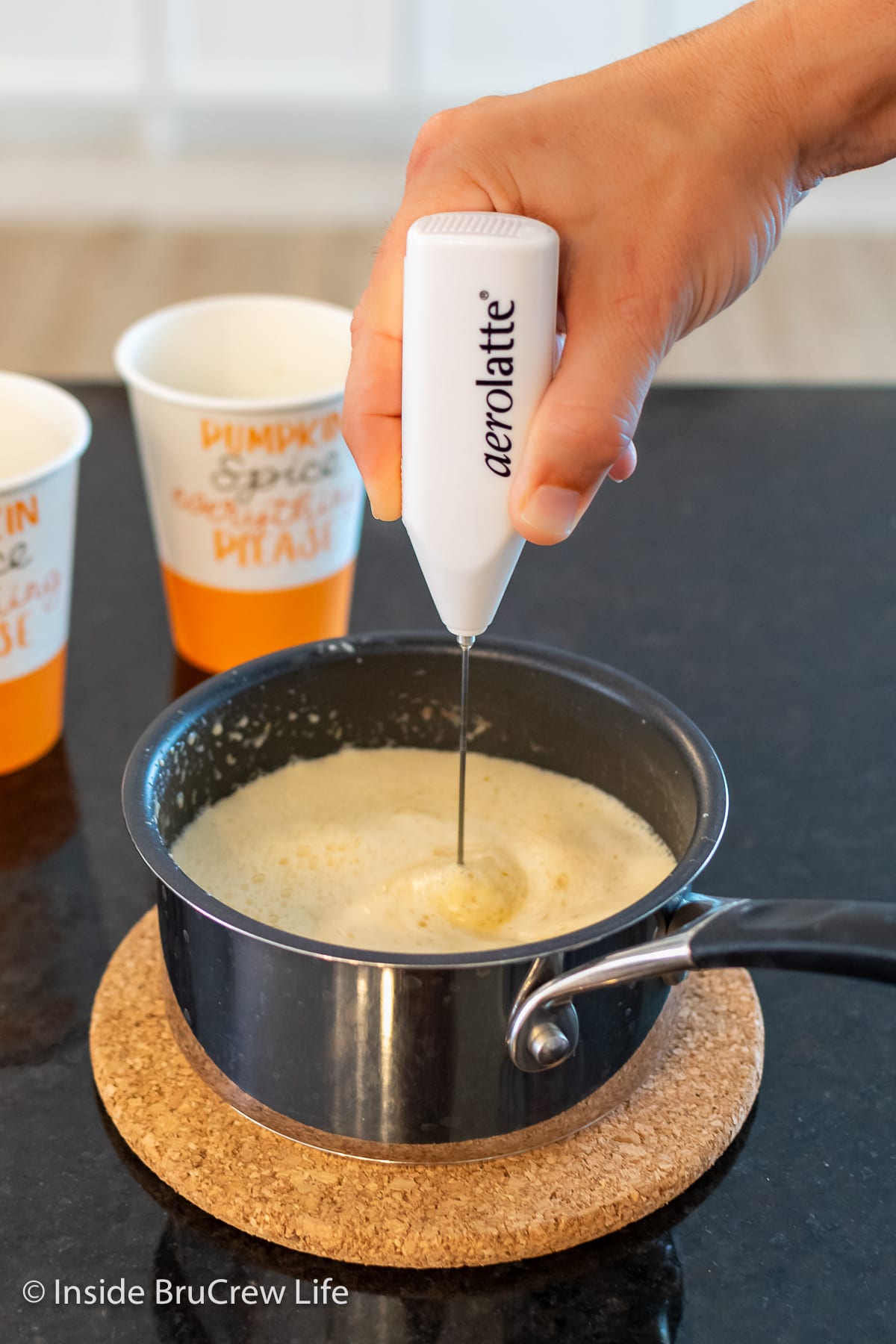 Heat the milk and mix-ins in a small saucepan over medium heat while continually stirring. You want the milk to be hot enough but not scorched. At about 95°, the air in milk will hold bubbles.
Using a mason jar is the easiest way to froth milk. Pour the steamed milk into the jar, tighten the lid, and shake until bubbly.
A whisk or mixer can also froth the milk into bubbles.
A frothing wand will whisk and swirl until it creates a foam. An Areolatte is small so that it won't take up much room in your kitchen drawer, and it's also excellent for whisking a peppermint mocha coffee.
You can also pour the warmed milk into a blender. Make sure the lid is tight and hold it as you pulse the milk.
Tips and Tricks
Lower the calories in the drink by using 1-2 tablespoons sugar-free syrups instead of chocolate chips and pumpkin. Skinny Mixes and Torani are two brands that we use and love.
Use your favorite milk in this recipe. It will also work with non-dairy milk.
Channel your inner Disney princess and add sprinkles or edible glitter to the top of the foam before serving.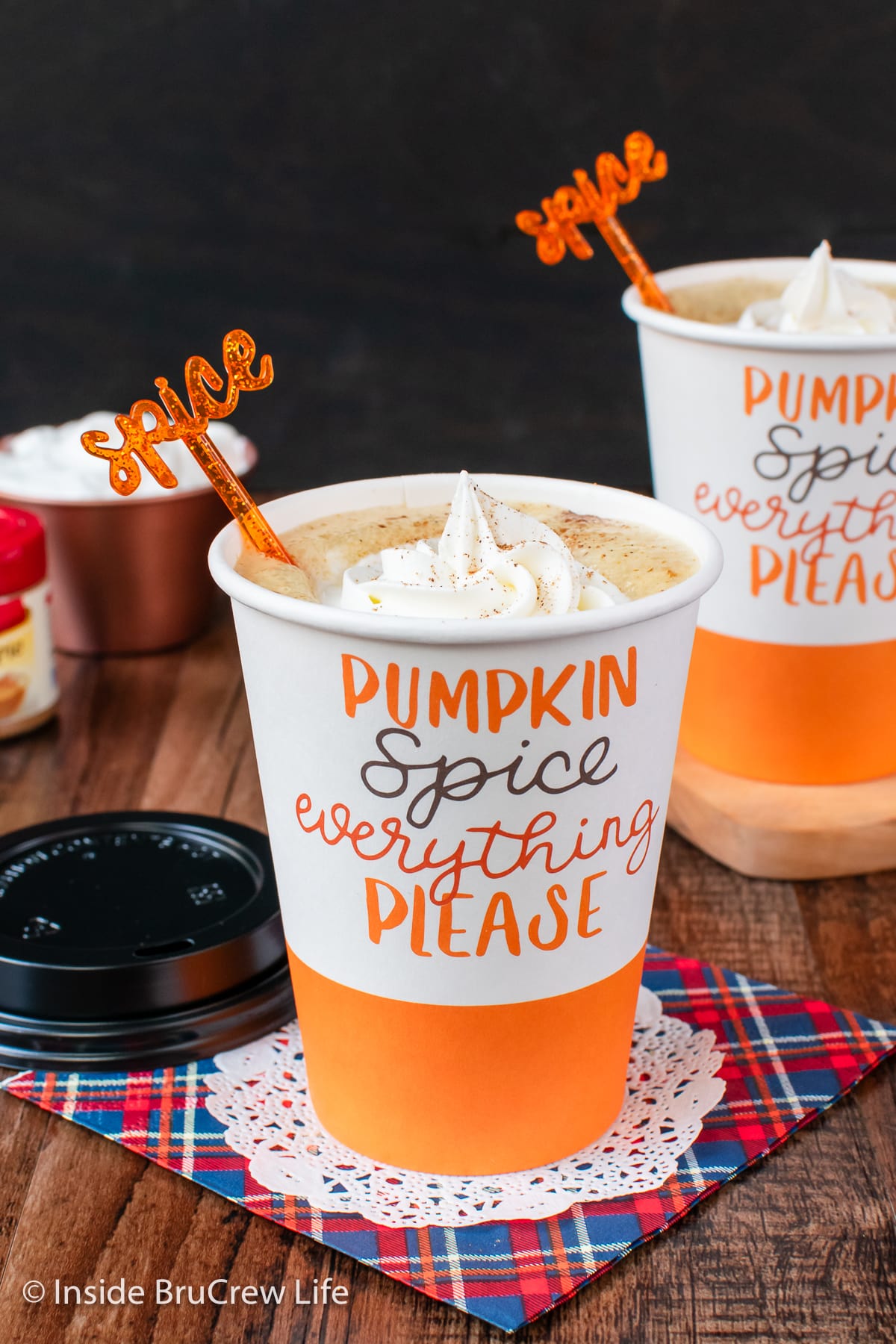 FAQs
What milk is best for frothing?
You can heat and froth any variety of milk. The different kinds and brands will create a different bubble when frothed. It is all about experimenting so you can get the foam and taste you like.

Dairy milk will create a creamy foam. Almond milk will generate a thick foam, while soy milk froths into a dense foam.
Can I make this drink without an espresso machine?
Certainly, you can brew extra strong coffee with a regular coffee maker or a French press.
Can I make this latte in a crockpot for a crowd?
Increase the ingredients based on the number of guests. Place everything in a crock pot and heat until the white chocolate is melted. Add coffee right before serving.
Other Homemade Lattes
Do you love a recipe you tried from Inside BruCrew Life?
Please leave a 5-star ⭐️ rating and a review in the comments section below.
*This post was first published in November 2018. It was updated and republished in September 2023.
**This post contains an affiliate link. Inside BruCrew Life may receive a small percentage of sales from these free links. As always, these do not cost you any extra. Thank you for letting us share products we use and love this way.