This warm White Chocolate Pumpkin Spice Latte has just the right amount of chocolate, spices, and pumpkin goodness! It's the perfect coffee drink for cool fall days.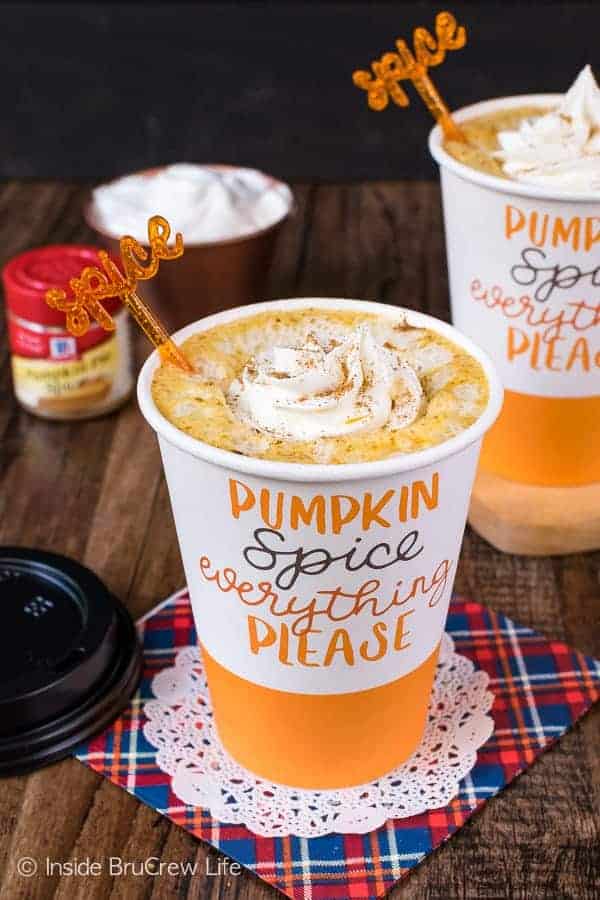 Well, the weather here has been quite a tease. Just enough cool mornings to make us think that fall had come to Florida. I may have gotten a little too excited and went and bought a couple new sweaters and a pair of boots to celebrate.
And then just like that the heat and humidity came back with a vengeance. The new clothes are still sitting in my closet with the tags on them because it's too hot to even think about wearing them yet.
Until it gets chilly for real, I'm sitting in my house with the air conditioner cranked low, so I can wear sweats and slippers and I can sip on homemade lattes.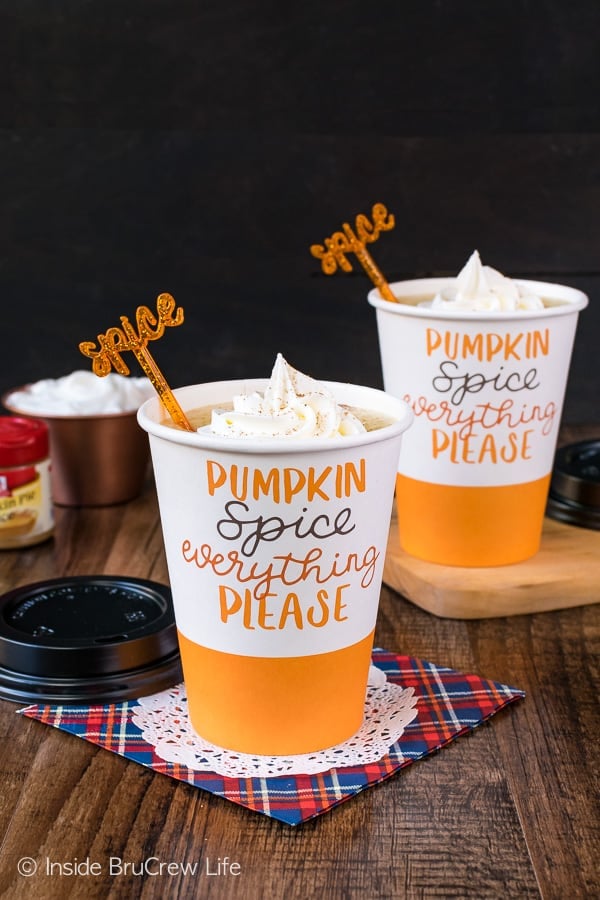 A few years ago I made this Salted Caramel Pumpkin Latte, and it's still one of my favorite coffee drinks in the fall. I mean salted caramel anything always gets my vote!
As I was flipping through some old cookbooks and magazines the other day though, I saw a white chocolate hot chocolate, and it made me wonder how that would be if I combined it with my homemade pumpkin latte.
I had some leftover pumpkin puree in the fridge after making these Pumpkin Chocolate Chip Cookies, so I headed to the kitchen to test out this pumpkin drink.
And let me tell you, it was delicious. It was the perfect blend of white chocolate, coffee, and pumpkin in a mug!!!
The Cinderella Latte:
I recently came across this cute girl who has a Disney t-shirt shop. She used to work in a Starbucks years ago and would make a version of this pumpkin drink every fall. She called it the Cinderella Latte because the white chocolate and the pumpkin reminded her of the magical coach that took Cinderella to the ball.
I love that we both had the same idea to pair pumpkin spice with white chocolate! It's such a magical twist to the popular pumpkin spice latte!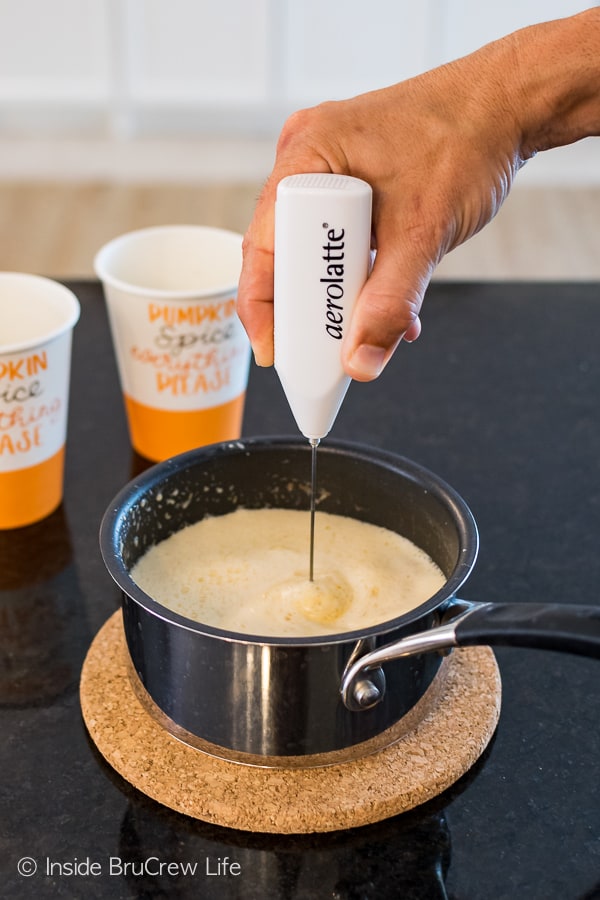 How to froth milk at home:
Heat the milk and your mix ins in a small sauce pan over medium heat while continually stirring. You want the milk to be hot enough but not scorched. At about 95 degrees the air in milk will hold bubbles.
The best way to see if the milk is at the right temperature is to hold a cup in your hand. It it feels hot, but you can still hold it, it should be right around your body temperature. If it is too hot to hold, the milk will be overheated and won't hold bubbles.
Using a mason jar is the easiest way to get your milk frothed. Pour the steamed milk in the jar, screw the lid on tight, and shake until the milk is full of large bubbles.
A whisk or mixer can also be used to froth the milk into little bubbles.
A small frothing wand will whisk and swirl until it creates a nice foam in your heated milk. It's small so it won't take up much room in your kitchen utensil drawer, and it's great for whisking cream for hot cocoa as well.
You can also pour the warmed milk into a blender. Make sure the lid is on tight and hold it as you pulse the milk.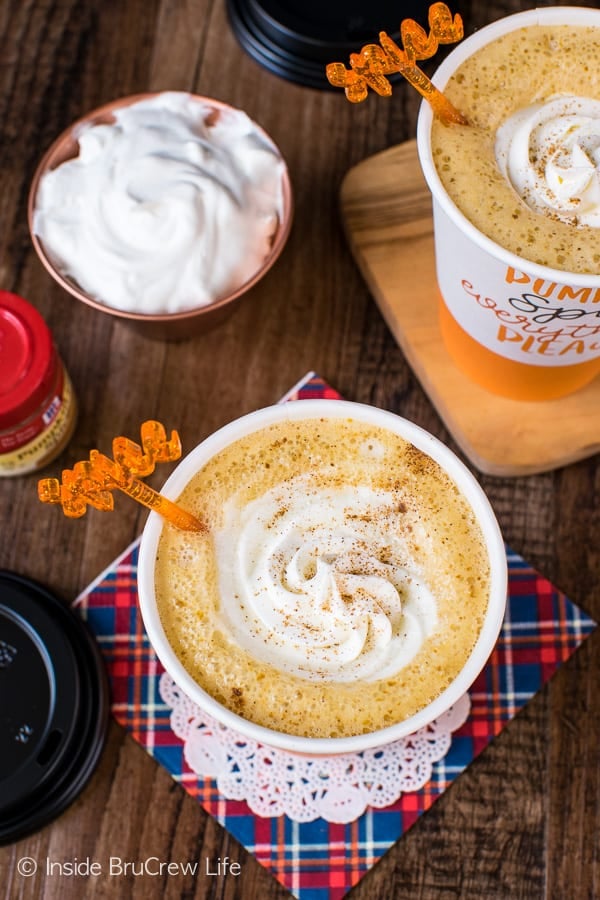 Which milk is best for frothing?
You can heat and froth any kind of milk. The different kinds and brands will create a different type of bubble as you froth them though. It is all about experimenting to get the right kind of foam and taste that you like.
Dairy milk has the right balance of fats and proteins, so it will generate a creamy froth. Low fat or skim milk will foam the best, but they are not as creamy and rich as whole milk.
Almond milk will create a nice thick sweet foam, but it is harder to create foam art.
Soy milk froths into a dense creamy foam that is harder to pour.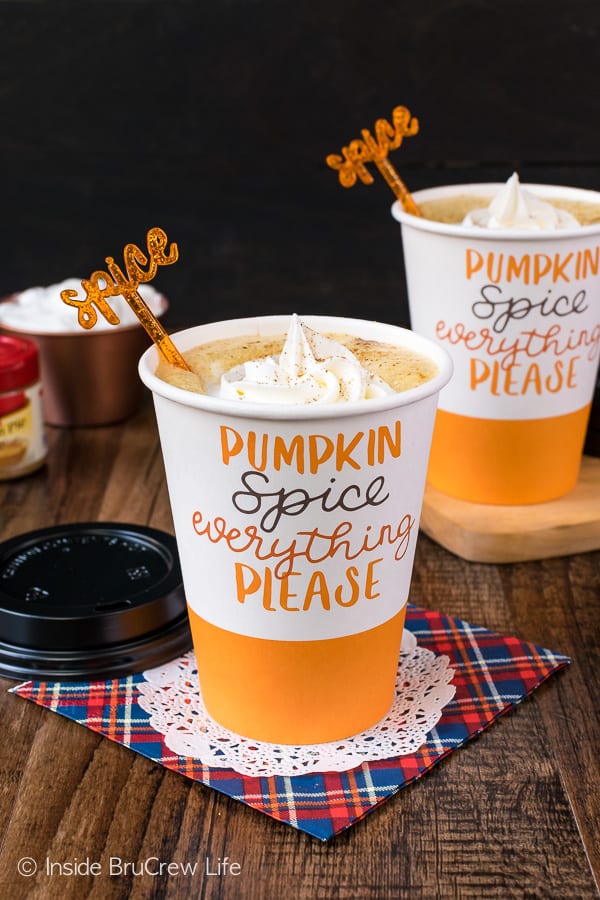 How to make a White Chocolate Pumpkin Latte:
Combine milk, heavy cream, white chocolate chips, pumpkin puree, vanilla, and spices into a small saucepan. Heat over low heat until the chocolate has melted, stirring or whisking the whole time.
Remove the pan from the heat and froth the milk. Pro Tip: We love using an Areolatte for all our homemade lattes.
Pour hot strong coffee into a cup and top with the foamy milk.
Garnish the cup with whipped cream or Cool Whip and a sprinkle of pumpkin pie spice. As the toppings dissolve into the milk, it will create a thicker foam on top of the coffee.
How to make White Chocolate Pumpkin Latte for a crowd:
Increase your ingredients and heat it all up in a crock pot until the white chocolate is melted.
Right before serving pour in the coffee.
Top each cup with homemade whipped cream or Cool Whip to give it the foam.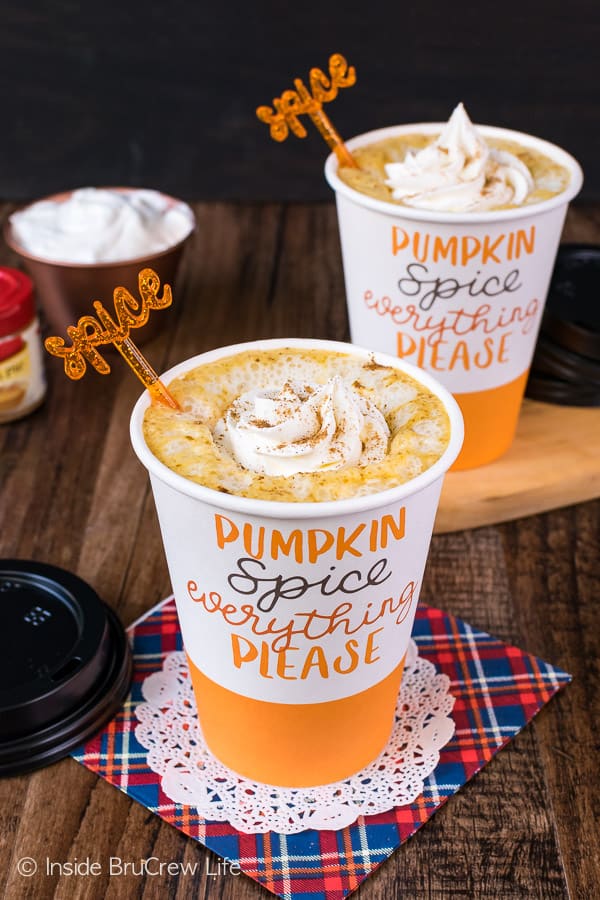 Other homemade lattes you may enjoy: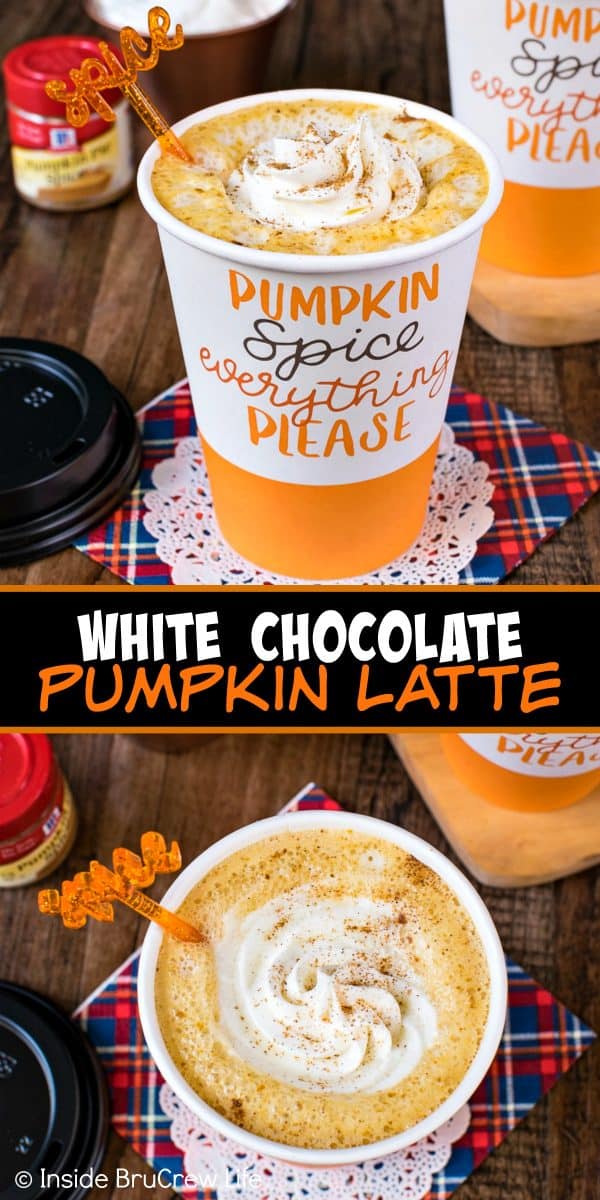 *This post contains an affiliate link. Inside BruCrew Life may receive a small percentage from sales made through these free links. As always, these do not cost you any extra. Thank you for letting us share products we use and love this way.