Apples topped with marshmallow cream, peanut butter, and Reese's peanut butter cups is definitely my way of eating an apple a day. These Fluffernutter Apple Nachos always get huge smiles from my kids.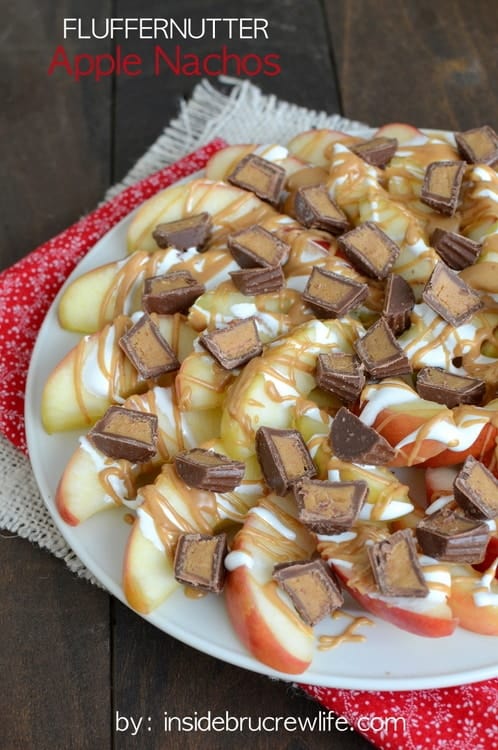 One sandwich that I remember always eating as a kid is the fluffernutter. It always surprises me how many people do not know what these sandwiches are.
Marshmallow cream and peanut butter on bread. That's it. Not the healthiest sandwich on the block, but definitely one of the tastiest.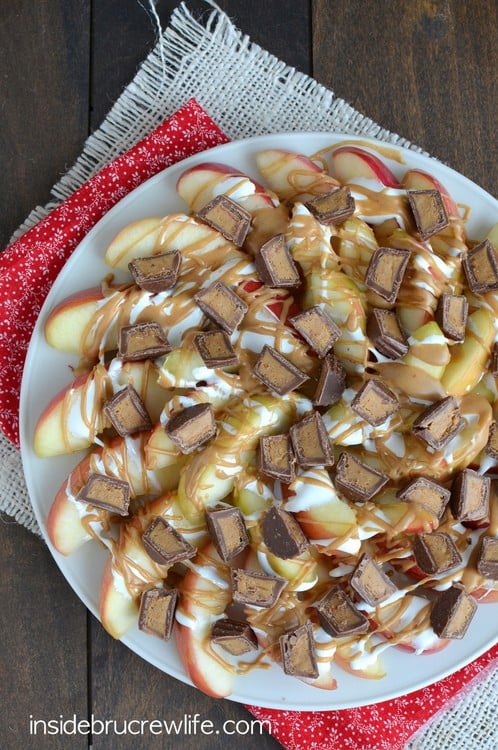 Both my boys have discovered the amazingness that fluff sandwiches are.
They have been taking them to school each day. My youngest gets on "favorite" food kicks and will eat it for weeks at a time. I seriously think he has had one a day for the past month.
All of their friends have been asking about this crazy sandwich that they bring for lunch. Some of their friends even went home and asked their parents to buy the fluff.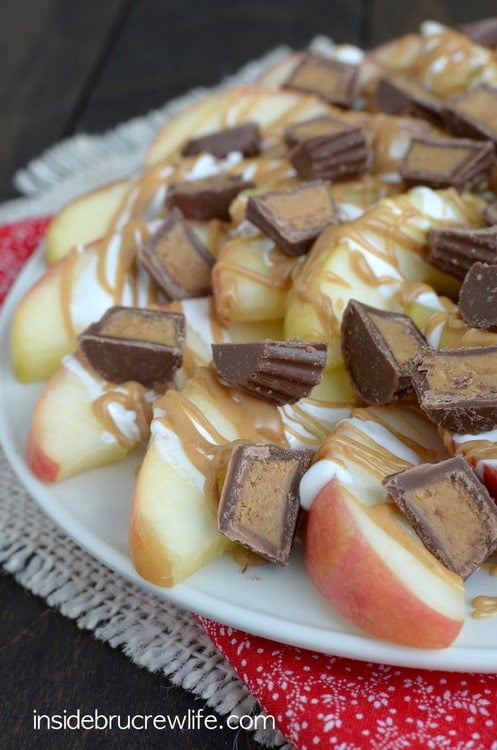 I knew when I got another bag of Crunch Pak apples that they were destined for greatness. Now don't get me wrong, the apples are absolutely great and awesome by themselves. We love those bags of pre sliced apples very much in our house. They are one of our go to snacks each week. They also are great to make treats like these caramel apple bars.
But add some marshmallow fluff, peanut butter, AND Reese's peanut butter cups and those sliced apples become down right amazing!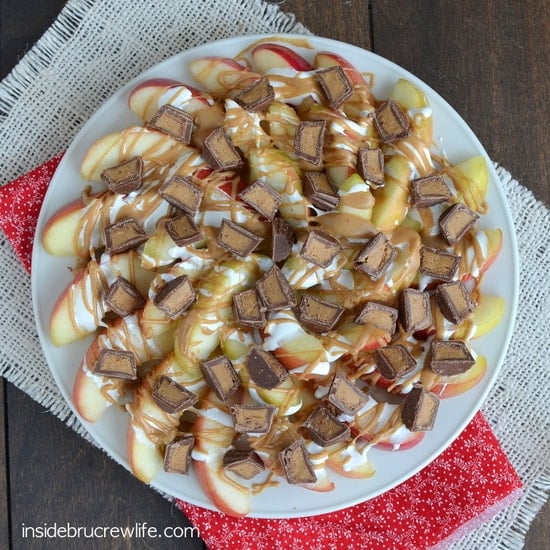 It was all I could do to not devour this entire plate of apples. In my mind it was total health food, but I resisted the urge and saved most of it for my kids when they got home from school. You should have seen the look on their faces. LOL! They love Reese's just as much as I do, so a plate of apples covered in the good stuff was enough to bring on the smiles.
Be careful heating up the marshmallow cream. I only did a few seconds at a time in our microwave. If you heat it too much, it will harden and not drizzle very well.
Also, be careful of the cup full of cut up Reese's peanut butter cups. They seem to be even easier to grab and munch on that way. Not that I would know or anything. Wink, wink!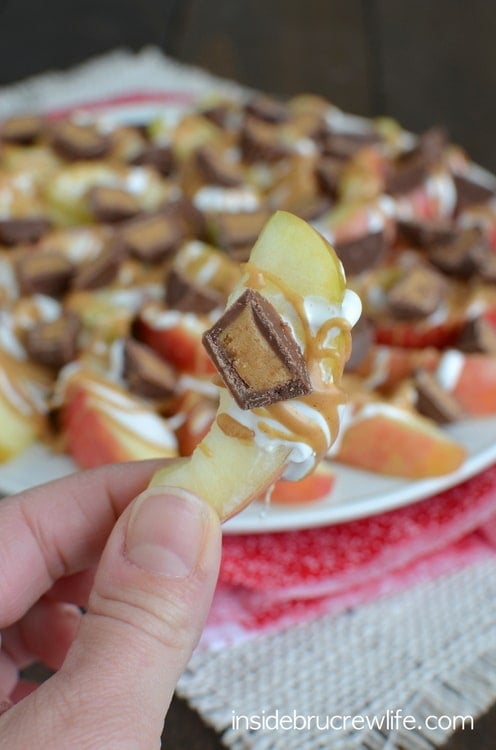 Stay up to date on all the BruCrew baking here:
FACEBOOK | PINTEREST | GOOGLE+ | TWITTER | INSTAGRAM | BLOGLOVIN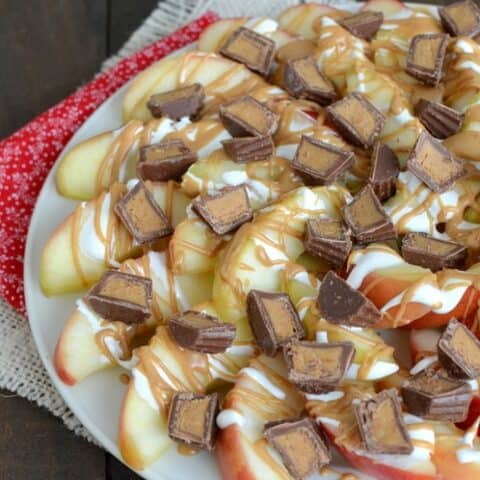 Fluffernutter Apple Nachos
Apples topped with peanut butter, marshmallow cream, and peanut butter cups for a fun Fluffernutter twist. Great way to eat your apple a day 🙂
Ingredients
4 cups apple slices (I use Crunch Pak)
¼ cup marshmallow cream
3 tablespoons creamy peanut butter
½ cup halved mini Reese's Peanut Butter Cups
Instructions
Spread the apples out on a plate. Heat the peanut butter in the microwave for 10-15 seconds. Drizzle over the apples.
Heat the marshmallow cream in the microwave for 10 seconds. Immediately spoon over the tops of the apples. Top with Reese's peanut butter cup pieces. Serves 4.
Notes
*If you cut your own apples, dip them in lemon juice to keep them from browning on the plate.
Nutrition Information:
Yield:

4
Serving Size:

1
Amount Per Serving:
Calories:

297
Total Fat:

15g
Saturated Fat:

4g
Trans Fat:

0g
Unsaturated Fat:

9g
Cholesterol:

2mg
Sodium:

165mg
Carbohydrates:

40g
Fiber:

5g
Sugar:

30g
Protein:

6g
Nutrition facts are an estimate and are not guaranteed to be accurate. If you need special diet advice, please see a registered dietician.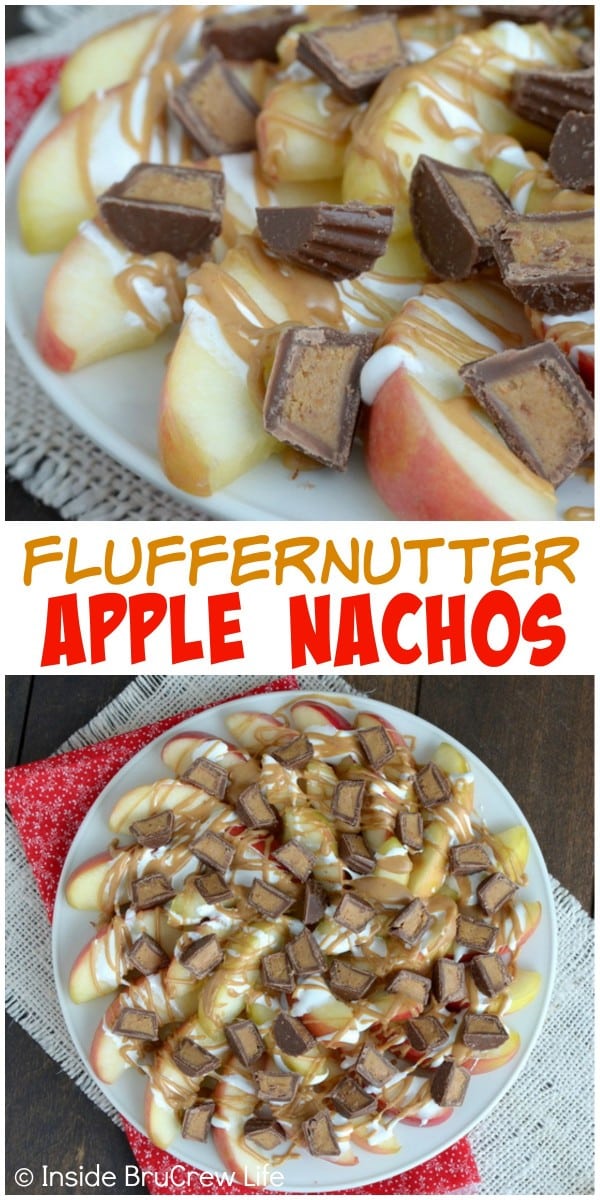 Other fun ways to enjoy marshmallow cream and peanut butter: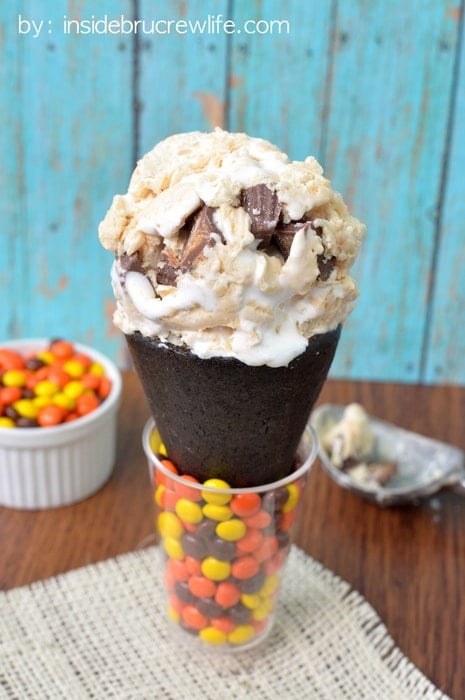 Reese's Fluffernutter Ice Cream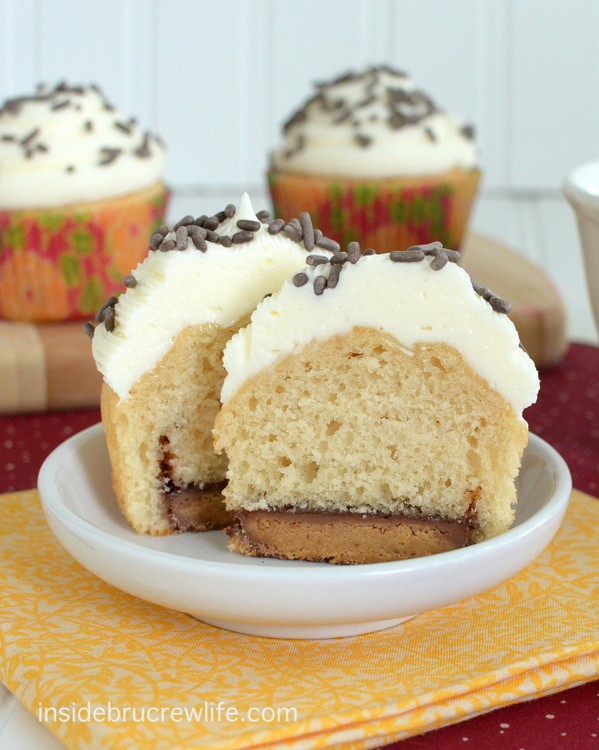 Reese's Fluffernutter Cupcakes