This Apple Blueberry Salsa is a healthy snack to dig into this summer. Grab a bag of cinnamon chips or a spoon to eat this easy honey orange flavored dip.
*Crunch Pak apples sponsored this recipe and post. I am partnering with them as a blog ambassador creating delicious apple recipes.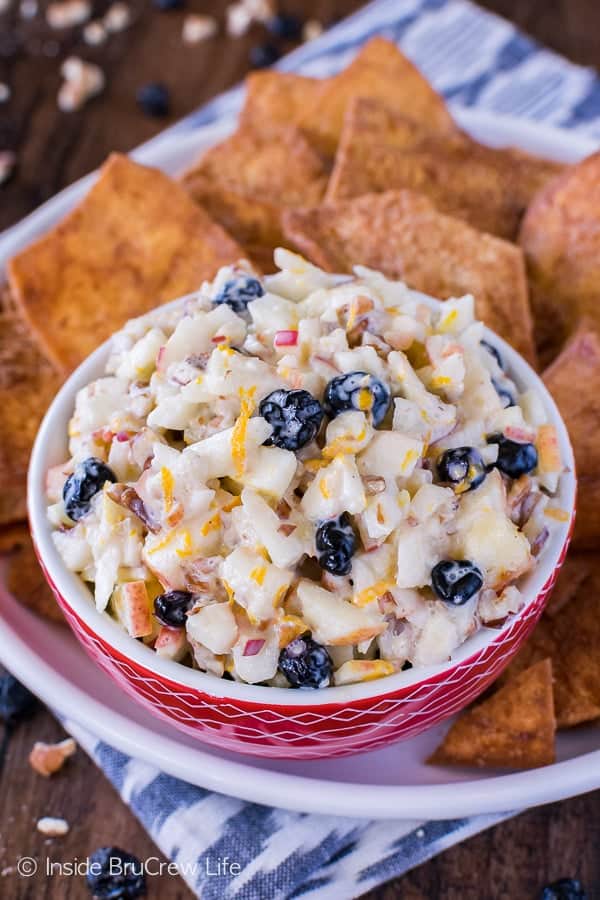 CLICK HERE TO PIN THIS RECIPE FOR LATER!
The past two months I have been heading out to the gym on a daily basis because I knew vacation was coming. Something about getting ready for a beach vacation motivates me like nothing else can. The thought of wearing a swimsuit in public keeps me picking up those weights and running those miles.
Although, I may not be in shape for a yellow polkadot bikini, I have dropped about 10 pounds. Eating healthy and exercising daily really does work! The best part of toning up was when I went into my closet and realized that the "tight" clothes I had been holding onto were now too big. Woot woot! Be right back because it's time to go shopping for all new clothes.
Giving up all the sweets that I love to bake was probably the hardest part because Mama loves her sugar! But having tight clothes become loose clothes is better than all the Homemade Chocolate Chip Brownies in the world.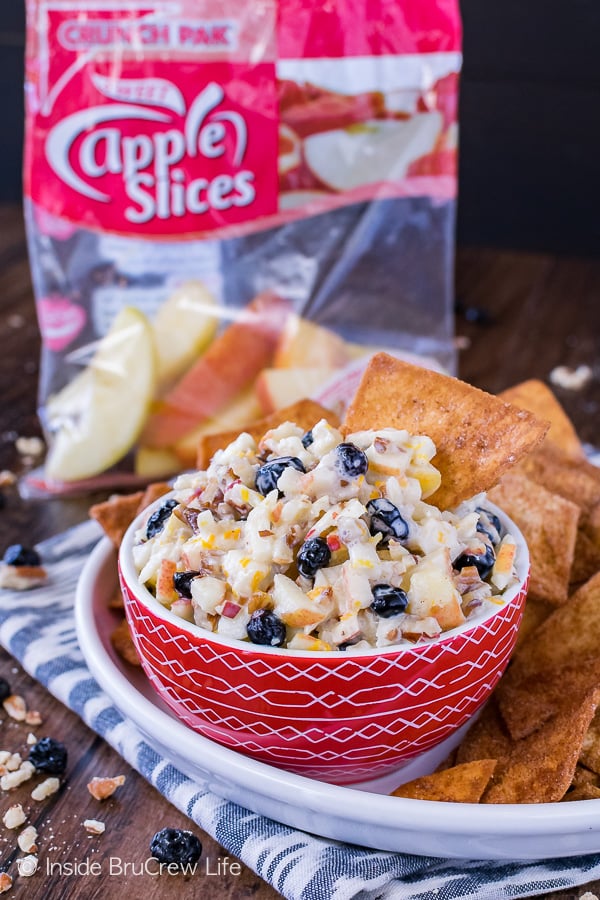 Over the past few years I have been working with Crunch Pak to bring you delicious treats made from apples. We loving keeping a few bags of the already sliced apples in our refrigerator.
The little packs are perfect for on the go snacking, and the big bags are perfect for baking things like this Snickerdoodle Apple Cake or these Glazed Cinnamon Apple Donuts.
I decided to make a skinny dessert with the bags of apples in my fridge since I am trying to be good and only snack on healthy treats. I also kept it simple and made a no bake treat. Diced apples, dried blueberries, and nuts mixed with a sweet honey orange yogurt makes an easy salsa in about 15 minutes.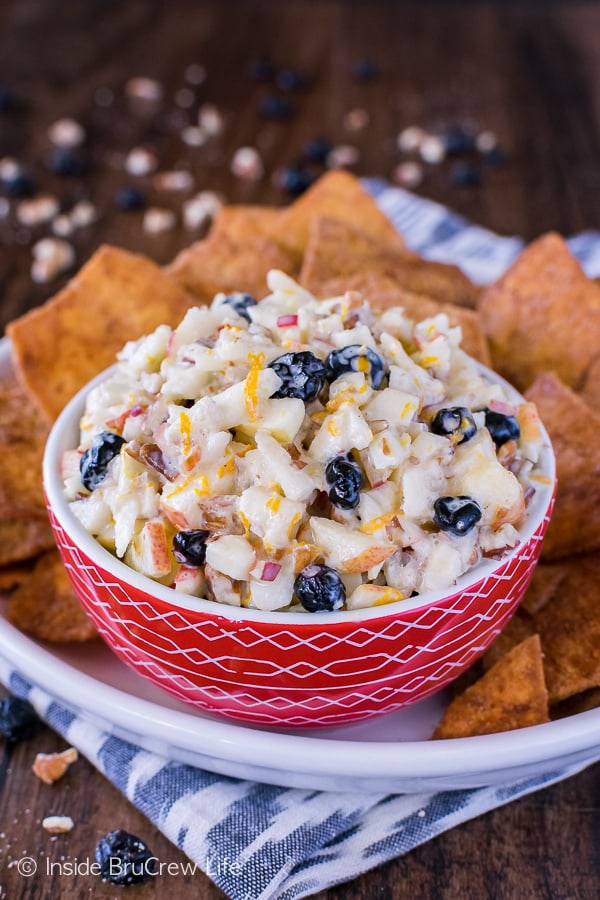 A bowl of this delicious skinny apple blueberry salsa is just what I needed after working out so hard. It had just enough of a sweet flavor from the fruit and honey to keep my sweet tooth satisfied. And the yogurt sauce was just healthy enough to keep my thighs happy.
Win, win all around!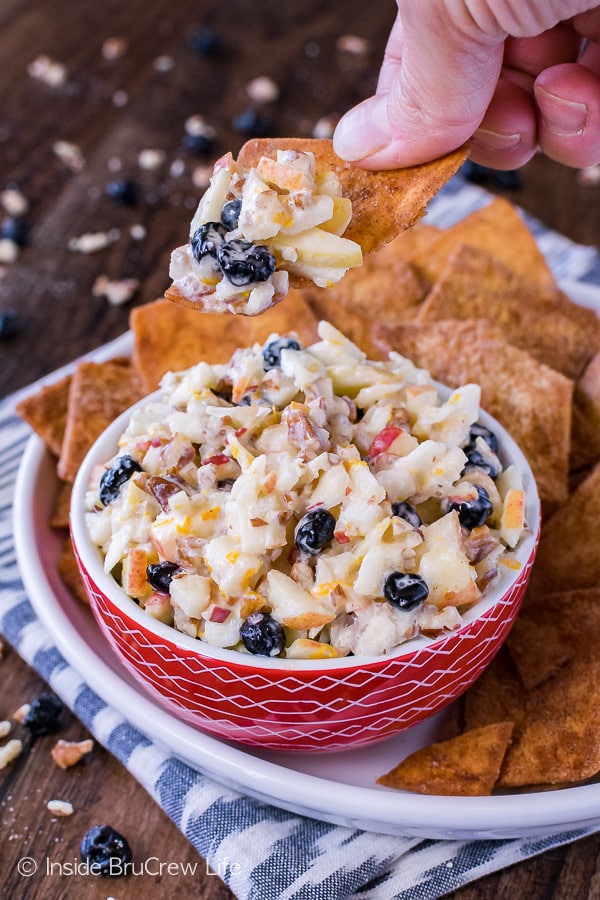 While you are waiting, make a big bowl of this skinny salsa to munch on. It's the perfect snack to make in minutes, and it's also great for bringing to summer picnics.
The best part about this healthy dip is that you can dice the apples fine for eating with a few cinnamon sugar chips. Or chop the apples a little bigger and make it into an easy fruit salad that can be eaten with a spoon. Just make it because it's totally delicious either way!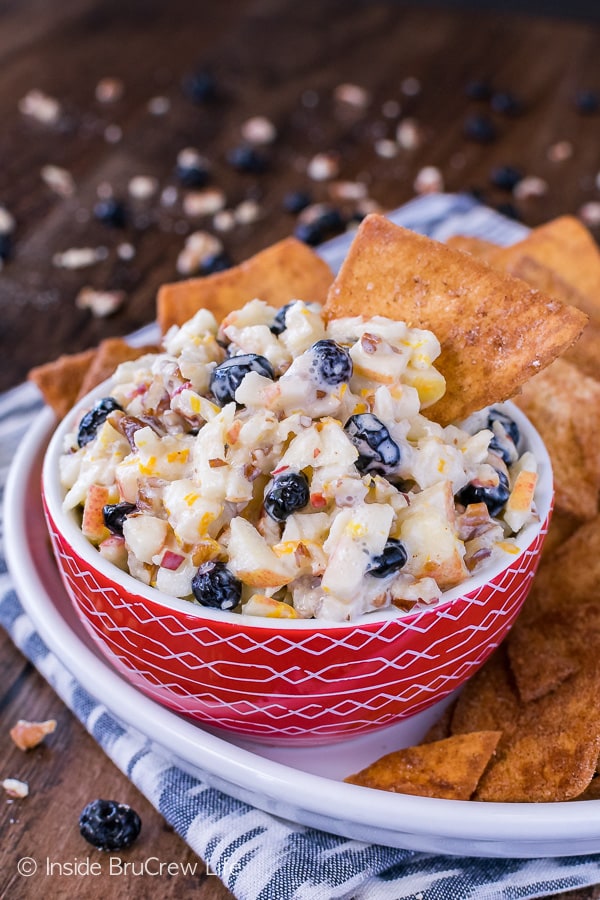 Looking for more ways to add an apple a day to your diet? Be sure to check out these recipes from some of my friends.

*Crunch Pak compensated my time as a brand ambassador. All opinions expressed in this post are 100% my own.