Enjoy a slice of this Apple Crisp Cheesecake this fall. This decadent dessert is a combination of creamy cheesecake and sweet apple crisp. It's the best of both worlds.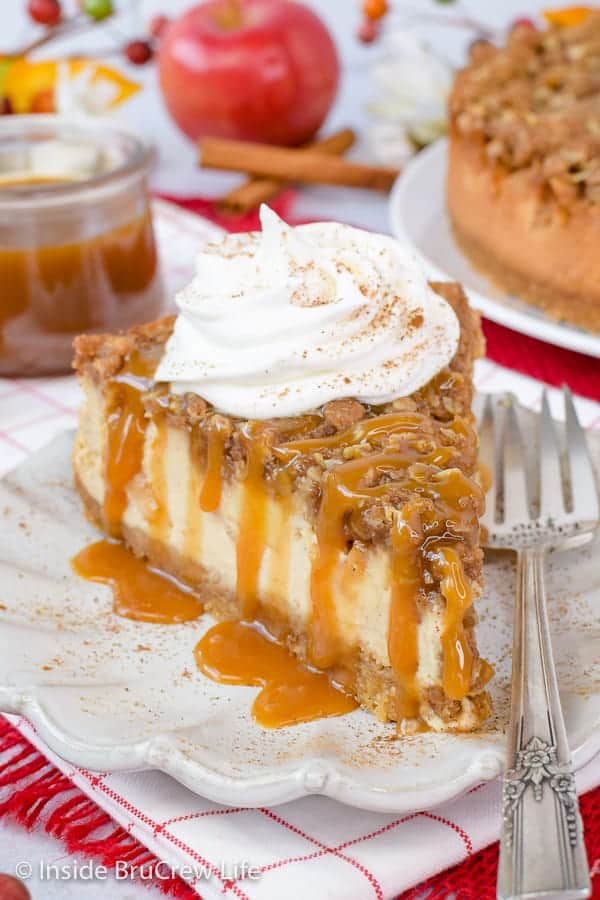 Now that September is here, all I want to do is bake apple desserts. Do you have months where you need/have to bake a certain thing. You know what I mean, right?
For me it looks like this. January is for coconut and healthy dinners. February is obviously chocolate. March and April are carrot treats. May, June, and July are all about salads and no bake desserts.
August is the time to use up that extra zucchini. September is apple. October is pumpkin and Halloween. November is pie and Thanksgiving sides, and December is cookies and peppermint.
With September already started, I had to go buy some apples and start working on some yummy fall recipes. And let me tell you, this one will not disappoint you. We had a hard time resisting this amazing apple cheesecake because it tasted so good.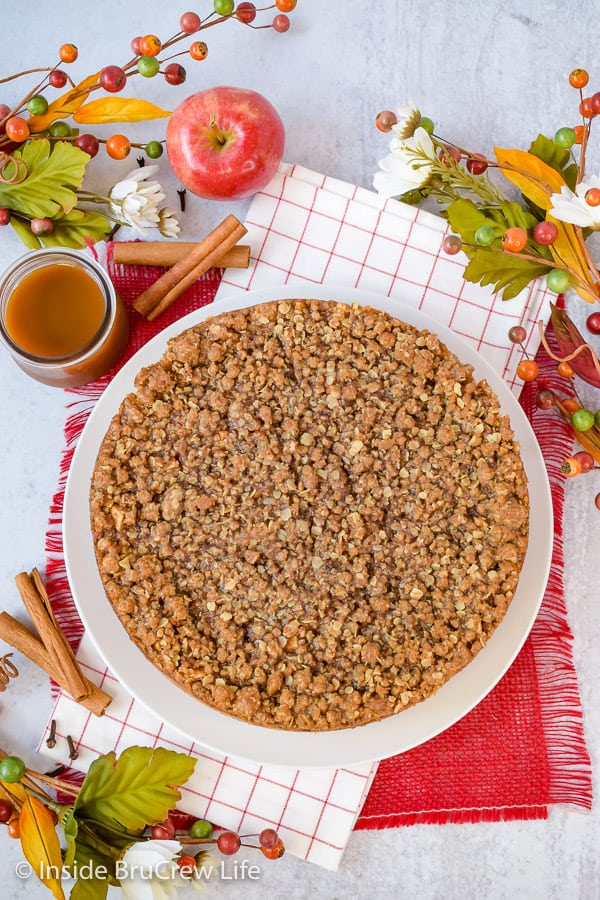 This Apple Crisp Cheesecake is actually an old one from years and years ago. 2010 to be exact. As I have been updating old recipes, I came across the photos and recipe for this one and I cringed. (I left one bad picture at the very bottom of the post, if you want to see how terrible it was.)
It was so bad. The photos, the recipe, the presentation…all of it was just cringe worthy.
The Gala apples on my counter had a new mission. Time to make that apple cheesecake look amazing.
As I updated the recipe, I decided to combine elements from this Cheesecake Apple Pie and this Apple Crisp Pie into one fabulous full sized cheesecake. Best idea ever!!!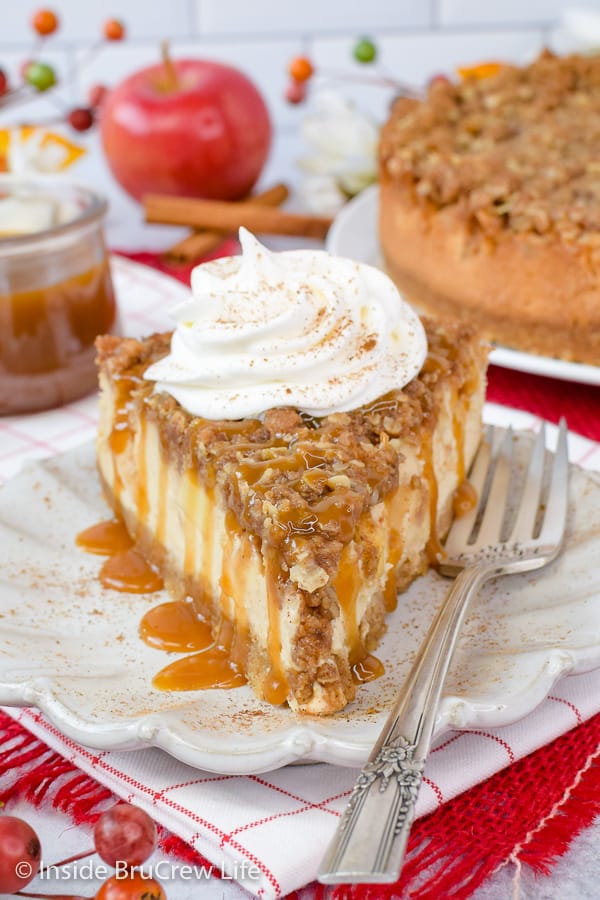 One of the main things that keeps people from making cheesecake is the fear of cracks. Did you know that I wrote an entire cookbook (Cheesecake Love) on cheesecake?
In it there are tips and tricks to keep it from cracking and what to do if it does. Here are my main tips for you to start using now.
How to Keep Cheesecake from Cracking:
Use room temperature cream cheese because cold cream cheese is hard to mix and usually ends up with lumps.
Mix all the cheesecake ingredients, minus the eggs, very well.
Add the eggs and mix again. Only mix until everything has been mixed together. Over mixing the batter can add air bubbles to the mixture, which will bake and cause the top to crack.
Use a steam bath by placing a sheet pan on the very bottom rack of the oven. Fill it halfway with water, and turn the oven on to preheat.
Place the cheesecake on the rack directly over the sheet pan once it is heated up. The steam from the water will create extra moisture in the oven as the cheesecake bakes.
Avoid opening the oven door as the cheesecake bakes. The change in temperature and air drafts can cause a cheesecake to crack.
Do not over bake cheesecake. The center of the cheesecake should be wobbly like Jello when you pull it out.
Let the cheesecake cool 5 minutes on a wire rack, then run a knife around the outside edge of the cheesecake to loosen it from the sides of the pan. As the cheesecake cools, it will shrink and pull. If it is still attached to the pan, the center will crack.
These tips help keep a cheesecake creamy and free of cracks, most of the time. However, cheesecake can be temperamental, and I have baked my fair share of cheesecakes that had a nice crack in the center.
If a crack happens, cover it with pie filling, Cool Whip, chocolate, or a sour cream topping. It will still taste amazing!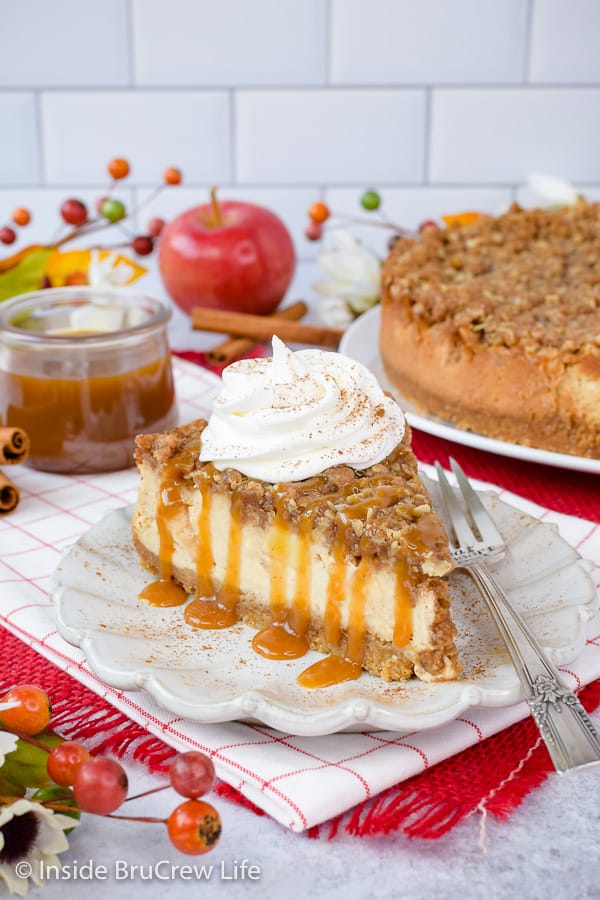 This Apple Crisp Cheesecake has layers of apples and crumble topping, so you do not have to worry about getting any cracks in this cheesecake. The topping holds it together so well.
How to make an Apple Crisp Cheesecake:
Place a sheet pan on the bottom rack of the oven. Fill it halfway with water and preheat the oven. Line a 9 inch springform pan with parchment paper, so your cheesecake will come out easily.
Stir together the crust ingredients and press evenly in the bottom of the pan.
Beat room temperature cream cheese and sugar until creamy. Add the flour, cinnamon, and vanilla and mix again.
Add the eggs and mix the batter until everything is combined. Do not over mix because that causes air bubbles. Pour the batter on the crust.
Stir together diced apples with brown sugar and cinnamon.
Mix the crumble topping ingredients together. Use your hands to press the mixture into big crumbs.
Spoon the apples gently on top of the cheesecake. Sprinkle with the topping.
Place the cheesecake on the oven rack directly over the pan of water and bake.
Remove from the oven and place on a wire rack. Pro Tip: After 5 minutes, run a knife around the outside edge of the cheesecake to loosen it from the pan.
Cool 1 hour on the wire rack, then refrigerate 6 hours or more to chill all the way through.
Caramel drizzles and Cool Whip are the perfect finishing touches to a slice of apple cheesecake.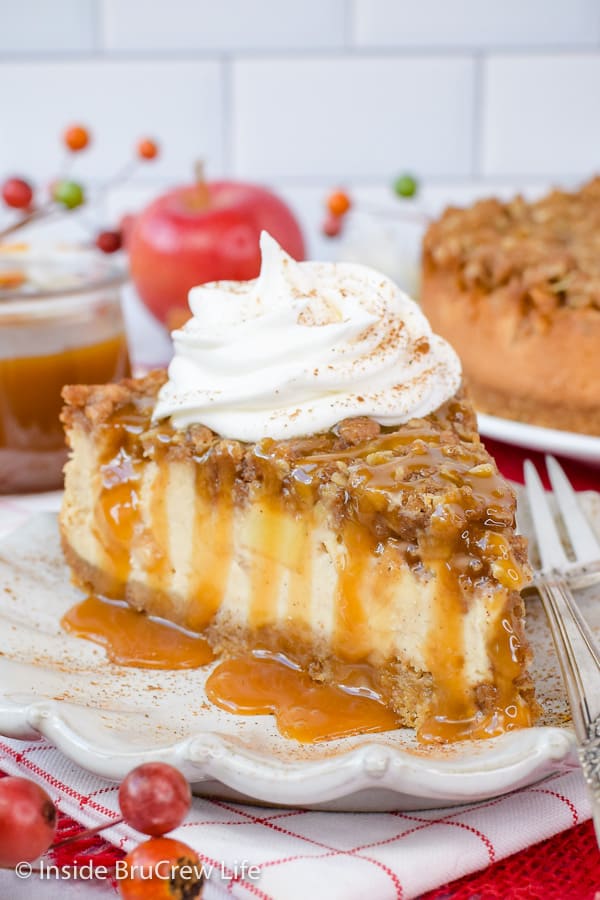 Which apple is best for baking?
You can use whatever your favorite apple is. I personally use Gala apples for all my baking because they are a little sweeter and my favorite.
You could also use Granny Smith apples if you like a more tart apple dessert. Honeycrisp, Fuji, and Red Delicious are also great for baking. You can also mix apples in your dessert to give it a little bit different flavor.
Other apple dessert recipes you may like:
Snickers salad meets apple cake in this delicious dessert. This Apple Snickers Cake is loaded with apples and candy bars and tastes amazing!
This Apple Turtle Cheesecake Tart has layers of cheesecake, apple pie filling, nuts, and caramel topping. Trust me. This dessert disappears in a hurry.
Layers of cheesecake, apples, and graham crackers make this Cinnamon Apple Icebox Cake an easy no bake dessert. Perfect for fall parties.
Fresh apples and a praline candy frosting make this the best Apple Praline Cake you will have. It is the perfect cake to kick off fall baking with.
Caramel bits and apples make this Caramel Apple Bundt Cake such a delicious fall dessert. Obviously, it's perfect with a hot cup of coffee.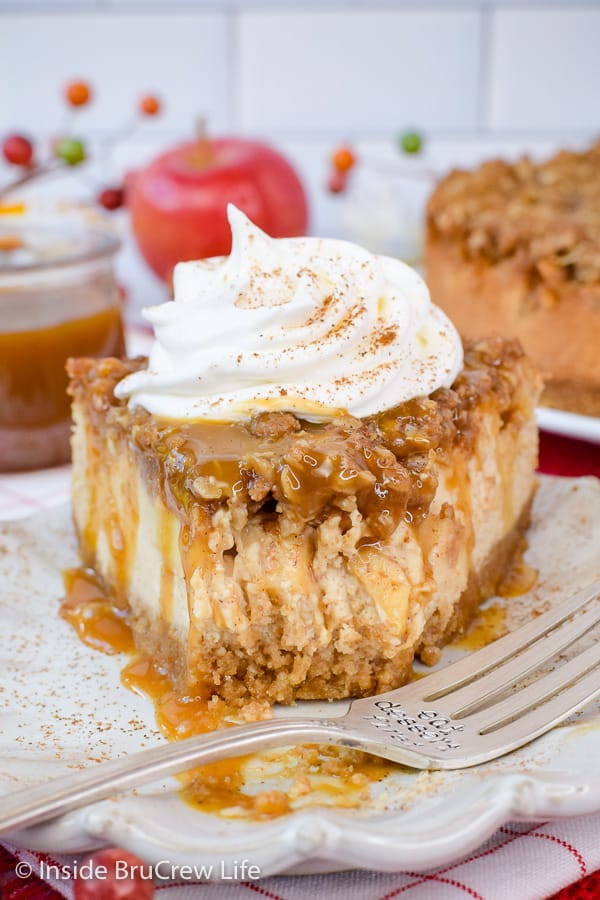 Connect with Inside BruCrew Life! Follow us on social media, so you never miss a post.
Email Subscription | Facebook | Pinterest | Twitter | Instagram | Bloglovin
I also have a fun Facebook group, and I would love for you to join. It's a group where you can share your favorite recipes, ask questions, share photos, and see what's new with the BruCrew. If you would like to check it out, you can request to join HERE.
CLICK HERE TO PIN THIS RECIPE FOR LATER!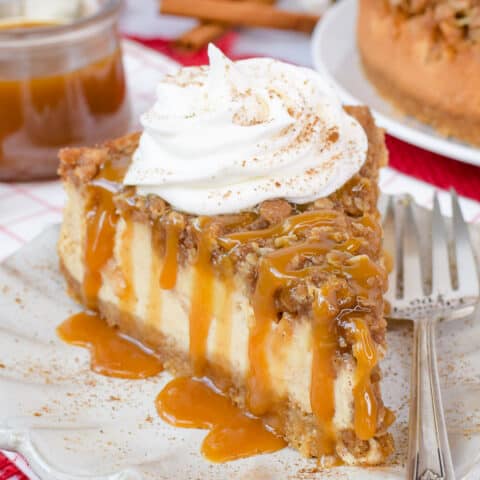 Apple Crisp Cheesecake
Total Time:
1 hour
20 minutes
Ingredients
For the Crust
2 cups cinnamon graham cracker crumbs
1/4 cup granulated sugar
6 Tablespoons butter, melted
For the Cheesecake
2 (8 ounce) packages cream cheese, softened
1/2 cup brown sugar
2 teaspoons vanilla extract
1/2 teaspoon cinnamon
2 Tablespoons all-purpose flour
2 large eggs
For the Apples
3 Gala apples, peeled and diced
1/4 cup brown sugar
1/2 teaspoon cinnamon
For the Crisp Topping
1/2 cup all-purpose flour
1/2 cup quick oats
1/2 cup brown sugar
2 teaspoons cinnamon
4 Tablespoons unsalted butter, melted
Instructions
Preheat oven to 350 degrees. Place a large sheet pan on the very bottom rack and fill halfway with water. Line a 9 inch springform pan with parchment paper.
Mix together the graham cracker crumbs, sugar, and melted butter. Press the mixture evenly in the bottom of the springform pan.
Beat the cream cheese and sugar until very creamy. Add the vanilla, cinnamon, and flour and mix in thoroughly.
Add the eggs and mix until everything is mixed in. Do not over mix the batter.
Pour the cheesecake onto the prepared crust.
Stir together the diced apples, brown sugar, and cinnamon and set aside.
Add all the topping ingredients into a bowl and stir until completely combined. Use your hands to press the mixture into large crumbs.
Spoon the apples onto the cheesecake batter gently. Sprinkle the topping evenly over the apples.
Place the pan on the oven rack directly over the pan of water. Bake for 50-55 minutes. Remove from the oven and place on a wire rack. Cool 5 minutes, then run a knife around the outside edge of the cheesecake to loosen it from the pan.
Cool 1 hour, then place in the refrigerator for at least 6 hours or overnight to chill completely.
Serve sliced with caramel, Cool Whip, and apple pie spice, if desired.
Recommended Products
As an Amazon Associate and member of other affiliate programs, I earn from qualifying purchases.
Nutrition Information:
Yield:

14
Serving Size:

1
Amount Per Serving:
Calories:

271
Total Fat:

11g
Saturated Fat:

6g
Trans Fat:

0g
Unsaturated Fat:

4g
Cholesterol:

50mg
Sodium:

123mg
Carbohydrates:

40g
Fiber:

2g
Sugar:

26g
Protein:

3g
Nutrition facts are an estimate and are not guaranteed to be accurate. If you need special diet advice, please see a registered dietician.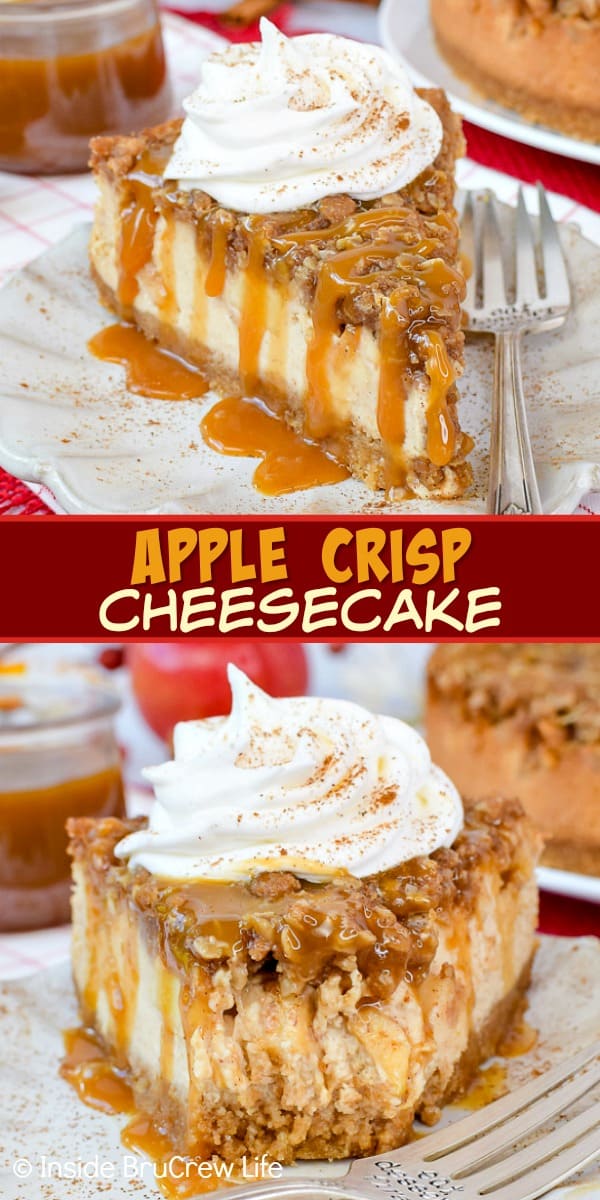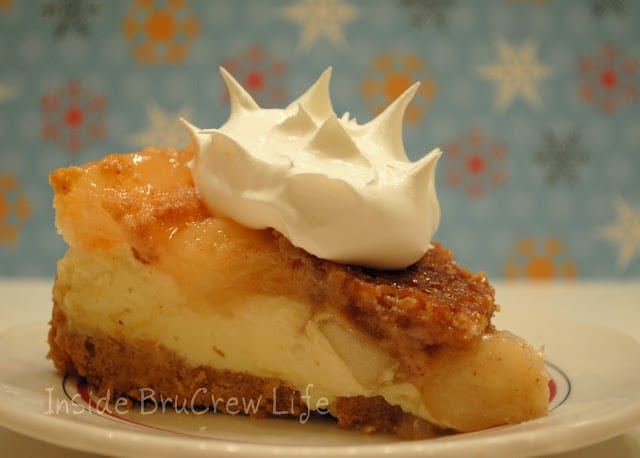 (original photo from 2010)
*The post for Apple Crisp Cheesecake was first published on November 26, 2010. The photos and recipe have been updated, and it was republished on September 6, 2019.
*This post contains affiliate links. Inside BruCrew Life may receive a small percentage from sales made through these links. As always, these do not cost you any extra. Thank you for letting us share products we love with you this way.