Use the ripe bananas on your counter to make this Peanut Butter Chocolate Chip Banana Cake. Mini chocolate chips make this soft and fluffy cake so good.
And the Best Honey Peanut Butter Frosting makes it absolutely irresistible! Make it and watch it disappear!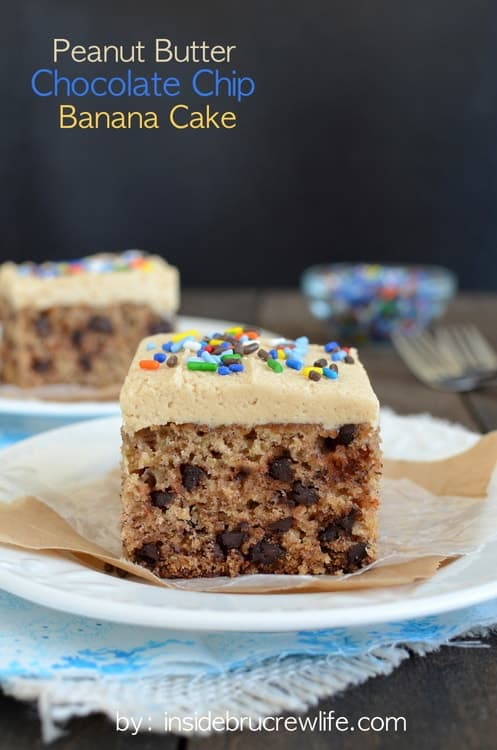 Today is a fun day! I am joining with a group of blog friends to surprise Katie from Katie's Cucina with a fun virtual baby shower. I met Katie last year at the BlogHer Food conference, and she is such a sweetheart. We enjoyed chatting over crazy monster donuts from the food trucks while we were there.
Surprise Katie!!!! We wanted to let you know how much you are loved, and how excited we are for your little man to be here soon.
I wish we could all be there in person to give you hugs and delicious food. But since we are all over the country, we did the next best thing. We made lots of easy dinners, desserts, and crafts to share with you through pictures.
We know you will be busy with late night feedings, changing diapers, and just staring in awe at those little fingers and toes, so we wanted to share easy recipes that don't take much time to make.
I always have bananas on the counter or in my freezer. That's nothing new around here. So when I started thinking about an easy dessert to share at the party, I knew it was going to involve bananas. In fact, I had just frozen a bunch of bananas before we went on vacation, so I knew I had plenty on hand to work with.
This cake is a version of this Best Banana Cake. Last year I was on the phone with my sister, and she wanted to use up her ripe bananas. I sent her to that Banana Cake right away. As she started to mix the ingredients up, she realized that she didn't have a few of the ingredients, so she called me back.
With just a few substitutions and a different frosting, we put together a whole new cake. One that definitely needed chocolate chips in it. After all, chocolate and peanut butter is meant to be.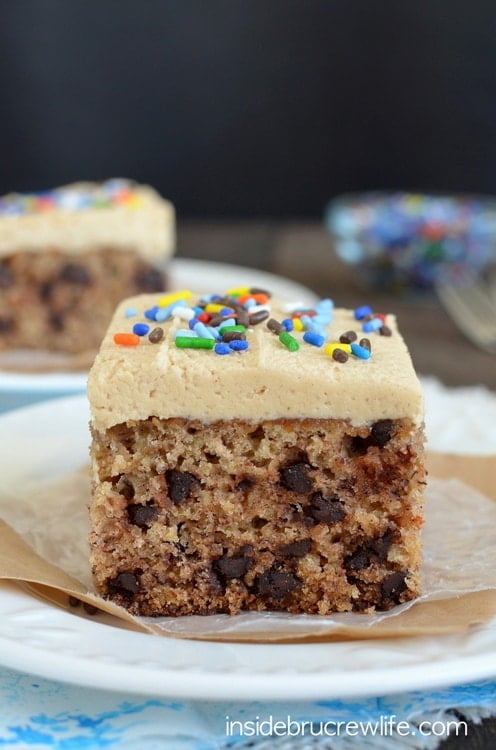 This cake calls for coconut oil in the batter and the frosting. Do not be afraid of it if this new to you. You will not taste any coconut flavor at all.
Coconut oil has been found to have many health benefits. It helps improve cholesterol, helps digestion, and can help with weight balance. It is also amazing for your skin and hair. I have started substituting it in many of my baked goods and using it when making popcorn.
One thing that makes this cake great is that it can be mixed up in one bowl. Two if you count the bowl for the homemade peanut butter frosting. And if you haven't eaten all the cake, I have a feeling it would freeze fine. That way you could spread the cake eating joy out longer.
Not that it last long enough in our house for me to know. My kids love banana treats just as much as I do, so it disappeared very quickly. Just means it's time to buy another bunch of bananas. I have a few more recipes to try out with them.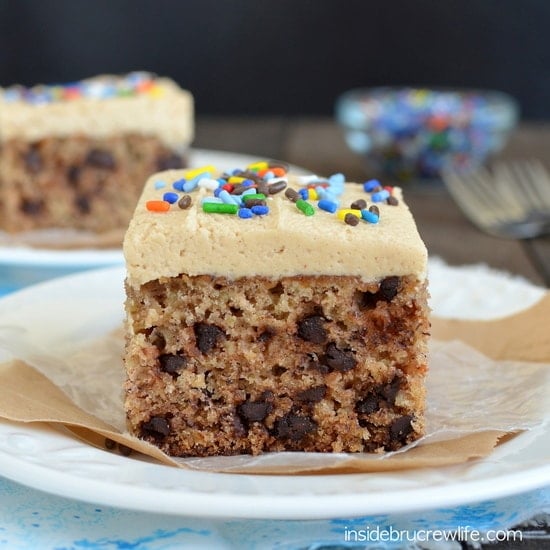 Peanut Butter Chocolate Chip Banana Cake recipe:
Make sure to visit all the blog participating in the baby shower!!!
There are some pretty amazing easy recipes and crafts being shared!
Coconut Cookie Butter Sandwich Cookies from Simply Southern Baking
Crock Pot Fajitas with Chicken and Quinoa from The Dinner-Mom
Overnight Oatmeal from The Hungry Housewife
Honey-Dijon Chicken, Apple & Quinoa Wraps from The Kitchen Prep
Slow Cooker Italian Chicken Soup from The Lemon Bowl
DIY Whale Art from While They Snooze
One Pot Mexican Chicken and Rice from Yellow Bliss Road