Hot fudge frosting and fresh banana slices makes this the Best Banana Cake you will ever have. Trust me, and use the ripe bananas on your counter to make this amazing cake today.
CLICK HERE TO PIN THIS RECIPE FOR LATER!
My husband and I both love kitchen gadgets and tools. There is something fun about wandering around a kitchen supply store and finding things that make your kitchen work easier or more fun. Over the years we have accumulated quite a few things that we "thought" were necessary.
The most unused and under appreciated appliance that we ever bought though was a large juicer! A few years about this time we (really my husband) decided that we should incorporate some juice in our life.
He had read about these juice fasts and thought we should try one to see what it did for us.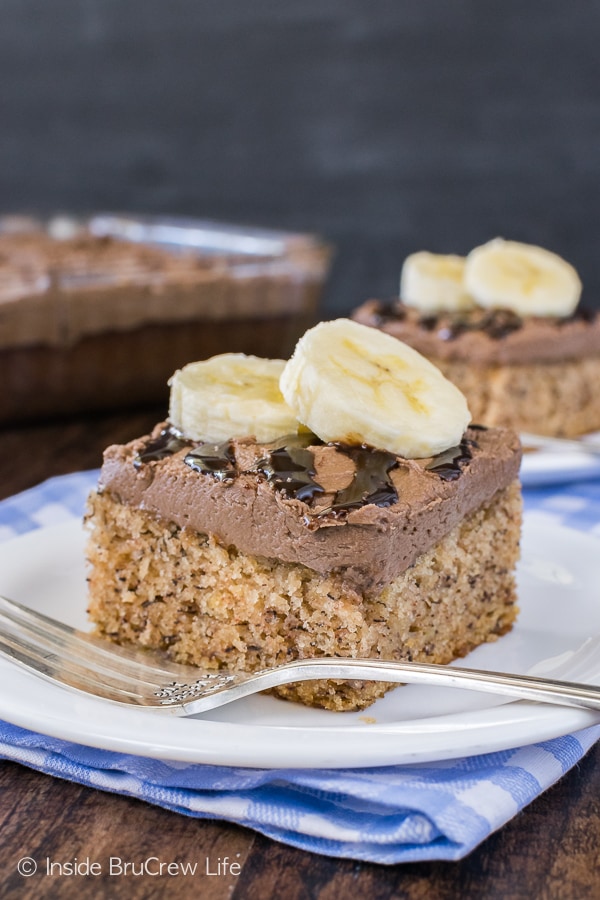 We only used the juicer once or twice in the whole time we owned it. Let me rephrase that.
I only took a sip of one of those juice concoctions. Want to know why?
Because delicious fruits and vegetables become totally destroyed when their juice is stripped from them. It was hard to even swallow! In my husband's words..."A cucumber tastes like monkey sweat, and a carrot tastes like old dish water. It is just plain horrible."
So our juicer sat collecting dust under the cabinet for a year. We kept holding on to the fact that one day we would take up juicing, and it would be magically delicious! Finally, we came to our senses and sold it to a friend who wanted to try juicing.
I would much rather eat my fruits and veggies in a Banana Split Brownie Pie or in Dark Chocolate Zucchini Cake.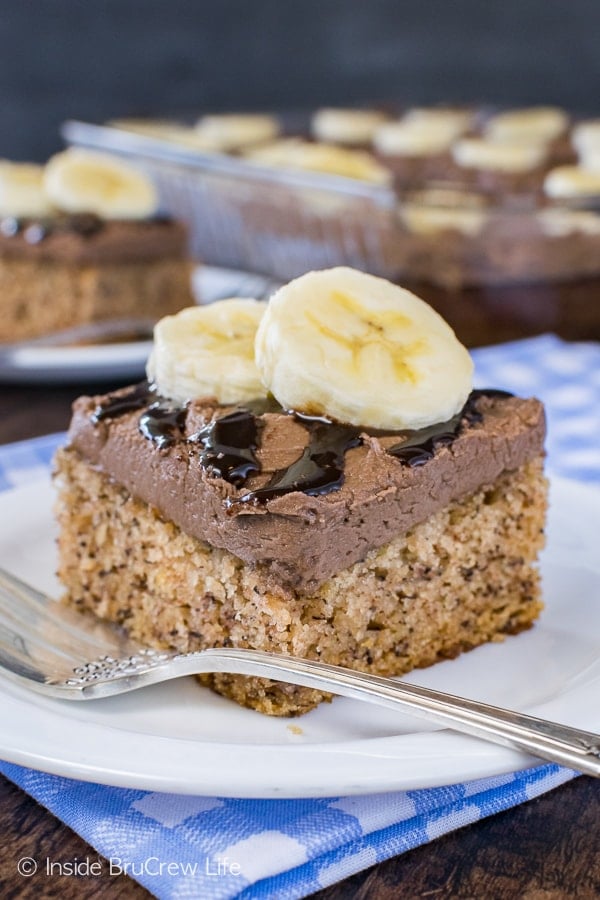 I had a bunch of brown bananas to use up awhile ago, so I shared a photo on Instagram and Facebook asking what I should make with all the bananas rotting on my counter.
You guys are so awesome! I had so many comments giving me recipes of what I should make.
But then a good friend from college called me with this easy banana cake recipe, and I knew this was the one I wanted to try first. It is truly the Best Banana Cake I have ever eaten!!! It comes out perfect every single time you make it!
The cake is amazing by itself, but I love frosting, so I whipped up a batch of hot fudge frosting for on top. Best idea ever!!!
In fact, this cake was so good that we devoured it in ONE day. Then three days later, I made it again for our life group! Yup, it is that good! In fact, I would make it again right now if I had more brown bananas.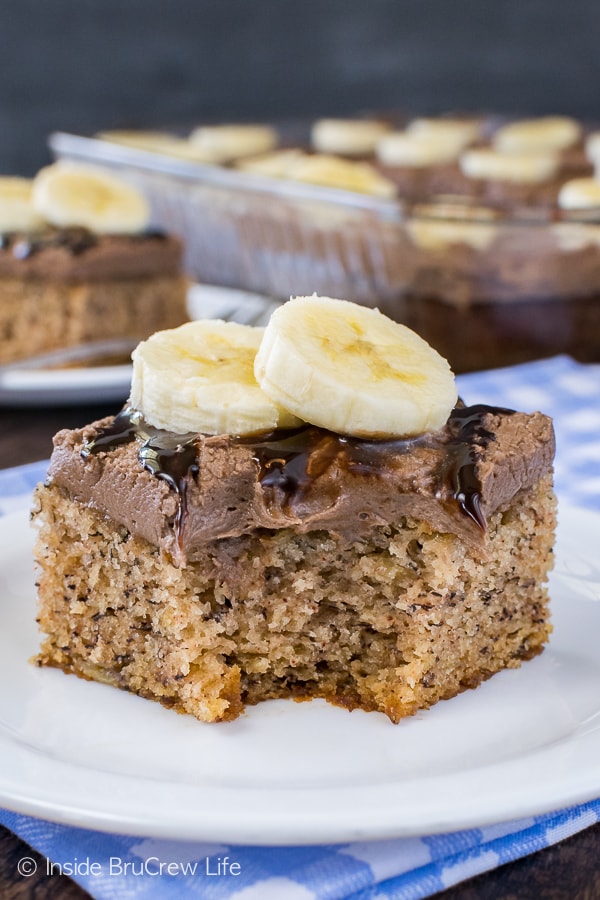 Tips for making the Best Banana Cake
Beat the shortening and sugar until nice and creamy. You can also use butter if you like, but the shortening really does add to the soft texture of the cake.
Add the eggs and vanilla and beat again. Stir in the ripe bananas.
Stir together the flour, cinnamon, baking soda, and salt. Slowly beat this into the banana mixture with the buttermilk.
Pour the cake batter into a greased 9x13 pan and bake for 33-35 minutes, or until a toothpick inserted into the center comes out with a few crumbs on it.
Let the cake cool then frost it with frosting. Cream cheese frosting is delicious, but I recommend the hot fudge frosting.
Hot Fudge Frosting
This delicious homemade frosting gets the chocolate flavor from hot fudge ice cream topping. If you can find dark chocolate hot fudge, it is even better.
Beat softened butter, vanilla, salt, and warm hot fudge topping until nice and creamy.
Slowly add in the powdered sugar and beat until light and fluffy.
Spread on top of the cooled banana cake.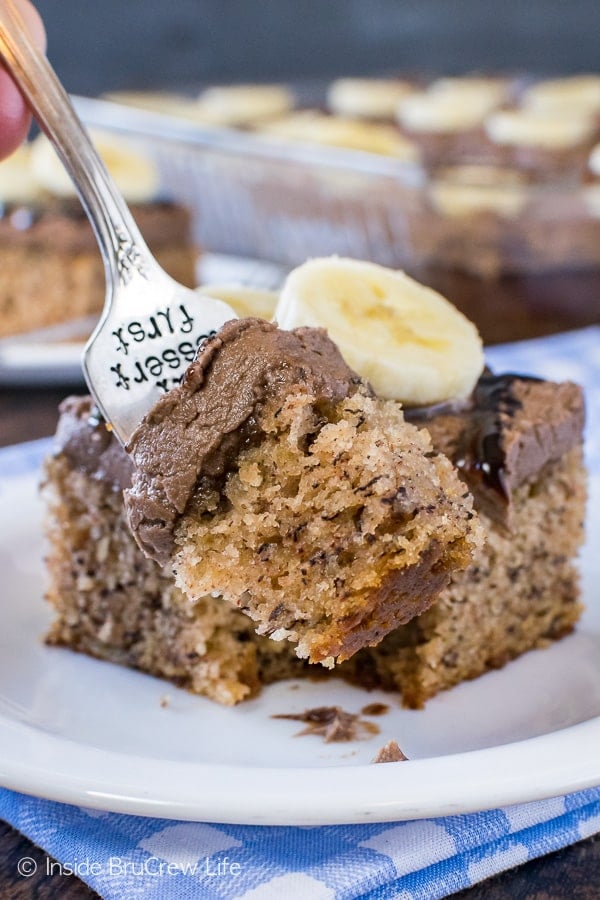 More easy banana recipes you may like: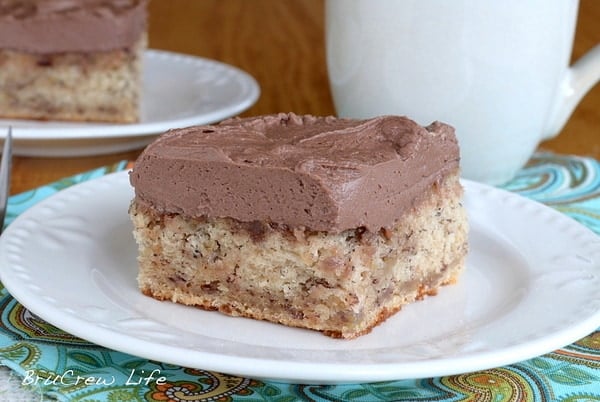 (original photo from February 2012)
*The post and recipe for Best Banana Cake was first published on February 17, 2012. The photos and post have been updated and republished on January 14, 2019.