Need a fun and delicious snack to munch on after school or to add to your school bake sale?  These Peanut Butter Cookies and Cream Granola Bars have been kid-approved in our house. Peanut butter, chocolate cookies, and candy make these one delicious bar to enjoy any time of day.
*This post is sponsored for One2One Network on behalf of ACH Foods and Karo® Corn Syrup. I am partnering with them as a Become a Better Baker Blog Ambassador.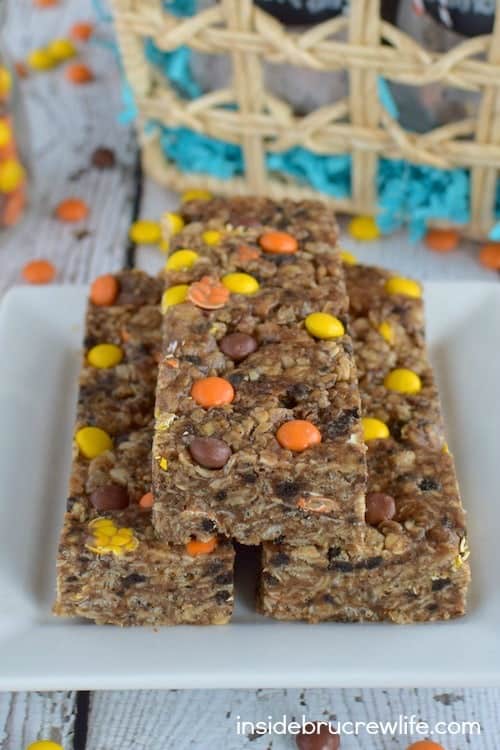 Over the years we have gone through boxes and boxes of granola bars.  My kids love packing them in their lunch boxes, eating them after school, or having one as a bed time snack.  With three growing kids you can see how we would end up going through quite a few granola bars.
Fast forward a few years, and I realized that I could make my own granola bars customized with what my kids like to eat.  We love coming up with fun new combos every time we make a new batch.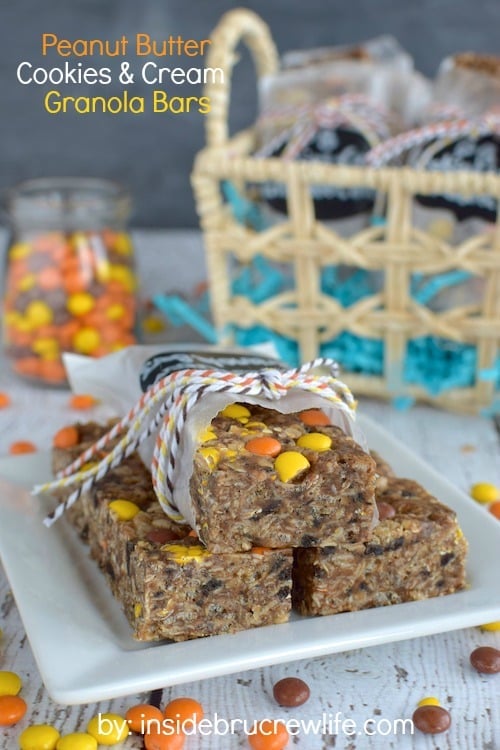 I have a few recipes for baked granola bars that I make every so often.  But when I'm running short on time, the no-bake versions get made more often.  Easy and no-bake always win out when it comes time to make a new batch for the week.
These easy granola bars are also fun treats to share at bake sales.  Our school hosts a fun cake walk/bake sale each spring, and I love making something kid-friendly to share.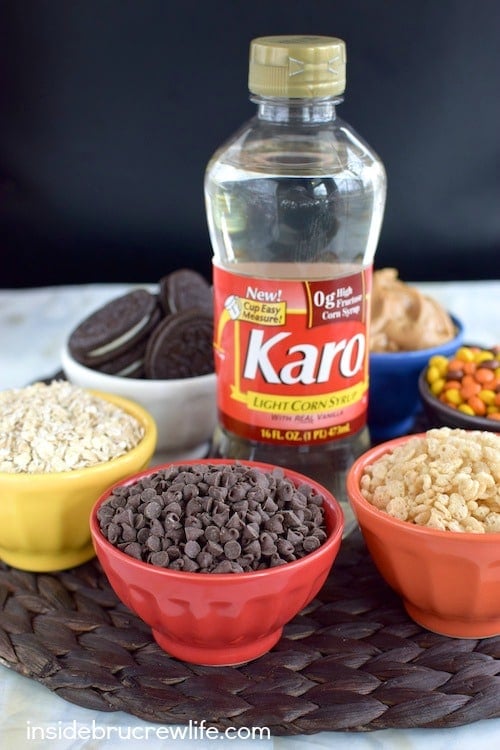 This week I used this Chewy Chocolate Granola Bars recipe from the Karo® website as my starting point.  My kids suggestions for mix ins were Oreo cookies and Reese's Pieces, but the good thing about this recipe is that the options seem endless for what to try.
Feel free to add whatever you have lurking in your baking cupboards.  We always have a few half empty bags of candy, cookies, or chocolate that gets thrown into granola bars.  Granola bars are a great way to use up those partially full bags.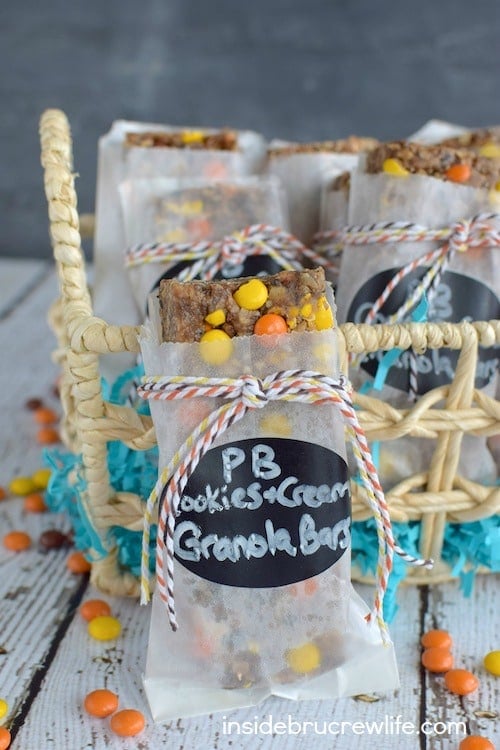 Because food is always more appealing in cute packages, I wrapped each bar in a small glassine bag, added a chalkboard label
, and tied some bakers twine to the top.  These bags were stored in a container on the counter, so the kids could grab one to go any time they needed a sweet snack.  Since they were already wrapped, there was no need to find a plastic bag each time they packed one in their lunches.
Wrapping the granola bars this way is also an appealing way to share them at bake sales or parties.  Cute food always catches our eyes first, right?  And who wouldn't want a delicious peanut butter granola bar full of cookie chunks, candies, and chocolate chips?

Bake sales are fun, easy, and something the kids enjoy helping with too. Karo® Syrup has launched its Baking a Difference campaign to support Share Our Strength's No Kid Hungry® cause. All across America, families are struggling with hunger, and children are often hit the hardest. You can help fight hunger right in your community by hosting a fundraising bake sale to help these families in need.  If you are interested, click HERE for your Bake Sale Starter Kit.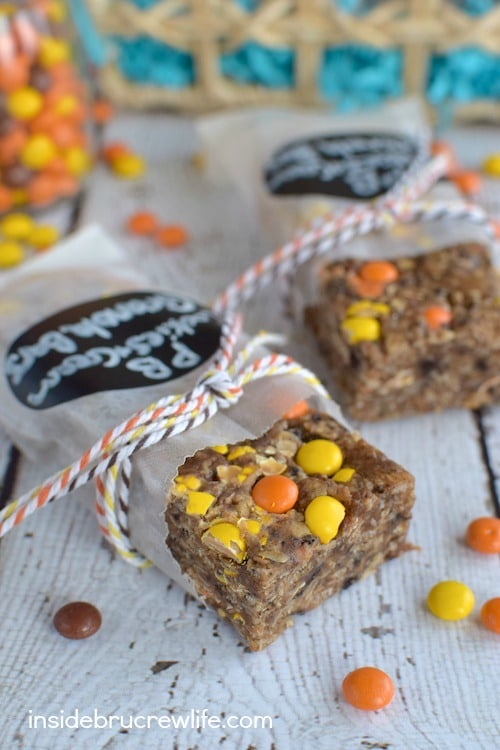 My kids all agreed that these bars were amazing!  I see many more peanut butter cookies and cream granola bars being made and eaten in our house and sent to bake sales in our area.
 Connect more with Karo® Syrup:
These Peanut Butter Cookies and Cream Granola Bars are kid-approved in our house. Peanut butter, chocolate cookies, and candy make these one delicious bar to enjoy anytime of day.
Ingredients
2 1/2 cups quick oats
2 cups crispy rice cereal
1/2 cup miniature chocolate chips
1/2 cup + 3 Tablespoons chocolate peanut butter candies
10 chocolate cream-filled cookies, chopped finely
1 cup creamy peanut butter
1 cup Karo® Light Corn Syrup
1/2 cup brown sugar
1 teaspoon vanilla extract
Instructions
Stir together the oats, cereal, 1/2 cup peanut butter candies, chocolate chips, and cookie chunks. Set aside.
Combine the peanut butter, corn syrup, and brown sugar in a microwaveable bowl. Heat on HIGH 1-2 minutes. Stir in the vanilla extract and mix thoroughly.
Pour the syrup mixture over the oats mixture and stir until everything is coated.
Spoon the mixture into a greased 9x13 pan. Use a sheet of parchment paper and press the mixture down firmly. Top with the remaining candies and press them gently into the bars. Let cool and set for an hour. Cut into 16 even bars. Store in a sealed container on the counter.
Notes
https://insidebrucrewlife.com/peanut-butter-cookies-and-cream-granola-bars/
Copyright Inside BruCrew Life