Need an easy dessert to satisfy that sweet tooth? These Peanut Butter Nutella Cheesecake Bars are easy to make, taste delicious, and look impressive.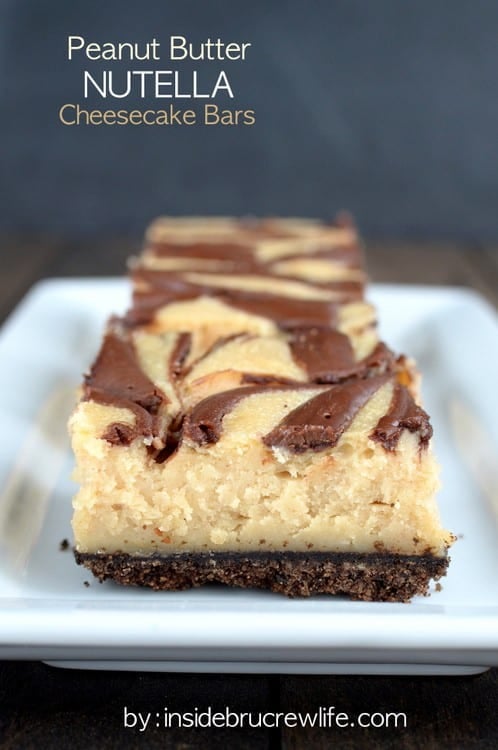 99 % of the time we get asked to bring a dessert to any picnic, I will usually make up a pan of cheesecake bars. Of course they always look different.
Sometimes I add brownies to the bottom, sometimes they end up as mini cheesecake muffins, or sometimes I swirl different colors all over the top for fun.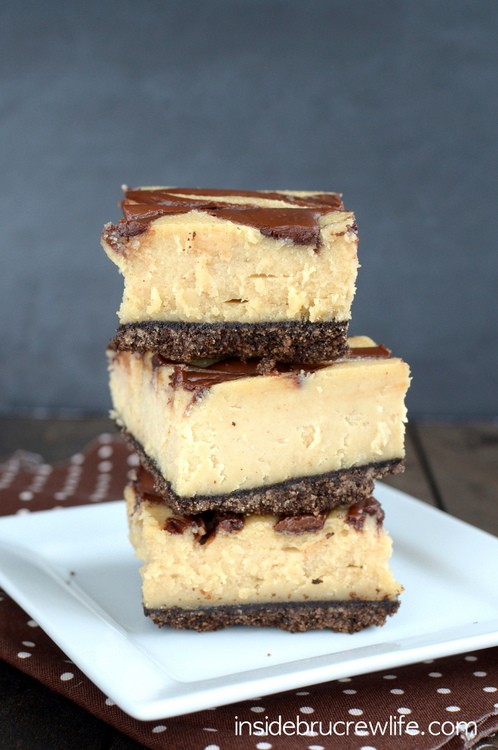 I just puffy heart love cheesecake! In all shapes and forms. Of course this love has caused me to become some different shapes and sizes too 🙂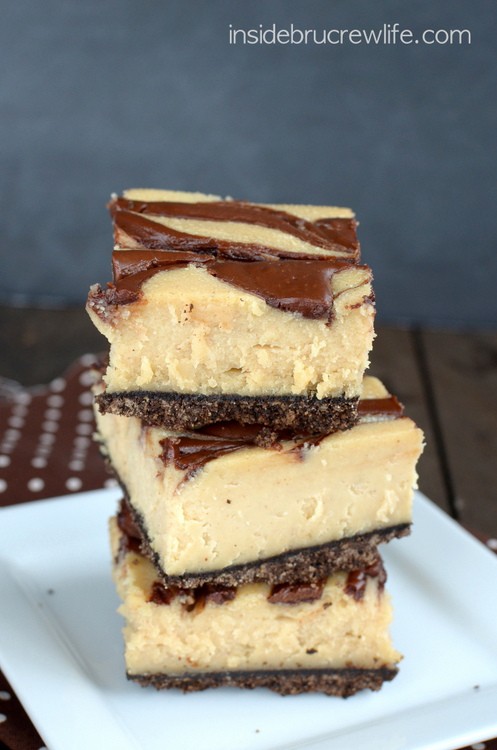 These cheesecake bars actually had no reason to be made.
You see I have this bad habit of eating spoonfuls of peanut butter and Nutella whenever I get a craving for something sweet. One small spoonful of these together usually does the trick.
Except for this day.
All of a sudden I couldn't stop thinking of different ways to use both in a recipe. As soon as I thought cheesecake bars, it was all over. Thank goodness my kitchen cupboards resemble a mini grocery store. I had all the ingredients on hand to whip up a pan of these decadent bars.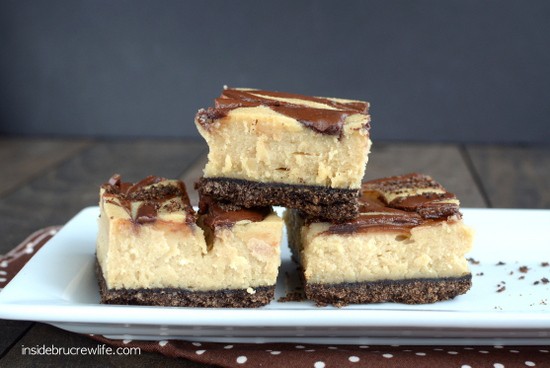 The cheesecake bars start with an easy crust. Crush up cream filled cookies into fine crumbs. You can use a food processor or a plastic bag and any wooden spoon or mallet. Go ahead and leave the cream filling in the cookies. It makes the crust taste great and helps it stay together better. Add a little bit of butter and press it into the bottom of a pan. Set it aside.
Start with softened cream cheese. I like to get my cream cheese out an hour or two before making something with it. If you forget this step, no worries. Remove the foil wrapper and place it on a microwave safe plate. Cut the cream cheese into cubes and microwave it for 20-30 seconds. Be careful not to over heat it.
Cream the cream cheese and the rest of the filling ingredients until it is smooth and creamy. Pour it gently onto the prepared crust. Now comes the fun part.
Heat the Nutella in the microwave until it is creamy and spreadable. Spoon it into a Ziplock baggie and cut one corner off. Gently drizzle lines of Nutella all over the top of the cheesecake. Then take a knife and very carefully swirl the top. Try to keep the knife from disturbing the crust on the bottom of the pan.
The hardest part of this recipe is the wait time. Cheesecake always needs to set up and cool down after baking. I recommend baking any kind of cheesecake the night before. That way it has time to chill over night. Plus, then you can start the day with cheesecake for breakfast. Oh, maybe that's the reason I'm turning into other shapes and sizes 🙂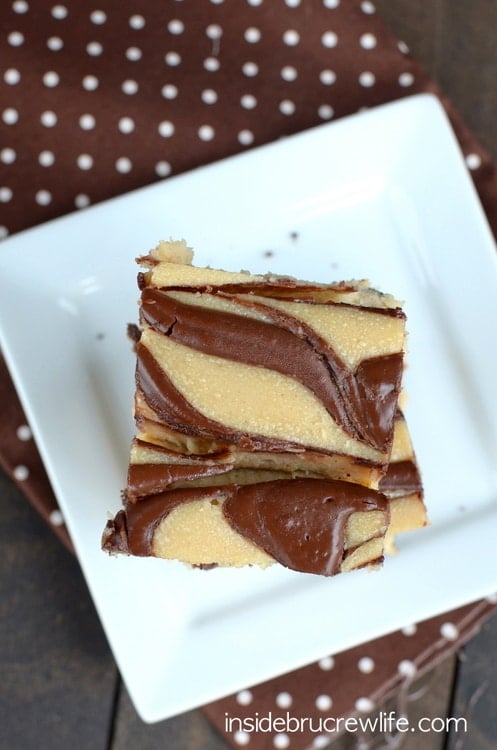 Stay up to date on all the BruCrew baking here:
FACEBOOK | PINTEREST | TWITTER | INSTAGRAM | BLOGLOVIN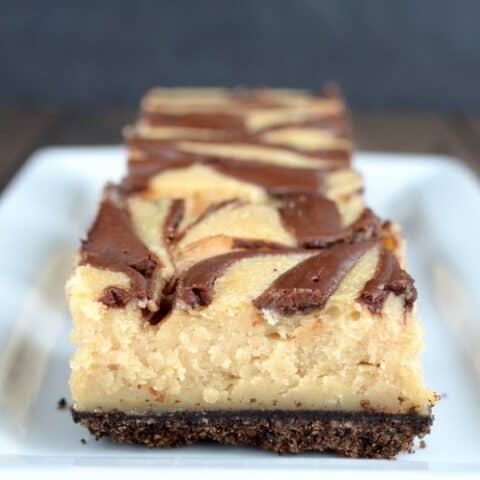 Peanut Butter Nutella Cheesecake Bars
Yield: 24 cheesecake bars

Prep Time: 25 minutes

Cook Time: 45 minutes

Total Time: 1 hour 10 minutes

Peanut butter cheesecake bars with a fun Nutella drizzle baked on top makes these a fun treat to share at any picnic or party. Or to enjoy when your sweet tooth needs something.
Ingredients
26 Peanut Butter cream filled Oreos
1 Tablespoon melted unsalted butter
24 ounces cream cheese, softened
1 1/2 cups granulated sugar
1 cup creamy peanut butter
3 large eggs
3 Tablespoons sour cream
3 Tablespoons all purpose flour
1 Tablespoon vanilla extract
1/2 cup Nutella
Instructions
Preheat oven to 325 degrees. Spray a 9x13 pan with nonstick spray.
Crush the cookies into fine crumbs. Leave the filling in the cookies when you do this. Stir in the melted butter.
Press the crumbs evenly into the bottom of baking pan. Set aside.
Beat the cream cheese and sugar until creamy. Add the peanut butter and beat again.
Add the eggs, sour cream, flour, and vanilla and beat until creamy. Gently pour onto the prepared crust.
Place the Nutella in a microwave safe bowl. Heat for 30 seconds at a time until the Nutella is melted enough to drizzle.
Spoon it into a baggie and cut one tip off. Drizzle lines over the top of the cheesecake batter. Take a knife and gently swirl the Nutella into a fun pattern. Be careful not to disturb the crust.
Bake for 45 minutes. Cool for 1-2 hours on a cooling rack. Refrigerate at least 4 hours before serving.
Notes
*You can use regular cream filled chocolate cookies if you cannot find the peanut butter cream filled cookies.
Recommended Products
As an Amazon Associate and member of other affiliate programs, I earn from qualifying purchases.
Nutrition Information:
Yield: 24 Serving Size: 1
Amount Per Serving: Calories: 473Total Fat: 36gSaturated Fat: 12gTrans Fat: 0gUnsaturated Fat: 18gCholesterol: 56mgSodium: 323mgCarbohydrates: 30gFiber: 3gSugar: 20gProtein: 13g

Nutrition facts are an estimate and are not guaranteed to be accurate. If you need special diet advice, please see a registered dietician.



More delicious peanut butter and Nutella treats to enjoy: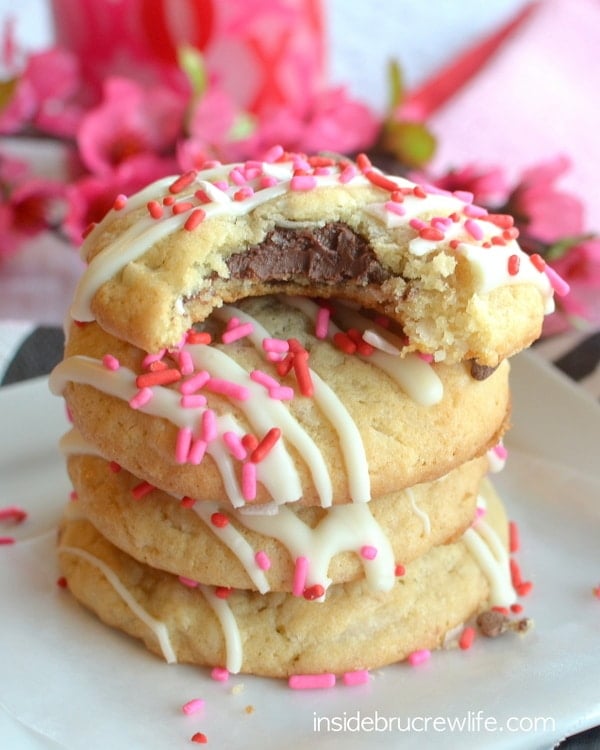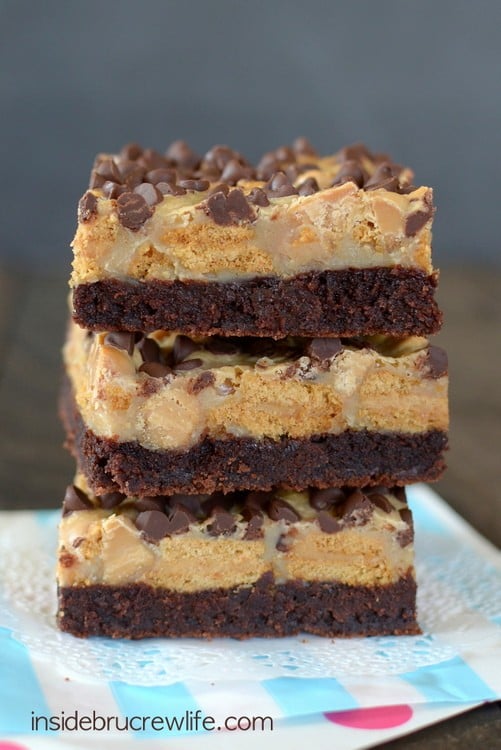 Peanut Butter Nutter Butter Brownie Bars