An easy way to enjoy cookies without all the work is to make them into bars. These Peanut Butter Nutella Cookie Bars are an amazing mixture of flavors in one easy to hold treat.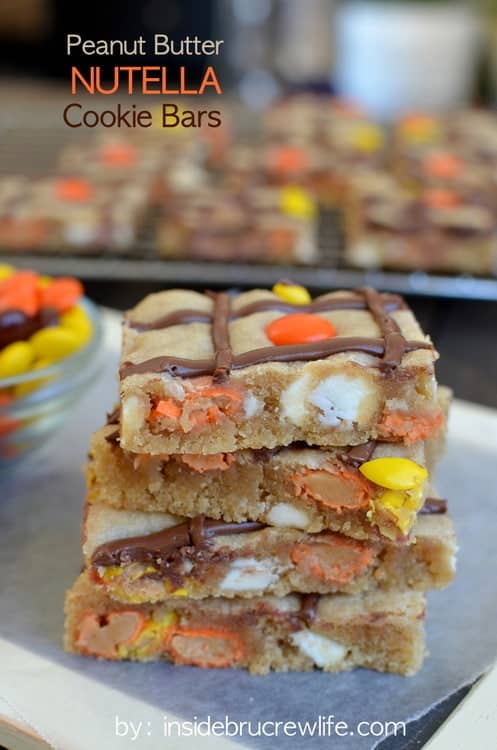 Have you ever noticed that when you are watching what you are eating, the bad food seems to jump out even more.
Literally the other day I opened the cupboard and a bag of Reese's Pieces fell out right in front of me. Then I tried to reach in the cupboard behind everything, and the peanut butter jar fell out too. Now it could be because I keep trying to shove more baking supplies into a 1 foot by 3 foot cabinet with only 3 small shelves.
OR it is karma for trying to resist the sweets all week long.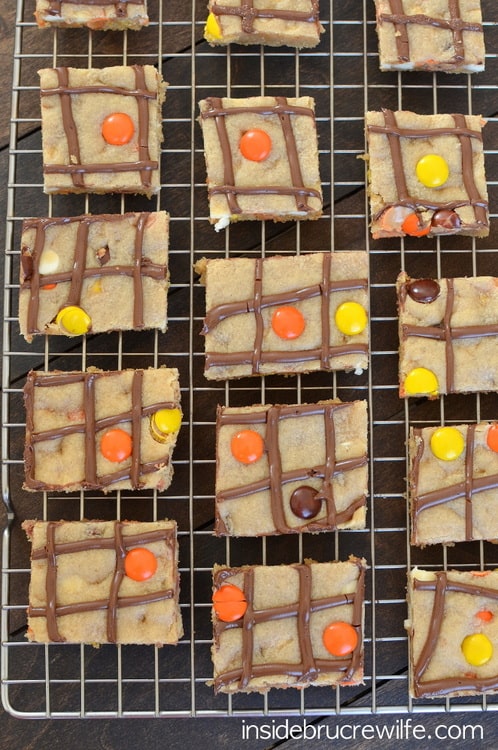 With spring and summer coming at us at an alarming rate, I have definitely stepped up my exercise routine. Booyah for finishing 6 days last week. We will just not talk about the slice of coconut fudge pie the other day and the three peanut butter cup cookies from yesterday.
Although, seriously we have been eating very healthy around here. All the salads, roasted veggies, and grilled chicken all has been delicious. Did I really just type that? Me..the sugar fiend..likes veggies. It's true. I prefer veggies over meat any day.
Of course, I really prefer brownies and cookies over everything, but that's why all the exercise is necessary.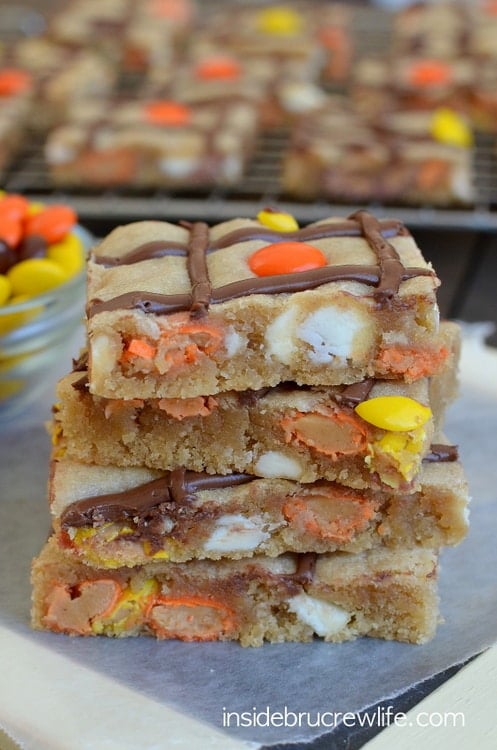 Back to the falling baking supplies...
I'm pretty sure it is just because I have upped my workouts this week. The sweets in my house are revolting against this new found exercise high. Apparently the baking supplies want equal time with me. So be it.
That jar of peanut butter and those Reese' Pieces joined forces with some white chocolate and Nutella to make one fantabulous bar cookie.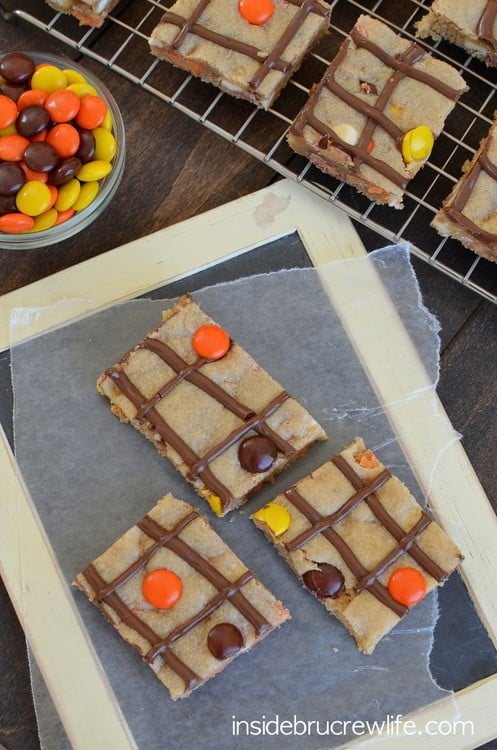 This cookie batter gets spread in a greased baking sheet, and more candy is added to the top. It just makes the bars look prettier that way.
Warm Nutella drizzled over the top of these easy peanut butter Nutella cookie bars made them look so pretty. The dough is too thick to swirl it in, so I left it on top of the dough. It made them so much prettier that way.
After the bars come out of the oven, do not touch them. Let them set up. The Nutella especially needs time to set back up. It really will stay pretty soft even after cooling. You will be able to store them on top of each other, but I recommend putting wax paper between the layers. That is if you have any left to store for later.
Now I want to go open the cupboard again and see what else falls out in front of me. It was kind of fun seeing what I could come up without a plan. What would you make if you had Reese's Pieces and peanut butter in front of you?