Pour a glass of milk and grab a few of these Peanut Butter Oreo Bars to snack on. White chocolate chips, Oreo cookies, and a smooth peanut butter glaze are just three of the reasons you need to bake a pan of these oatmeal bars today.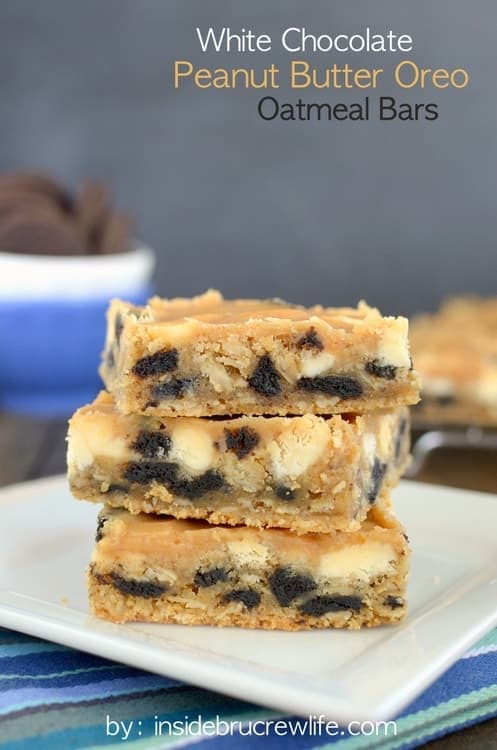 This summer I realized that I am not a convertible car kind of girl. My husband has an old Saab convertible that he absolutely loves to drive around on nice days. And I'm all for a cool car that looks good...
The problem is that I absolutely cannot stand to have my hair blowing in my face. It is one of my biggest pet peeves. Even in regular vehicles I will not roll down the window next to me, even if I am blazing hot. It's one of these strange quirks about me. You understand, right? I mean there have to be funny or strange quirks about you too.
One of these days I will remember to stock the glove box with pony tail holders and headbands. You would think that since I know how much the blowing hair will bother me, that the glove box would be stuffed with these items already. But no, I'm not that prepared.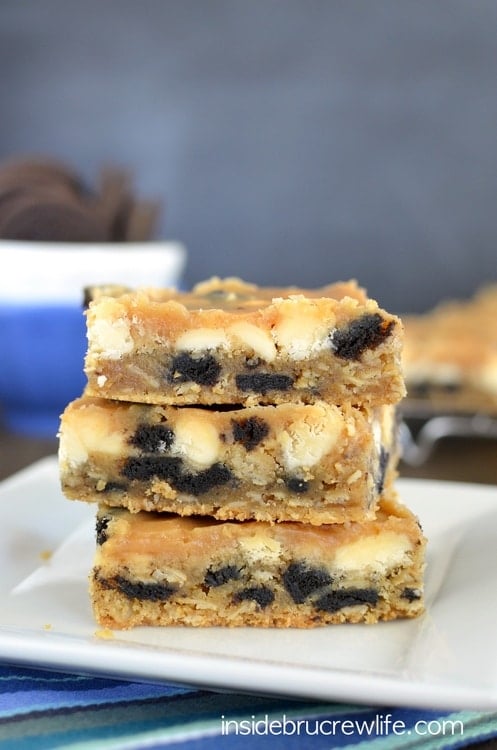 Maybe if I bake a pan of these Peanut Butter Oreo Bars to take along for drives, they will distract me with their goodness and make me forget all about the wind. Something tells me the blowing hair and peanut butter treats probably don't mix well either. It could add a whole new pet peeve to my list. I better stick to hair ties.
A few months ago I made these Peanut Butter Bars. These simple oatmeal bars with the creamy peanut butter glaze quickly became one my favorite treats. But when I made a pan of them this week, I wanted to change them up a little.
It's one of those other strange pet peeves I have. I have a really hard time making the exact same thing twice. There are times I just push past the peeve and make things again, but my mind is going a hundred miles a minute thinking of new variations.
Going through the cupboards I found some Peanut Butter Oreos that managed to last with the scavenging hungry soccer teen that lives with us. Yes, our cupboards are fully stocked in Oreo cookies. I realize that it must seem like we buy cookies on every shopping trip. Well, that's partly true. Ok, it's probably all the way true. I am a dessert food blogger after all. Buying extra cookies every time comes with the job. #bestjobever
So, out came the Peanut Butter Oreos and some white chocolate chips. The last bars had regular chocolate chips, so by changing the chips and adding some cookie chunks I felt better about making the same bar cookie.
I have to admit my favorite part of these bars is the peanut butter glaze. Now THAT I could make over and over! Peanut butter, powdered sugar, and milk will make a peanut butter glaze heaven. Do not taste test the glaze before putting it on the warm bars, or you might be making another bowl of glaze.
You want to spread the glaze over the bars while they are still warm. Give the bars about 5 minutes to cool down slightly before spreading the peanut butter glaze on. The glaze with melt down into the cracks of the bars and then set up as they cool. These are seriously amazing!!!
Time to head to the cupboards and find a new mix in...I'm feeling the urge to create a new peanut butter bar.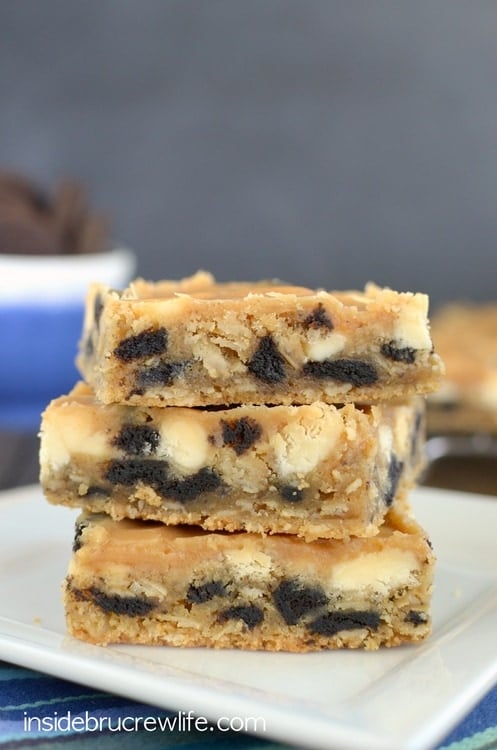 More peanut butter treats to enjoy baking: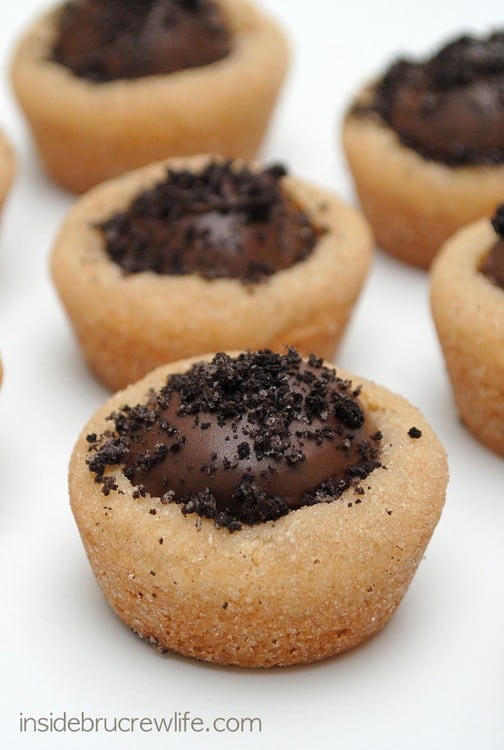 Peanut Butter Oreo Truffle Cookie Cups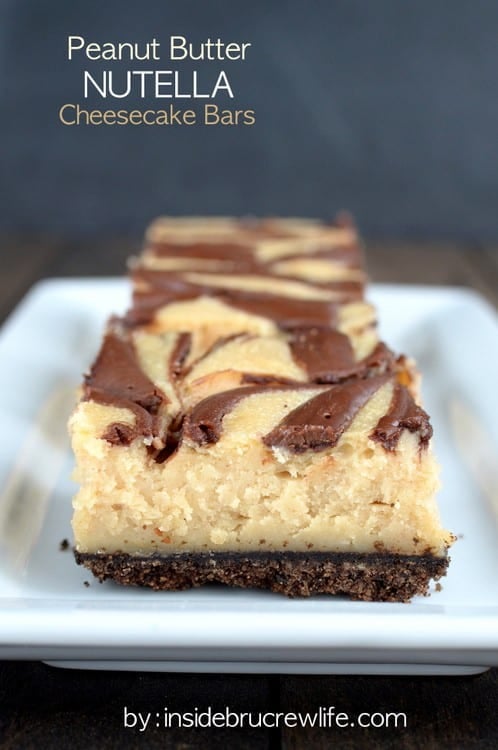 Peanut Butter Nutella Cheesecake Bars