Oreo Truffles inside Peanut Butter Cookies are the best way to enjoy two snacks in one. Peanut Butter Oreo Truffle Cookie Cups will be your new best friend!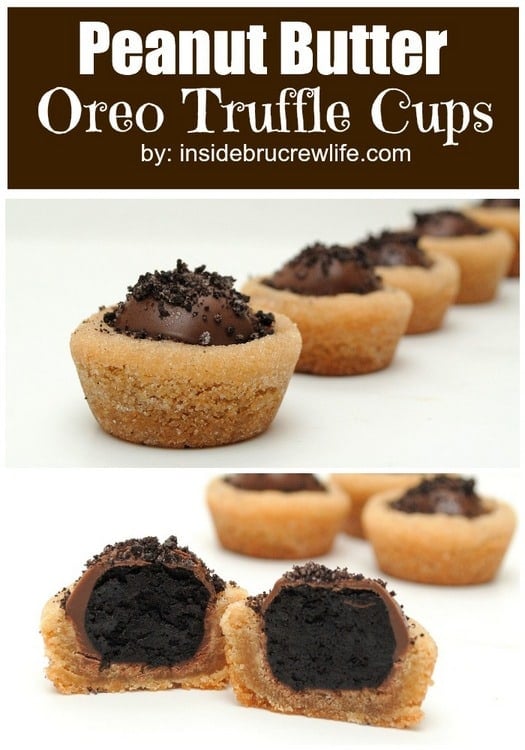 Last week two of our children were having fun with their friends.
That left our youngest munchkin all alone!
We had to do something, so he could have some fun too.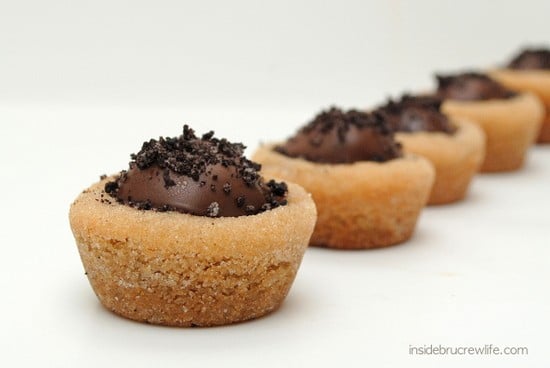 1. Dinner date to Golden Corral...it is his absolute fav!
Not sure why, since all he eats is a cheese plate and gummy bears.
You think I'm kidding...but his plate consists of shredded cheese,
mac and cheese, and cottage cheese. And yes, that is pretty much
all he eats.
2. Shopping spree in Target for both of us. I walked out with some new capris
and he got a new pack of Pokemon cards.
3. Bake up some fun cookie mashups.
Isn't he just the cutest little helper ever???
We decided to make our favorite Peanut Butter Snickers Cookies with a fun twist.
Now usually I plop a candy bar down in the middle of these,
and that just makes them so perfect, BUT...
we didn't have any of those!
But, I did have Oreo cookies and cream cheese!
Since Oreo truffles happen to be a favorite in our household too, we decided they would be perfect for the center of the cookies!
I put my son to work crushing the Oreo's in the food chopper,
while I got out all our ingredients.
He also rolled most of the truffles.
I love how much easier it is to bake with my kids now
that they are older and follow directions so much better!
(I just helped a little...mostly making them smaller)
Once we got the truffles finished we baked up the cookies
in mini muffin pans.
**quick tip - don't forget to sprinkle the tops of your truffles
with some crushed oreo crumbs while they are still WET.
But if you do, just grab a blow dryer and very carefully heat
the top and sprinkle away! Just speaking from experience. LOL!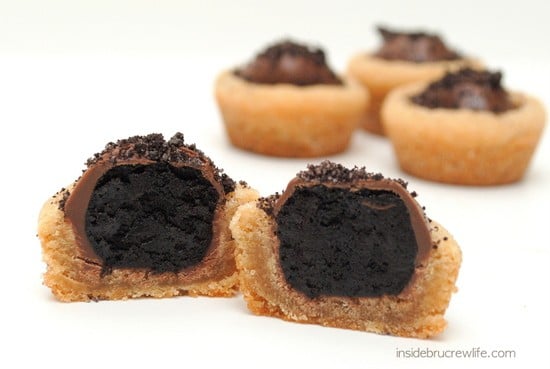 You were just waiting for that inside shot, right???
Absolutely TO. DIE. FOR.
Peanut butter and Oreo is one of my fav combos! (We loved it so much that we made these Peanut Butter Oreo Cupcakes too!)
These cookies are a great way to get the best of both cookies!
These peanut butter Oreo truffle cookie cups were so soft and delicious!
I just couldn't stop eating them!
This is probably why I am not shrinking on my workouts.
Let me tell you, these were totally #worthit !!