Hiding an Oreo cookie inside a cupcake is a fun way to surprise everyone when you serve cupcakes for dessert. These Peanut Butter Oreo Cupcakes have plenty of peanut butter and chocolate to satisfy anyone's sweet tooth.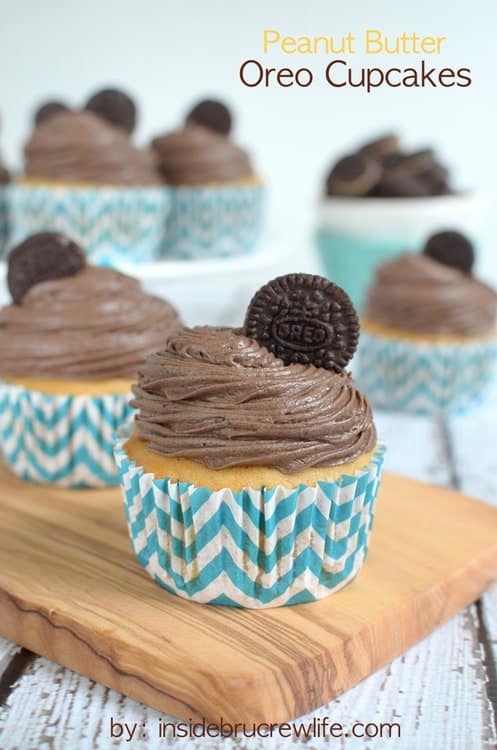 Usually I am totally a box mix kind of girl when it comes to cupcakes, but lately I have been playing around with some homemade versions in my kitchen. It all started with these Vanilla Cherry Pie Cupcakes, and now I am slightly hooked on trying to come up with some new versions based on that recipe.
Now for all you fans of boxed cake mixes...do not worry!!! I have not given up on my favorite box mixes. There will be plenty of cupcake and cookie love from those boxes around here. I have not completely gone all homemade on you. Believe me, I still believe in the art of semi-homemade baking.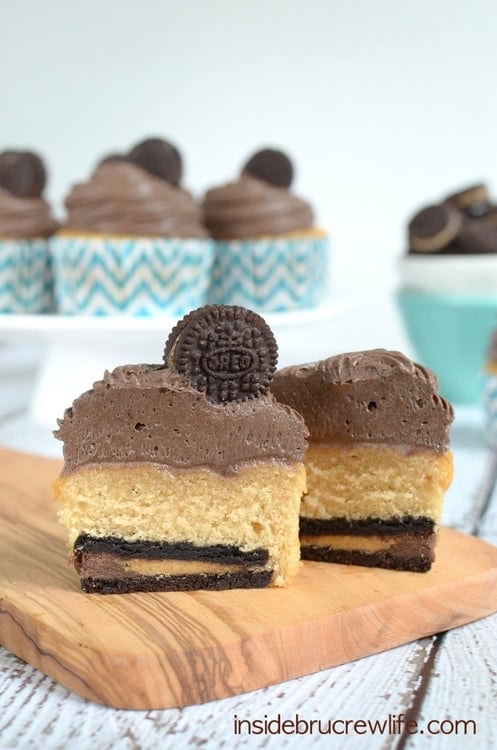 Have you seen the new Reese's Peanut Butter Cup Oreos? (I think these were a special one)
I searched high and low until I found a few packages in our town. I also came across some Oreo minis that said Reese's too. Of course those had to come home with me too. And then I teased you all on Instagram with this picture of Oreo cookie goodness 🙂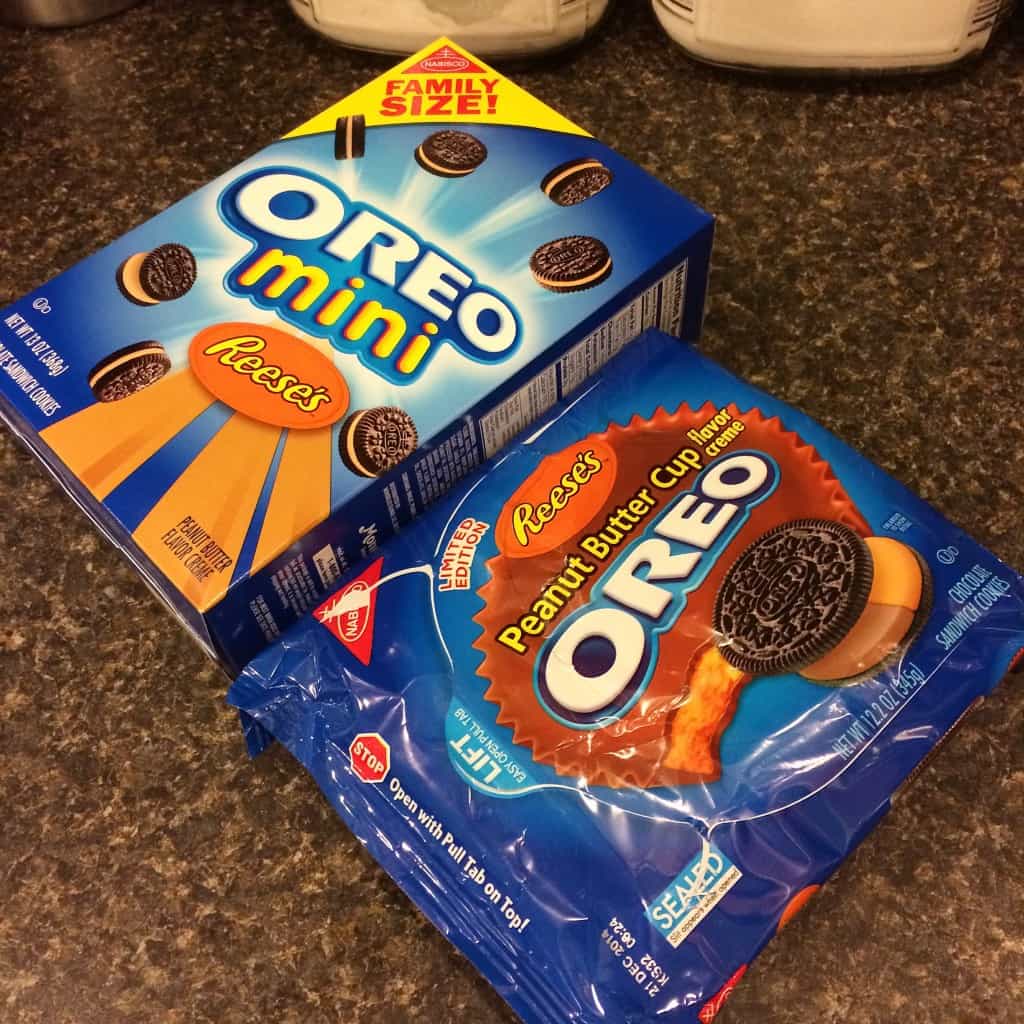 I knew that I wanted to make something with them, but what?
I kept one package of these special cookies hidden inside our cupboards until I came up with the idea of baking them in a cupcake. Hiding things inside cupcakes is nothing new here. Many years ago, I made these Oreo Truffle Surprise Cupcakes, and now I almost always have to put something into the bottom of a cupcake.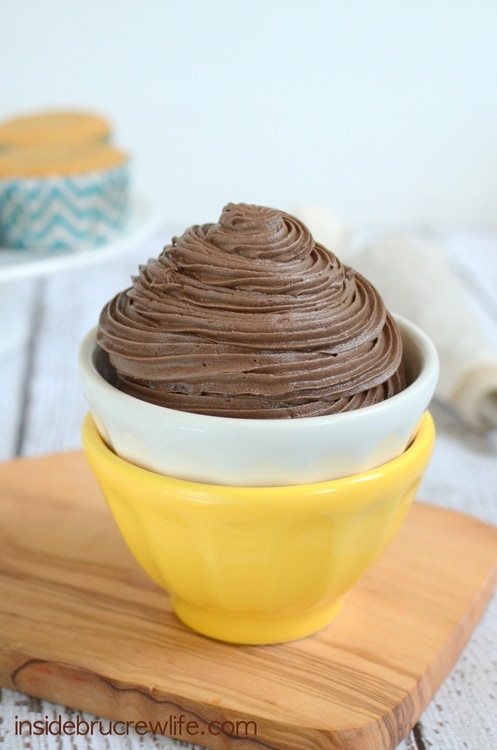 Just a few tweaks to the homemade vanilla cupcake recipe, and I came up with a delicious peanut butter cupcake recipe for you.
Make sure you do bake them the full 25 minutes. Believe me I should know this! I had to throw an entire batch out because I figured these ones would bake the same time as the vanilla. Boy was I every wrong!!! Adding peanut butter definitely changes the baking time of cupcakes.
The next batch I slowly baked a few at a time, adjusting the time a little more each time until I was happy with the texture and look of the cupcakes. Also make sure you fill the liners almost completely full of batter. Yes, almost to the very top of the liner!!! Do not worry, they will not bake over into your oven. They bake up puffy and then will settle just slightly after they come out of the oven.
After they cool, you can pipe these Fluffy Chocolate Frosting on the tops. It is so good, you just might eat a few spoonfuls before you realize what you are doing. Just saying that might happen!
Add a tiny peanut butter Oreo to the top for decoration. Then hand them out and wait for the smiles when everyone realizes you hid a full Oreo in the bottom too!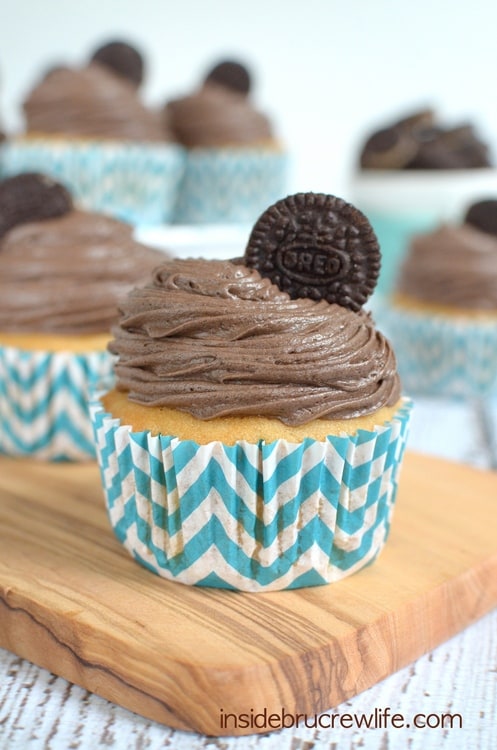 More fun filled cupcakes that everyone will enjoy biting into: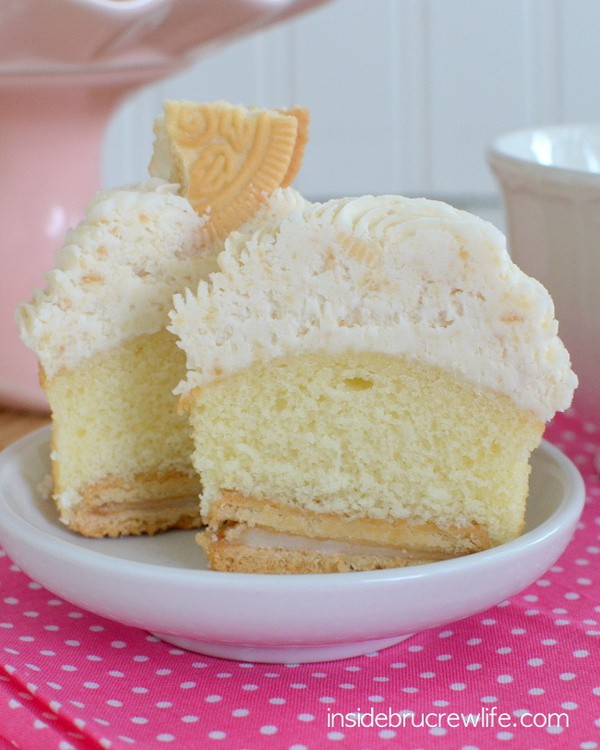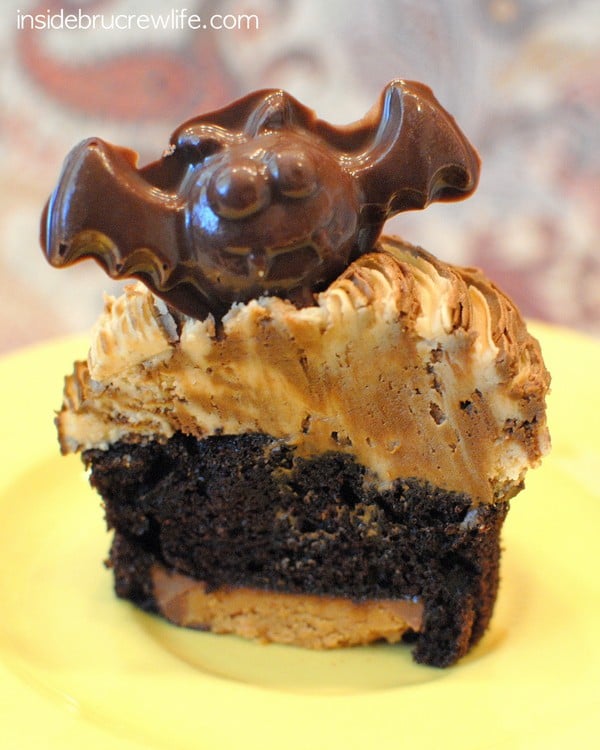 Chocolate Peanut Butter Cupcakes