Adding chocolate and candy bars to gooey brownies always makes a decadent treat worth sharing.  These Gooey Butterfinger Brownie Bars are rich, delicious, and totally worth cheating on that summer diet.
*Love these recipes? Be sure to sign up for the BruCrew email to have these recipes sent to your inbox each time a new recipe is shared.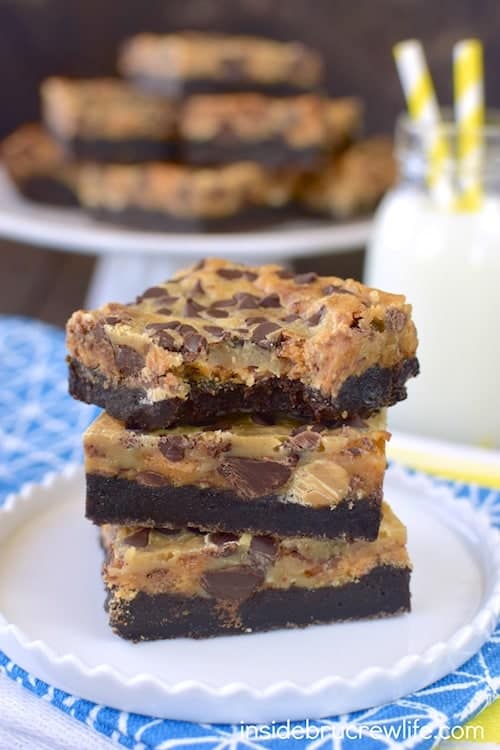 Any time we go for ice cream with the kids, I can guarantee that our daughter will come back to the table with chocolate and Butterfinger in her bowl.  She has gotten that combo for years now, so it is safe to say it is her favorite! Although recently she has been adding mint chips to her vanilla milkshakes, so that combo might slowly be taking over the favorite spot.
We went out to eat the other day, and the kids got coupons for ice cream with their kids meals.  Right away my daughter announced that she was getting mint chips on her ice cream, but when dinner was over what do you think she came back with?  Chocolate ice cream with Butterfinger sprinkled all over the top!
She is definitely a creature of habit when it comes to her ice cream, so I knew when I made these brownies, that she would go bonkers for them.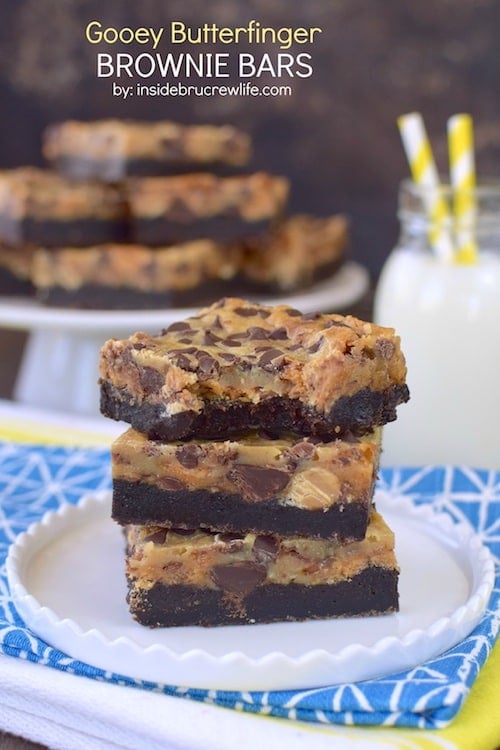 There is usually a hidden bag of Butterfinger candy bars in one of my baking cupboards for things like Butterfinger Whoopie Pies or Butterfinger Blonde Brownies, but this time I was thinking brownies.  These brownies are so easy to make too.  Start with a brownie mix and add just a few ingredients from your fridge and pantry.
1.  Do not use the directions on the back of the box, unless you don't want these to turn out for you.  Mix those brownie crust ingredients together and press it into the bottom of the pan.  Yes, it will be sticky.
2. You can use non stick baking spray on your hands to keep it from sticking to you.
3.  Place the candy bars in a Ziplock bag and crush with a wooden spoon.  Sprinkle on top of the brownie mixture, along with some chocolate chips. Yes, it is ok if you eat one or two of the candy bars!
4.  Stir together a can of sweetened condensed milk and peanut butter.  It will be very thick.
5.  Drizzle the peanut butter milk slowly over the top of everything in the pan.  Try to cover as much of the top as you can.  If a little bit of it is uncovered, it is ok.
6.  Do not over bake!  Yes, they will seem underdone when you pull the pan, but give them lots of time to set up.  These bars have to be completely cool before you cut into them.  I recommend making them the night before and letting them sit over night without disturbing them.
My last tip for these Butterfinger brownie bars is to serve them with milk and to GIVE the leftovers away as fast as possible.
Seriously!  These gooey bars were so stinking delicious, so I kept sneaking slivers of brownies every time I walked into the kitchen.  In fact, I kept making excuses to go in there just to have more.  Please tell me you do this too when you have sweets in your kitchen…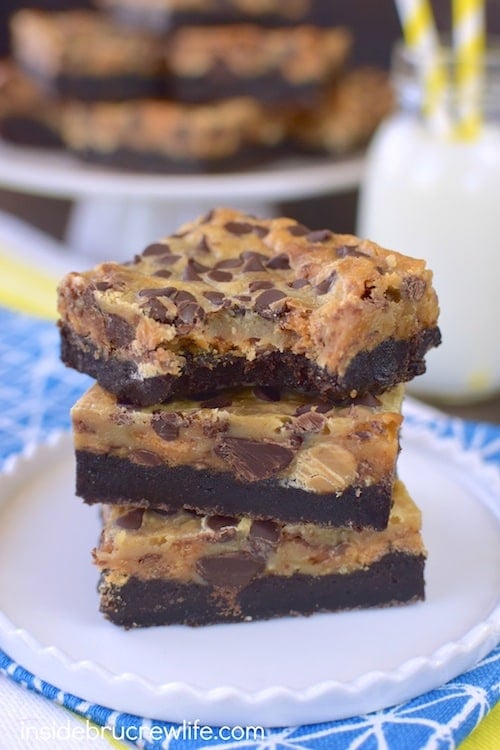 Stay up to date on all the BruCrew baking here:
FACEBOOK | PINTEREST | GOOGLE+ | TWITTER | INSTAGRAM | BLOGLOVIN
 Sign up to receive an email in your inbox for each new recipe:
EMAIL SUBSCRIPTION
Peanut butter and Butterfinger candy bars make these gooey brownies a delicious treat.
Ingredients
1 brownie mix (for a 9x13 pan)
8 Tablespoons butter, softened
1 egg
1 teaspoon vanilla
1 - 14 ounce can sweetened condensed milk
1/4 cup peanut butter
1 cup crushed Butterfinger candy bars (10 ounce bag bites)
1/4 cup dark chocolate chips
1/4 cup peanut butter chips
1/3 cup mini chocolate chips
Instructions
Beat together the brownie mix, butter, egg, and vanilla. Press the mixture into the bottom of a greased 9x13 dish.
Sprinkle the crushed Butterfinger bars, chocolate chips, and peanut butter chips over the top of the brownie batter in the pan.
Stir together the sweetened condensed milk and peanut butter until creamy. Drizzle slowly over the top of the mixture in the pan. Sprinkle the top with the mini chocolate chips. Bake at 350 degrees for 28-30 minutes. Do not over bake. Let the brownies cool completely before trying to cut them. Store in a sealed container on the counter.
https://insidebrucrewlife.com/gooey-butterfinger-brownie-bars/
Copyright Inside BruCrew Life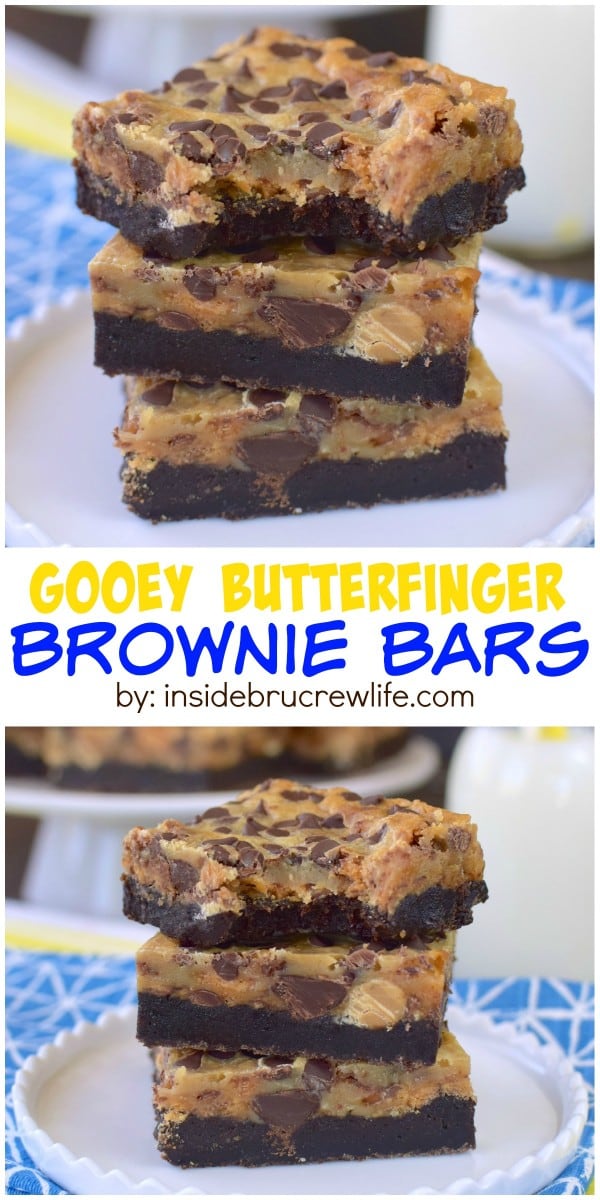 Here are a few more recipes using Butterfinger candy bars that our kids love: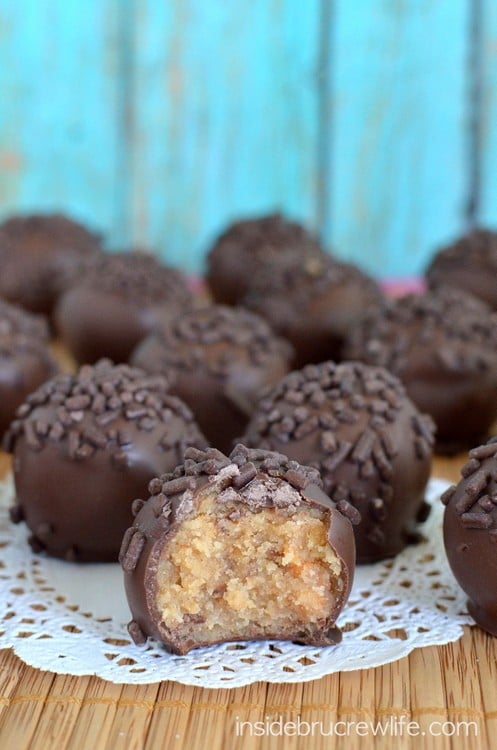 Butterfinger Cookie Dough Truffles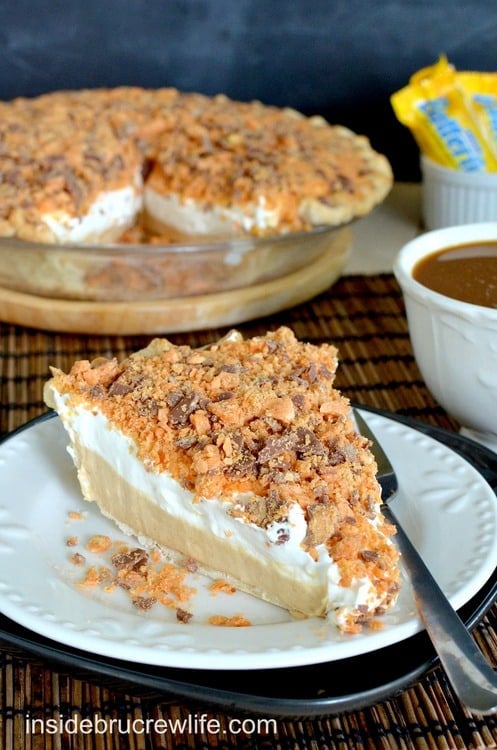 Peanut Butter Butterfinger Pie