These Chocolate Coconut Bars are filled with a delicious coconut filling and topped with a sweet chocolate glaze. This is the perfect dessert for the coconut lover in your life.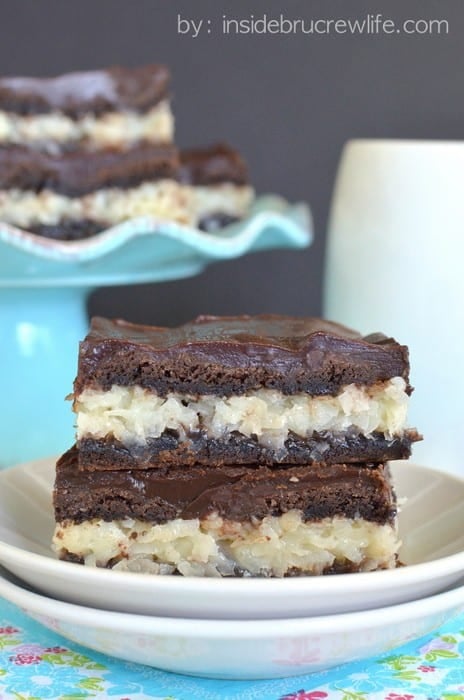 Last week we were at the beach, and we decided to take a day to explore some state parks. Everyone had gotten a little sunburned throughout the week, and we thought a day out of the sun (kind of) would be best.
We packed up a cooler with some water and apples and headed out. It was about a 30 minute drive to where we thought the park was, so we let the kids play on their ipods until we got there.
As we got closer to the state park, the drive was getting prettier and prettier. The road we were on had trees growing up and around the road creating a tunnel of tree branches and Spanish moss. It was gorgeous!
We told the kids to go ahead and shut off the electronic devices and look at the beautiful scenery. Imagine our disbelief when our youngest piped up and asked "what is scenery?".
Kids these days are so used to being on their ipods, Xboxes, and TV that they are unimpressed with the nature and beauty that is all around them.
It might be a very long summer for our kiddos because we are giving them a set time limit each day for all those electronic devices. They are going to have to use their imaginations and their toys this summer.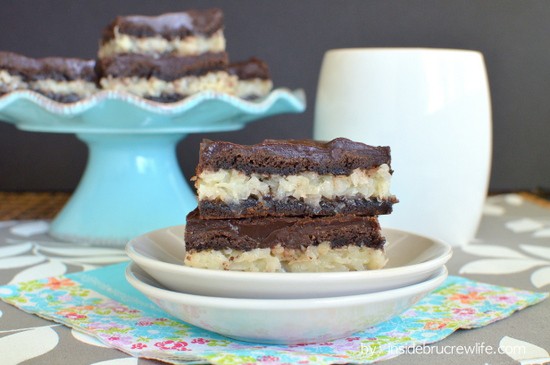 We finally found one of the parks and set out on a trail. Of course I forgot to pack the bug spray. This made for a very interesting (and funny) hike.
There were some flies and mosquitoes that just wouldn't stop buzzing our heads. It was so comical as I watched our city kids walk the trail swatting the air like mad. I don't think they were liking this "scenery", but we pressed on and finished the hike.
We even found another park and did another 2 mile hike through the sand and forest. This one had a little less bug swatting. I think they were starting to get used to this outdoor scene.
It also might have been the snake we found up in a tree that had them distracted from the bugs. The rest of the hike everyone's eyes were looking towards the heavens. No one wanted a snake to drop down uninvited on their head.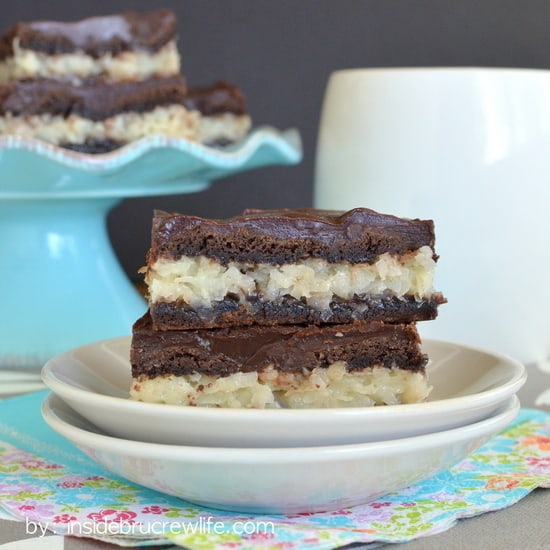 Chocolate Coconut Bars
I wish I had been swatting away these chocolate coconut bars after I made them. They were so down right delicious that I just couldn't stop eating bite after bite. I have a thing for adding coconut to my baked goods. These Caramel Coconut Bars and these Lemon Magic Bars are two of my favorite coconut dessert bars.
Plus, cake mix bars are so easy to make. Cake mix, butter, and milk makes an incredible cookie base for the gooey coconut layer.
Lucky for me (and my jean capris), my husband decided to visit the guys from his old job the next day. I pretty much threw all the chocolate bars into a box and swatted them out the door. Then I promptly wished I had kept one hidden bar to munch on.
These coconut bars are dangerous to have in the house, just so you know. I wouldn't make them unless you have willpower of steel or have a picnic to go too. Just thought you might like to have that little warning before giving them a try.
But seriously, do make them!!! I promise you, if you love coconut and you love chocolate, these gooey bars will be your new best friend. I definitely can't wait to make another batch of these Chocolate Coconut Bars.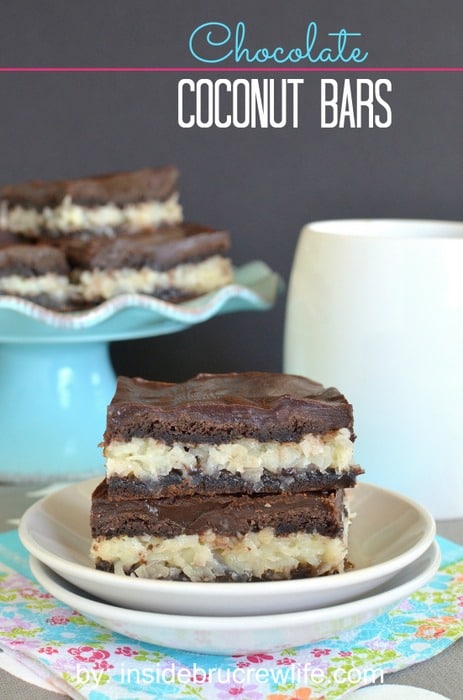 Looking for more coconut desserts?
Chocolate Coconut Bars recipe and video: