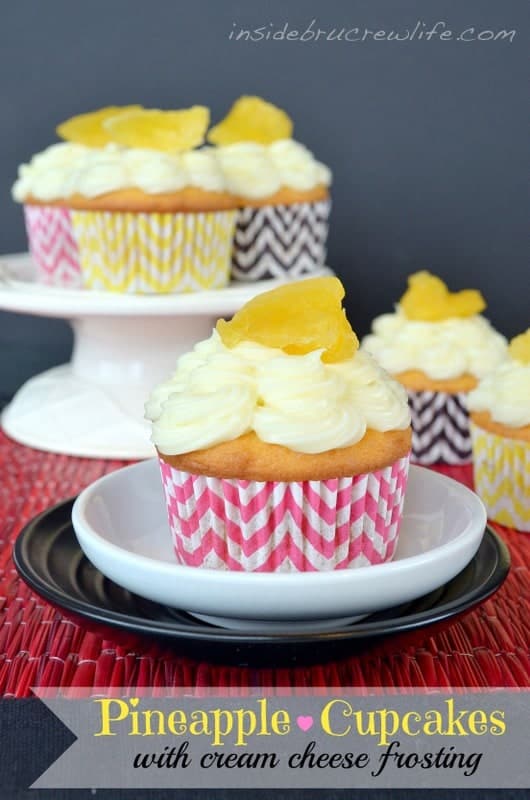 My daughter and I went to the post office last night to mail out some cookies.  (Yay for fun cookie swaps btw)  Do you know what we noticed?  Not very many people decorate their houses for Christmas anymore.  On our street there are only 6 houses with out door lights twinkling on their porches.
That may sound like quite a few, until you know that there are at least 50 homes on the 2 blocks of our street.  And we didn't see very many throughout town as were were driving.  Why are so many people Scrooge McMuffins when it comes to decorating with outdoor lights?  When I was little I can remember house after house decked out for the holidays.  (and I'm not that old)  
Speaking of decorating, do you like cute baking supplies as much as I do?  Something about adorable cupcake liners just makes the cupcakes look that much better.  So of course I jumped at the chance to bake with some new cupcake liners.  I loved that the pattern and color was still visible after baking cupcakes in them.  Gotta love these grease proof liners!!!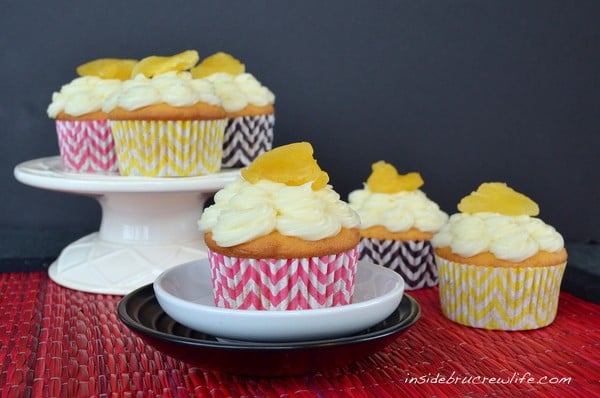 Let's talk about this cupcake recipe for a minute.  A few months ago we were at a carry in dinner at church and I had one of these cupcakes.  They were made by one of the sweetest ladies in our church.  (Hi, Maureen!)
After eating one, I just had to have the recipe.  Of course she graciously wrote it down for me and gave me permission to blog it.  What I love most about these cupcakes is how easy and fast they are to put together.  With all the business of the holiday month, I love having easy cake mix recipes that I can just jazz up with a few extra ingredients.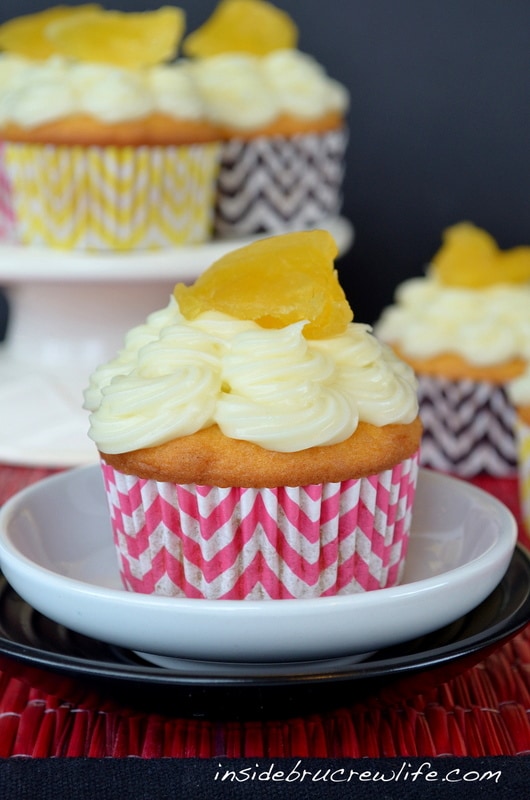 My favorite part of these cupcakes is the hidden pineapple preserve center.  Now you can totally get all Martha on me and make homemade preserves, but remember I said I like fast, simple, and easy recipes during busy months.
So, I just bought a jar of the Smuckers pineapple preserves and that worked out for me.  Same goes for the candied pineapple on top…feel free to make your own  But they sell it in the store, so I chose to support the pineapple company and just bought it already candied.  That leaves me more time to shop for gifts or put more lights on the outside of my house!
Want more fruit filled desserts on your holiday tables?  Check out these delicious links…
Toffee Apple Pie Cookies from BruCrew Life
White Chocolate Cranberry Pistachio Fudge from Chocolate, Chocolate and More
Lemon Cheesecake Cake from BruCrew Life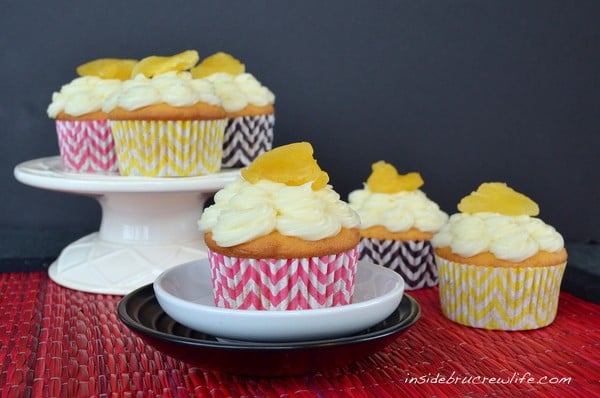 Vanilla cupcakes filled with pineapple preserves and topped with cream cheese frosting
Ingredients
For the Cupcakes

1 vanilla cake mix (16.5 oz.)
1 box vanilla pudding (3.4 oz.)
4 eggs
1 c. water
1/3 c. oil
1/2 c. pineapple preserves
For the Frosting

2 packages cream cheese (8 oz. each)
1/4 c. butter, softened
5 c. powdered sugar
Instructions
For the Cupcakes

Combine the cake mix, pudding, eggs, water, and oil in a mixing bowl. Beat on low for 1 minute and medium for 2 minutes. Spoon into cupcake liners and bake at 325* for 22 minutes. Let cool.
Scoop out a small spoonful from the center of the cupcakes and fill with pineapple preserves.
For the Frosting

Beat the cream cheese and butter until creamy. Slowly add the powdered sugar until all is mixed in. Let chill for 30 minutes. Place in decorator bag and pipe onto cupcakes covering the preserves. Optional: top with candied pineapple if desired
https://insidebrucrewlife.com/pineapple-filled-cupcakes-and-a-sweets-treats-boutique-giveaway/
Copyright Inside BruCrew Life
*Sweets and Treats Boutique provided BruCrew Life with liners to review. All opinions are my own.