Your morning routine could use an easy Raspberry Cheesecake Danish. These sweet little treats are great for breakfast or after school.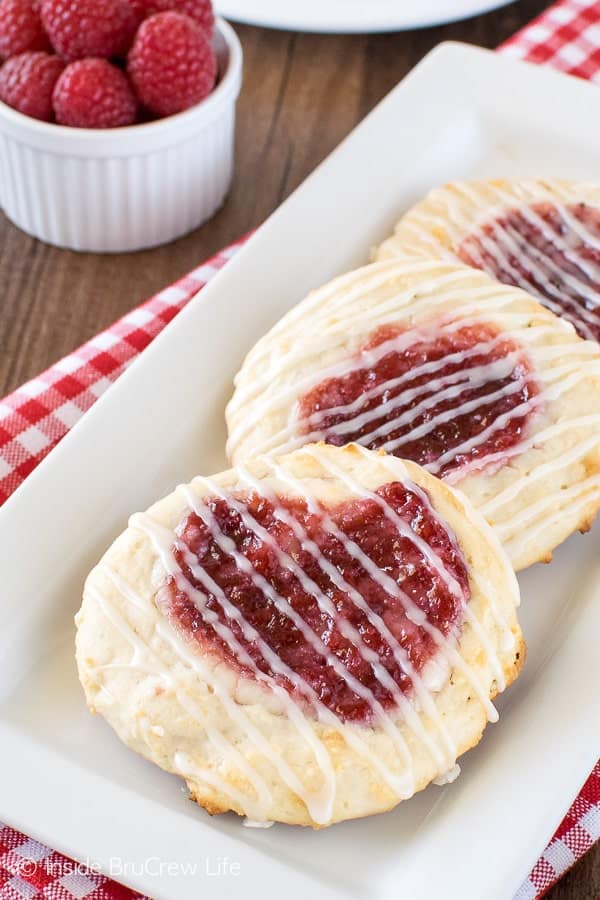 Well, winter and snow found us. This past weekend we woke up to flurries. The kids and my husband were so excited to see the fluffy white stuff coming down from the sky. Me...not so much. I'm definitely the snow scrooge in the house. Bah humbug I say!
I grew up in the northeast and lived in the midwest for many years, so you would think my body would be used to the snow. Oh, no! My feet still freeze and I really cannot handle being cold. Is it possible for your body to adjust that quickly to living in the south because the cold really seems to bother me this winter?
Maybe I'm just being a big baby about all the cold, but I'm seriously glad to see 70 degree weather on the radar for this week. That's more like it!!!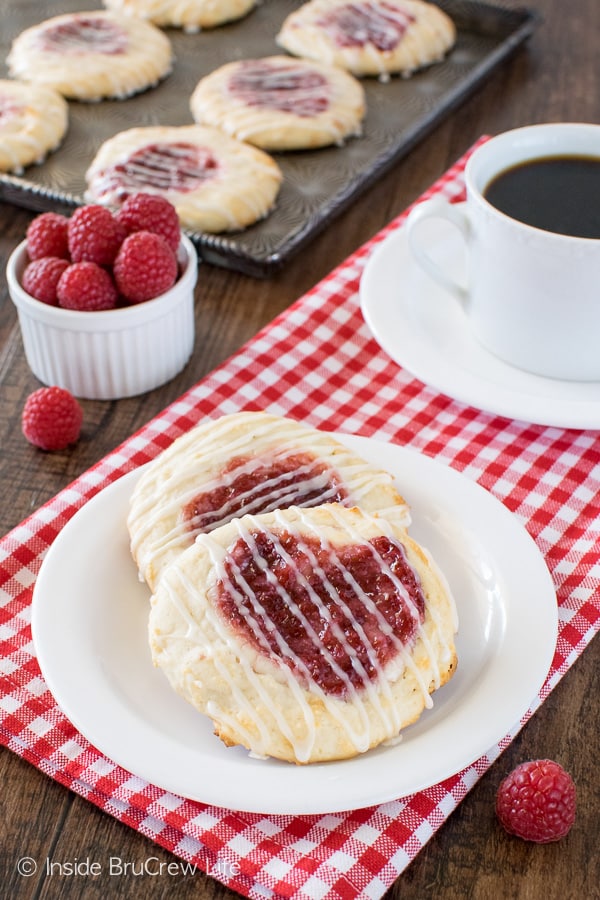 With the weather being chilly this past weekend, I stayed in the house baking some fun breakfast treats. I found the recipe for an easy drop danish in an old paper cookbook that I had found at Goodwill a few years ago. Usually I just use crescent rolls like in this blueberry cheesecake danish because it's so easy.
Another option is to use a puff pastry to create this amazing cherry danish.
I finally had a chance to try making the homemade danish dough, and of course I gave it a fun cheesecake twist because adding cheesecake to all the things is just something I love doing.
The dough was extremely easy to make using my homemade baking mix, and they tasted amazing.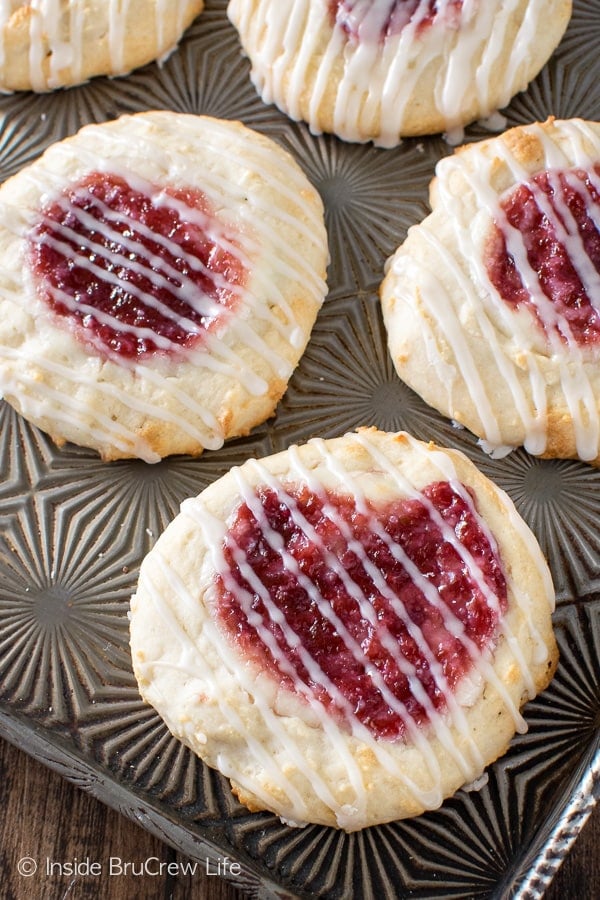 You really could use any fruit preserve or filling in these easy breakfast pastries. We had some raspberry jelly in the fridge, so that is what I used this time. Next time I want to try using this honey blueberry sauce or apple butter for the centers because I'm pretty sure those would taste great too.
And yes, there will be a next time for this danish. My kids absolutely loved these sweet treats. In fact, my daughter gave me a huge smile and happy dance when I made another batch for the video above. She got my sweet tooth for sure.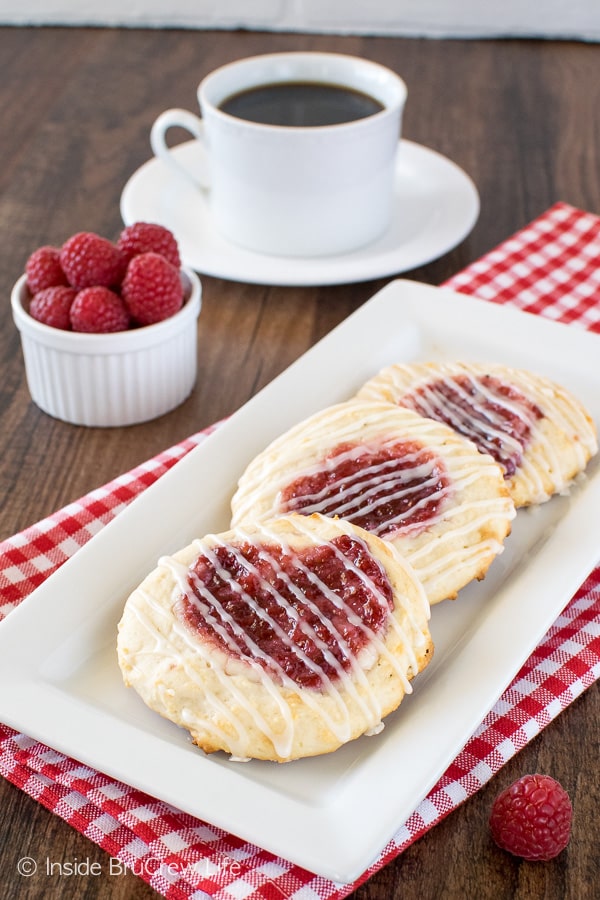 How to make a Raspberry Cheesecake Danish
Mix your baking mix, sugar, and butter together with a fork or pastry blender until it looks like coarse crumbs.
Pour in the milk and mix it together until a soft dough forms.
Scoop the batter onto a parchment paper lined tray because they will come off so much easier.
Use the back of a spoon to make a well in the center of each one.
Fill the centers with a cheesecake filling and preserves. Bake.
Cool before drizzling a glaze onto each one.
Brew a cup of coffee and enjoy a danish for your morning breakfast!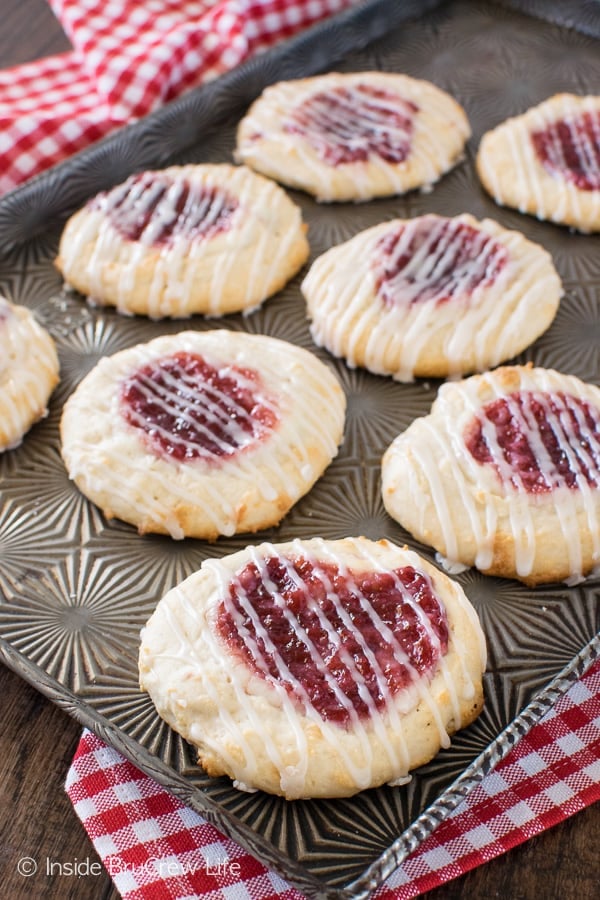 Love a recipe you tried from Inside BruCrew Life?
Please leave a 5 star ⭐️ rating and/or a review in the comments section further below.

*This post contains affiliate links. Inside BruCrew Life may receive a small percentage from sales made through these referral links. As always, these do not cost you any extra. Thank you for letting us share products we love this way.