This Apple Butter Recipe is so delicious that you'll want to enjoy it all year. Our homemade apple butter is made with simple ingredients. Plus, your home will be filled with the delightful smell of fresh apples as it cooks on the stove.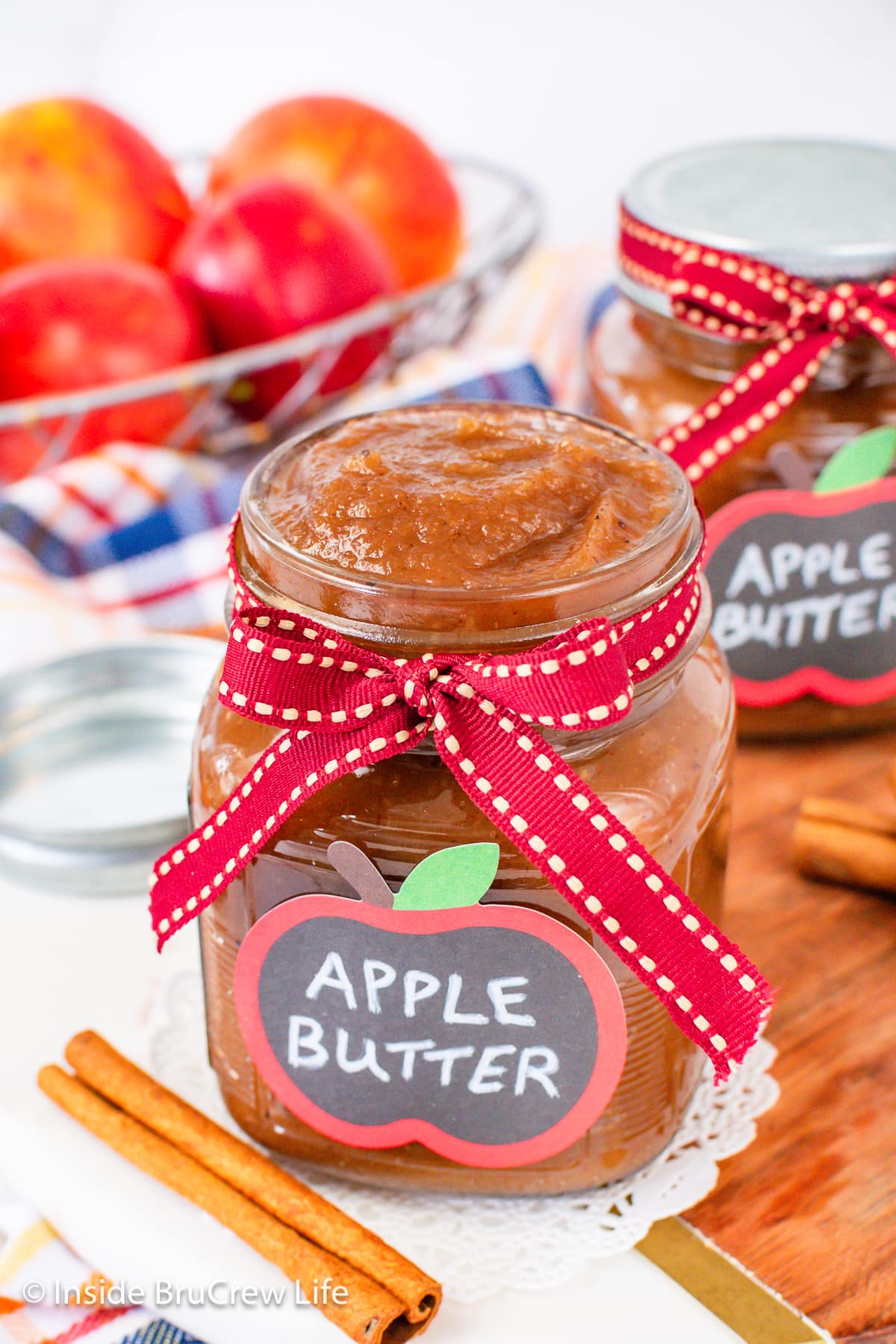 Jump to:
Do you have certain foods that remind you of your childhood? For me, apple butter reminds me of growing up in Pennsylvania because we always had a jar in our fridge.
The problem with apple butter is that it can be hard to find because not many stores carry it. I visited four stores before I found a jar of spread for apple butter cinnamon rolls. The one brand I found was light, runny, and didn't taste good.
I should have known making homemade apple butter is always the way to go! You can easily make it on your stovetop or in a crock pot.
Why You Will Love This Apple Spread
Making apple butter from scratch is incredibly easy! And there are countless delicious ways to enjoy it.
You don't need any fancy equipment for this traditional apple butter recipe.
You have total control over how thick the fall spread is.
Your home will smell like a cozy autumn orchard while it cooks!
The sweet preserves can also be used as a topping, spread, or filling.
W

hat is Apple Butter

Contrary to its name, apple butter does not contain any butter. The name comes from the buttery smooth texture. It is just a concentrated form of applesauce.

The difference between homemade applesauce and apple butter is how long they are cooked. Both are made from cooking apples and spices to a soft puree. The apple spread cooks longer, giving it a dark, caramelized color with a rich apple flavor.
Main
Ingredients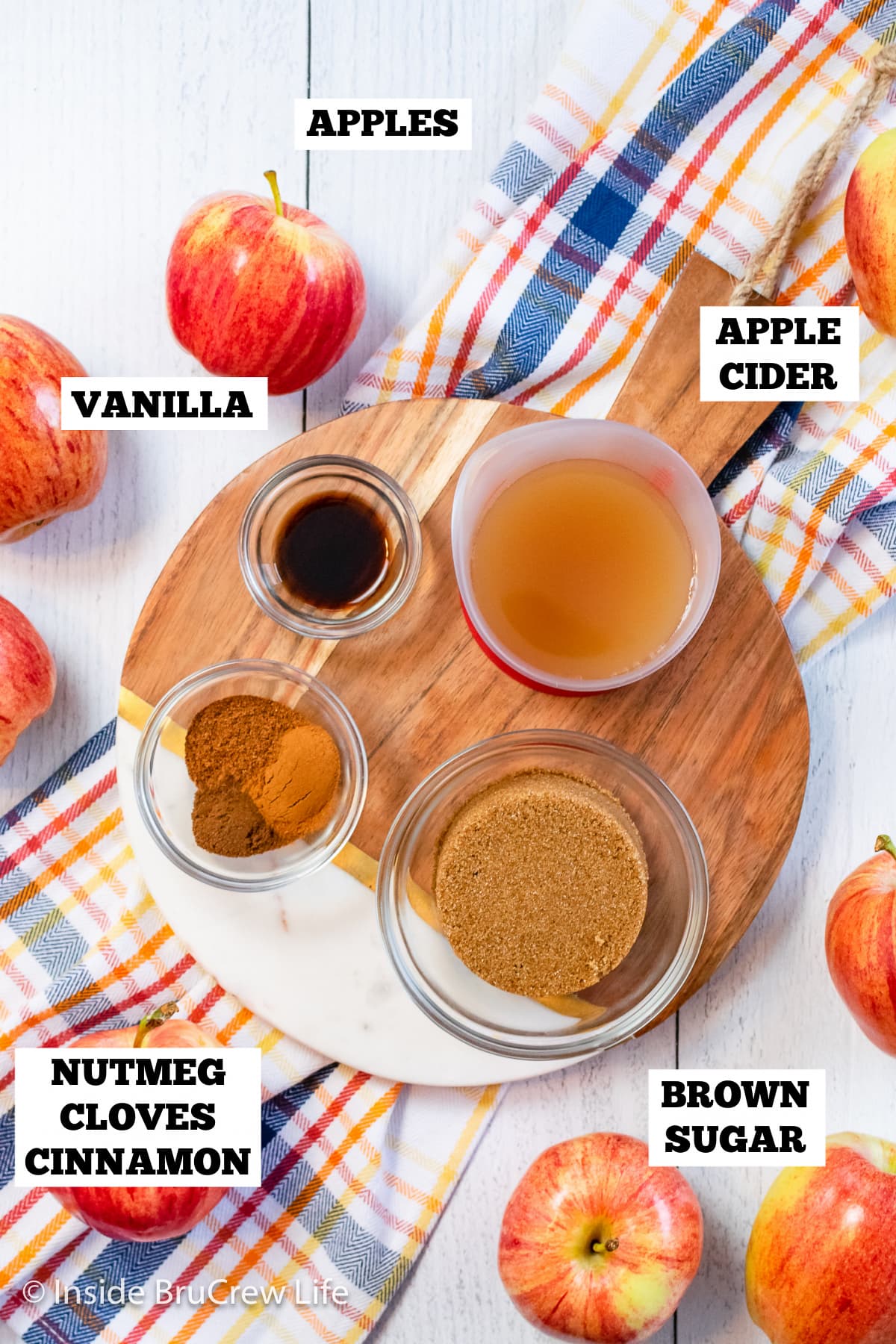 You only need seven ingredients to make this homemade apple butter recipe on the stovetop or in a crock pot.
Apples - Any variety of apples will work. We prefer a mix of golden delicious and Gala apples. Feel free to use your favorite kind of apples.
Apple Cider - I like to use cider because it gives it a more prominent apple flavor. You can also use apple juice or water if you prefer.
Brown Sugar - This recipe calls for light brown sugar, which gives it flavor and color. You can also use dark brown sugar or granulated sugar.
Spices - A mixture of cinnamon, nutmeg, and cloves gives it the right balance of sweetness and spice. Feel free to use apple pie spice in place of the other mixture.
Vanilla Extract - Adds the finishing flavor.
Are you looking for different butter spreads? This plum butter and pumpkin butter recipe always gets good reviews.
How to Make Apple Butter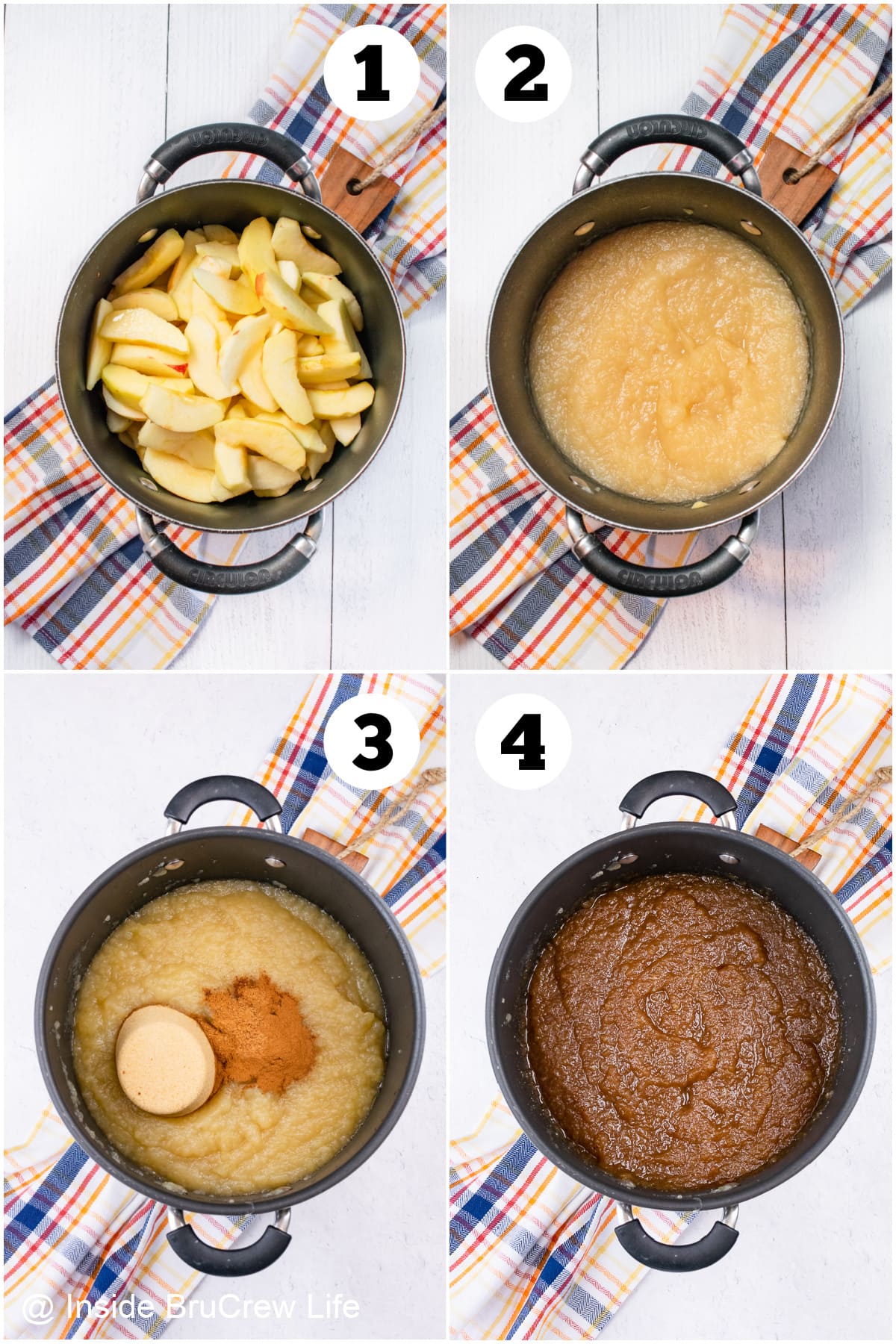 Stovetop Apple Butter
Making apple butter on the stovetop is very easy to do. It is the quickest method, but it also requires the most attention.
Peel and core three pounds of apples and place in a large pot with apple cider. Bring to a boil, then reduce heat and simmer for 25 - 30 minutes or until the apples are soft and falling apart. Stir occasionally. The cooking time may vary depending on the size of your pot.
Remove from the heat and let cool for 5-10 minutes. Puree the apples with a regular blender, immersion blender, or food mill so you have 4 cups of apple puree.
Stir the sugar and spices into the apple mixture and cook until thick and dark. After the mixture is cooked, it should be reduced to 3 cups. The time will depend on the apples you use and your desired consistency.
Remove and stir in the vanilla. Let cool for 5-10 minutes, then puree again, if desired. Let the spread cool before spooning it into jars.
Crockpot Apple Butter
Making apple butter in a crock pot is an easy way to be more hands-off. This is a great overnight recipe because you can enjoy a warm apple spread on your toast for breakfast.
Stir all the ingredients (minus the vanilla) in the crockpot or slow cooker. Set the timer for 10 hours on LOW and walk away.
Once the timer goes off, uncover and stir in the vanilla.
Cook uncovered for another 2 hours, then puree.
BruCrew Tip: Jars of apple butter make a great gift. Tie a ribbon and cinnamon sticks to the lid before giving it away.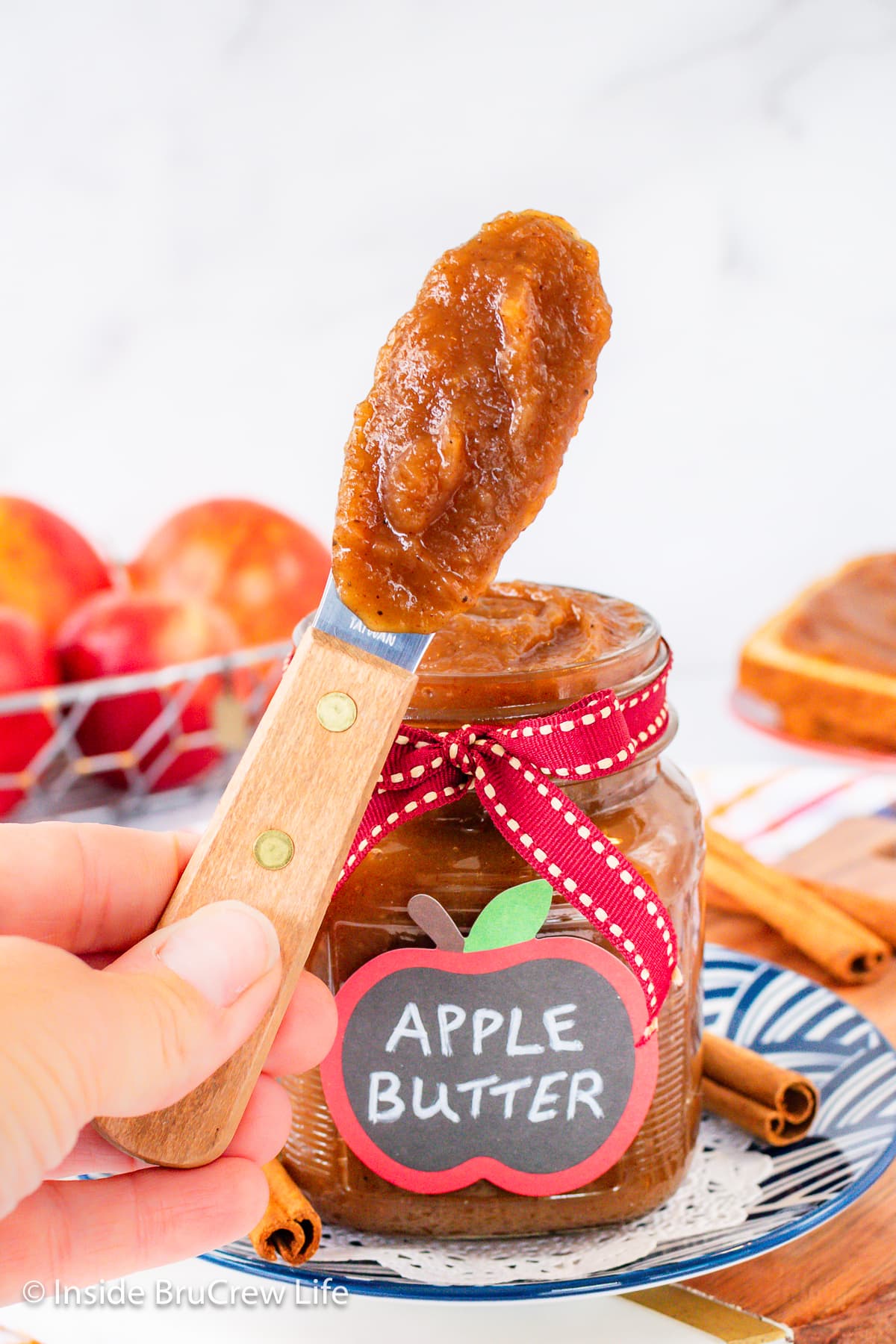 How to Store Homemade Apple Butter
In the Refrigerator - A jar of apple butter will last 3-4 weeks if kept in airtight containers in the fridge.
In the Freezer - Place in freezer bags or containers and freeze for 6-8 months. Thaw overnight in the fridge.
Canned - Can apple butter in sterilized mason jars and store it for one year. Make sure to follow basic canning guidelines for using a hot water bath!
Uses for Apple Butter
This spread is amazing because it is great in many different sweet or savory dishes.
Spread it on toast, biscuits, English muffins, or cornbread.
Add a spoonful on top of vanilla ice cream or cottage cheese.
Use it on cinnamon sugar waffles, pancakes, or crepes.
Add bowls of it to a charcuterie board or cheese plate.
Baste grilled pork chops or a rack of ribs with it.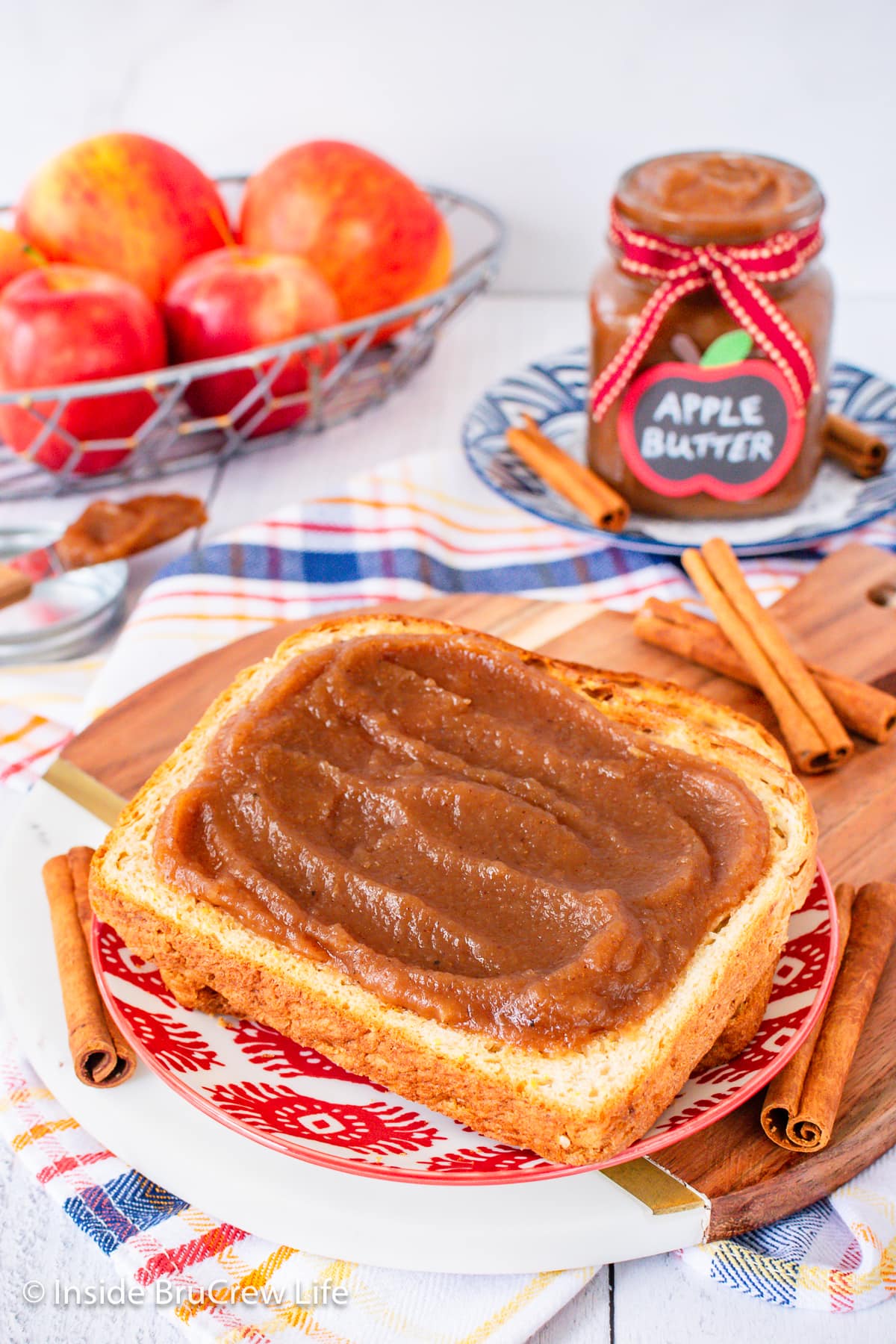 Tips and Tricks
Depending on the variety of apples you use, more or less sugar may be added.
Want to make this without processed sugar? Try sweetening the applesauce with ½ cup cinnamon syrup before simmering it down.
Reduce the cooking time. Use a jar of unsweetened apple sauce instead of cooking the apples down.
Use other spices. Add pumpkin pie spice, ground cardamom, or allspice to your spice blend to give the fall spread the best flavor.
When simmering apple butter, use a splatter shield to prevent splatters from the hot puree.
Stir it frequently so the apple butter does not stick to the bottom of the pot or burn as it thickens.
If the mixture is still chunky once it thickens, puree it again to make smooth apple butter.
Use a METAL immersion blender when you puree the mixture. A plastic blade will melt and warp in the hot apple butter.
FAQs
What apple varieties are best for making apple butter?
A softer variety is best because they cook down faster. Some good choices are Gala, Red Delicious, Golden Delicious, Fuji, McIntosh, Honeycrisp, and Jonagold. A mixture of sweet and tart apples will flavor your apple butter.
Do you have to peel the apples first?
No, you don't have to. Once the apples cook down and are pureed, you won't even know the peels are there. Peels contain pectin, allowing the mixture to thicken faster than a batch made without peels.
How do you know when apple butter is done?
A homemade apple butter recipe is done when thick, like jam. It should hold its shape on a spoon and not slide off immediately. If you pull a spatula through the pan, the mixture should not slide together very quickly.
How long does homemade apple butter last?
Homemade apple butter can be stored in the refrigerator for two months or in the freezer for eight months.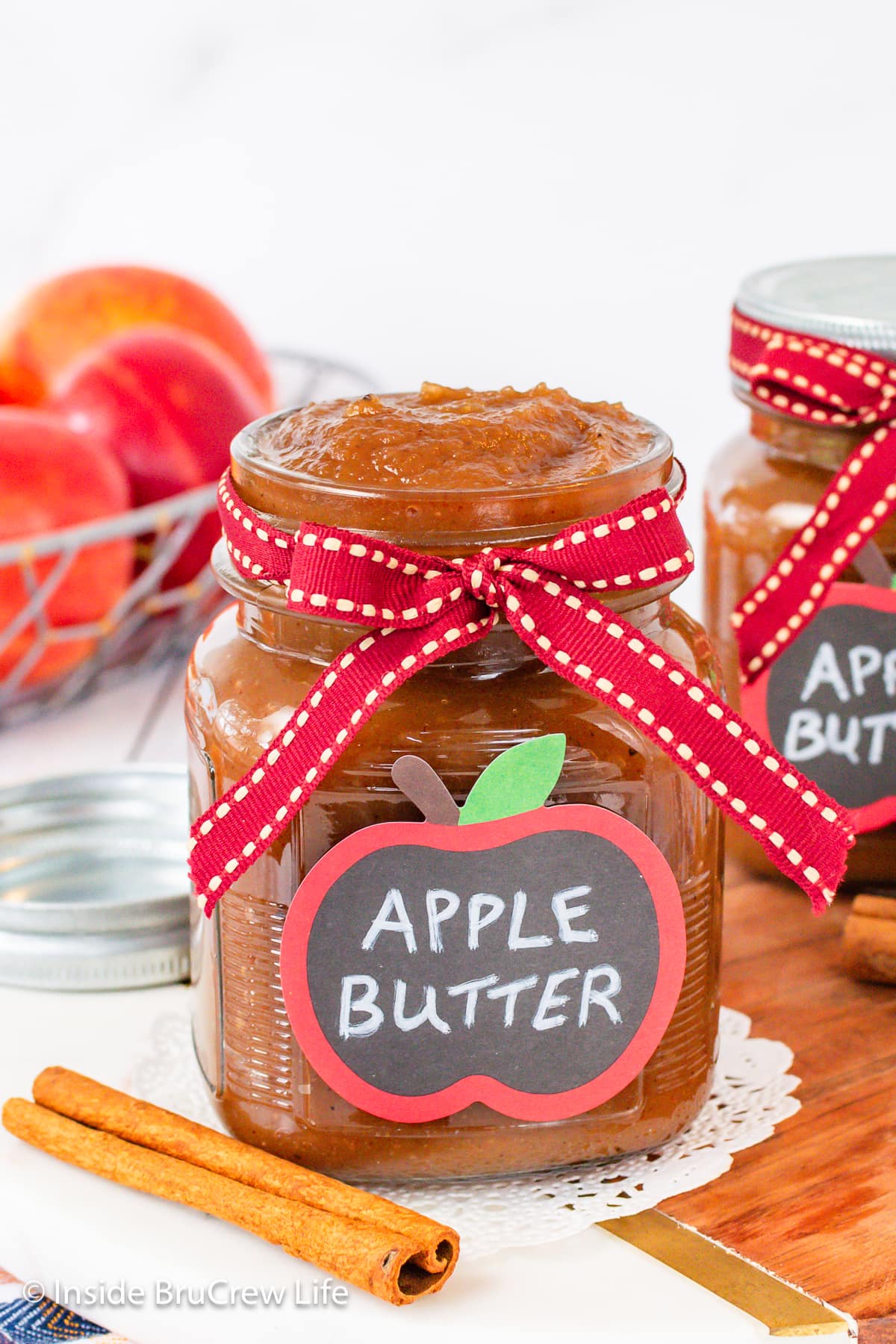 Baking with Apple Butter
This spread is quite delicious when used in baked goods, too. Here are a few of our favorite ways to bake with it.
Do you love a recipe you tried from Inside BruCrew Life?
Please leave a 5-star ⭐️ rating and a review in the comments section below.
*This post was first published in August 2021. It was updated and republished in September 2023.
**We participate in the Amazon Services LLC Program, an affiliate program designed to provide a means for us to earn fees by linking to Amazon.com .