This cool and creamy Raspberry Hazelnut Poke Cake is the perfect choice for dessert tonight. It is also a great dessert choice to bring to any party or picnic this summer.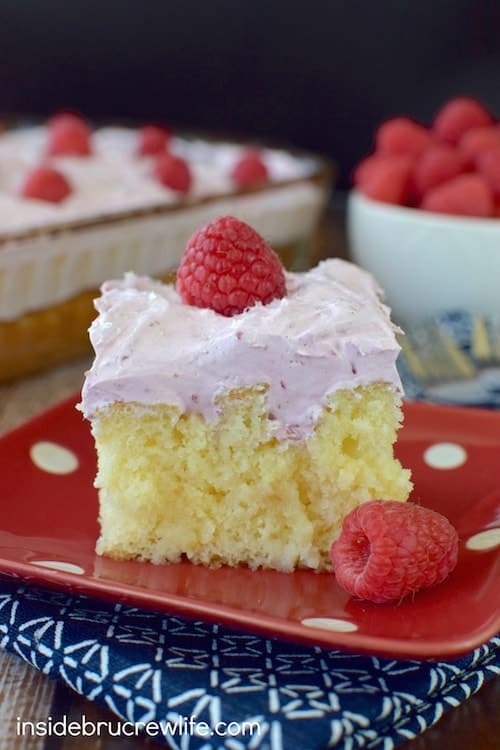 I am usually one of those people who has to try something new at least once. If I see a new candy or cookie at the store, it's coming home with me. If a new treat comes out at the bakery or ice cream shop, I'm there. My jeans don't always agree with me on these things.
So, a few weeks ago (or has it been longer?) Starbucks came out with their birthday frappuccino for like 5 days. I kept telling myself I was going to get in there to try one before they ended, but I failed. The special drink came and went and I didn't try it.
So, what's a dessert blogger to do? Try to recreate the flavor combo in some sort of fun treat, of course.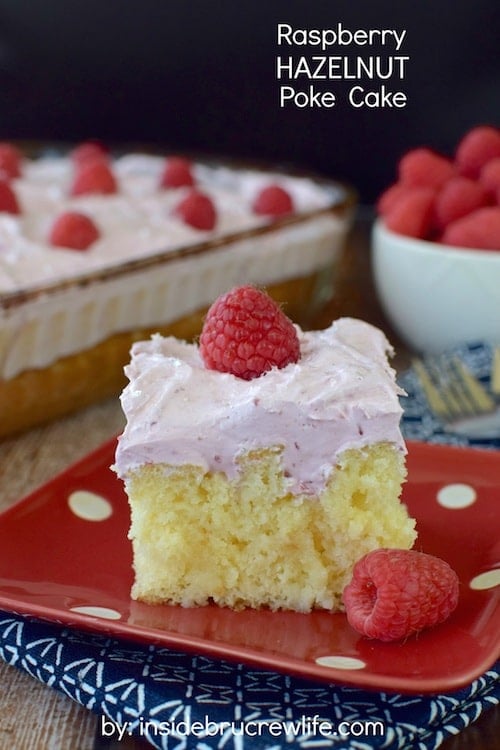 But what kind of treat would capture the flavor combo of this drink perfectly? It had to be something that would work with the hazelnut and raspberry combo.
My first thought was a cupcake because usually I recreate those fun coffee drinks in cupcake forms at least once. One of my favorite recreations were these Mocha Cookie Crumble Cupcakes from a few years ago. But for some reason I just wasn't feeling the cupcakes.
Then I asked on Facebook if there were any food ideas you were looking for. I got requests for salads, healthy food, cool desserts, picnic food, grilling, and fruit recipes. As I was reading over all these ideas, all of a sudden I knew just what to make.
For those of you asking for salad and healthy food...this isn't going to be what you asked for, but stick around I'm working on something for those. My dessert idea is for those of you who wanted cool desserts, picnic food, and fruit...this cake includes all those!
One of my favorite cakes of all time is this Chocolate Coconut Poke Cake. Have you tried one of these fun cakes yet? And yes, a poke cake is just what it sounds like. You "poke" it with either a fork or the end of a wooden spoon to make holes that you fill with some sort of goodness. Since the birthday cake frap was vanilla hazelnut, you are going to use a vanilla cake mix with a little bit of hazelnut extract added in.
Believe me, your house is going to smell amazing as this cake bakes.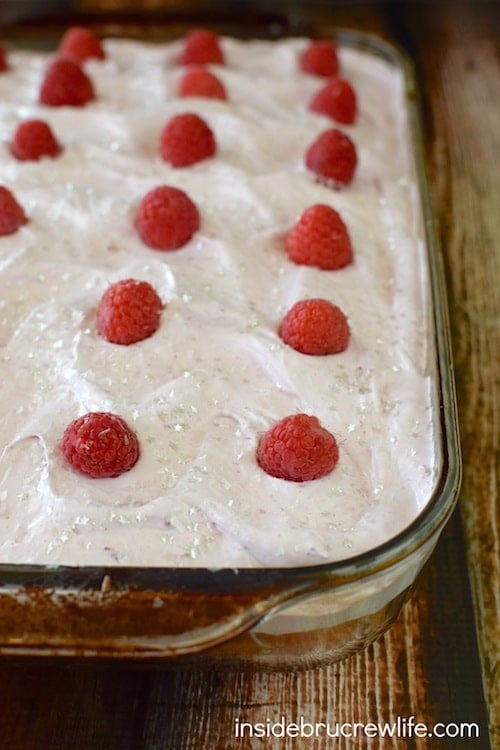 Then stir in a little bit more extract into a can of sweetened condensed milk and pour it into those holes in the cake. Let the cake cool completely before adding the topping. To cool my poke cakes quicker, I usually put them in the refrigerator for an hour or so.
For the creamy topping, you will stir raspberry preserves into marshmallow cream, then add Cool Whip. Be careful if you sample a bite of this topping...it is so good that you might want to take the bowl and hide in the closet.
But then your cake would be nekkid, and nekkid cake is never a good thing, so better stick to just sampling one spoonful. Ok, fine...take two!
A few fresh raspberries and some glittery sprinkles and this cake was ready to be devoured. And believe me, it was devoured in no time at all. I ended up sending some to praise team practice with my husband because I knew I wouldn't be able to stay out of this cake. I always joke that if I'm going to have fat pants, I'm going to share the love with all of them. So far, I don't think they mind.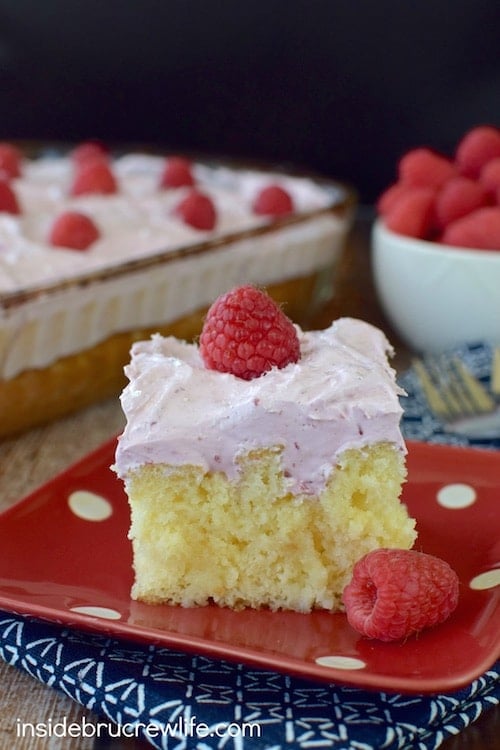 Here are a few more of our favorite poke cakes
Love a recipe you tried from Inside BruCrew Life?
Please leave a 5 star ⭐️ rating and/or a review in the comments section further below.