This easy Strawberry Cheesecake Poke Cake topped with a fluffy cheesecake mousse, graham cracker crumbs, and fresh strawberries will make you the star of every summer picnic.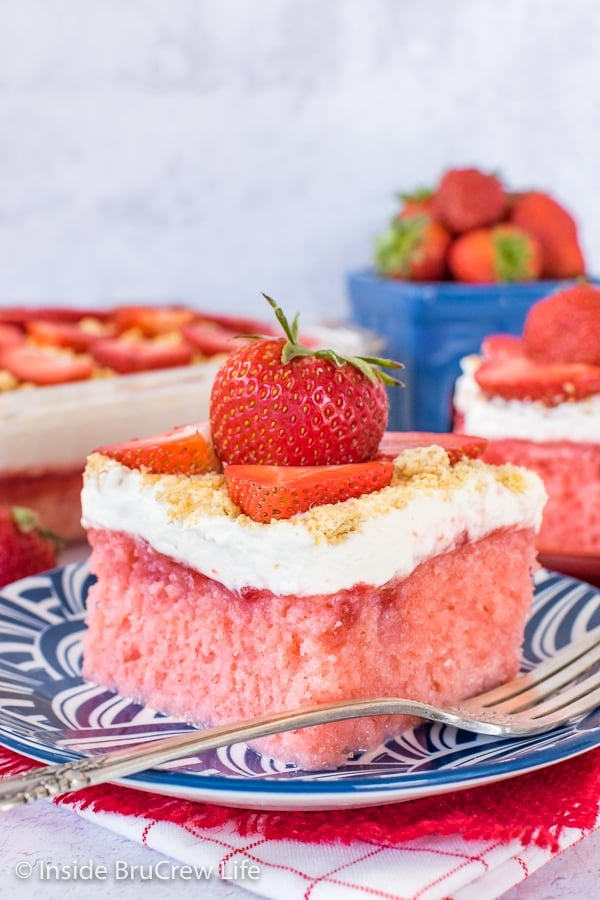 By now you know that I am slightly obsessed with poke cakes. It all started with this Chocolate Coconut Cake years ago, and I haven't been able to stop making them. Or eating them...
There is just something about the chilled cake drizzled with milk and topped with a fluffy mousse frosting that gets me every single time.
If you love tres leches cake, you will adore a poke cake. They have the same gooey consistency.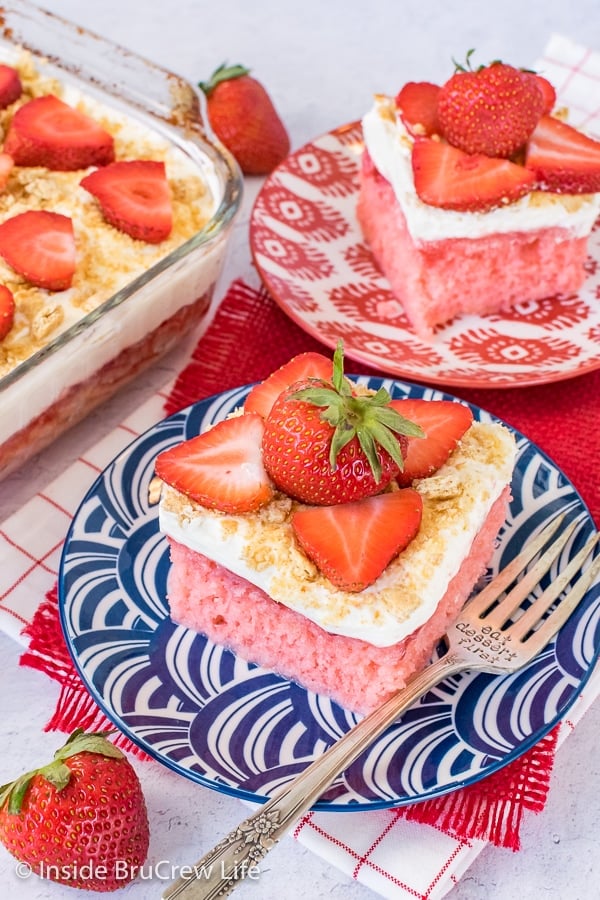 Every time I post a poke cake recipe, I get emails and comments asking what exactly is a poke cake.
What is a Poke Cake?
It's exactly like it sounds. You bake the cake and then poke the heck out of it with a fork or the end of a wooden spoon. Nothing complicated about it at all.
After you have a cake full of holes, you drizzle it with sweetened condensed milk and top it with Cool Whip. Easy peasy right?
Other things to pour on poke cakes:
Jell-O
Sweetened condensed milk
Pudding
Cream of Coconut
Frosting
Peanut Butter
Pureed fruit
Basically any liquid that you can pour and that will soak into the warm cake is fair game.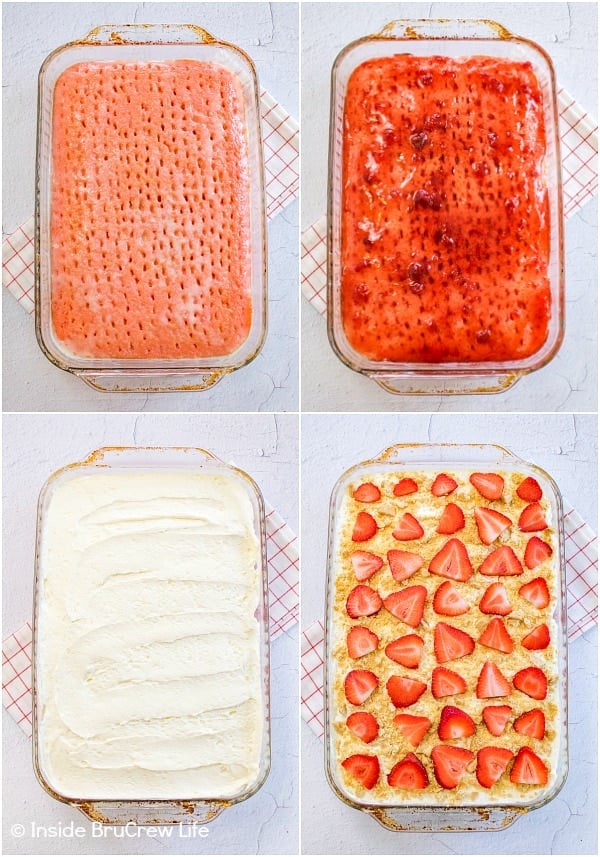 If you want to get a little bit crazy with the cake, you can add extra ingredients to the sweetened condensed milk or the Cool Whip topping.
This strawberry poke cake gets an extra shot of strawberry from the strawberry ice cream topping.
Adding pudding and cream cheese to the container of Cool Whip takes it over the top. It is seriously so delicious!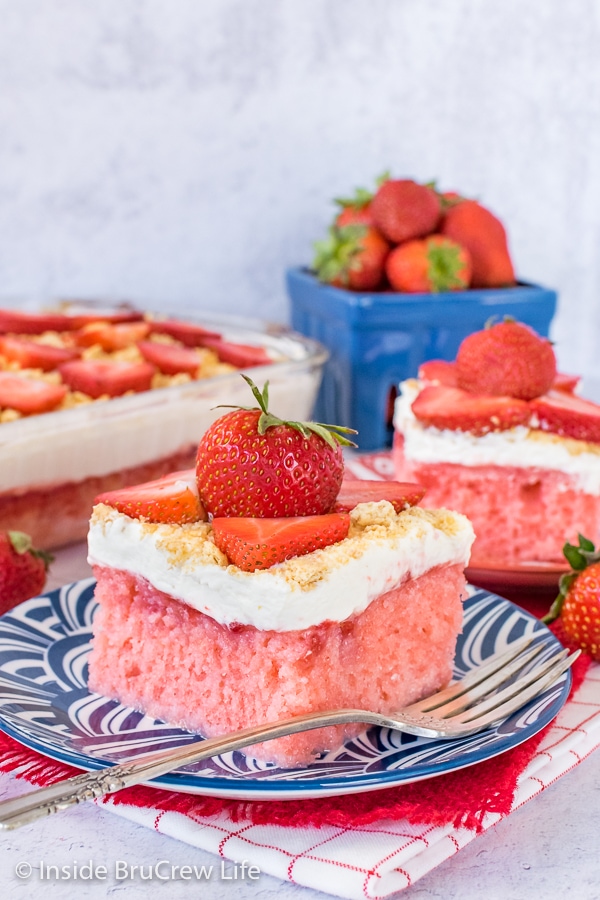 How to make a Strawberry Cheesecake Poke Cake:
Bake a strawberry cake mix according to the box directions. Remove from the oven and let cool 5 minutes. (printable recipe card at bottom)
Use a fork to poke holes all over the top of the cake.
Slowly drizzle a can of sweetened condensed milk over the top. Let it soak in.
Pour a jar of strawberry ice cream topping on top of the cake. Use a spatula to smooth it out and press it into the holes. Refrigerate until completely chilled.
Beat cream cheese until creamy. Whisk together milk and instant cheesecake pudding mix; let set. Beat into the cream cheese.
Fold in Cool Whip and spread over the top of the chilled cake.
Right before serving sprinkle with graham cracker chunks and top with strawberry slices.
My oldest son loves to judge and rate my desserts. He inhaled a piece of this strawberry cake in record time and declared it the best poke cake yet. I would have to agree with him too.
So, take our word for it and make one for your family this week. I think they will love it just as much as we did.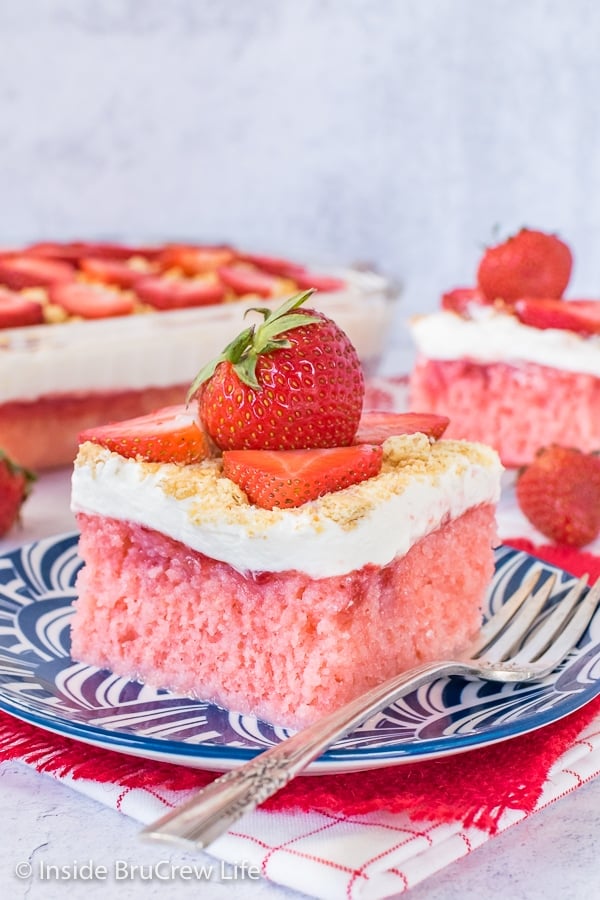 Other poke cake recipes you may like: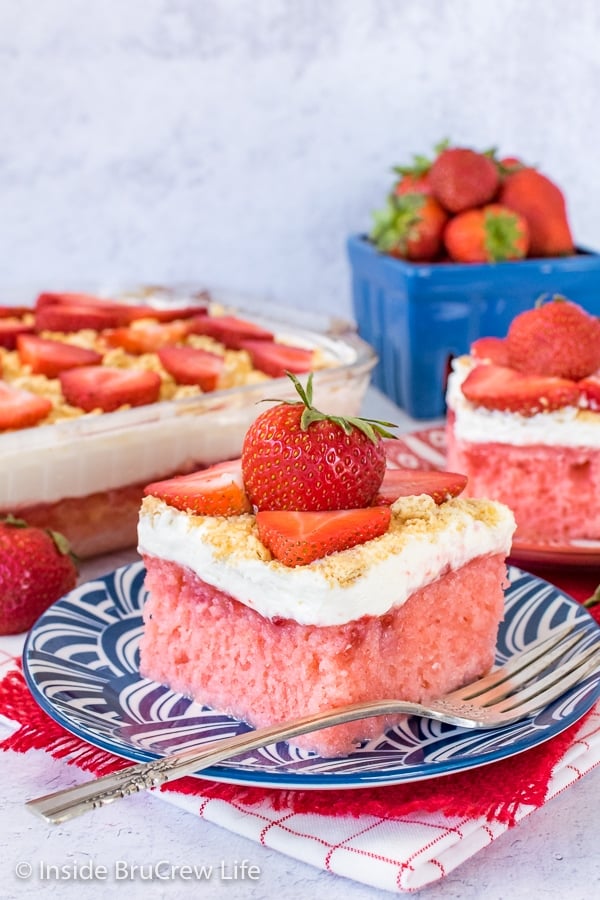 CLICK HERE TO PIN THIS RECIPE FOR LATER!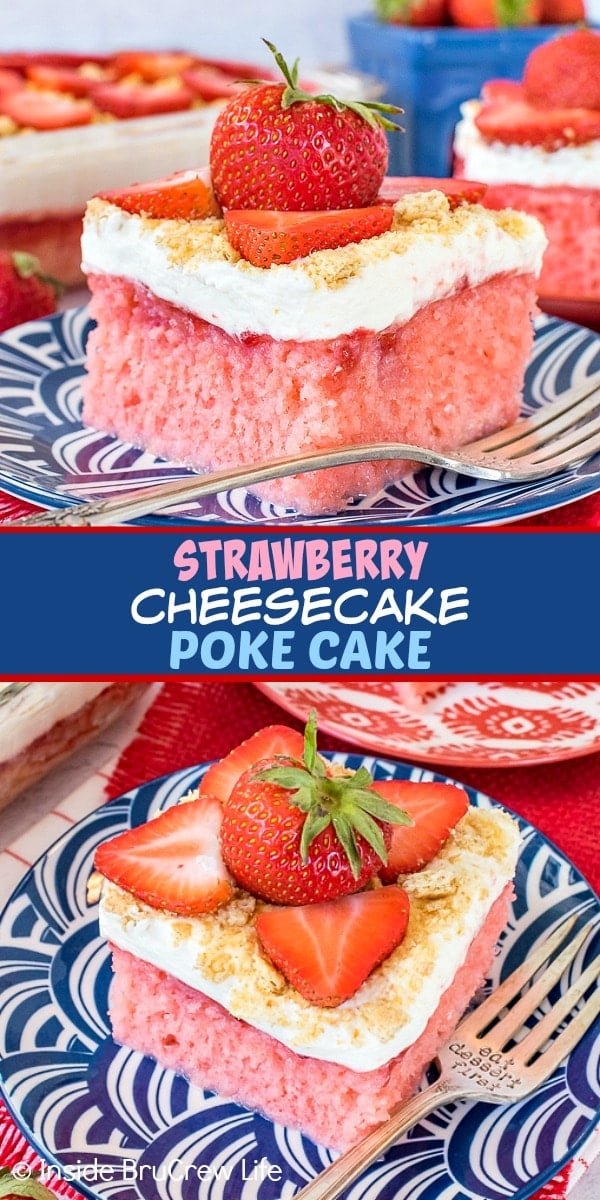 *The post for Strawberry Cheesecake Poke Cake was first published on July 2, 2013. The photos and post were updated and republished July 20, 2020.