It is so easy to make a box cake mix taste like a decadent dessert.  This Strawberry Fudge Poke Cake is so delicious…you won't want to stop after one piece.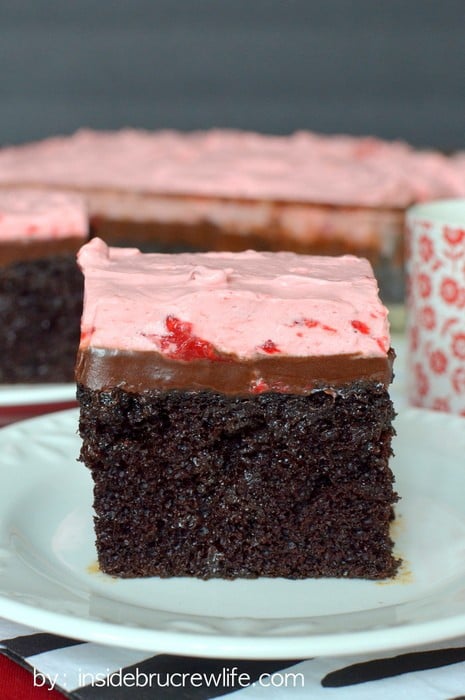 Last year I made this Chocolate Coconut Cake.  It was my first poke cake using sweetened condensed milk.  The only poke cakes I had ever made before were with a pudding or jello mix.  The sweetened condensed milk over the cake was absolutely delicious.  Something about a cold gooey cake topped with Cool Whip just satisfies every dessert craving in me.  Then I waited an entire year to make another one.  What was I thinking?
A few weeks ago I made this Coconut Fudge Poke Cake, and I remembered why I loved this cake so much.  It got me thinking of what other combos I could do with this cake.  And really, the ideas are still coming.  But this one stuck out in my mind and I had to go buy all the ingredients right away.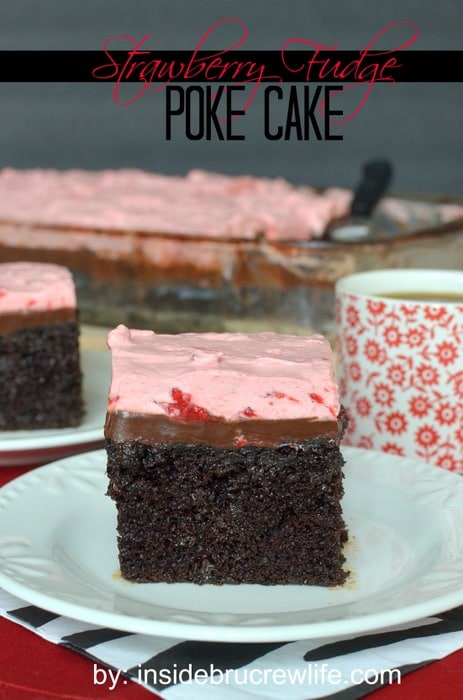 One thing that I love about this cake is how easy it is to make.  Only 5 ingredients/packages!!!  Ok, a few more because you also need eggs and oil to make the cake.  All you need is a cake mix, sweetened condensed milk, a can of frosting, a can of pie filling, and Cool Whip.  That's it!    I just love easy peasy desserts.
Hurry!  Run to the nearest grocery store and buy these 5 items, so you can have Strawberry Fudge Poke Cake in your refrigerator too.  I promise you are going to love it!!!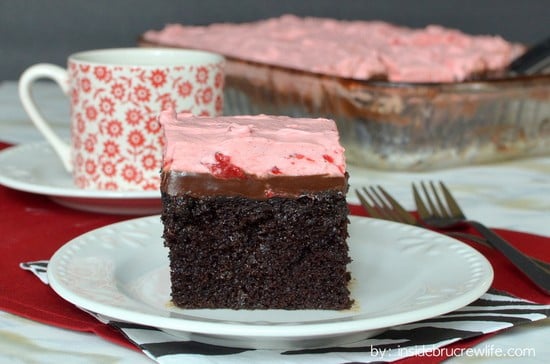 Make sure you don't miss any of the crazy baking
by following the BruCrew here:
FACEBOOK | PINTEREST | GOOGLE+ | TWITTER | INSTAGRAM | BLOGLOVIN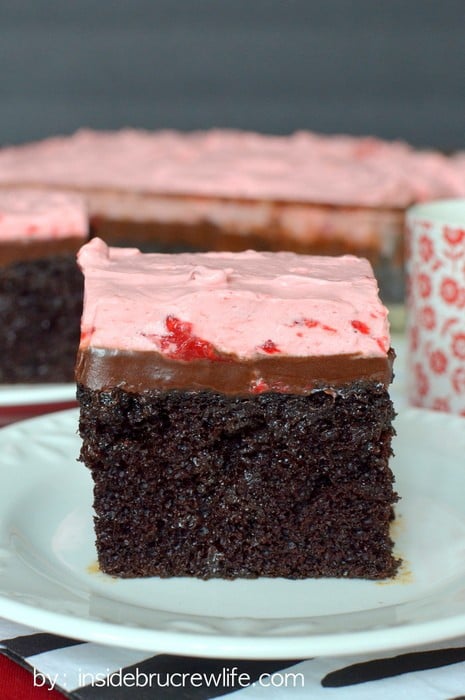 Chocolate Fudge cake topped with canned frosting and a pie filling Cool Whip.
Ingredients
1 dark Chocolate Fudge cake mix
1 - 14 ounce can sweetened condensed milk
1 container chocolate frosting
1 can strawberry pie filling
1 - 8 ounce container Cool Whip
Instructions
Prepare the cake according to the box directions. Bake at 350 degrees for 25-27 minutes. As soon as the cake comes out of the oven, poke the cake with a fork all over. Make sure you cover the cake with holes. Drizzle the sweetened condensed milk slowly over the top of the hot cake. Make sure to fill all the holes. Let set until cool.
Remove the foil top of frosting. Place in the microwave for 30 seconds. Stir and spoon over cooled cake. Spread over the entire top. Refrigerate.
Open the can of pie filling. Use a fork to break apart the strawberry chunks. Fold into the Cool Whip. Spread the strawberry Cool Whip over the top of the cake. Keep refrigerated. Makes 24 squares.
https://insidebrucrewlife.com/strawberry-fudge-poke-cake/
Copyright Inside BruCrew Life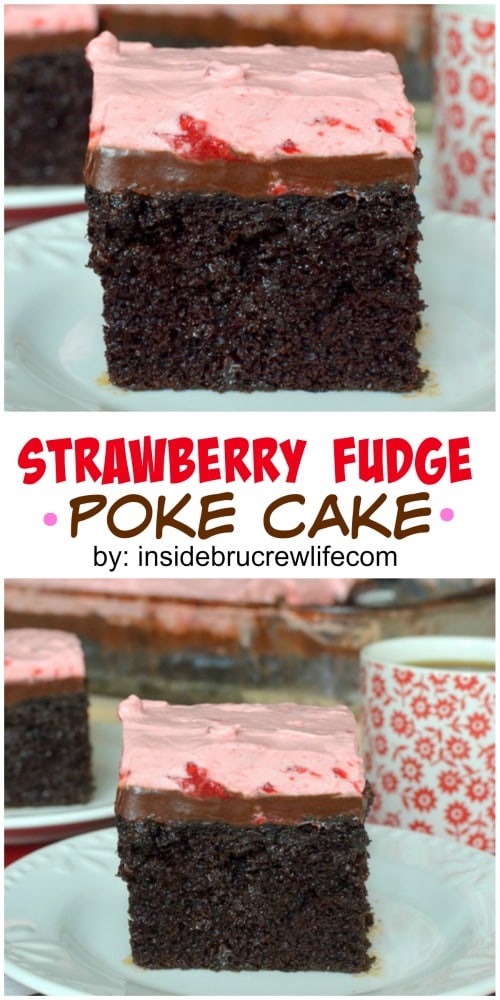 Here a few more ways we like to enjoy Strawberries.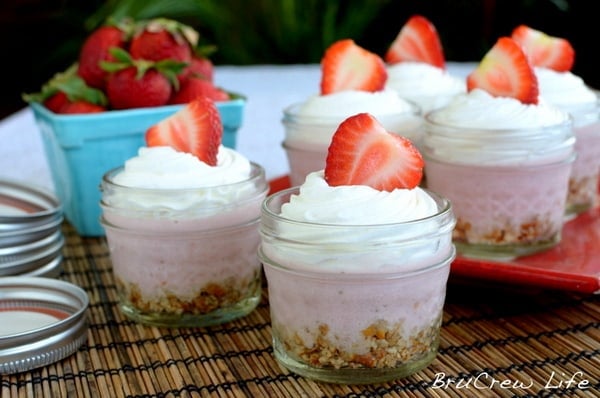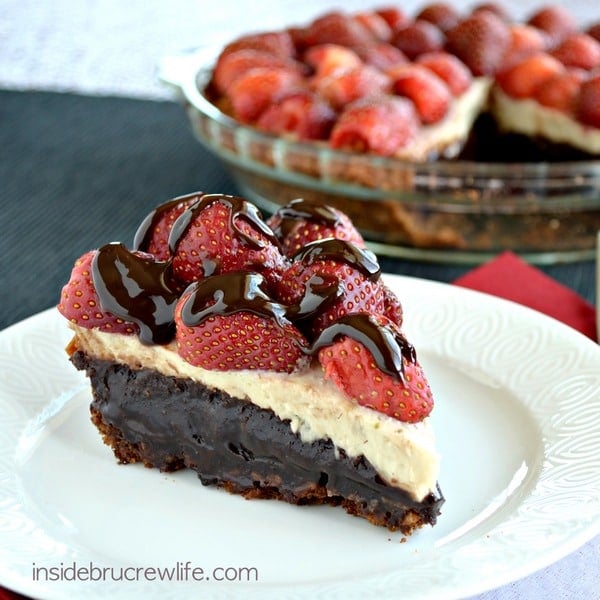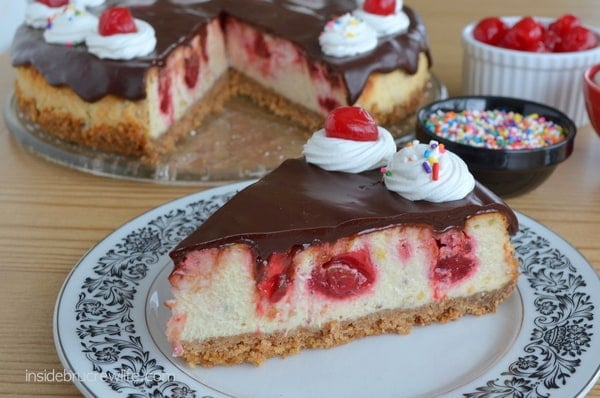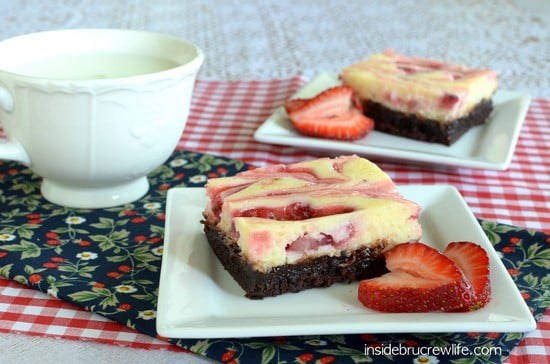 Strawberry Cheesecake Brownies