This Strawberry Fudge Poke Cake is made with just a few ingredients and will be a hit at all your summer picnics. The sweet, refreshing cake will have everyone asking for more.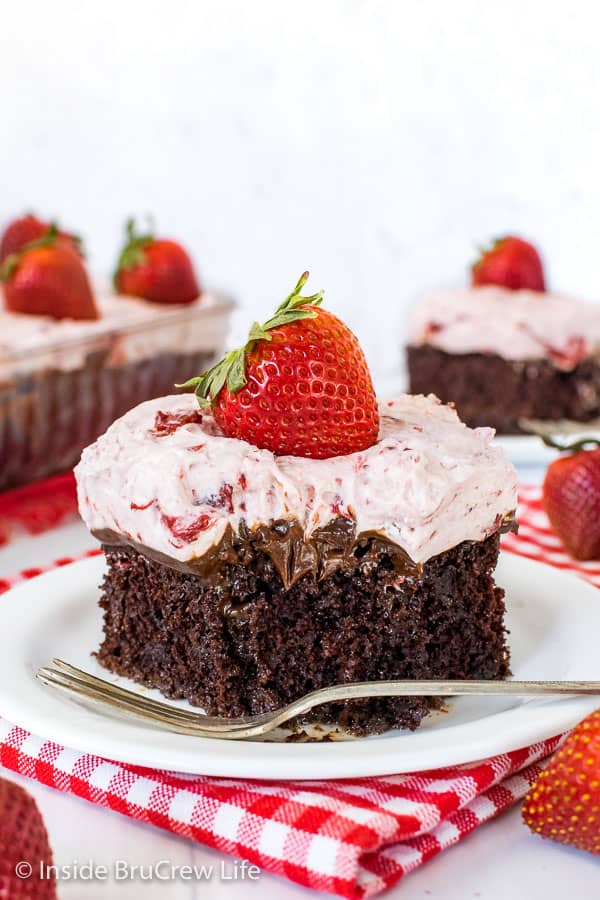 Chocolate Poke Cake
A few years ago I made this chocolate coconut cake. It was my first poke cake using sweetened condensed milk. The only poke cakes I had ever made before had pudding or Jello drizzled over the top.
Something about a cold, gooey cake satisfies every dessert craving in me. I'm not sure why I waited an entire year to make another one of these amazing cakes. What was I thinking?
A few weeks ago I made this coconut fudge poke cake, and I remembered why I loved poke cakes so much. Now I can't stop thinking about different combos to try.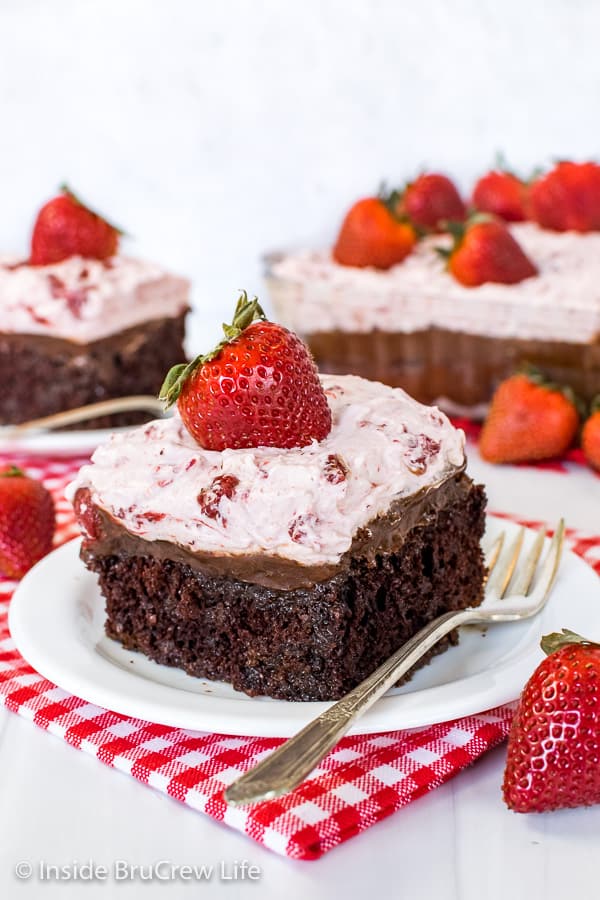 I love how refreshing a poke cake is on a hot day. Trust me, and make this s'mores cake or this lemon poke cake for your next summer party.
What is a poke cake?
True to the name, it is a cake that is poked with a fork or wooden spoon immediately after taking it out of the oven. The holes are then filled with with a liquid or filling that infuses flavor into the cake.
The cake is then refrigerated while the liquid soaks into the cake making it ooey, gooey, and oh, so delicious.
Here are some of the common things you can pour over a poke cake.
Jell-O
Sweetened condensed milk
Pudding
Cream of Coconut
Frosting
Peanut Butter
Pureed fruit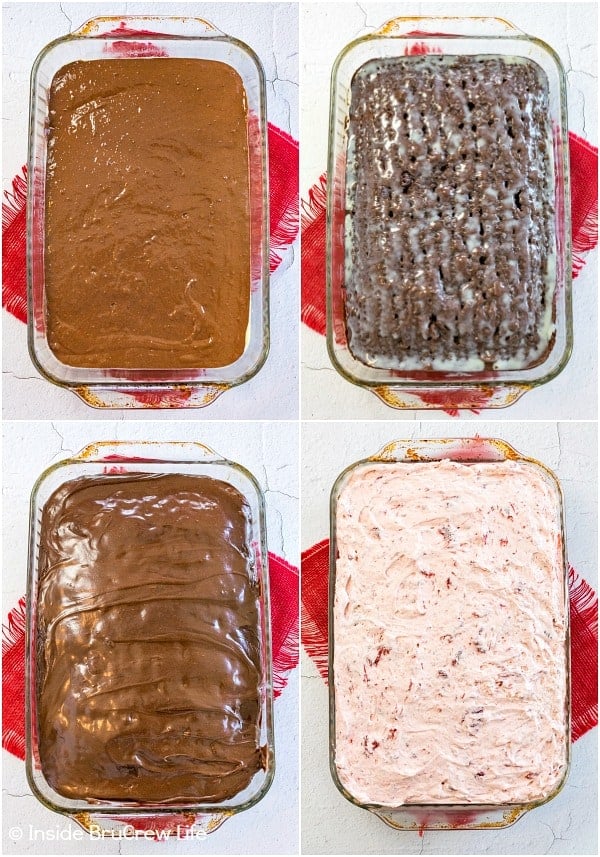 How to make a Strawberry Fudge Poke Cake
One thing that I love about this chocolate poke cake is how easy it is to make. You only need five simple ingredients to put it together this afternoon.
Mix together your favorite chocolate cake batter in a bowl and bake it. I always use a cake mix for these cakes, but you can also do homemade if you prefer. (full recipe at bottom of post)
As soon as the cake comes out of the oven, use a fork to poke holes all over the top of the cake. Go slowly so it doesn't pull apart the cake.
Slowly drizzle an entire can of sweetened condensed milk over the top of the cake. Let the cake cool on a wire rack for an hour.
Open the can of fudge frosting, remove the metal liner, and microwave 30 seconds. Stir and pour the chocolate frosting over the top of the cake.
Spread the frosting out evenly and refrigerate the chocolate poke cake until completely chilled.
Dump a can of strawberry pie filling into a bowl. Use a fork to break apart the big chunks of strawberries.
Fold a container of thawed Cool Whip into the pie filling. Spread on top of the chilled cake.
Serve with fresh strawberries.
Hurry! Run to the nearest grocery store and buy these 5 items, so you can have a Strawberry Fudge Poke Cake in your refrigerator too. I promise you are going to love it!!!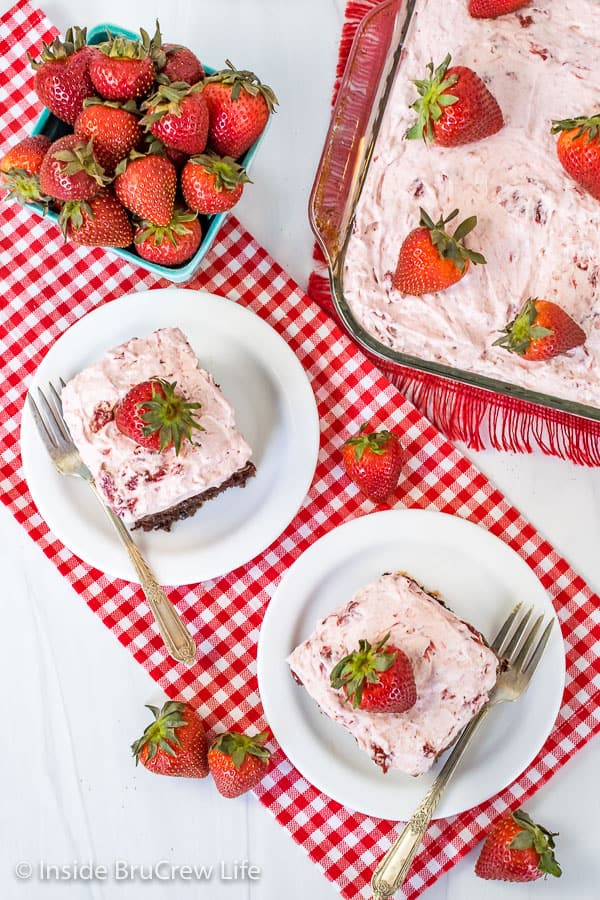 More Poke Cake Recipes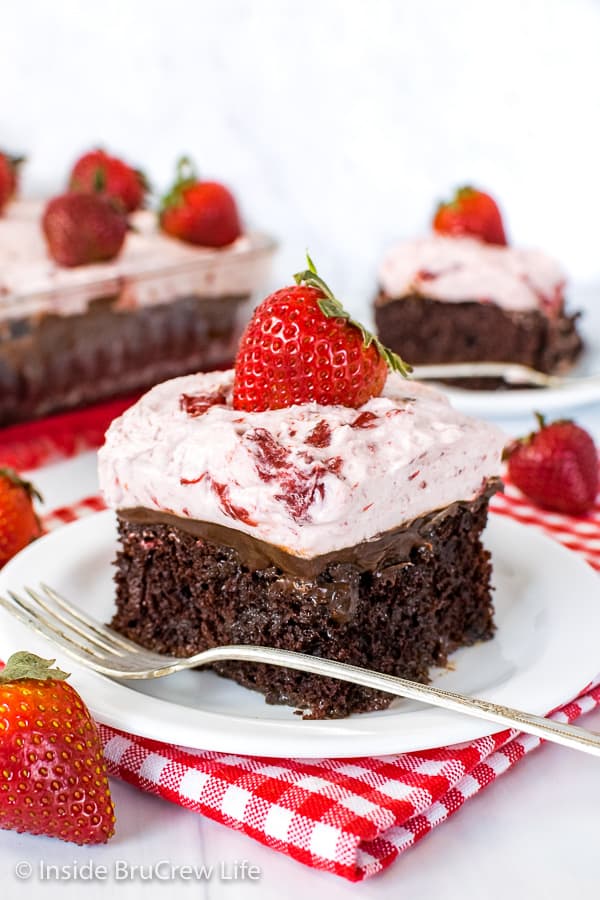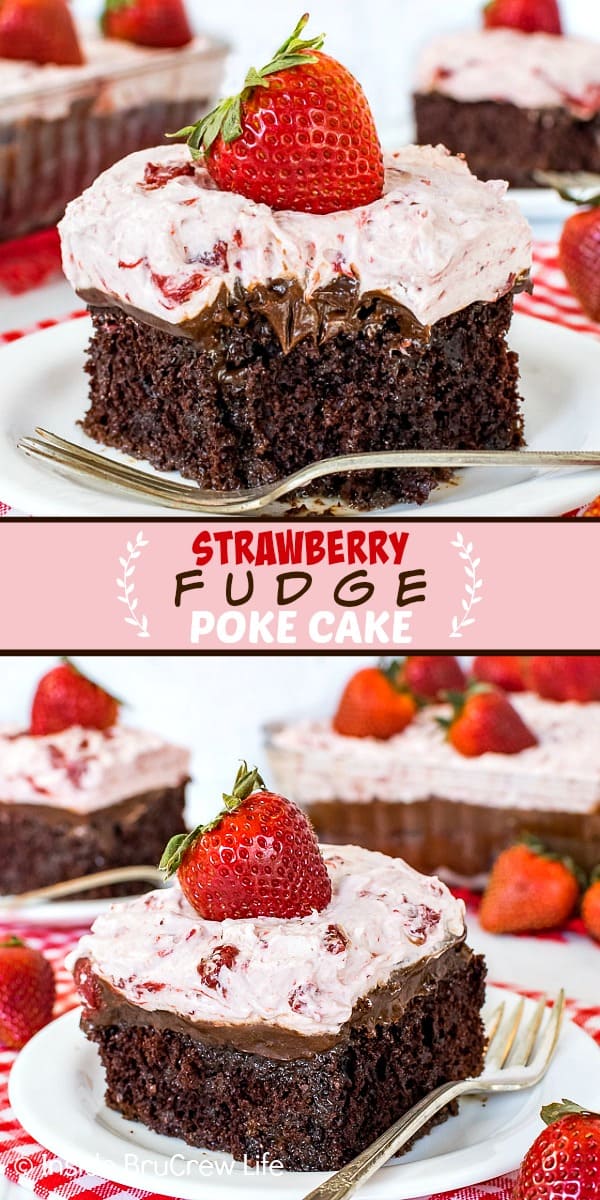 *The post for Strawberry Fudge Poke Cake was first published May 26, 2013. The photos and post were updated and republished June 16, 2020.