Fresh fruit and granola on top of these Raspberry Orange Frozen Yogurt Bowls is just the healthy snack you need this afternoon.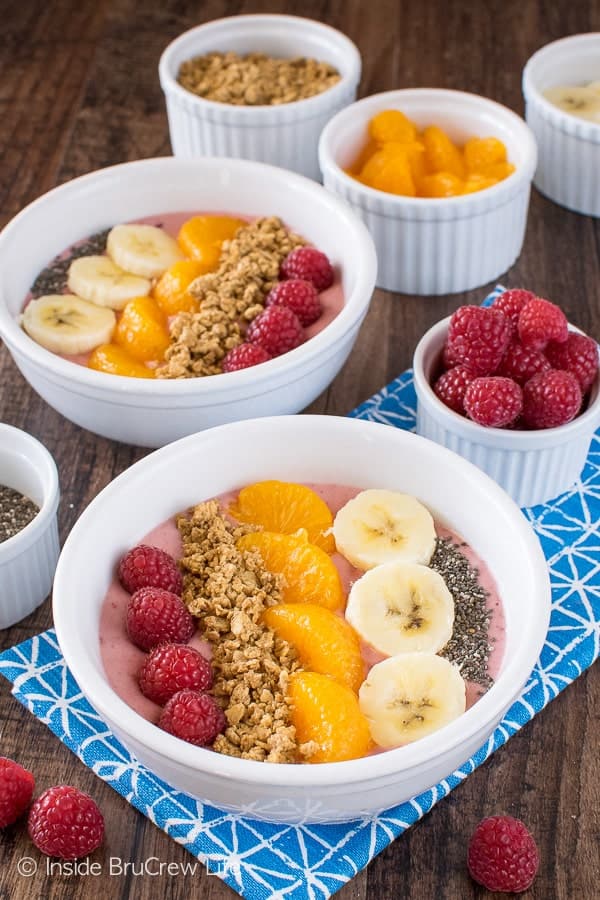 Every so often a food trend pops up that I'm not sure about. A few years ago smoothie bowls took the food world by storm. Most people either loved them or hated them. At first, I couldn't get on board with this fad because smoothies are meant to be slurped up with a straw, right?
Oh, how wrong I was! Last year I made this strawberry coconut smoothie bowl just so I could see what all the hype was about. It turns out that I absolutely love smoothie bowls. The texture of the mix-ins made my taste buds so happy.
Apparently not that happy though because I waited an entire year to create a new flavor with a frozen twist.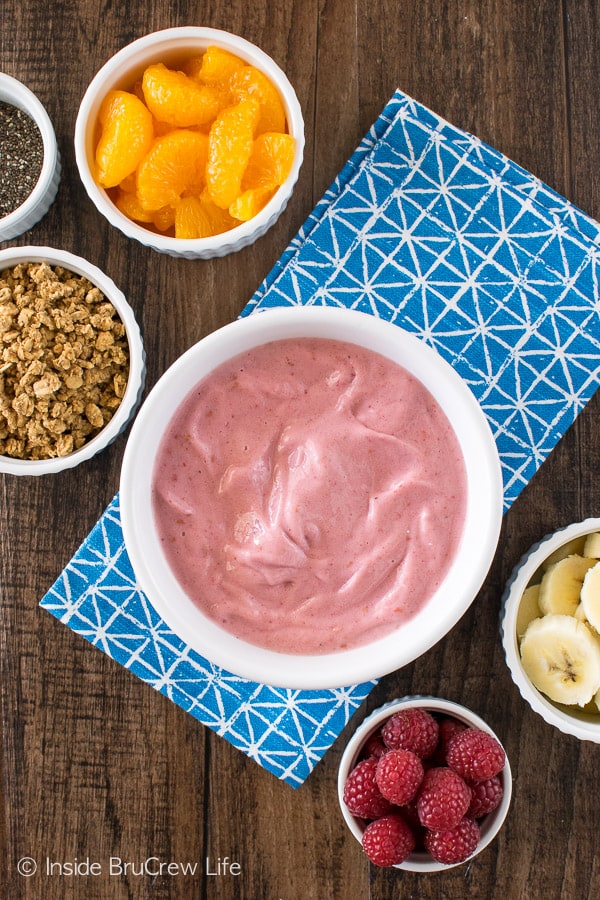 The other afternoon I was hungry for a sweet treat. But since I'm trying my best to eat healthier this month, I had to resist the urge to make chocolate chip cookies and cream cookies.
I decided on a bowl of frozen yogurt. Did you know you can make your own version of frozen yogurt with frozen fruit and a little bit of yogurt. Yup, it totally has the texture of soft serve with the benefits of being fruit and dairy.
Then I decided to get all crazy and add some lines of toppings on top because it just looks so much prettier that way. I get it though. It's totally not practical for every day. You better believe I'm just grabbing and dumping toppings in one pile most days.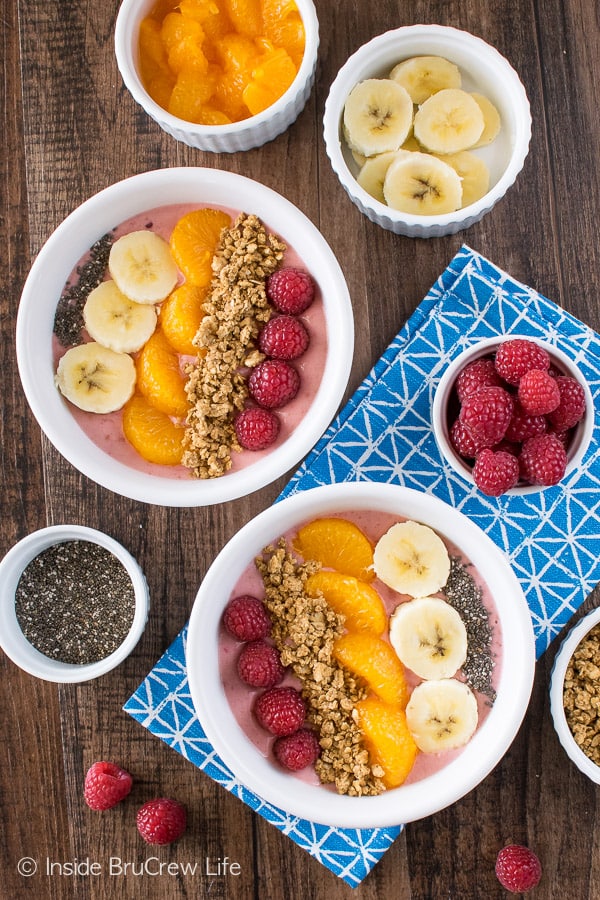 The lines of toppings just make the pictures prettier and makes it easier to show what toppings I chose. Now I know what you are thinking. Smoothie or frozen yogurt bowls just take too much time to put together. I'm hear to tell you that they really don't take much time. You will probably spend the most time deciding what flavors and toppings you want in your bowl.
Get started by prepping your toppings first. Drain the juice from any canned fruit. Find the granola and chia seeds from the pantry. Then throw the frozen fruit, yogurt, and milk in the blender or food processor and pulse until it is smooth and creamy.
If you want your frozen yogurt to be harder, put it in a container in the freezer for an hour or two. Then scoop it into bowls. I prefer the soft serve texture, so I ate mine right away.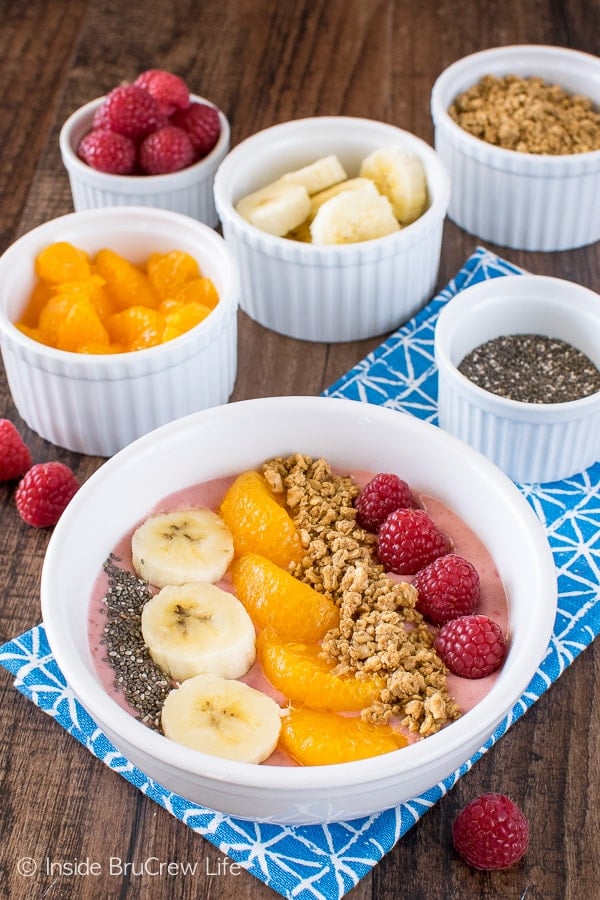 Then it's time to mix up your raspberry orange frozen yogurt bowls. Spoon the frozen yogurt into 2 bowls...if you are sharing. Throw the toppings on top in lines or a big pile. Either way tastes the same, so don't stress about it!
There you have it. A sweet but healthy snack in 5 minutes. Gotta love that!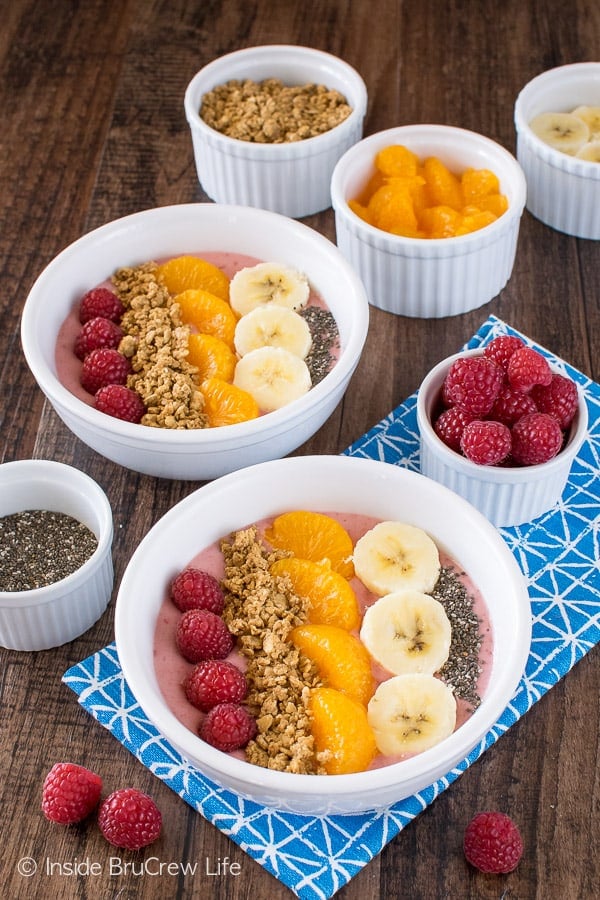 *This post does contain affiliate links. We do receive a small percentage from sales made through these referral links. As always, these do not cost you any extra. Thank you for letting us share products we love this way.