Looking for an easy, but different brownie to make this week?  These Reese's Peanut Butter Bars are just the treat for you.  Three times the peanut butter goodness in every bite will have you reaching for more.
**Make sure you sign up for the BruCrew email, so you see these recipes in your inbox each morning.**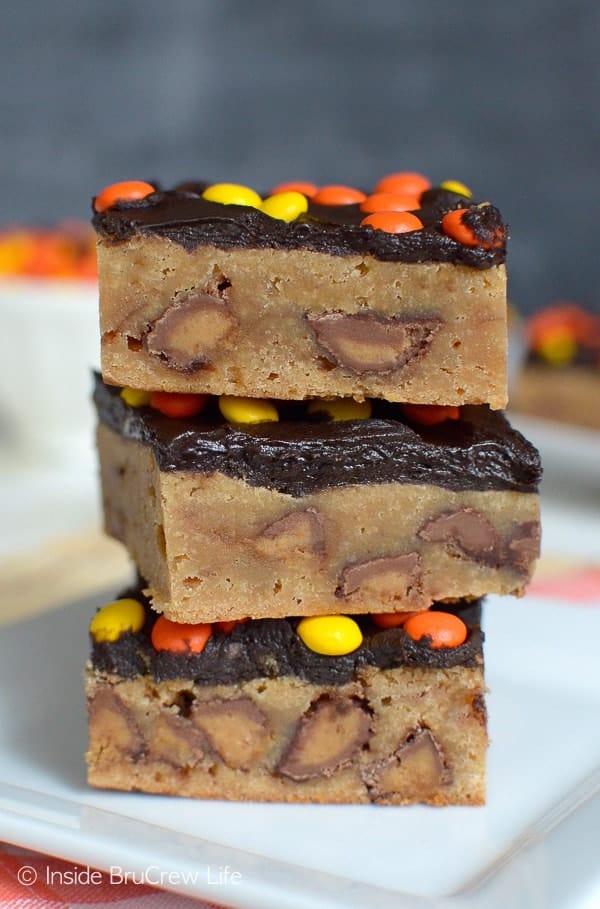 So, my husband and I have finally reached the cool factor in our oldest son's eyes.
You know that stage that teenagers go through where their parents are lame and so not cool.  Yeah, I think we finally got out of that stage.  Woo hoo!  Lucky for us our younger two still think we are cool…we are hoping they skip the "we think our parents are uncool" stage.
My husband has an old Saab convertible that is his baby.  Our oldest thought it was the ugliest thing.  That is until some of his friends started saying how cool his dad's car was.  And that they thought his dad was a cool dad too.  All of a sudden he doesn't mind being seen at the movies with dad and mom when his friends are around.  Score 1 point for the parents.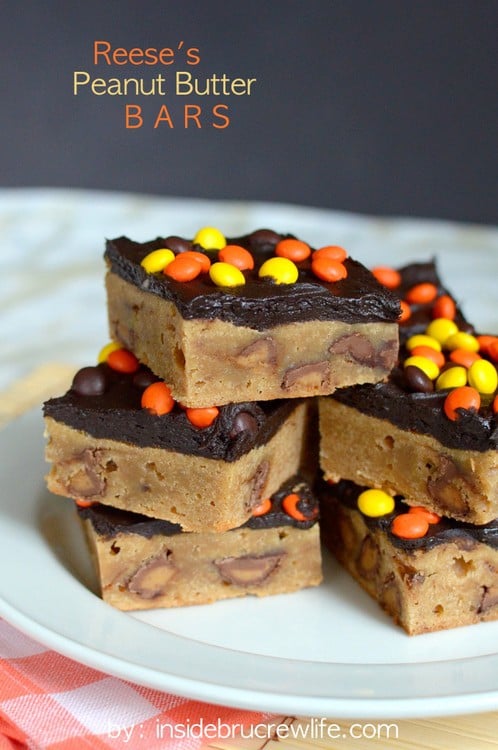 Then the other day, he came home from school and told me that they were talking about food in Spanish class, so he shared about my blog.  His teacher couldn't believe that he got to try all the food that is on here.   Then later that day, someone from another class said, "I didn't know you had a famous baker for a mom."  (really, I'm not famous…but I'll let his friends think that for sure)
Apparently his teacher shared about the blog in another Spanish class that day.   Point 2 for the parents.
The funny thing is that quite a few of his friends have had different treats like this White Chocolate Peanut Butter Cup Fudge without knowing they were from the blog.  I think it is so sweet that my son is sharing about it now.  He does love me and is proud of what I do.  Best feeling ever!!!!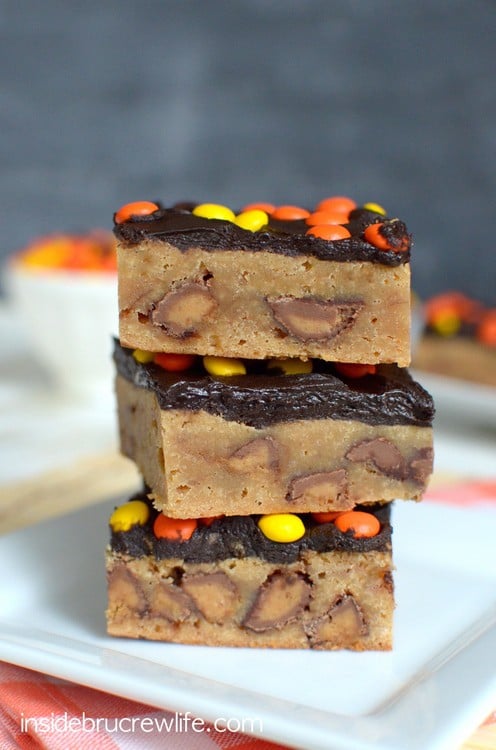 These Reese's Peanut Butter Bars are another treat that went to one of my son's father/son activities one night.  He reported back that the plate was full one minute and then empty the next.  Definitely a recipe success!!!
These bars are very similar to these White Chocolate Caramel Cappuccino Bars from a few weeks ago.  I had a feeling that making them loaded with all kinds of peanut butter was going to be a good thing.  Oh, yeah!  They were incredible.
Three times the peanut butter love definitely gives these Reese's peanut butter bars a taste you can't get enough of.
These bars are made with Reese's peanut butter chips, Reese's peanut butter cups, and Reese's Pieces. That got your attention, right? I promise you won't regret making these when you are eating a few bars.  Now your jeans on the other hand…they might have words for me!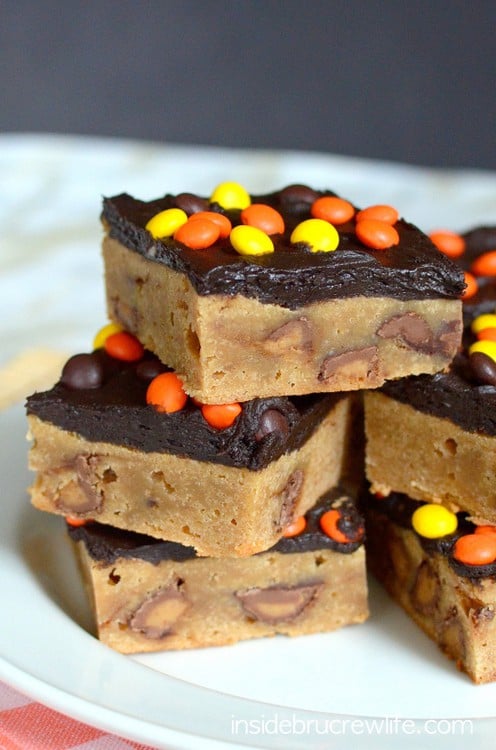 Stay up to date on all the BruCrew baking here:
FACEBOOK | PINTEREST | GOOGLE+ | TWITTER | INSTAGRAM | BLOGLOVIN
Sign up to receive an email in your inbox for each new recipe:
EMAIL SUBSCRIPTION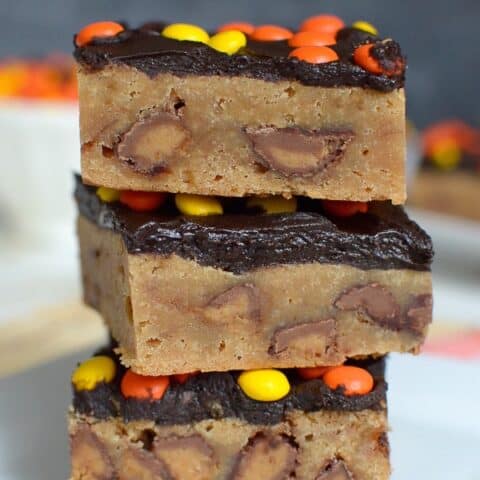 Reese's Peanut Butter Bars
Three times the peanut butter love makes these Reese's Peanut Butter Bars disappear every time we make them.
Ingredients
1/2 cup butter
2 cups peanut butter chips
1/4 cup sugar
1/2 cup brown sugar
1 teaspoon vanilla
3 eggs
1 1/4 cups flour
1/2 teaspoon salt
1 1/2 cups halved mini Reese's peanut butter cups
For the Chocolate Frosting
4 Tablespoons butter
1 teaspoon vanilla extract
6 Tablespoons whipping cream
2 cups powdered sugar
1/4 cup dark cocoa powder
1/3 cup mini Reese's Pieces
Instructions
Melt the butter in a saucepan over medium heat. Add the peanut butter chips and stir until melted and creamy. Stir in the sugars. Remove from the heat.
Beat the eggs and vanilla until frothy. Stir a little bit of the hot peanut butter mixture in at a time, until all is mixed in. Add the flour and salt and beat until a soft dough forms.
Stir in the halved peanut butter cups and spread the mixture in a greased 9x13 baking pan. Bake at 350 degrees for 23-24 minutes. Cool completely.
Beat the butter and vanilla until creamy. Add the whipping cream, powdered sugar, and cocoa powder and beat until creamy. Spread over the cooled bars and sprinkle with Reese's Pieces. Cut into 24 large bars or 48 small bars. Store in a sealed container on the counter.
More peanut butter recipes that need to be checked out: 

More fun recipes that use lots of Reese's love: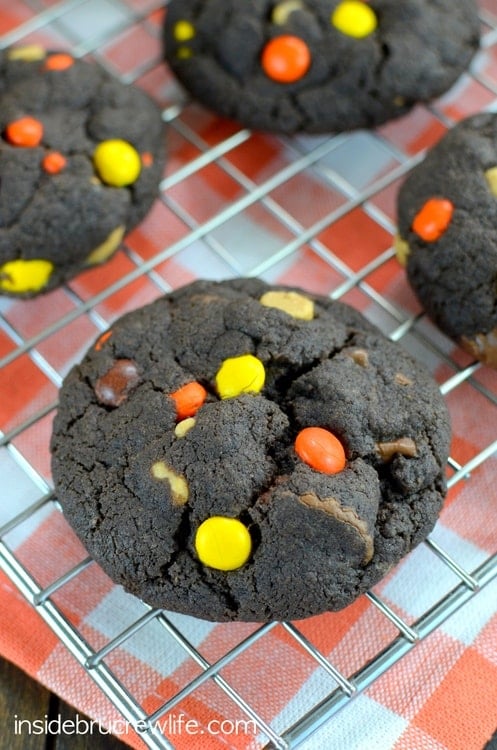 Chocolate Reese's Cookies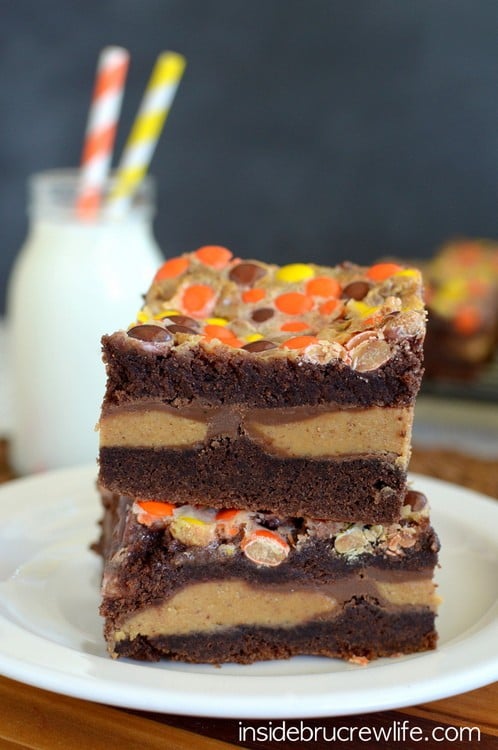 Reese's Gooey Cake Bars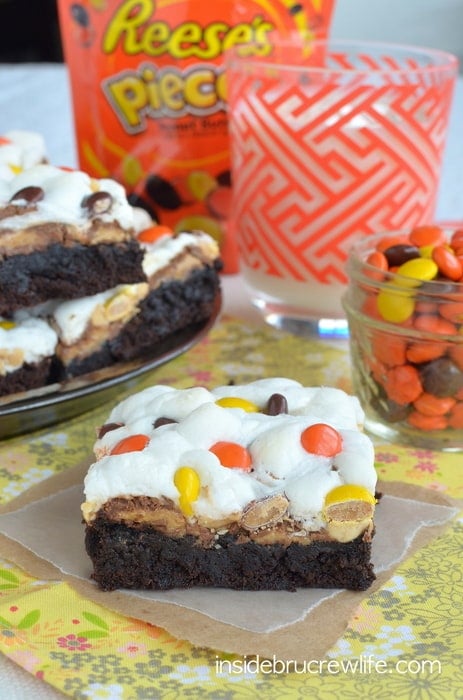 Reese's Rocky Road Brownies