Reese's Peanut Butter Cups and Reese's Pieces give that extra peanut butter taste to these Reese's Rocky Road Brownies. They are ooey, gooey and delicious!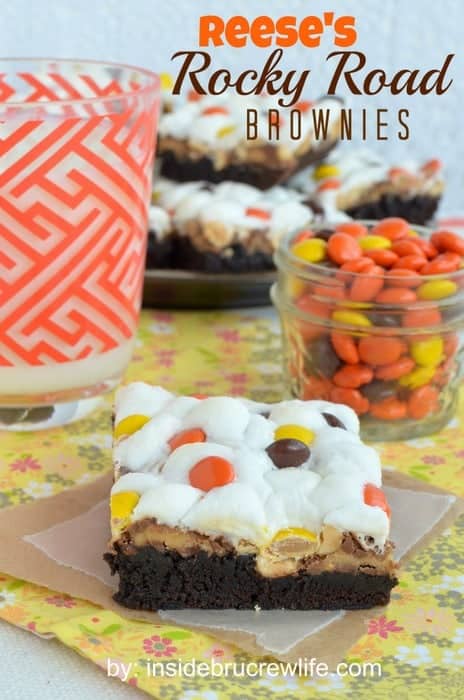 One thing that I have always done since getting married is wash and fold the laundry. As a stay at home mom, it is just one of those things you do without really thinking about it. And quite honestly, I don't mind doing laundry. Well, most days that is 🙂
When the kids were younger, I also sorted all the folded clothes into piles and put everyone's clothes into their drawers. I like neat organized piles, and I like drawers that are clean looking. As the kids got older, one of the jobs that I "gave up" was putting the folded laundry away. It was time for them to learn some responsibility and for them to take on more chores. This resulted in me having to give up control of those neat organized drawers.
Seriously I'm not sure why I still fold their clothes because when they put it away it is shoved in every which way possible. For my sanity's sake, I try not to look in those drawers. The mess drives me to want more chocolate...and more Reese's candies.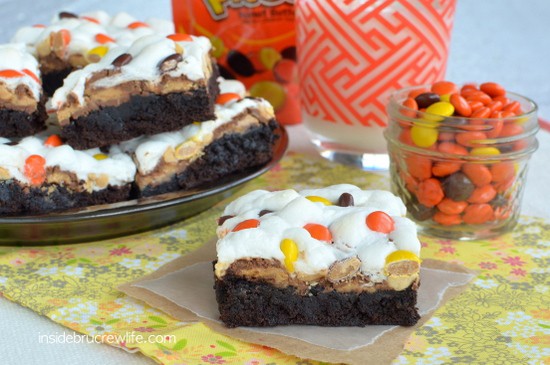 I have decided that no matter what "diet" I am on or trying to do, I just can't give up my beloved peanut butter and chocolate. Plus, I have see how you guys go crazy for the recipes using that wonderful combo. You all are just as nuts for that good stuff. LOL that pun was totally intended.
So the other day when I helped my daughter organize her entire room (drawers included) I knew that some sort of chocolate brownie was needed after hours of organizing. It was the only thing that helped get me off the "why is your room such a pig sty" ledge that I was on. Adding Reese's peanut butter cups under the melty marshmallow layer AND Reese's pieces on top was just the thing I needed to put me into a sugar coma of forgetfulness.
What messy drawers?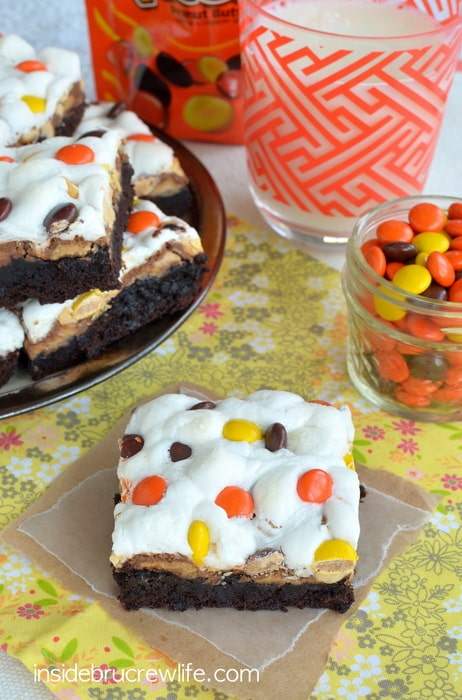 This is such an easy brownie recipe to put together. Bake your favorite brownies. Go ahead and use a mix or make homemade brownies if that's how you roll. Most days I'm a brownie mix fan, but you do what you have to do.
As soon as the brownies come out of the oven, place an entire bag of those Reese's mini peanut butter cups on top. You need to work quickly because they will start to melt and slide. That's not a problem though because then you are going to cover it with a layer of peanuts and marshmallows. Put it back in the oven to get all warm and toasty for about 5 minutes. As soon as they come out, add the Reese's Pieces to the top for some fun color and texture.
This is definitely a brownie for the serious sugar lover. Grab a cup of milk and dig in!!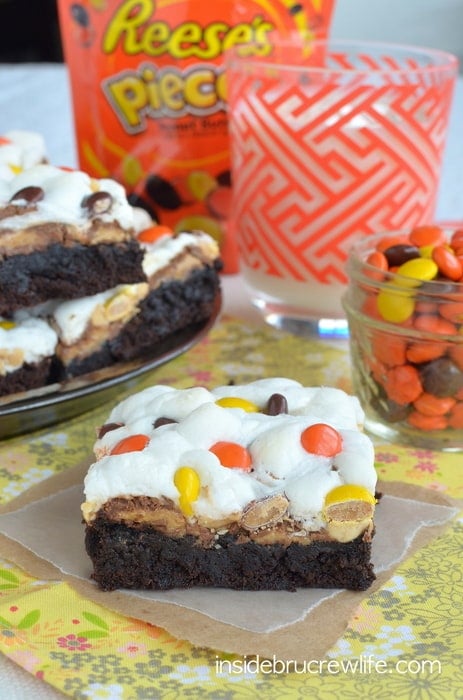 Make sure you don't miss any of the crazy baking
by following the BruCrew here:
FACEBOOK | PINTEREST | GOOGLE+ | TWITTER | INSTAGRAM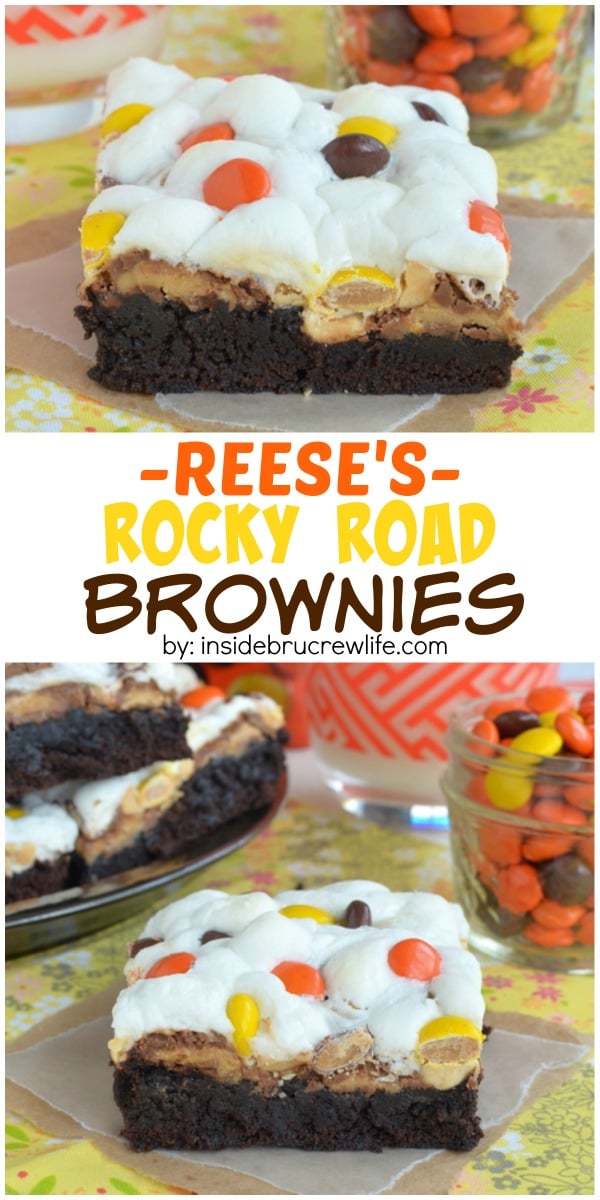 More Reese's treats that will help you forget about cleaning...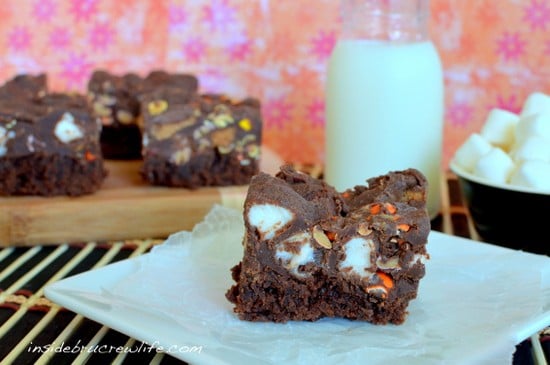 Reese's Fluffernutter Fudge Brownies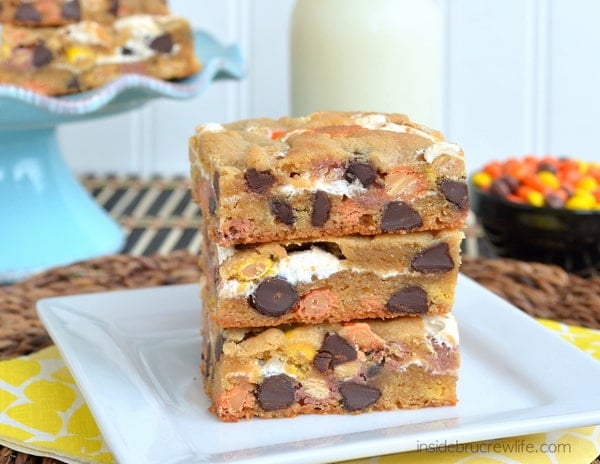 Marshmallow Reese's Blonde Brownies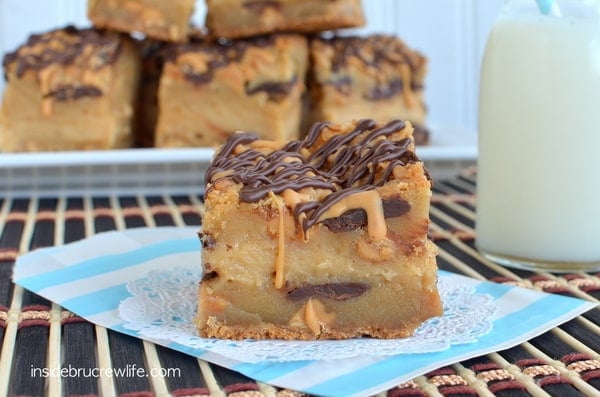 Peanut Butter Cheesecake Cookie Bars