Try a batch of these Chocolate Reese's Cookies this week and see how long you can keep them in your cookie jar. Easy chocolate cake mix cookies filled with candies and chocolate chips never last very long in our house.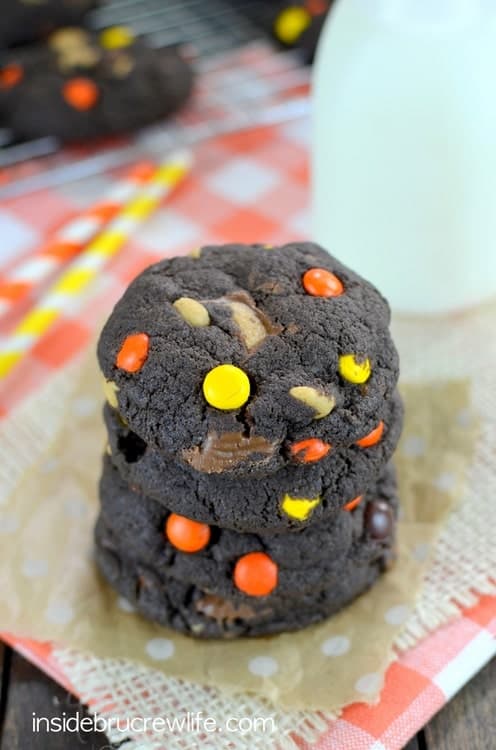 Easy cake mix cookies are the one thing I always have ingredients on hand to make.
The other day my son was headed to a friend's house later in the afternoon, and he asked if I could make something for him to take. Teen boys like to munch on just about anything, right?
These cookies are easy to mix up in a hurry. I have made so many versions since trying these Chocolate Mint Cookies. The longest part of the recipe is giving the dough some time to set up in the refrigerator because of the melted butter and softened cream cheese.
Now you could bake them right away, but they will spread a little bit more. I kind of like fat, puffy cookies, so I do recommend chilling it for at least 30 minutes.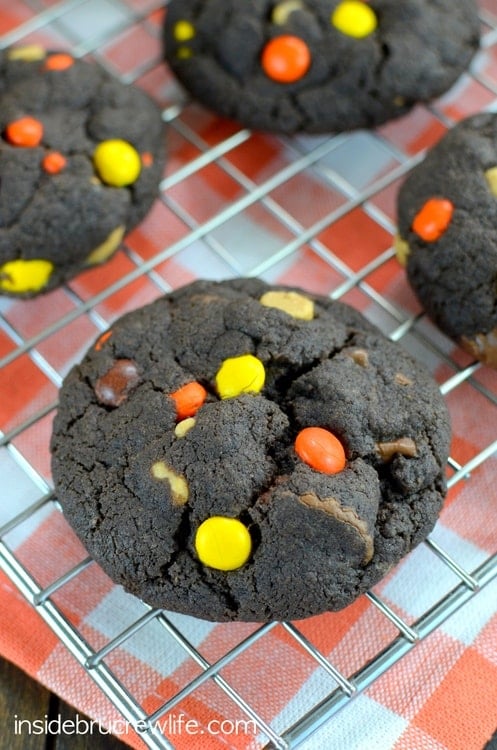 Now I bet you are drooling all over your keyboard right now because...well, because it's chocolate and peanut butter.
Now I know there are some of you out there that don't prefer chocolate and peanut butter, go ahead and say it. I know you will feel better about admitting it.
Go ahead and check out these Butterscotch M&M Pudding Cookies...you might be happier with those.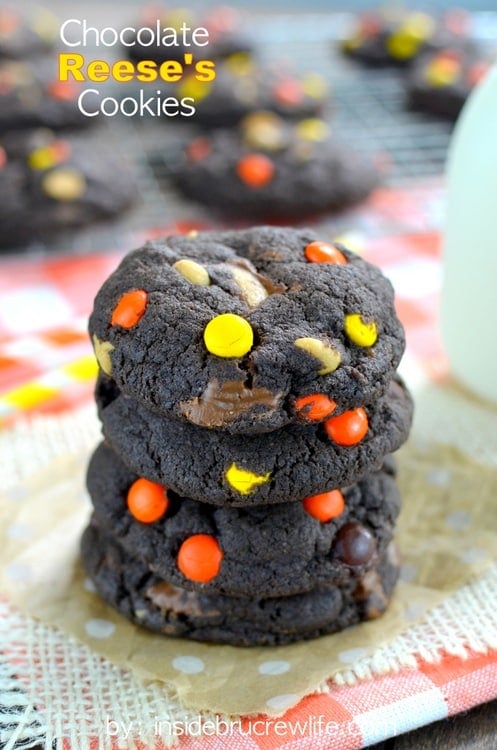 If you are a fan of chocolate and peanut butter, you are going to love these chocolate cake mix cookies! They are rich, decadent, and full of Reese's love. Perfect for dunking in milk!!!
How to make Chocolate Reese's Cookies:
Mix the cake mix, butter, egg, and cream cheese until a soft dough forms.
Gently stir in the peanut butter chips, Reese's Pieces, and halved peanut butter cups.
Refrigerate the dough for 30-60 minutes. Scoop and roll into 24 dough balls. Leave 12 in the fridge.
Place 12 on a baking sheet and press a few extra Reese's Pieces and 1-2 peanut butter cup halves into the tops.
Bake for 10 minutes. Do not over bake the cookies. They will seem under done when you pull them out, but they will continue to bake on the hot baking sheet. And they will set up once they are completely cool.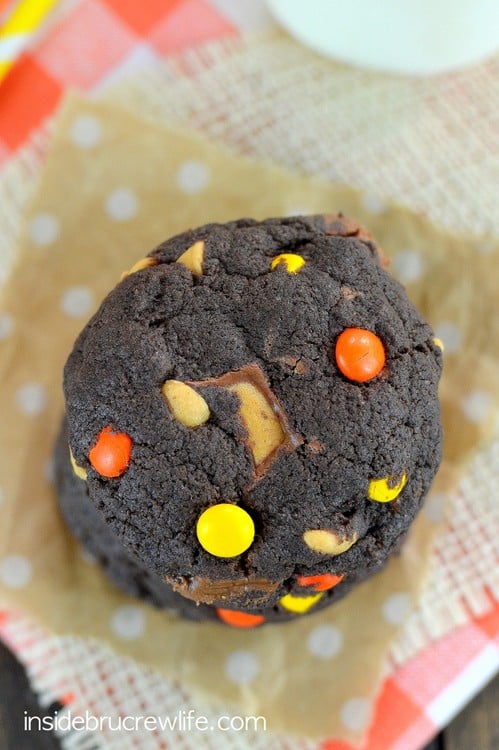 More easy cake mix cookies you may like: