Easy chocolate cake mix cookies filled with candies and chocolate chips never last very long in our house.  Try a batch of these Chocolate Reese's Cookies this week and see how long you can keep them in your cookie jar.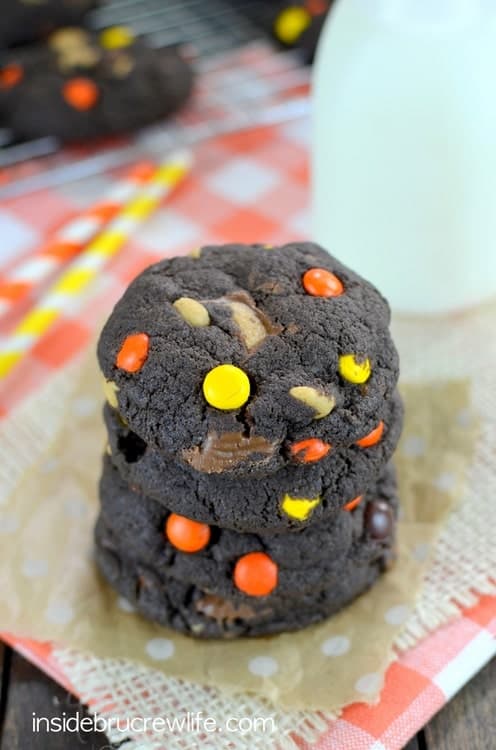 Easy cake mix cookies are the one thing I always have ingredients on hand to make.
The other day my son was headed to a friend's house later in the afternoon, and he asked if I could make something for him to take.  Teen boys like to munch on just about anything, right?
These cookies are easy to mix up.  I have made so many versions since trying these Chocolate Mint Cookies.  The longest part of the recipe is giving the dough some time to set up in the refrigerator because of the melted butter and softened cream cheese.
Now you could bake them right away, but they will spread a little bit more.  I kind of like fat, puffy cookies, so I do recommend chilling it for at least 30 minutes.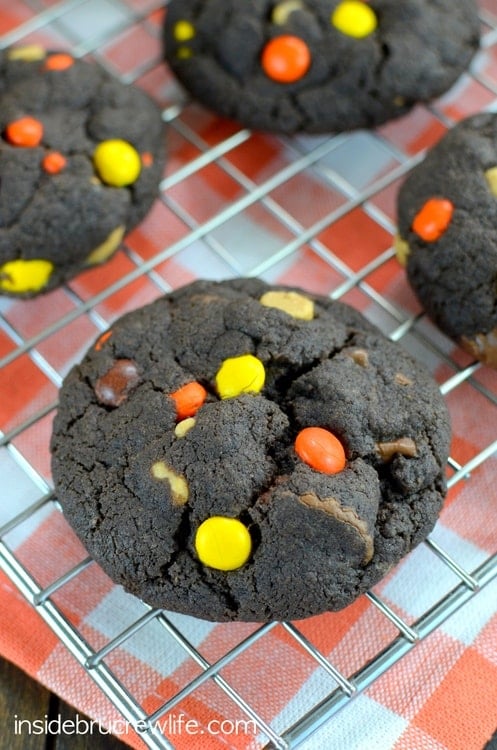 Now I bet you are drooling all over your keyboard right now because…well, because it's chocolate and peanut butter.  Now I know there are some of you out there that don't prefer chocolate and peanut butter, go ahead and say it.  I know you will feel better about admitting it.
Go ahead and check out these Butterscotch M&M Pudding Cookies…you might be happier there.
But come right back because I have a fun way for you to get involved in the blogging community.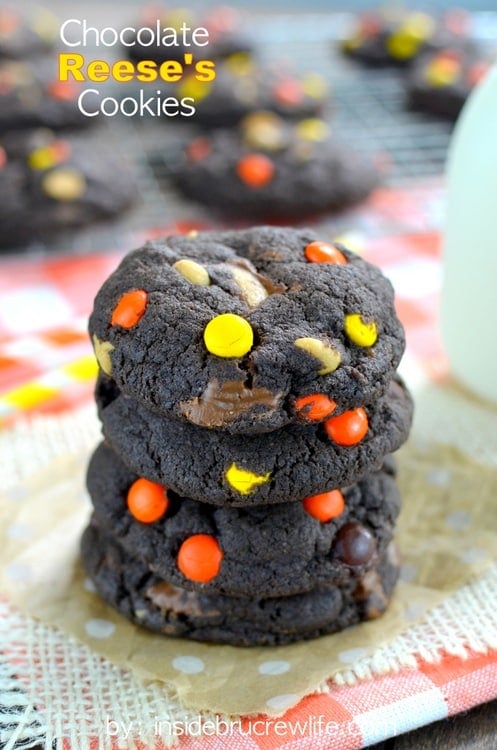 Right before Christmas last year, Ashley from Center Cut Cook announced that she was expecting their first baby.  Hooray!!!  But unfortunately, she also announced that her husband had also been diagnosed with stage 4 colon cancer.  I can't even imagine how hard that news must have been.  The last 9 months they have gone through all the firsts of expecting a newborn along with many Dr. visits and chemo treatments.
The foodie community is just like a family and when one of our members is hurting, we want to do whatever we can to help.  This is where you can get involved too!!!
 Carrie from Bakeaholic Mama has set up an online silent auction with so many different gift items that you can bid on to help Ashley and Ryan out.  All proceeds from this auction will go directly to them to help with medical expenses.  Please keep this young family in your thoughts and prayers.
Want to know how YOU can help?
Please check out Bakeaholic Mama's site today to see the fun gift items.  There are cookbooks, baked goods, and fun baking items all up for grabs!!!   **This Giveaway has ended**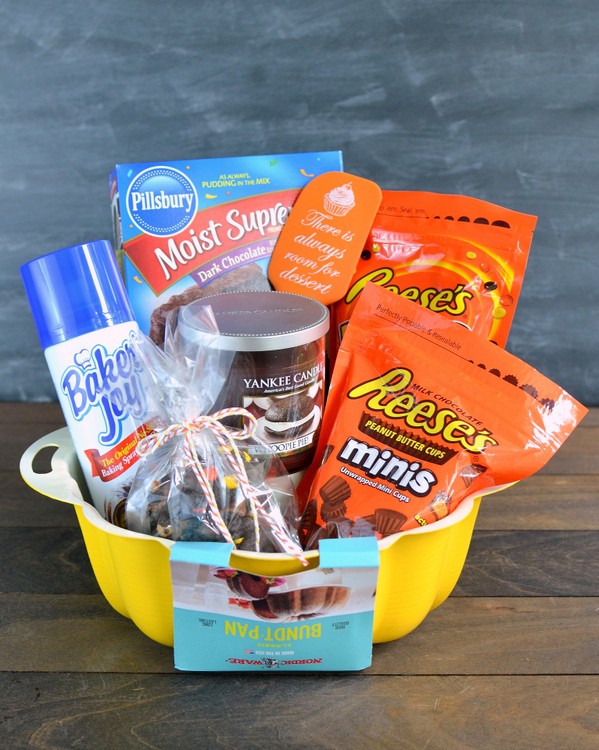 See this Chocolate Lover's Gift Basket above???  This is my contribution to the silent auction.  Make sure you go bid for #20.  I am including a dozen of these homemade Chocolate Reese's Cookies along with all the fun chocolate goodies.
This basket includes a bundt cake pan, chocolate cake mix, Baker's Joy, two kinds of Reese's, a cute spatula, a chocolate Yankee Candle, and a dozen cookies.  This is perfect for all you chocolate lover's out there.   Now head on over to Bakeaholic Mama for the auction details and to put a bid in on something.  Every little bit donated helps!!!  (The silent auction runs from September 1st – September 7th, 2014.)
Now back to these chocolate cookies.  I suggest making a batch of these while you wait to see what you win.  They are rich, decadent, and full of Reese's love.   Perfect for dunking in milk on this cloudy, rainy day!!!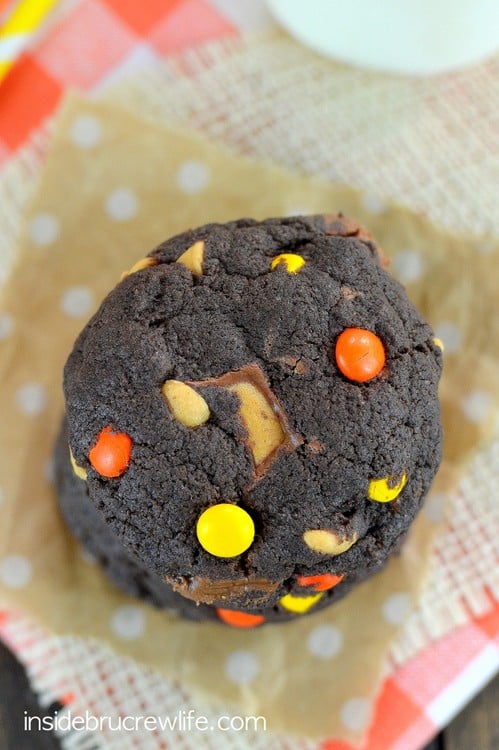 Stay up to date on all the BruCrew baking here:
FACEBOOK | PINTEREST | GOOGLE+ | TWITTER | INSTAGRAM | BLOGLOVIN
 Sign up to receive an email in your inbox for each new recipe:
EMAIL SUBSCRIPTION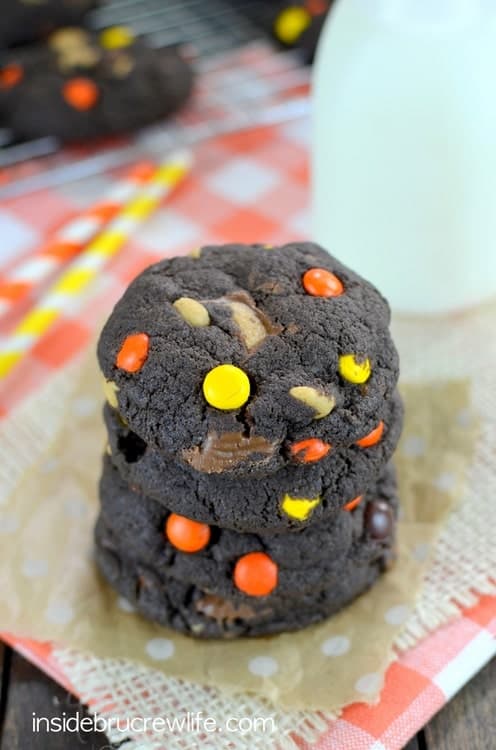 Easy chocolate cookies loaded with Reese's candies and peanut butter chips. These cookies never last long around kids!
Ingredients
1 dark chocolate cake mix
8 Tablespoons, melted
1 egg
4 ounces cream cheese, softened
1/2 cup peanut butter chips
3/4 cup mini Reese's Pieces, divided
1 cup halved Reese's Peanut Butter Cup minis
Instructions
Beat together the cake mix, butter, and egg until a soft dough forms. Add the softened cream cheese and mix again until completely combined.
Stir in the peanut butter chips, 1/2 cup Reese's Pieces, and Reese's PB cup pieces. Refrigerate the dough for at least 30 minutes.
Roll the dough into 24 balls. Press a few extra Reese's Pieces on the top of the dough balls. Place on a cookie sheet. Bake at 350 degrees for 10 minutes. Do not over bake.
Remove the pan from the oven and let the cookies rest on the hot cookie sheet for 2 minutes. Move to parchment paper on the counter to cool completely. Store in a tightly sealed container on the counter. Makes 24 cookies.
https://insidebrucrewlife.com/chocolate-reeses-cookies/
Copyright Inside BruCrew Life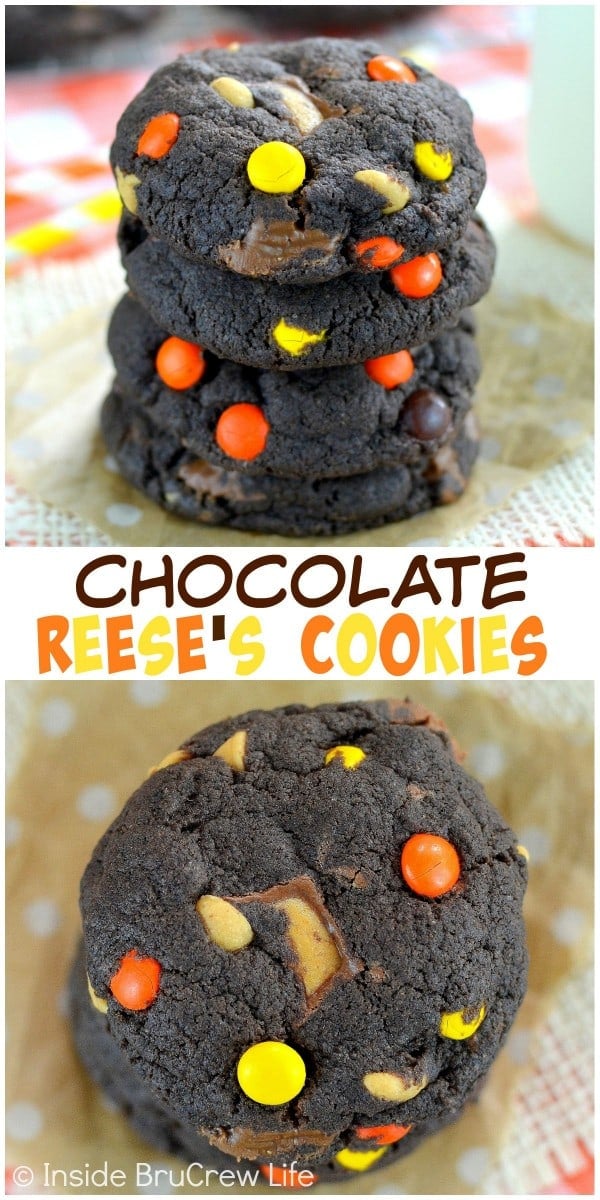 More fun ways to bake with Reese's candies: