Layers of cookie, candies, and marshmallows make this Reese's S'mores Cookie Pizza a decadent and amazing dessert! This pizza is the perfect sweet snack for after dinner or on game day.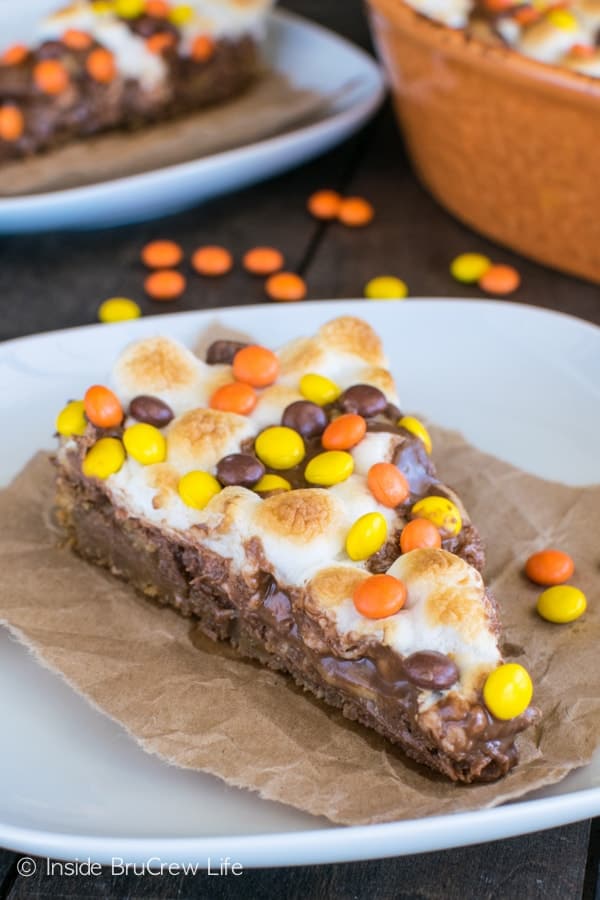 After a month of being in a new place, my hubby and I are totally failing at this home exercise thing. It's not for lack of equipment. We bought a few pieces that we could work out with, and my hubby built a rack with pull-up bars. I'm pretty impressed with how legit it looks.
The problem comes at 5:45 AM when the alarm goes off. Neither one of us are very good motivators in the getting up department. Part of that is that the garage is so cold early in the morning. That alone doesn't make me want to leave the warm covers. Not to mention squats, kettle bells, and burpees are killers!
A few days that we skipped the morning routine, I have gone to the garage later in the day and worked out. That is one good benefit to the gym being right there. I have no excuses for not doing something each day! Especially when I can't stop eating things like this Reese's s'mores cookie pizza.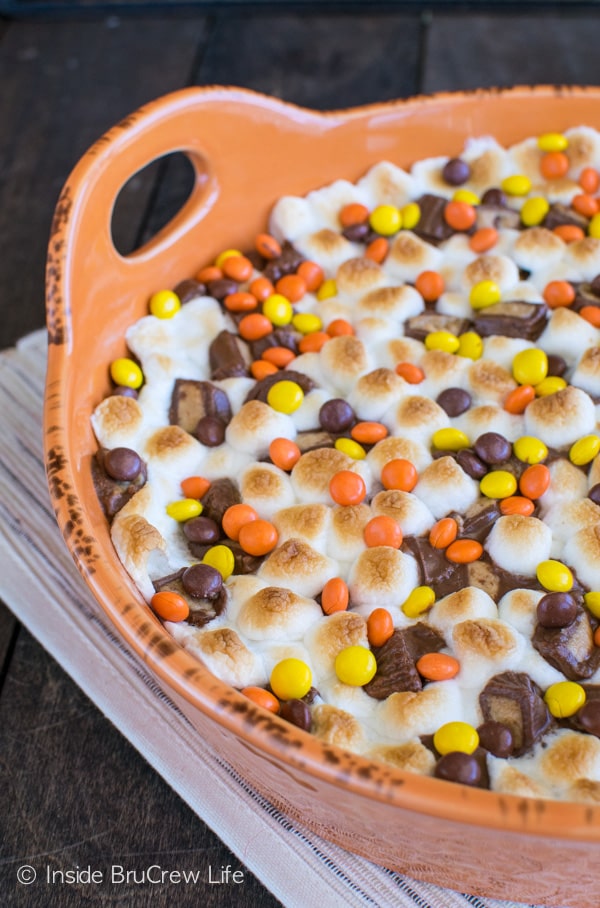 I hope you have your fat pants ready because do I have a sweet treat for you today! Layers of three kinds of Reese's, cookie dough, and marshmallows will make you want to dive in headfirst.
Those Reese's candies get me every single time! Seriously, I can't resist them when they are in the house. I usually try to make something like these peanut butter cup rice krispie treats, but I also have been known to grab handfuls here and there. Peanut butter and chocolate for life!
I noticed lately that our kids have found my candy stash in the pantry and have been munching on the Reese's. It was probably not the best idea to put the basket of candy on the bottom shelf.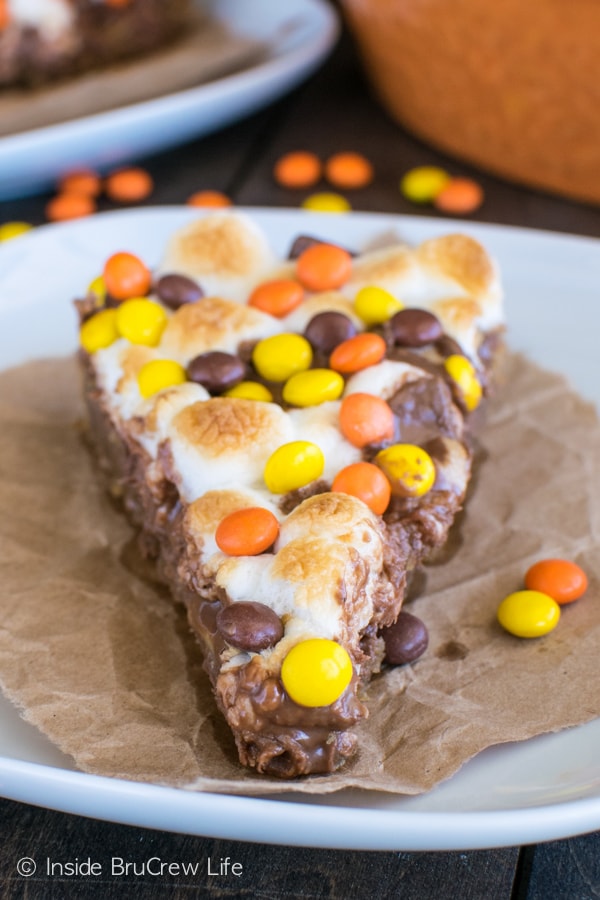 Let's get back to the pizza staring you down! I used a roll of refrigerated cookie dough to speed things up in the kitchen. Usually I make cookies from scratch, but every once in a while that dough comes in handy.
Press the dough into a greased 10-inch round pie plate with edges. Bake it for 15 minutes.
While the cookie is baking, get all your other ingredients ready. You need to cut the mini Reese's in half, and scoop out the Reese's spread into a bowl. Warm the spread slightly in the microwave so it spreads easier.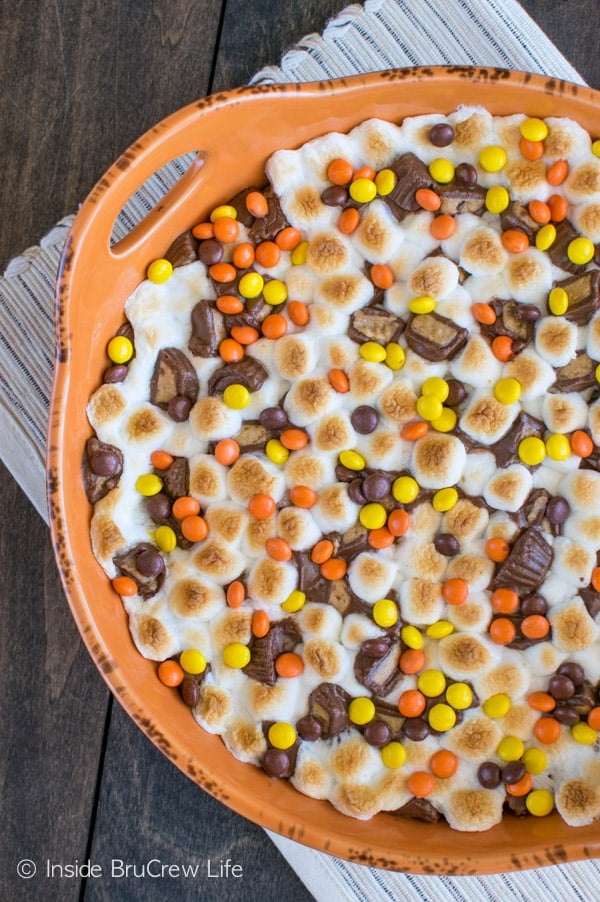 As soon as the cookie comes out of the oven, spread the warmed Reese's spread on top gently. Do not press too hard or the cookie will flatten.
Sprinkle on the marshmallows and peanut butter cups, then put it back in the oven for a few minutes to get all warm and toasty. The last minute you can turn on the broiler, but do not walk away from the oven because marshmallows burn very easily!
As soon as it comes out of the oven, sprinkle it with the candy pieces. Press them into the marshmallows gently, so they stick. Let it cool before cutting it into slices. My reese's s'mores cookie pizza was still slightly warm when I cut these pieces, so it was messier getting it out. It will set up more as it sits all day!
Not that waiting is really an option when chocolate and peanut butter is involved.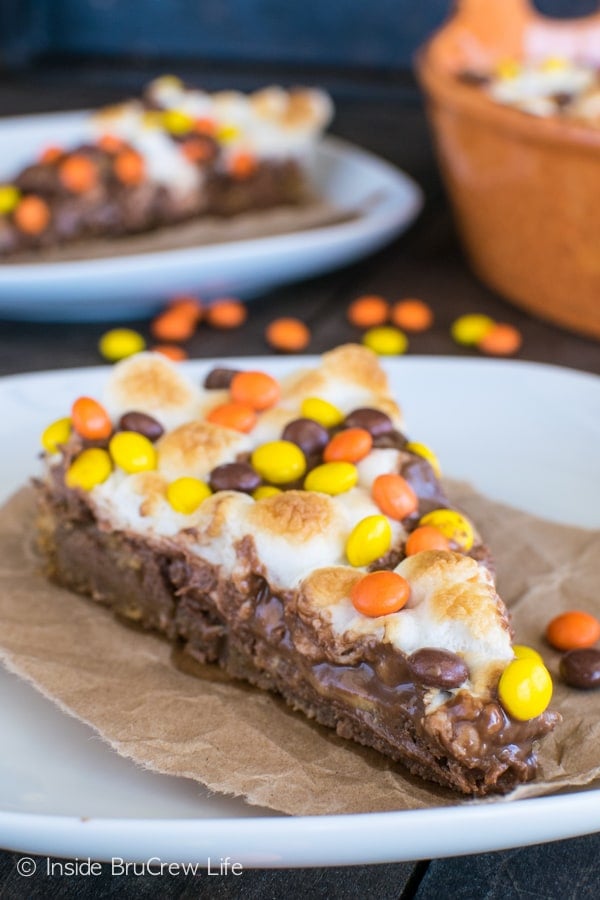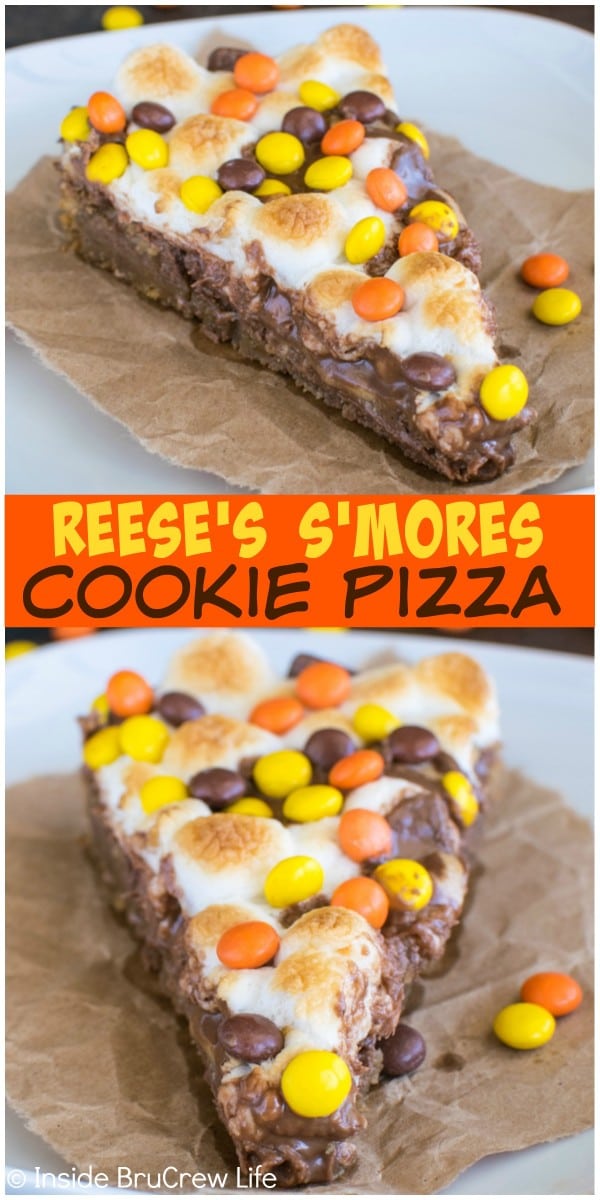 More Reese's loaded treats that our family loves: