This Roasted Red Pepper and Garlic Cheese Ball is just the appetizer you need for those holiday parties and events coming up. The cheese and veggies rolled in nuts is perfect for cracker and pretzel snacking.
*Love these recipes? Sign up for the BruCrew email and have them delivered to your inbox.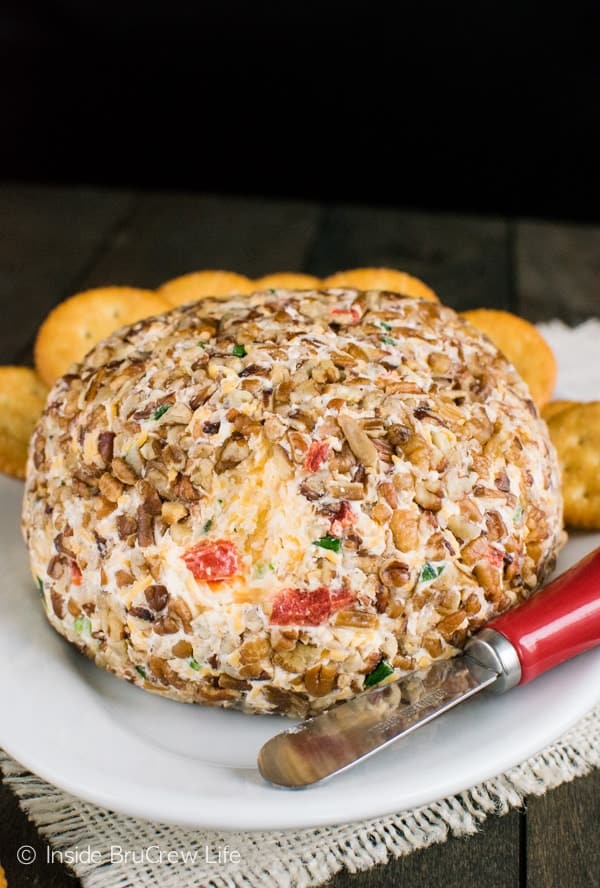 Most days my brain thinks in sugar non-stop. It starts first thing in the morning at the gym. Yes, I think about cookies and cake while doing bench presses and pull-ups. Today I couldn't stop thinking about an this easy candy bar cookie treat that I want to make. I'll keep you posted on that one.
Visions of cake and pie fill my head as I get ready for the day. As I do my work, I see more sugary goodness from my friends, and it gets me inspired to make something from my many lists of sugar coated sugar visions.
Then before I drift off to sleep at night, I start to day dream about brownies and chocolate peppermint fudge. Seriously, this is my life. Hello, my name is Jocelyn, and I'm a dessert freak. Please tell me I'm not alone in this sugar madness. Ok, maybe I am, but I'm cool with it.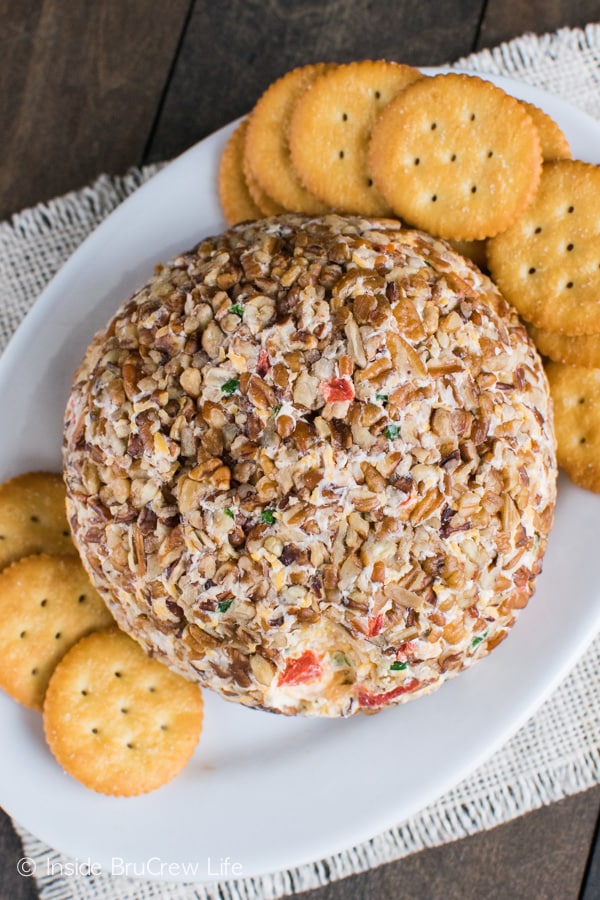 So, you might be wondering why I'm talking about sugar when there is this savory cheese ball staring you in the face. Right? Well, our oldest son has been taking Home Economics this fall.
The other day when we were visiting family and making food for Thanksgiving, he wanted to make a cheese ball for us to munch on. They had made one in class, and he couldn't wait to make another one for us to try.
I had totally forgotten how good a cheese ball is. Cracker after cracker disappeared as I kept digging into the ball of cheese goodness. Why have I not made one in forever?
Our son and I started talking about making another cheese ball. All of a sudden my brain forgot about all the funfetti sugar cookie bars and candies I wanted to make this holiday season, and all I could think about was cheese and crackers. I think I came up with at least 5-6 different versions to try.
Ok, ok, so maybe 1 or 2 might have been a sweet cheese ball…this is me we are talking about!
One of our favorite dips is this roasted red pepper & garlic hummus. I thought those flavors would be perfect mixed with cheese and crackers. A little bit of green onions totally gave it the perfect holiday look too.
You need to make sure to take the roasted red peppers out of the oil and lay them on paper towels first. Dry them off really good before dicing them. You do not want to much liquid getting in your cheese mixture.
Stir the cream cheese, garlic, and shredded cheese together first. Then add the green onions and pepper pieces. Make sure to stir gently, but thoroughly. You want those veggies to be spread out evenly in the mixture.
The hardest part of this amazing roasted red pepper and garlic cheese ball is putting it in the fridge and letting the flavors blend together as it chills. Of course, I won't judge you if you grab the crackers and start digging in right away.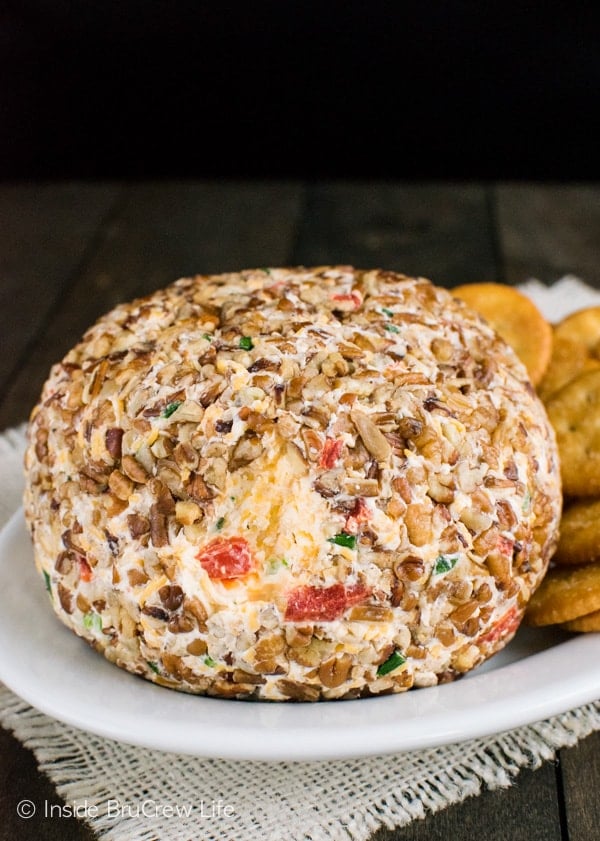 Stay up to date on all the BruCrew baking here:
FACEBOOK | PINTEREST | GOOGLE+ | TWITTER | INSTAGRAM | BLOGLOVIN
Sign up to receive an email in your inbox for each new recipe:
EMAIL SUBSCRIPTION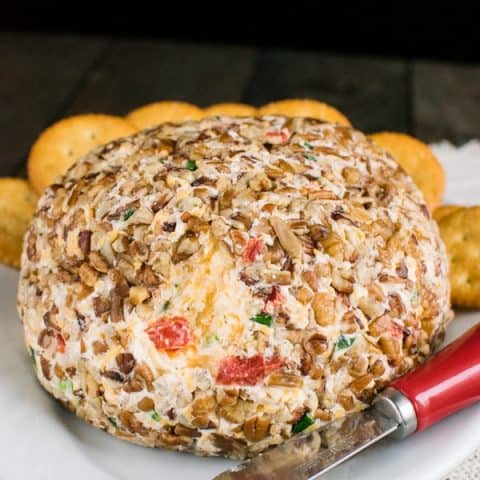 Roasted Red Pepper and Garlic Cheese Ball
Yield:
1 large cheese ball
Roasted red peppers, garlic, and green onions make a delicious and festive cheese ball to serve for holiday parties or game days.
Ingredients
2 - 8 ounce packages cream cheese, softened
2 Tablespoons minced garlic
2 cups finely shredded cheddar cheese
1/2 cup diced roasted red pepper, drained & dried
1/3 cup diced green onion
1 cup pecan chips
crackers or pretzels
Instructions
Stir together the cream cheese, garlic, and shredded cheese until mixed very well.
Add the red pepper and onion and stir gently until mixed in.
Pat the mixture into a round ball. Roll in the pecan chips until covered.
Wrap in saran wrap and refrigerate for a few hours or overnight.
Serve with crackers or pretzels. Makes 1 large cheese ball.
Nutrition Information:
Yield:

12
Serving Size:

1
Amount Per Serving:
Calories:

298
Total Fat:

27g
Saturated Fat:

12g
Trans Fat:

0g
Unsaturated Fat:

12g
Cholesterol:

57mg
Sodium:

286mg
Carbohydrates:

8g
Fiber:

1g
Sugar:

2g
Protein:

8g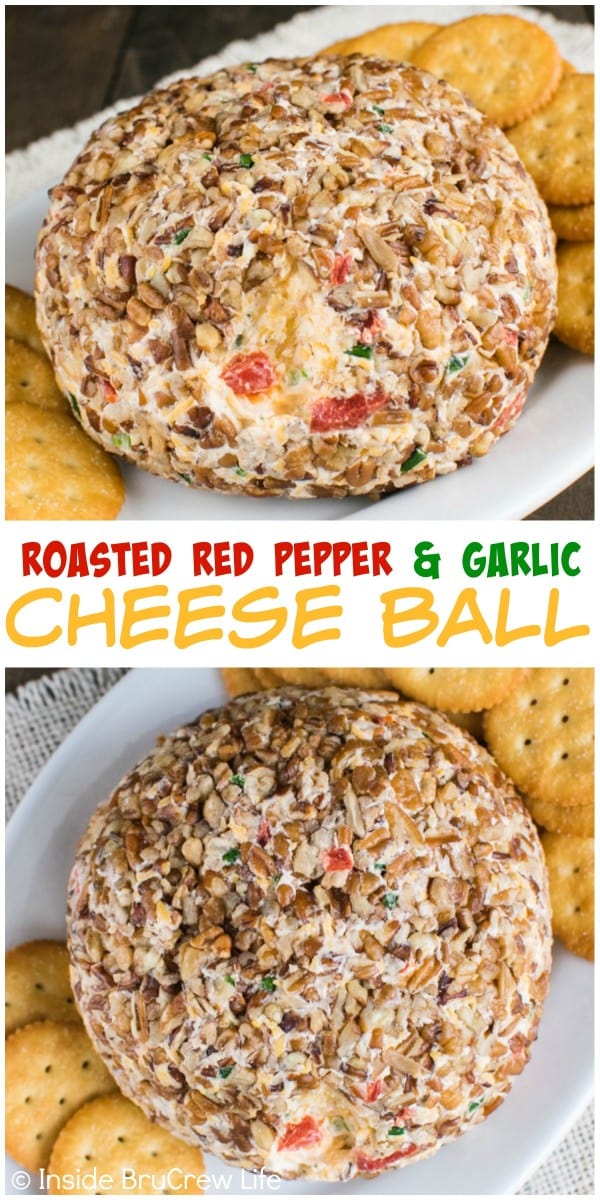 More fun appetizers to serve at parties or game day events: