This easy Chocolate Peppermint Fudge will steal the spotlight at any holiday party when you show up with it. Dark chocolate fudge topped with a peppermint patty topping will get smiles from everyone.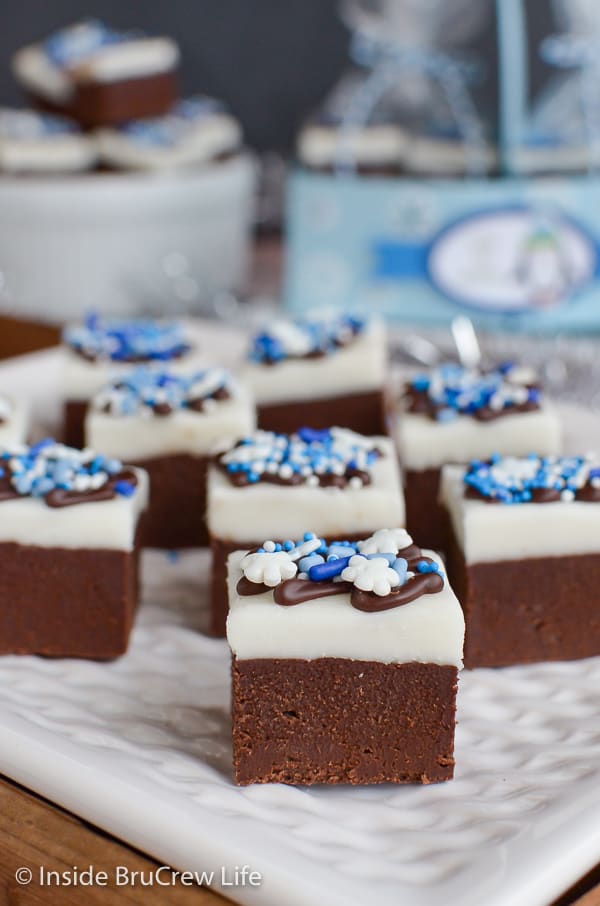 I am so sorry to do this to you again. No, I'm really not that sorry.
Are you guys completely tired of my peppermint obsession yet? Honest, I have tried jumping off this peppermint train that I am riding. I did share gingerbread, eggnog, and peanut butter recently...but, I just keep coming up with more fun and exciting recipes that use peppermint.
I kind of get a one track mind when I get obsessed on something. Just ask my hubby about the scrapbook phase, the card making phase, and the current food prop phase. He will just roll his eyes and tell you that I am a crazy lady. It's a good thing he loves me. He puts up with me and my "hobbies" that change all the time.
How about I promise that I won't take up your feed again with peppermint. At least not any more this week. I can't make any promises for next week.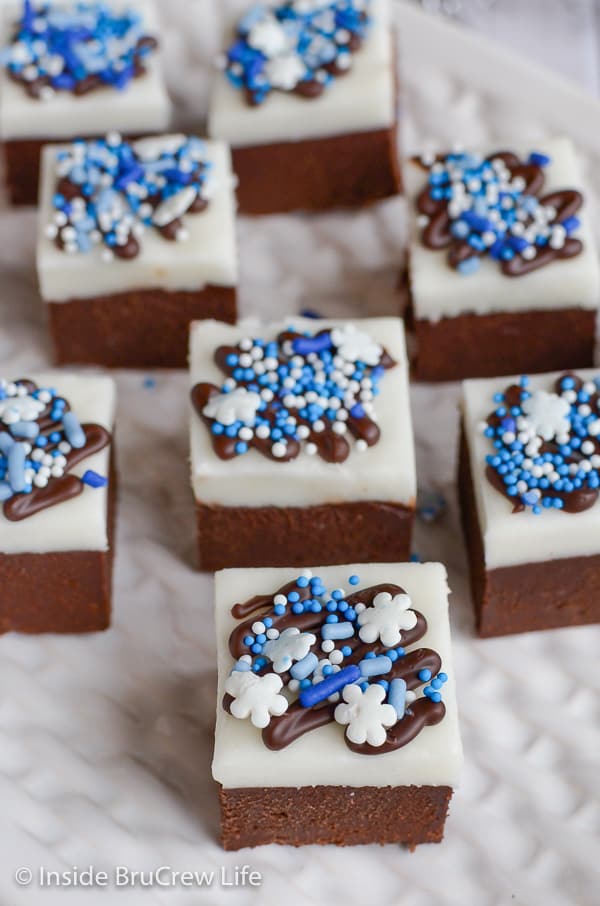 I sure hope you like fudge too. There might be a couple more recipes for different ones coming soon. But you guys know how much I love fudge, so that doesn't really surprise you, does it?
I mean it is prime fudge making season. I need to be prepared. And now you will be too.
Have you tried two ingredient fudge before? It is super easy and just about fail proof. All you need is a bag of chocolate chips and a container of frosting. Seriously all you need is two ingredients. Melt them together and pour in a pan. Easy peasy!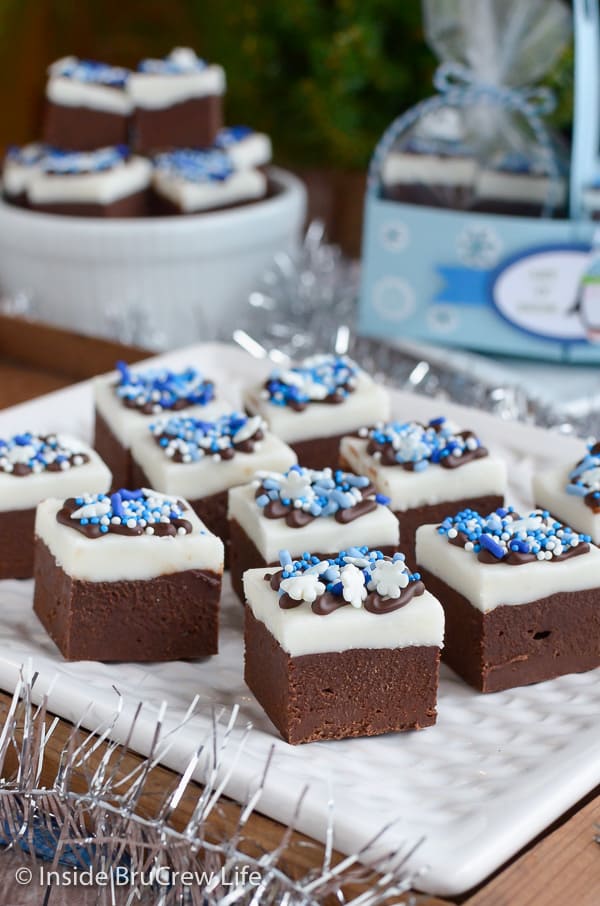 This one is technically three ingredient fudge because I add butter with the chocolate chips. I think they melt better in the microwave that way. The butter also helps keep the fudge smooth and creamy.
That's right. This easy fudge is made in the microwave. Just take it slow and do not try to heat your chips up too fast.
If you are not careful, you will burn the whole bowl of chocolate chips. And no one likes burned chocolate. It makes me sad when chocolate has to be thrown out.
Don't get distracted when making the fudge either. I had issues when I made this Peanut Butter Avalanche Fudge a few years ago because I was trying to multitask while in the kitchen making treats. It's not a good idea.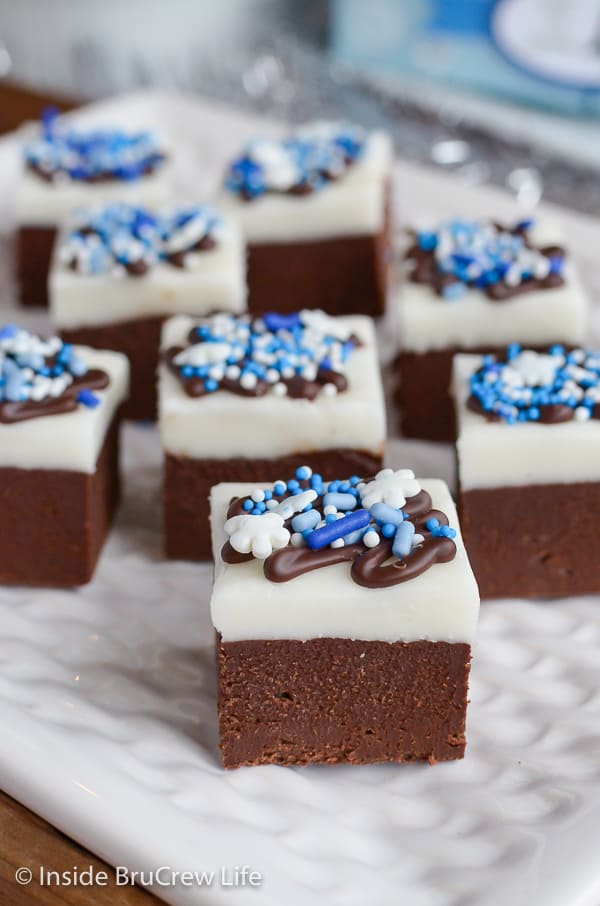 How to make Chocolate Peppermint Fudge
Line a pan with foil or parchment paper.
Place chocolate chips and butter in a microwave safe bowl. Heat for 30 seconds.
Stir until melted and creamy. Heat a few seconds longer if needed.
Remove the foil liner from the canned frosting. Heat for 1 minute in the microwave.
Pour the melted frosting into the melted chocolate chips. Stir until completely melted.
Pour into prepared pan and let set.
Mix together butter, marshmallow, peppermint extract, water, and powdered sugar until a soft dough forms.
Press it evenly on top of the chocolate fudge. Cut into 36 squares.
Melt the chocolate melts and drizzle on top of the fudge squares. Top with holiday sprinkles.
This easy holiday fudge will keep for 3-4 days on the counter. It will keep for 5-7 days if kept refrigerated in a sealed container. You can also freeze the entire pan of chocolate fudge and remove it closer to the time you need it. Add the melted chocolate drizzles and sprinkles after it thaws.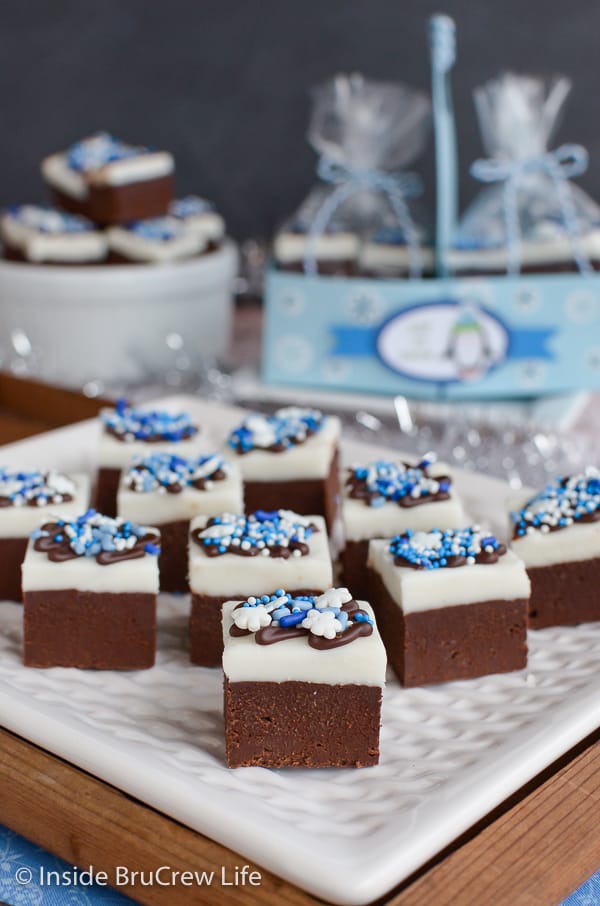 Other easy fudge recipes you may like
CLICK HERE TO PIN THIS RECIPE FOR LATER!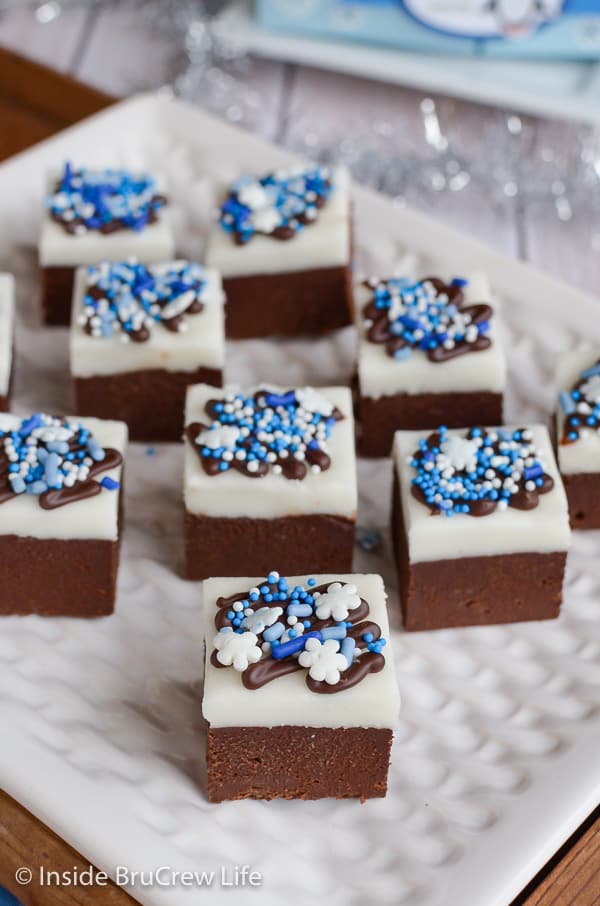 *The post for Chocolate Peppermint Fudge was first published on December 10, 2013. The photos and post have been updated and republished on December 12, 2019.