Birds Nest Cookies are an easy, no bake dessert that can be made in minutes, with just a few ingredients. They are kid-friendly and perfect for Easter.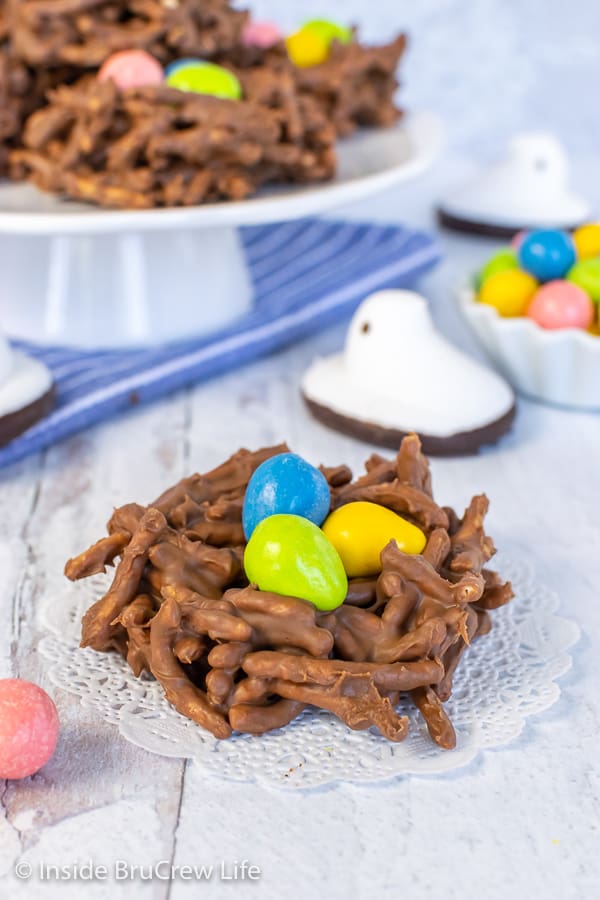 This is pretty much one of the easiest Easter desserts that you can make. These no bake cookies can be made in minutes, and they look absolutely adorable.
I'm all for making desserts that take time and look impressive like this strawberry mousse cake, but most of the time I prefer treats that are simple to make like these Easter rice krispies treats.
Chocolate peanut butter no bake cookies are are a fun treat to make for Easter. But don't limit them to the holidays. They are so delicious that you will want to make them for every event.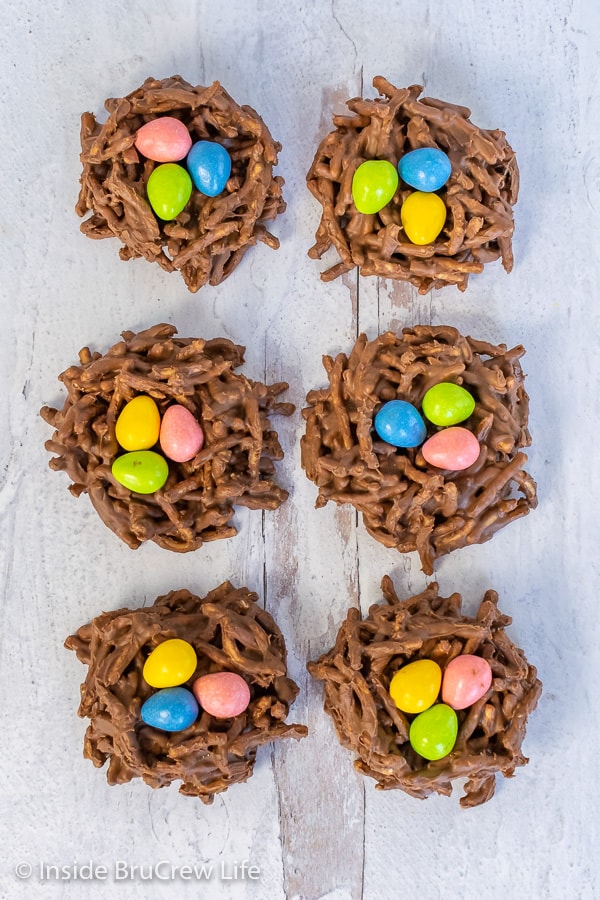 One of the best things about Birds Nest Cookies is how versatile they are. The flavor combos are endless.
Ingredients Needed
Base: chow mein noodles, corn flakes, oats, rice krispies cereal, pretzel sticks, potato chip sticks, coconut
Coating: chocolate, peanut butter, butterscotch, white chocolate
Candies: chocolate eggs, malt eggs, jelly beans, Cadbury eggs, Reese's eggs, chocolate covered almonds
Choose one or more from each list and let's get started.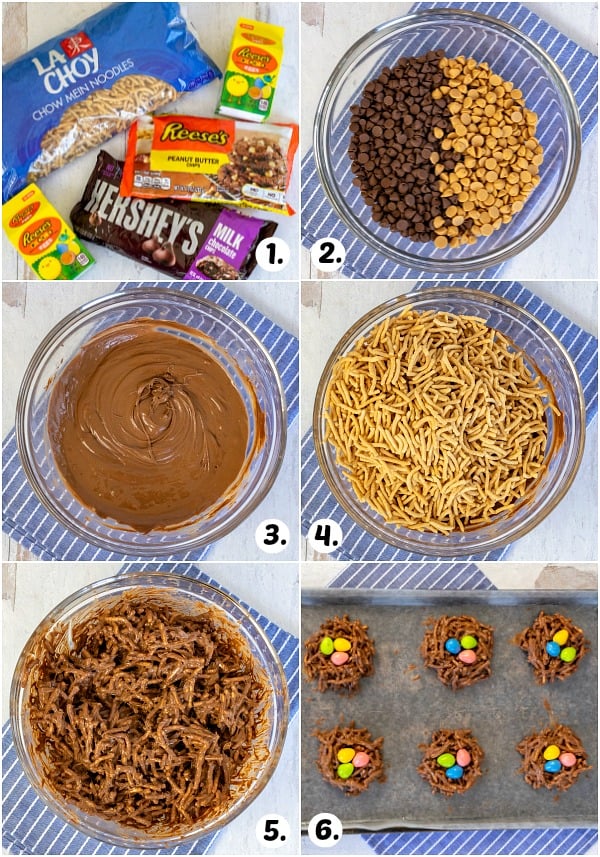 How to make Birds Nest Cookies
Place your choice of chocolate chips in a microwave safe bowl. Heat at 50% power for 1 minute. Stir until melted and creamy. Continue heating for 30 second intervals, as needed.
Add the chow mein noodles (or other base) and stir until completely coated.
Use a large spoon to scoop mounds onto a wax paper lined tray. Make an indent in the center of each one.
Press three candies into the center of each cookie. Let the cookies set before moving.
Reese's desserts always get my vote. Trust me and make a batch of these Reese's eggs for your Easter baskets too.
For our nest cookies I melted together a bag of milk chocolate chips and peanut butter chips. Reese's eggs were the perfect candies for the tops.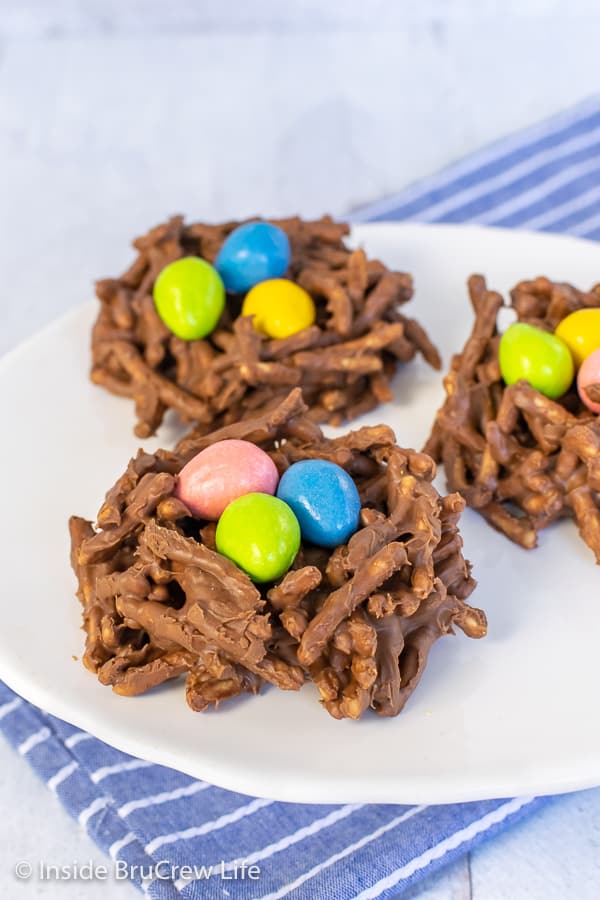 Recipe Tips
Make sure your tray is lined with foil, parchment, or wax paper. This will help you remove the no bake cookies easily once they set up.
Use a smaller scoop to make more cookies.
Use a ¼ cup measuring cup to easily scoop bigger cookies.
Store the birds nests at room temperature for a few days. You can also refrigerate them, but make sure you let them come to room temperature before serving.
Make a gluten free version by using oats and chocolate covered almonds.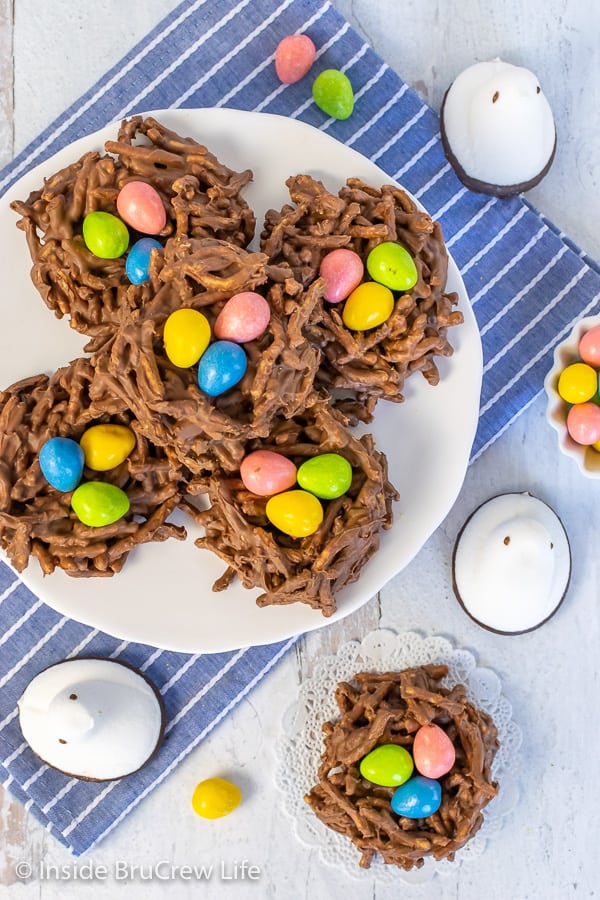 Just for fun, I added marshmallow Peeps to the tops of these cookies. It's totally optional, but can we all agree that birds nest cookies need a bird on it?
Seriously, how cute are these Easter cookies?!?!?!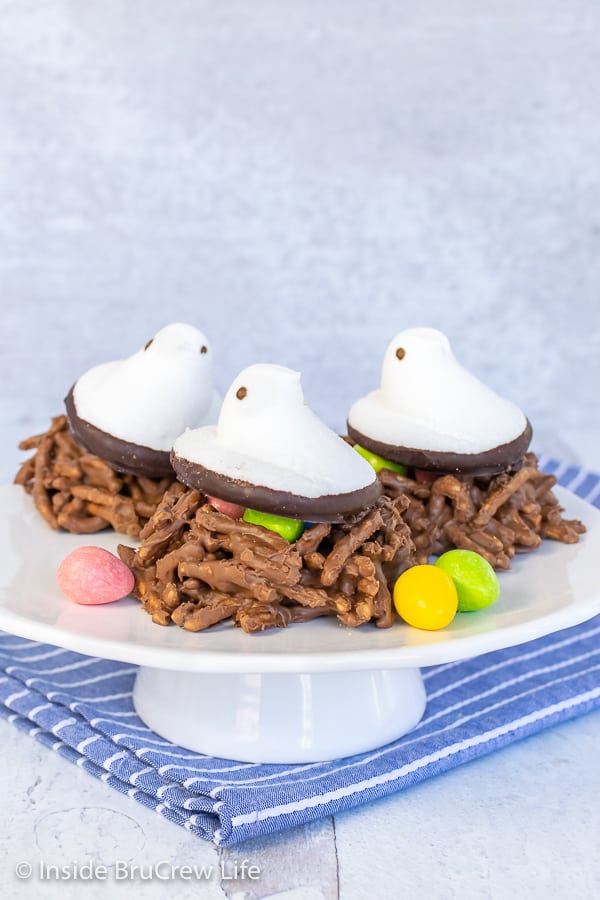 More kid-friendly Easter desserts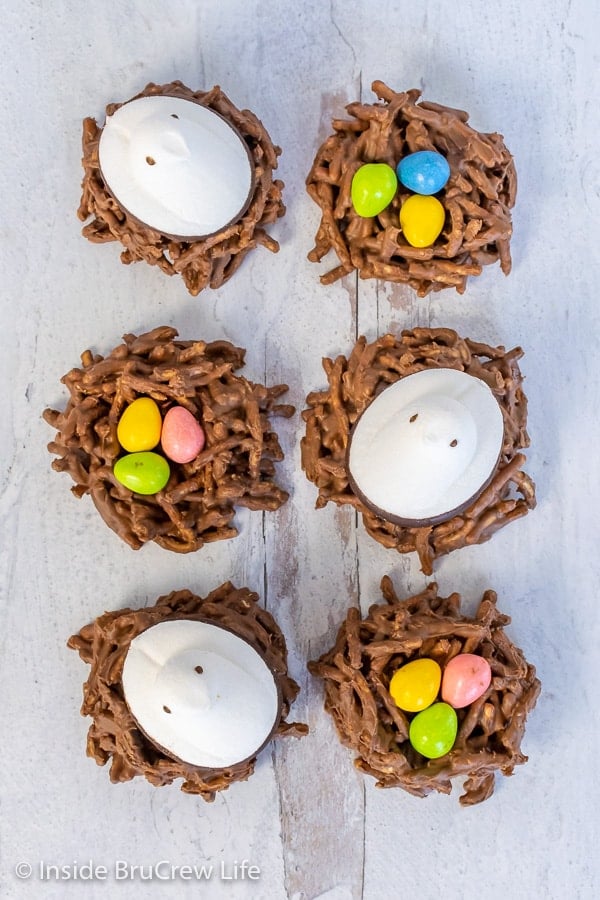 CLICK HERE TO PIN THIS RECIPE FOR LATER!