Swirls of chocolate and sprinkles give this Peppermint Pattie Easter Bark a pretty spring touch! Bags of this fun bark would be a great addition to those Easter baskets you are putting together. It is also a quick and easy way to use up some of that extra Easter candy your kids will be getting.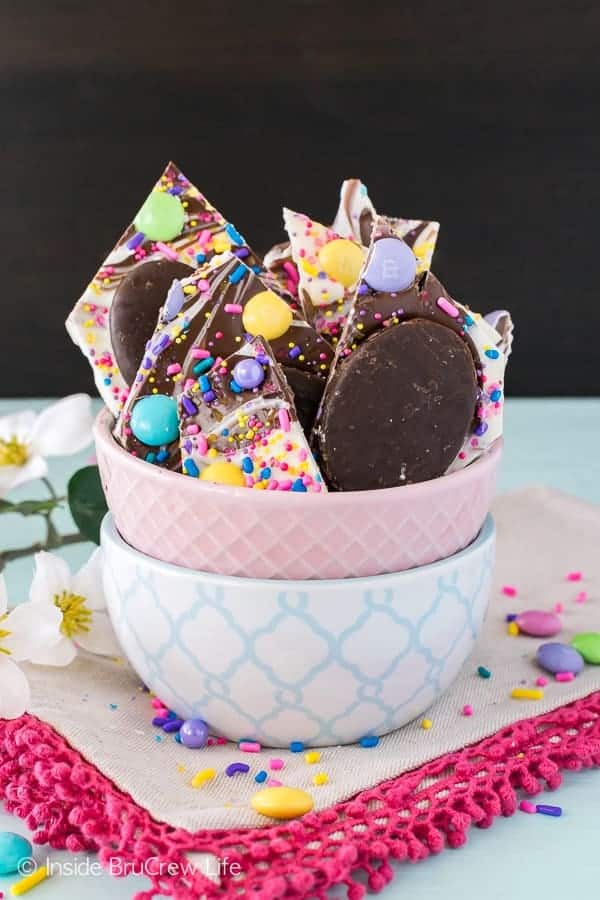 Our daughter is a makeup fiend. She loves trying new colors and products every chance she can get. She also loves to watch makeup tutorials and is always "practicing" these new techniques almost every evening. It's not uncommon for her to come out of her room with a full face of makeup right before going to bed.
One of her favorite things to try is a blended shadow with eyeliner wings. Now I don't know about you, but I have tried doing this makeup trend in the privacy of my bathroom...and I just look silly. But our daughter can make it work and look good. On her.
She has been begging to practice her makeup skills on me. She claimed wings would make me look younger. I'm still trying to decide if that was a dig at my old age. LOL! My husband just snickered and said wings would go well with the crow's feet. Yeah, he got a dirty look for that comment.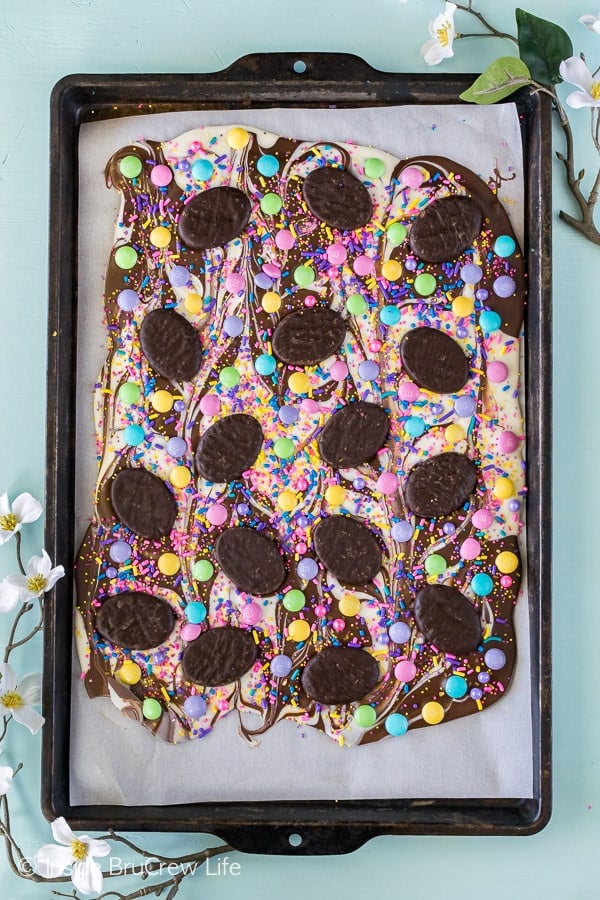 A few days ago, I went in for a makeup session. I walked into my daughter's room to find a large pile of makeup surround her bench. Yikes! I didn't realized how much she has collected, and I sure hoped all that was not going to end up on my face.
She quickly got started on blending powders and shadows on my clean skin. Then we came to the tape. Did you know that tape gives you straight lines for your eyeliner? I'm also here to tell you it will make the sensitive skin around your eye twitch. Or at least mine did. I couldn't wait for her to be done and pull that off my face.
I have to admit, the girl did a good job on my eye makeup. But I'm still not convinced eyeliner wings are for me. Maybe I'll get brave and try it myself one of these days. Until then I'm going to stick to adding color to my chocolate instead of my face.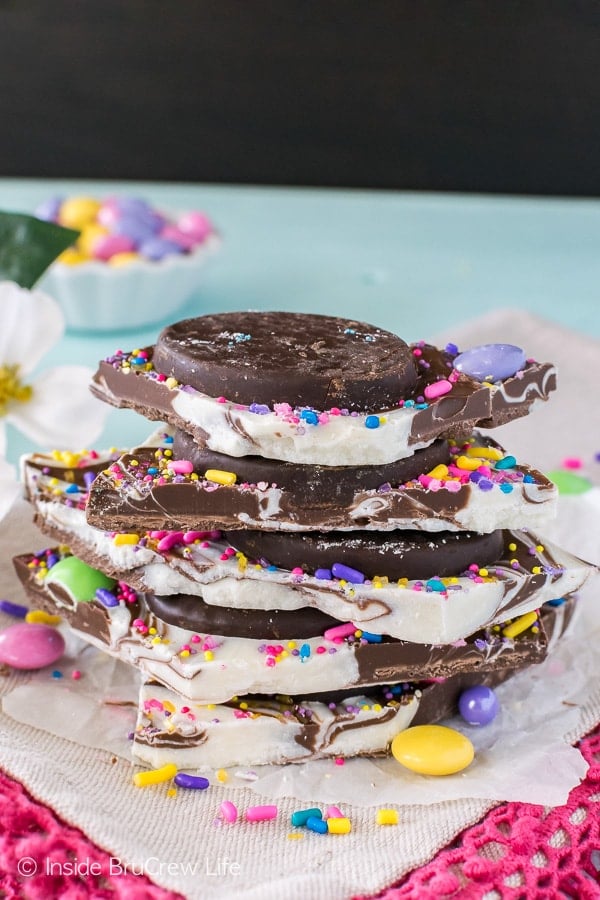 Last month I found a bag of Peppermint Pattie eggs at the store and had to bring them home with me. I had a feeling some bright sprinkles and candies could be fun with these little eggs.
Part of me wanted to make this white chocolate Peppermint Pattie popcorn again with spring colors added to the mix, but who are we kidding? I don't like making the same thing over and over. Maybe I am like my daughter and her makeup practicing. I just practice by making different sweet treats each night.
When I looked in the pantry, I saw some bags of white and dark chocolate candy melts hiding in the back corner. Right away I knew a swirled Easter bark was what I wanted to make.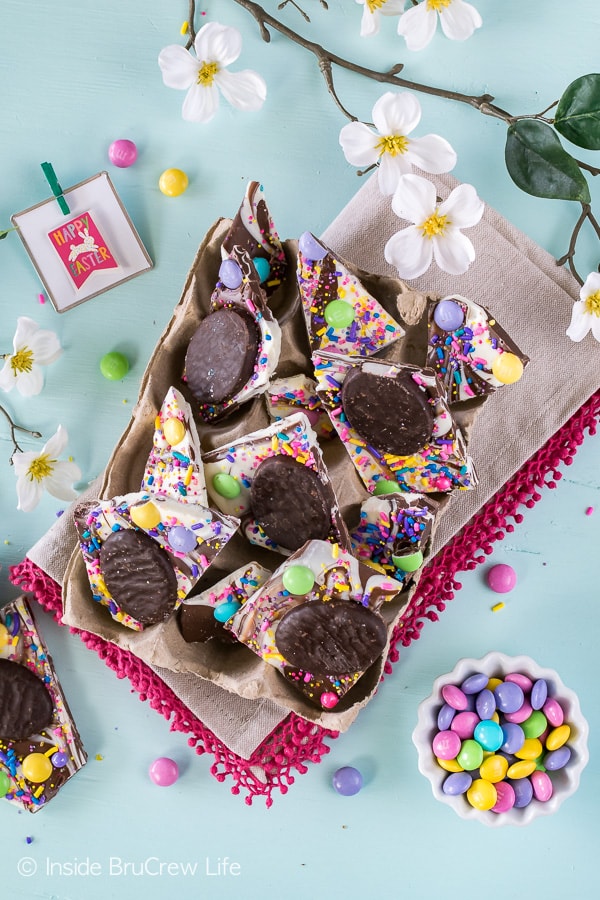 Plus, this Peppermint Pattie Easter bark is one of those treats that takes very little time, and you can't really mess it up. Melt the chocolates, spoon onto a tray and swirl with a knife, then throw candy and sprinkles on top before it hardens.
Three easy steps and you can have a pan of chocolate goodness on your counter too. Or if you want to practice some baking, try these Peppermint Patty gooey cake bars. They are worth the extra time in the kitchen.
If you are like me and have hidden bags of candy in your kitchen, check out some of these fun recipes to use it up. You could throw all the extra candy into this giant Easter Cookie Cake. I'm all for cookies bigger than my head!! Of course I like small cookies too, so these Easter Trail Mix Cookies sound good as well. And of course, popcorn is always a favorite treat of mine, so this Yummy Bunny Snack Mix sounds like a great way to use up candies and marshmallows from the pantry!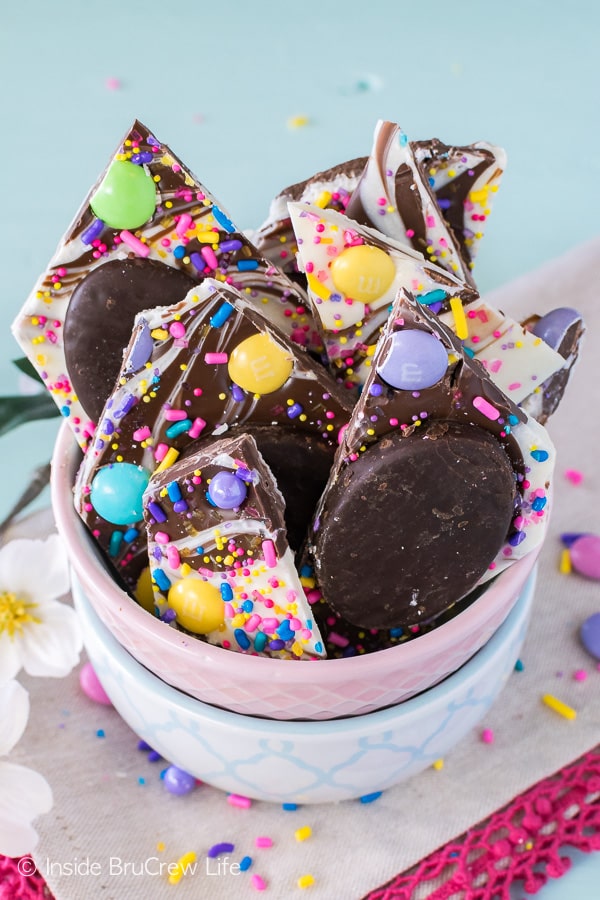 CLICK HERE TO PIN THIS RECIPE FOR LATER!
Love a recipe you tried from Inside BruCrew Life?
Please leave a 5 star ⭐️ rating and/or a review in the comments section further below.