Want an easy no bake treat to munch on this week? This Salted Caramel Brownie Brittle Muddy Buddies is perfect for school lunches, after school snacking, or that occasional midnight snacking fest.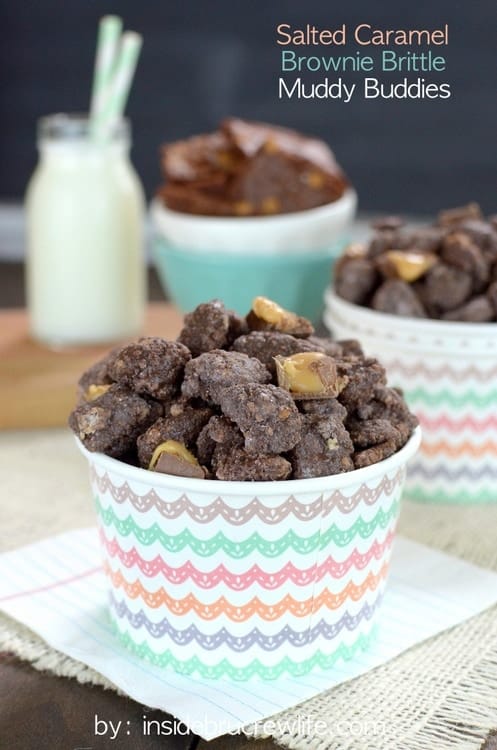 Earlier this year I had a chance to try a sample of Brownie Brittle. Let's just say that little bag of goodness did not last long enough in my hands. My kids were climbing all over me trying to get the last piece. Our family was definitely a fan from that very first bag.
This past May I attended the BlogHer Food conference in May where one of the vendors was Brownie Brittle. I kept making my way around the vendor floor to snag more bags of the crispy brownie wafers. My logic was that I was making sure I had enough samples to take home for each of my children. I'm such a giver you know.
In reality, it was for my own snacking pleasure because a few of those sample bags may have disappeared on the flight home.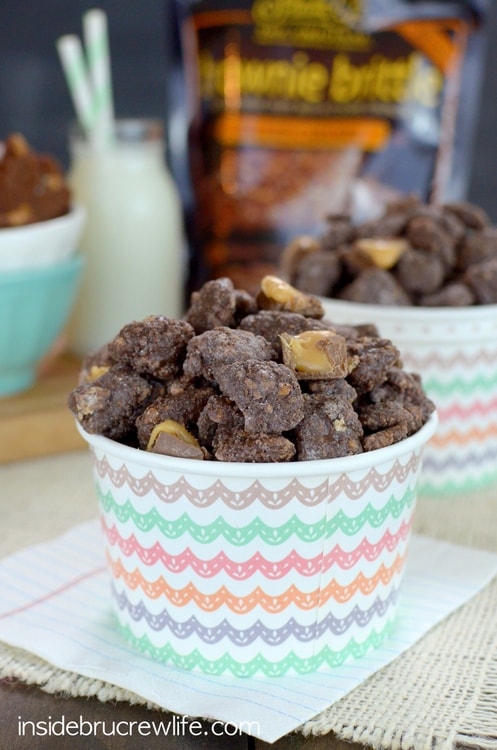 What exactly is Brownie Brittle? It is exactly what it sounds like. They are small crispy, crunchy brownie pieces that come in four amazing flavors: Salted Caramel, Mint Chocolate Chip, Chocolate Chip, and Toffee Crunch.
Make sure you check your local grocery stores or Costco to find this product. I do suggest buying a few extra bags because when you open the first bag and start snacking, you will find the bottom of the bag before you know it. Not that I would know or anything.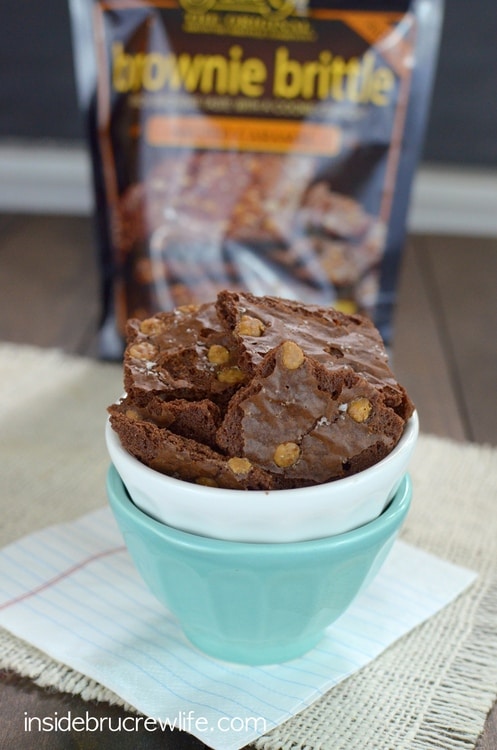 One thing I love about this business is that it came from a family recipe. Sheila G. started her own brownie business selling a family brownie recipe to restaurants and theme parks. She had a particular fondness for the crispy outer edges of the brownies though, and one day decided to try making an entire pan of crispy edges.
Her desire to create a fun new treat blossomed into the Brownie Brittle company today. I think it is great when someone has a dream, and they are able to make it come true.
I am so excited to share this easy no bake treat with you today using those extra bags of Brownie Brittle I had.
Salted caramel, chocolate, crispy Brownie Brittle...do I have your attention yet? Did I mention it is a no bake recipe? You can be chowing down on this in about 15 minutes if you get started now.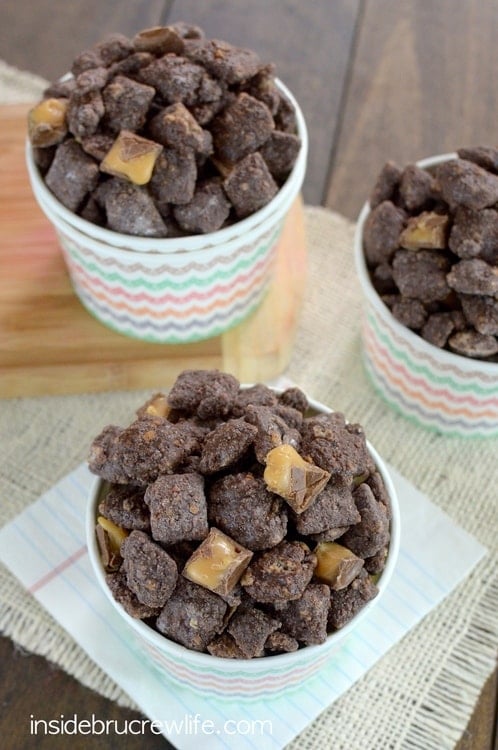 Normally I make a large batch of muddy buddies because my kids and I can't seem to stop eating it once we start. But today I wanted to show you how to make this treat using just one bag of Brownie Brittle. Although once you start eating it, I think you will be running to the store for a few more bags.
Muddy buddies, or puppy chow depending on where you live, is very easy to make. Crush a bag of Brownie Brittle using a food processor. Or you can use a plastic bag and a mallet or a rolling pin. Just make sure all the Brownie Brittle chunks are in fine crumbs.
Stir melted chocolate over the cereal in a large bowl. When everything is coated, spoon the cereal into a big Ziplock bag and pour the crushed Brownie Brittle on top. Close the bag and shake those crumbs all over the cereal pieces.
Now add a little bit of powdered sugar while the mixture is still warm. Shake it again and then pour onto a lined tray. Cut the caramel candies while you wait for the muddy buddies to set up completely. Sprinkle the candies throughout it, and then prepare to go to snack heaven.
My daughter took a bag of this snack mix to school in her lunch box. All her friends that tried it have been asking for more! The other day when I was working on this post, my daughter came into our office and saw the pictures for this Salted Caramel Brownie Brittle Muddy Buddies on our computer. Her eyes lit up and she started talking about how good this snack mix was and when could we make another batch.
Like I said, stock up on a few bags when you find the Brownie Brittle in your stores. I see a whole lot of different flavored muddy buddies in our future lunch boxes!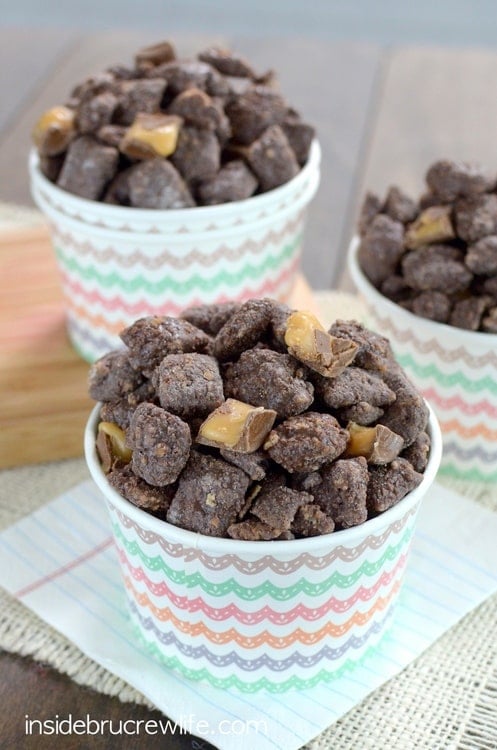 More Salted Caramel treats you may enjoy: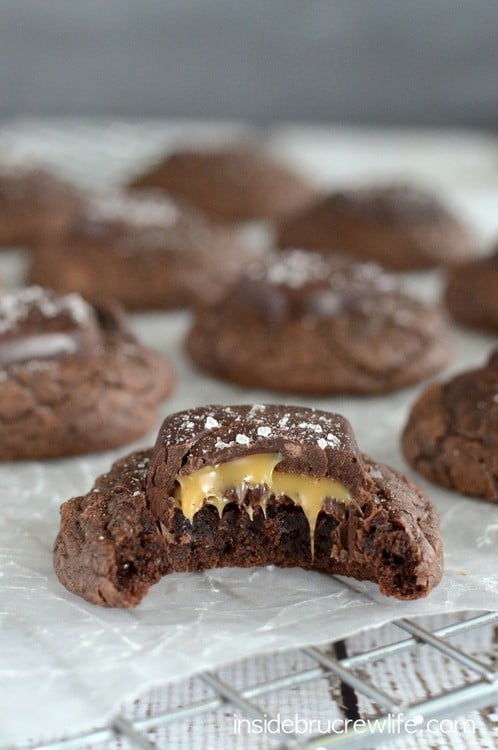 Salted Caramel Brownie Cookies