All thing salted caramel seems to be the rage right now. Enjoy a slice of this Salted Caramel Brownie Cheesecake Pie with a hot cup of coffee after dinner this week. You will be hooked too!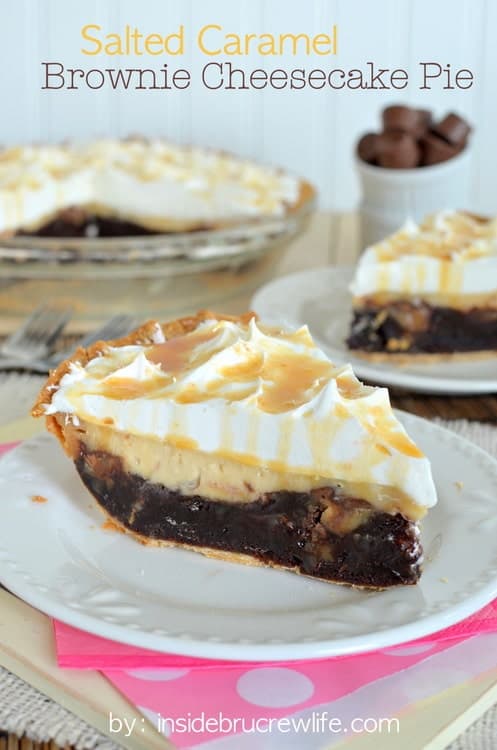 CLICK HERE TO PIN THIS RECIPE FOR LATER!
I'm sure you are questioning my sanity right now. I mean another salted caramel dessert?
Let me tell you that when I get hooked on something, I go all in until the next thing catches my attention. A few years ago (like 14 really) I started scrapbooking. I now own a small scrapbook supply store in my office. Hey, some of those papers work great for back drops. A few years after that I got into rubber stamping. We won't talk about how many stamps I currently own...
My latest hobby/job is food photography, and the need to buy cute inexpensive props comes with that. This is another subject I would like to move from quickly. Let's just say I have enough plates, napkins, and straws to last a life time.
My kids get excited when they see me using the straws because they know this is the only time I let someone use them. What?!? They would use them for every single drink, and then when I need a particular color, it would be gone. Yes...I have hoarding problems.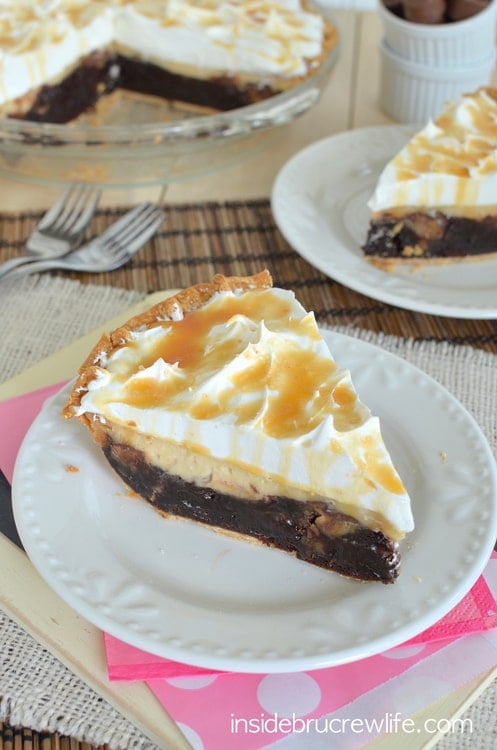 So anyway, about this pie.
Currently I just can't get enough salted caramel flowing through my veins. Clearly! So when the thought hit that I needed to incorporate it into a brownie cheesecake, I couldn't get into the kitchen fast enough. This happened to be another dessert that I had all the ingredients for in my kitchen.
Remember? I said I had hoarding issues. That also applies to all sorts of baking ingredients too.
It's perfectly normal to find brownie mixes, Rolos, and pie crust just lurking around in my cupboards and refrigerator. And not just one, there are usually multiples of said ingredients.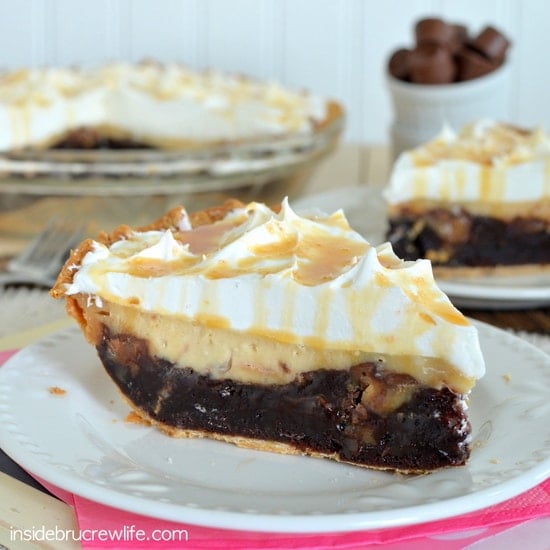 I used this Peanut Butter Snickers Cheesecake Brownie Pie as my base and slightly tweaked it to include all things salted caramel. A little bit of coffee in the brownie mix gave it the hit of mocha that I wanted.
For those of you scared of coffee in your chocolate. Don't be! You really cannot taste it at all. Now I'm sure you are wondering why add it then.
The coffee just enhances the chocolate flavor and makes it better. Trust me on this. And if you have trust issues with your chocolate, leave it out! It's won't affect the pie at all.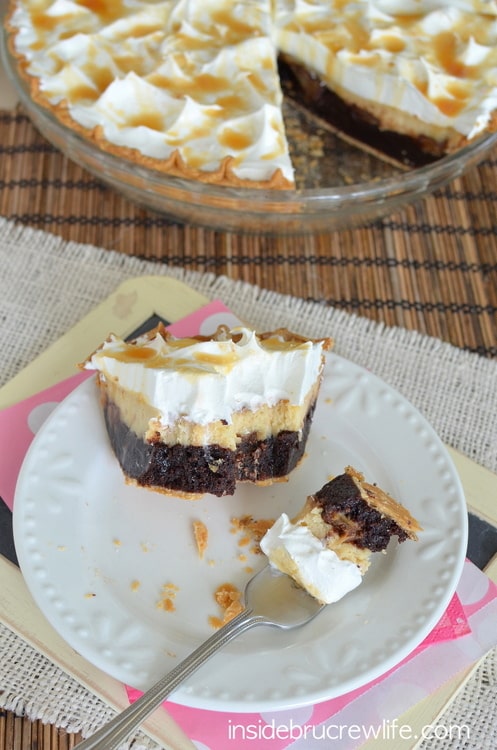 Salted caramel goodness all wrapped up in a pie crust. Now that's what I'm talking about.
Who wants a slice of this salted caramel brownie cheesecake pie?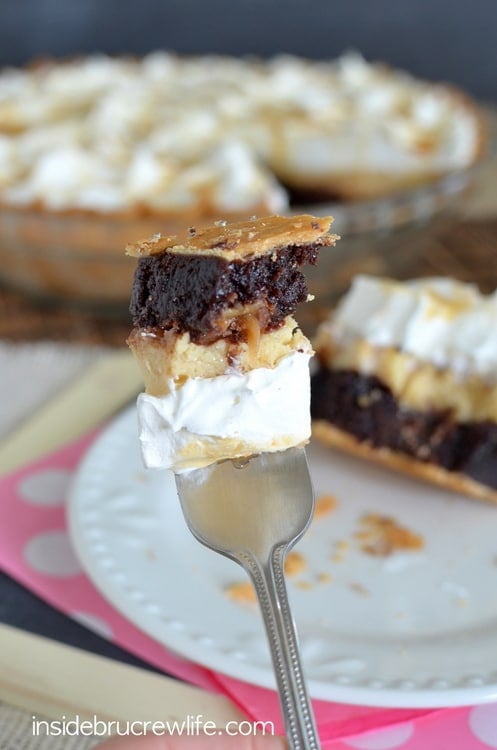 Stay up to date on all the BruCrew baking here:
FACEBOOK | PINTEREST | GOOGLE+ | TWITTER | INSTAGRAM | BLOGLOVIN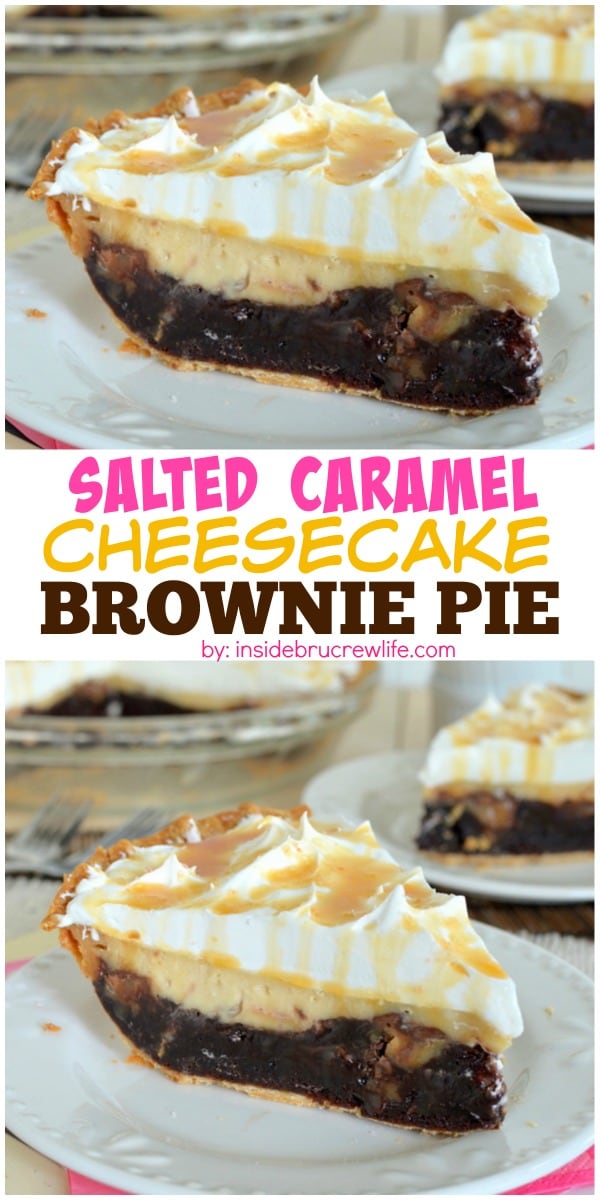 More Salted Caramel goodness I can't get enough of: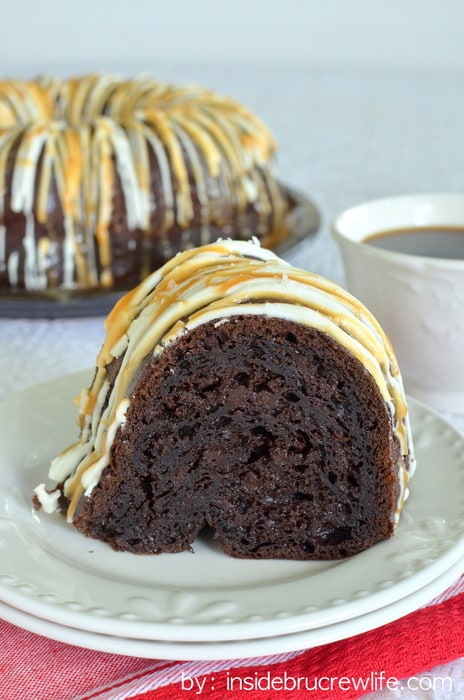 Salted Caramel Mocha Bundt Cake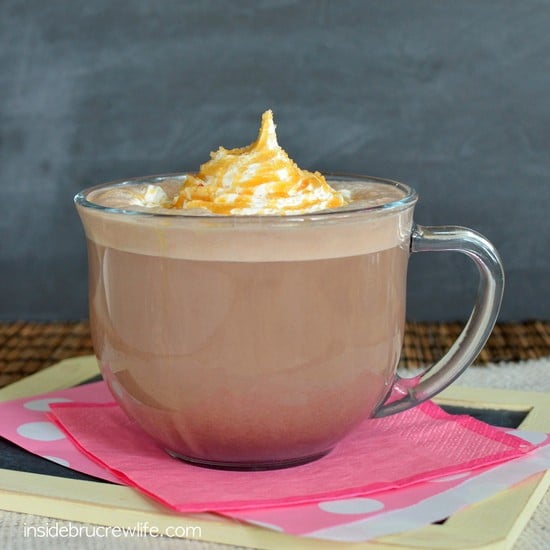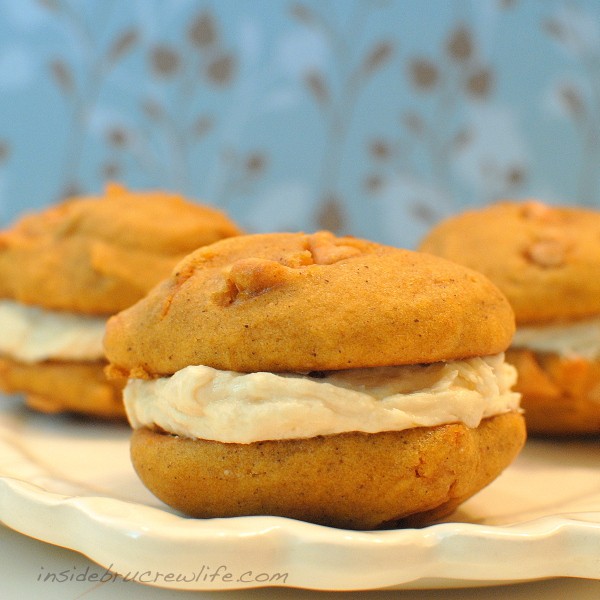 Butterscotch Pumpkin Whoopie Pies with Salted Caramel Butter Cream