A few months ago we visited Sarasota Jungle Gardens with my sister and her family. This small family owned tourist attraction features many native and exotic animals that have been rescued or donated.
Our kids had so much fun exploring the paths and seeing so many different varieties of tropical plants and animals.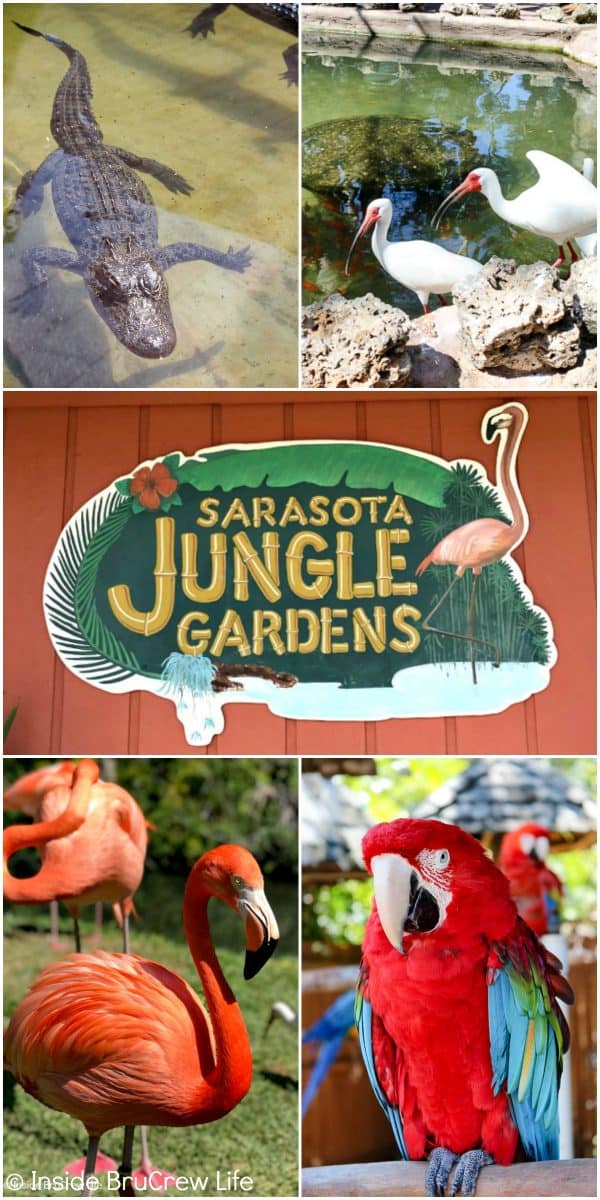 History of Sarasota Jungle Gardens
Sarasota Jungle Gardens was started in the 1930's as a botanical garden. They brought in thousands of tropical plants that would flourish with the native plants. Over the years people began to take notice and would stop in to wander the paths.
In 1936, the owners began to charge an admittance fee, and then in 1939 it was officially opened as a Florida attraction. Educating the community about animals and nature is the main goal of the nature park.
Jungle Gardens is now home to over 200 native and exotic animals. You will be able to see lizards, snakes, alligators, crocodiles, turtles, primates, parrots, macaws, flamingos, and so many more animals and reptiles as you visit. 95% of the animals in the park have been rescued from abusive homes or inhumane conditions.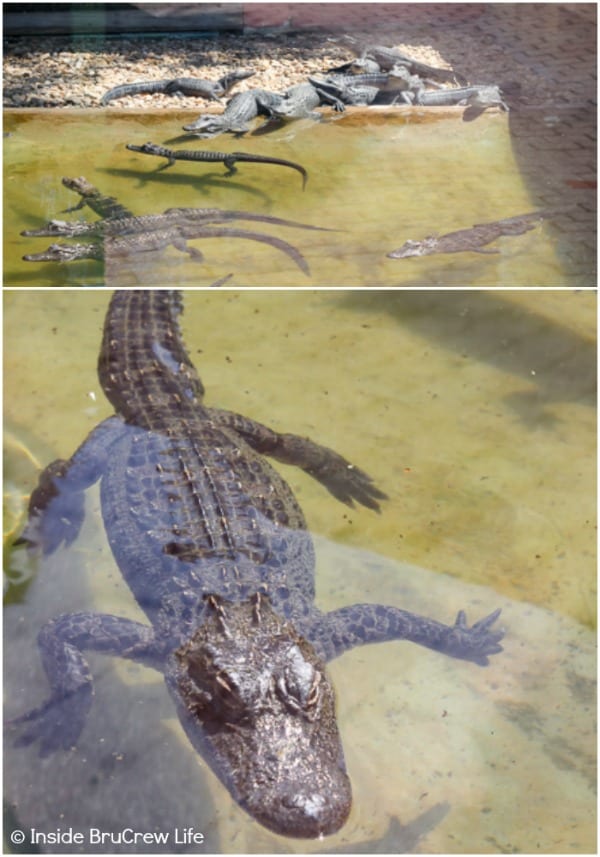 What You Will See
The kids were amazed at the pool of baby alligators. This small pond is encircled by a high glass fence that kids can look through. It's tall enough to protect the animals from being touched, but low enough that you can throw alligator food over the top. They also had a small area around the back that you could pay to feed them live bait.
We also visited the reptile house and saw many different varieties of snakes, spiders, and lizards. There were also different ponds and enclosures nearby with larger alligators and crocodiles.
On the back path we were able to spot two large Galapagos turtles that were out sunning themselves.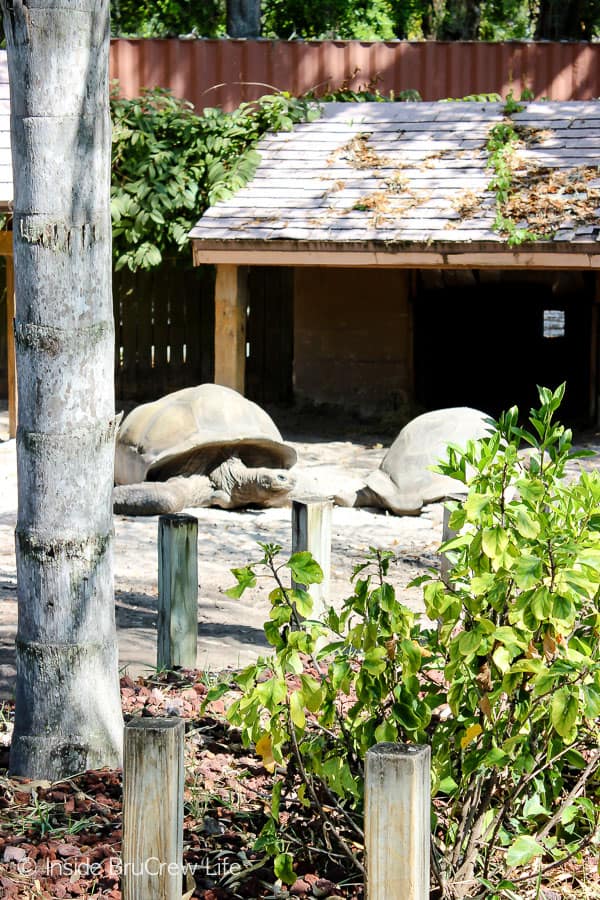 Winding jungle trails with lush jungle landscaping connect all the different attractions in the park. The park is set on 10 acres of land, so be sure to wear comfortable walking shoes. You can slowly wander over 1 mile of trails that are set among the foliage.
Along the paths you will find a small playground, a cafe, a fish pond, butterfly garden. bird shows, a petting zoo, and lots of flamingos.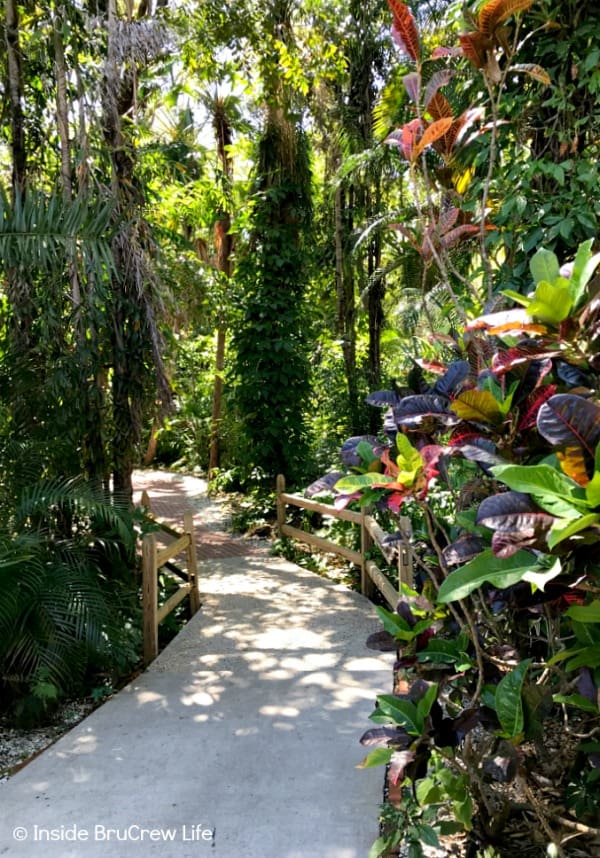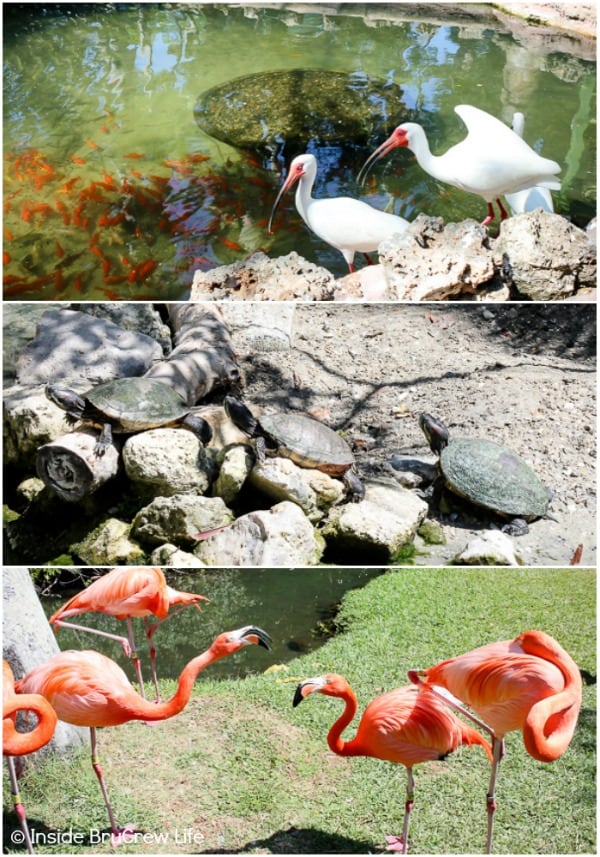 My favorite part of the park was seeing the beautiful pink flamingos up close and personal. The long legged wading birds roam freely throughout the park. In fact, there was one right at the opening of the park who was greeting newcomers as they came in the front gate.
These gorgeous birds are not shy at all. In fact, they are quite curious and will come right up to you.

Fun Facts about Flamingos
The word flamingo means fire and refers to the bright color of the birds' feathers.
Flamingos are actually born gray or white. They turn pink within the first couple years of life.
The pink color in their feathers comes from their diet of shrimp and algae.
Flamingos only lay one egg per year.
They hold their bent bill upside down while feeding, so they can skim or filter out the food from the water.
Flamingos are strong swimmers and fliers, although most of the time they are seen just wading.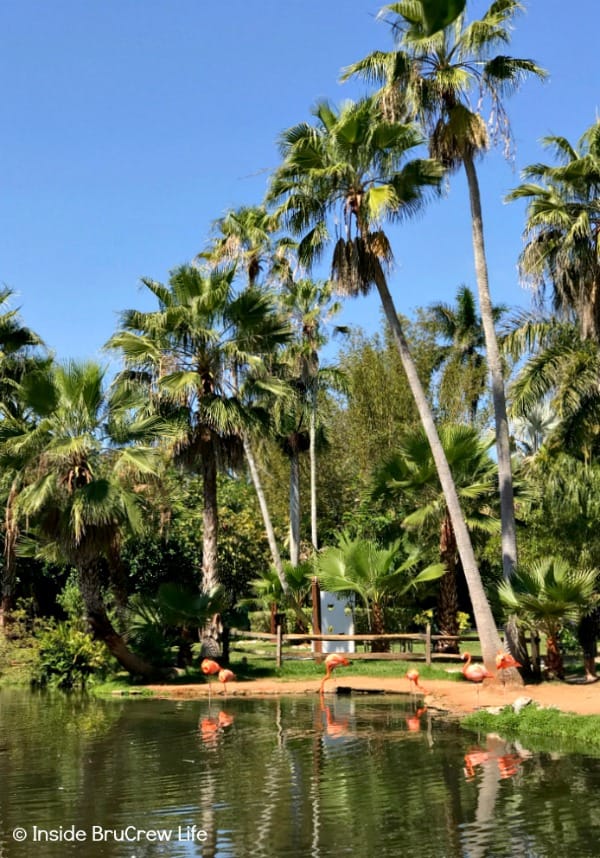 The park offers bags of bird food at the ticket counter, or you can bring quarters and buy it from the coin operated machines in the park.
We spent the most time walking among the flamingos and seeing which birds would come eat the food we offered.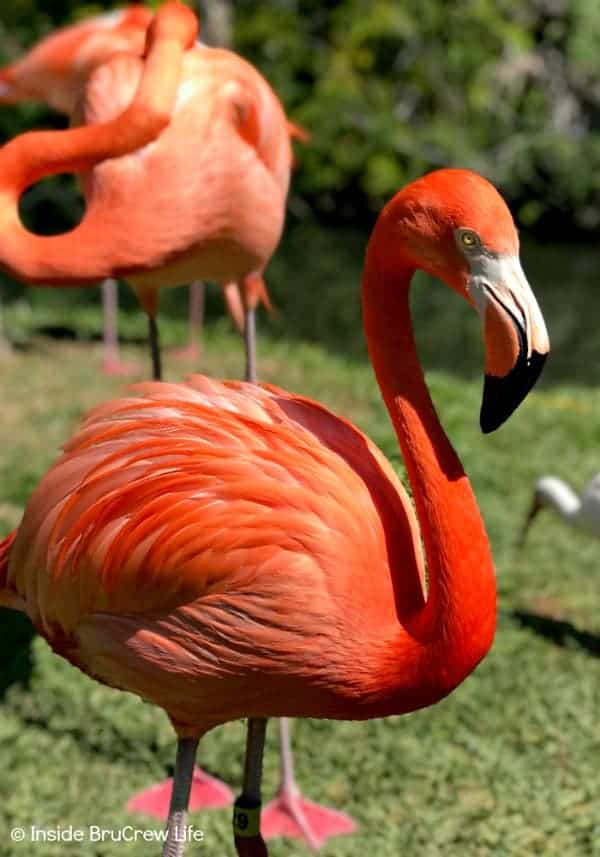 The kids absolutely loved having a flamingo take food right out of their hands.
Honestly, it was a little bit scary at first. But we found that if you kept your hands flat, they were able to nibble the food from your hand without getting your fingers.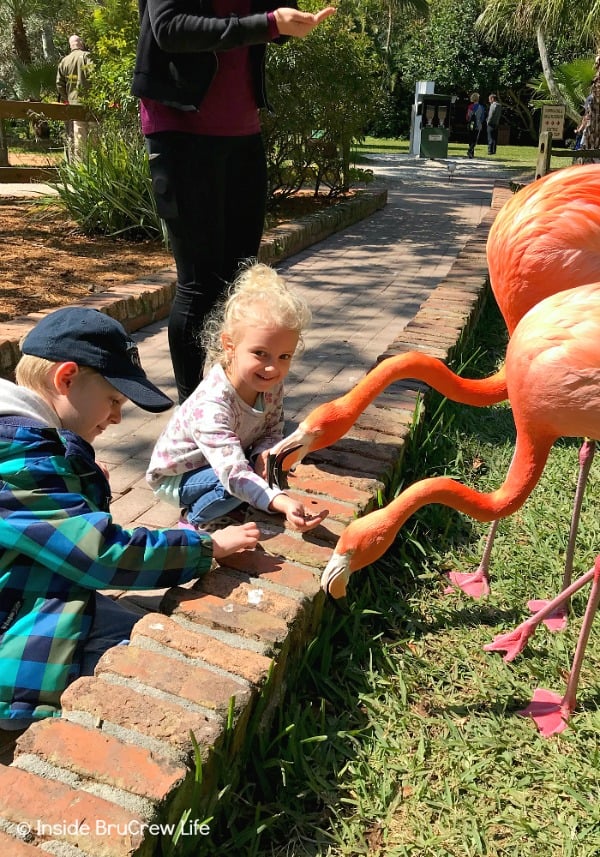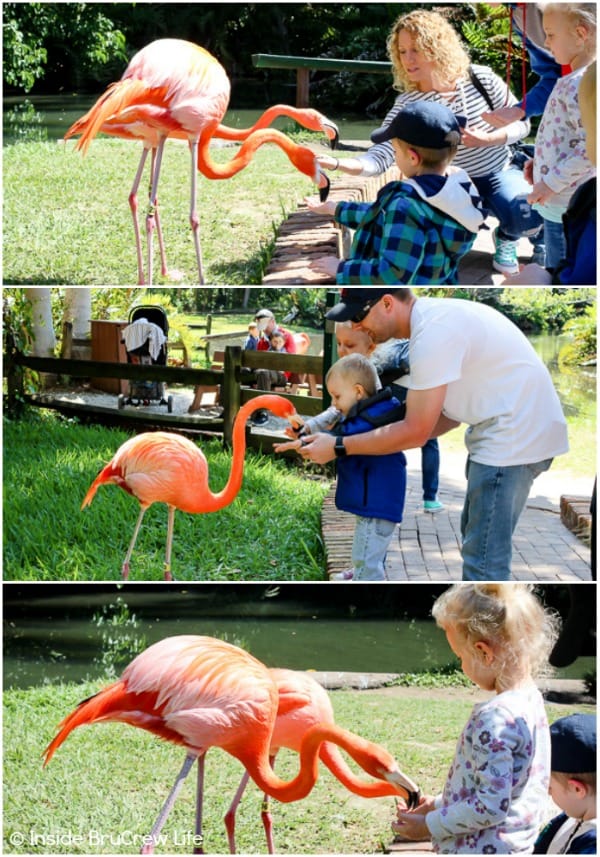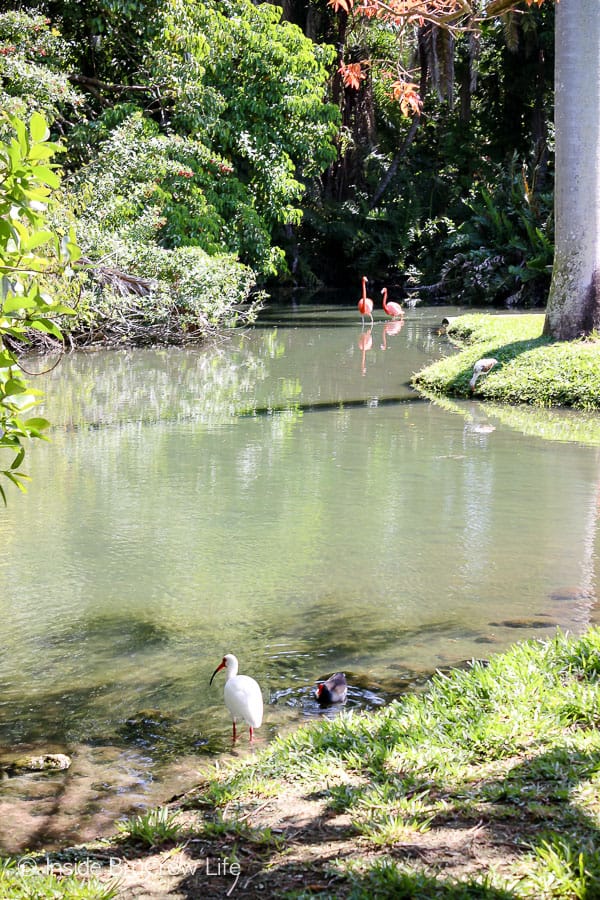 When it came time for us to move on to another part of the park, we had one flamingo that didn't want to see us go. This funny bird walked along the path with us as we headed over to the petting zoo.
Every time we stopped walking, he would stop and wait for us. As soon as we started walking again, he would start heading down the path too.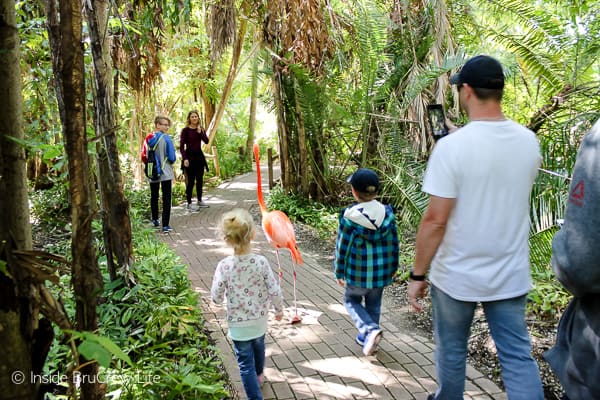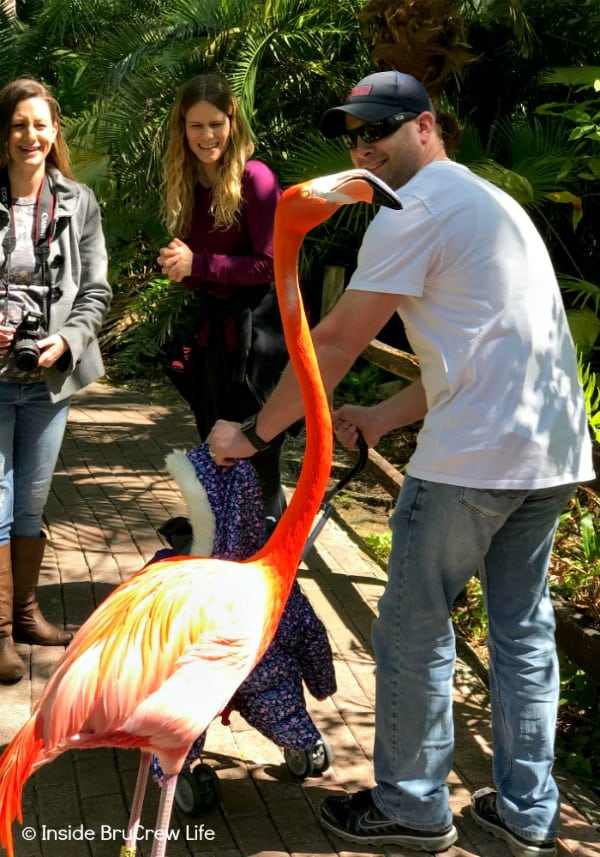 More Things To Do
Jungle Gardens offers daily bird and reptile shows. They provide animal education and one on one animal interactions. This day we were able to see and hear about different owls, birds, and opossums.
Did you know that opossums are the only North American marsupial? When frightened the opossum rolls over and plays dead. They will even make their tongue hang out and secrete an oder to scare away potential predators. The phrase "playing possum" actually comes from this trait.
At the end of the show, the kids were able to go up to the front and ask questions while petting the opossum.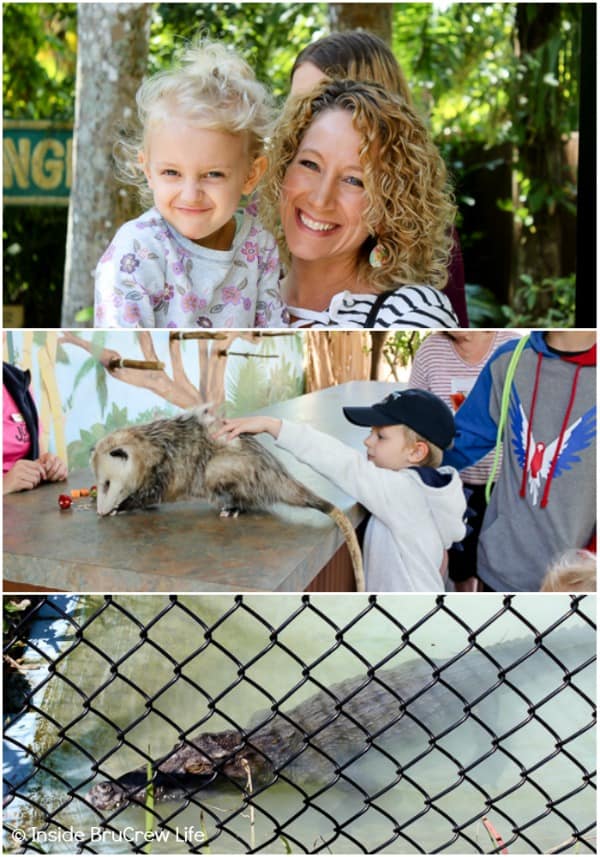 After the show, we headed over to the bird interaction area. Here we were able to have different birds sit on our arms or head.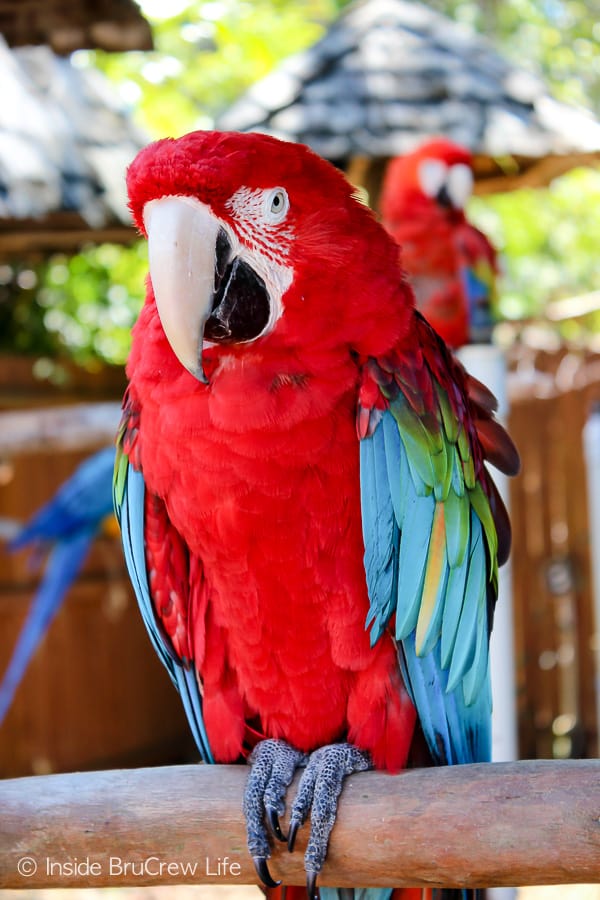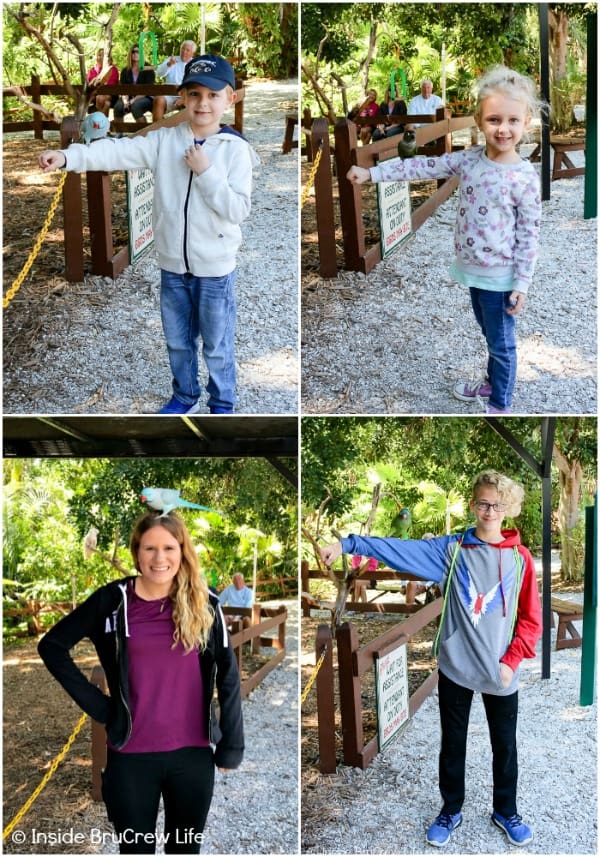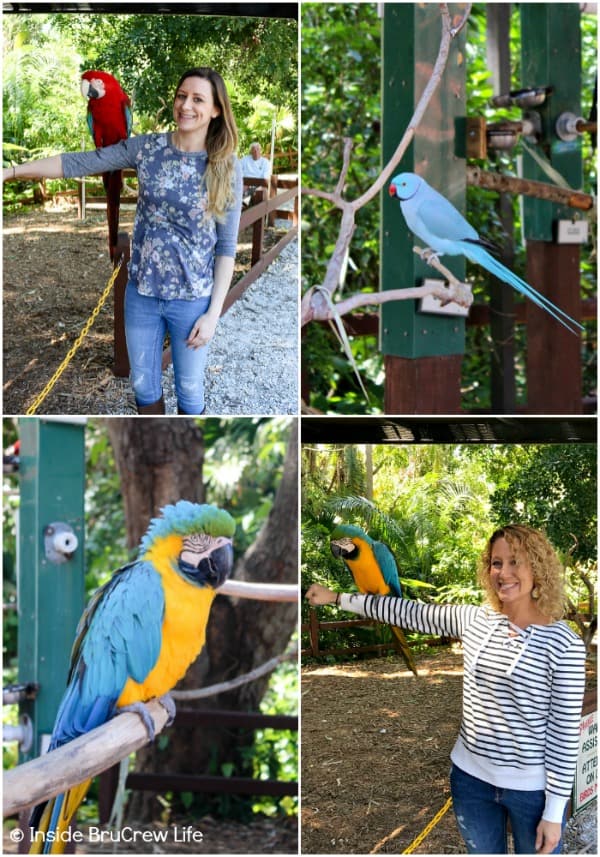 Photo Opportunity
Our last stop at the park was back at the alligator pond. To the side of the pond, they have a small area where you can pay extra to have your photo taken while holding a baby alligator, a bearded dragon, or small birds.
The kids (big and small) were excited to have this fun opportunity. We had to do it because how often do you get a chance to hold an alligator, right?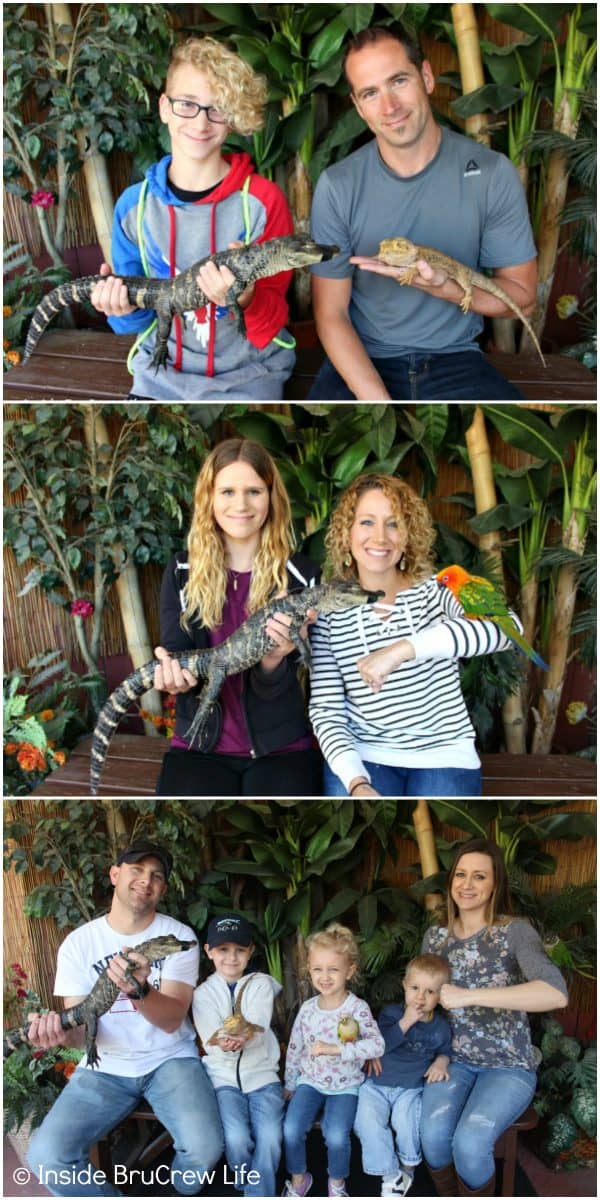 Overall, we absolutely loved our time at Sarasota Jungle Gardens. It is a fun animal adventure with learning opportunities for kids and adults.
Make sure to give yourself a few hours to enjoy all the attractions the park has to offer.
Other Fun Vacation Spots