We only had a few days to check out the sites of the city, so here are Seven Places to Visit in San Francisco that we enjoyed. Bring comfortable shoes because you will be doing a lot of walking.

CLICK HERE TO PIN THIS LIST FOR LATER!
A few months ago my husband had a conference in San Francisco. I was able to fly out and join him for a few days after his conference was over. Since we only had a few days to explore, we tried to hit some of the most popular places.
Now I realize that there are WAY more than seven places that you could visit in San Francisco. But we only had 3 days and our legs to get us there. We did rent a car one of the days because we wanted to visit the redwood forests outside the city, but most of our exploring was done by walking and an occasional Uber.
The first two days we were exploring it was cloudy and raining, so we didn't see things as well as we would have liked, but hey, it was still fun.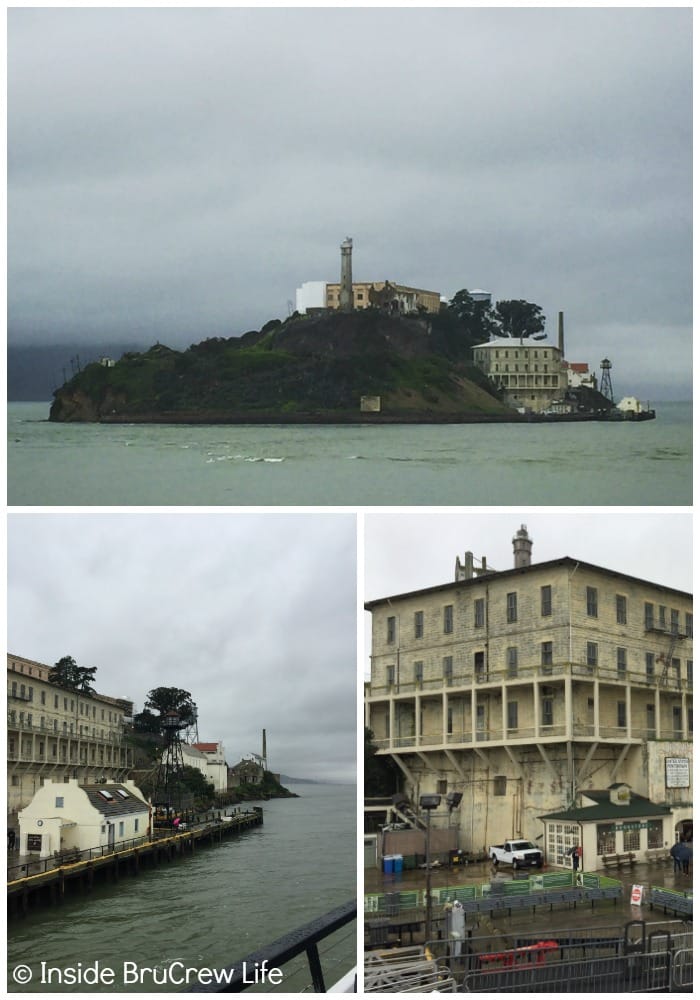 1. ALCATRAZ
The first place we decided to visit was Alcatraz. We took an Uber down to Pier 33 and bought tickets for the boat ride first thing in the morning. You can order them online if it is a busier time of year, but since it was early February when we were there, we didn't worry about the rush.
The boat ride over is short and you get some great views of the city, the Golden Gate Bridge, and Alcatraz Island. We rode on the top of the boat even though it was misting that morning because we wanted to see as much as we could.
There are ferry rides all day long, and they run about every 30-40 minutes making it easy to leave the island whenever you are ready to go.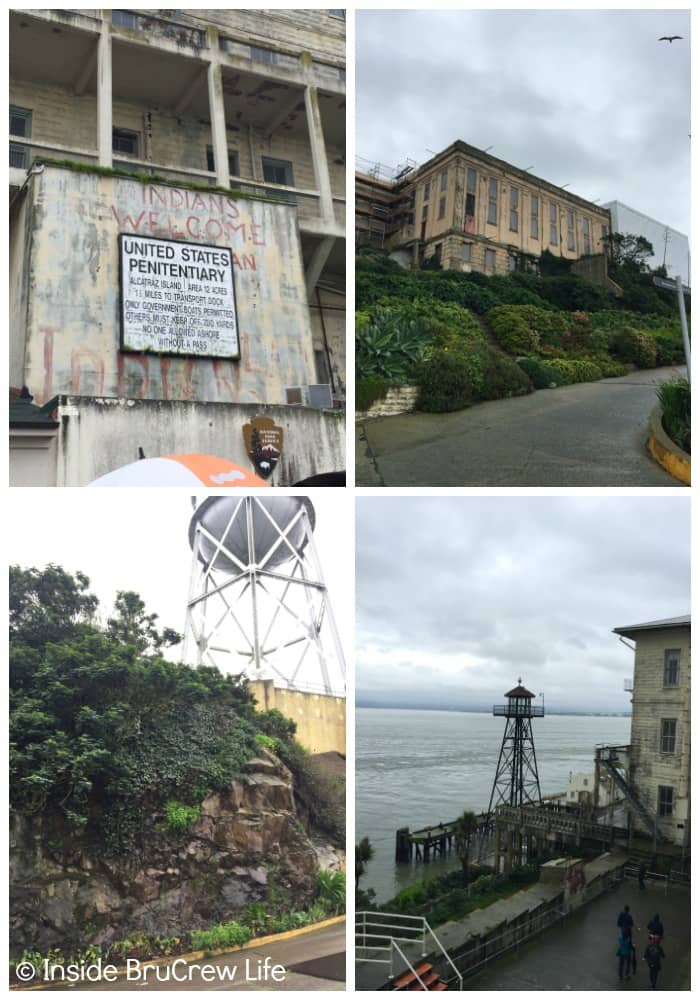 It is 1/4 mile from the bottom of the dock to the cell house at the top so wear comfortable walking shoes if you plan on visiting. The elevation is also quite steep as you climb. It is equivalent to climbing a 13 story building. Thank goodness for all those workouts we do.
We decided to just explore the island on our own. At the top of the hill we headed into the cell house and did the audio tour. They give you headphones and a box that tells you where to stand and look as they share stories about the inmates.
There are many open windows and places for the chilly wind to blow through. I can't even imagine living in a cell during colder conditions.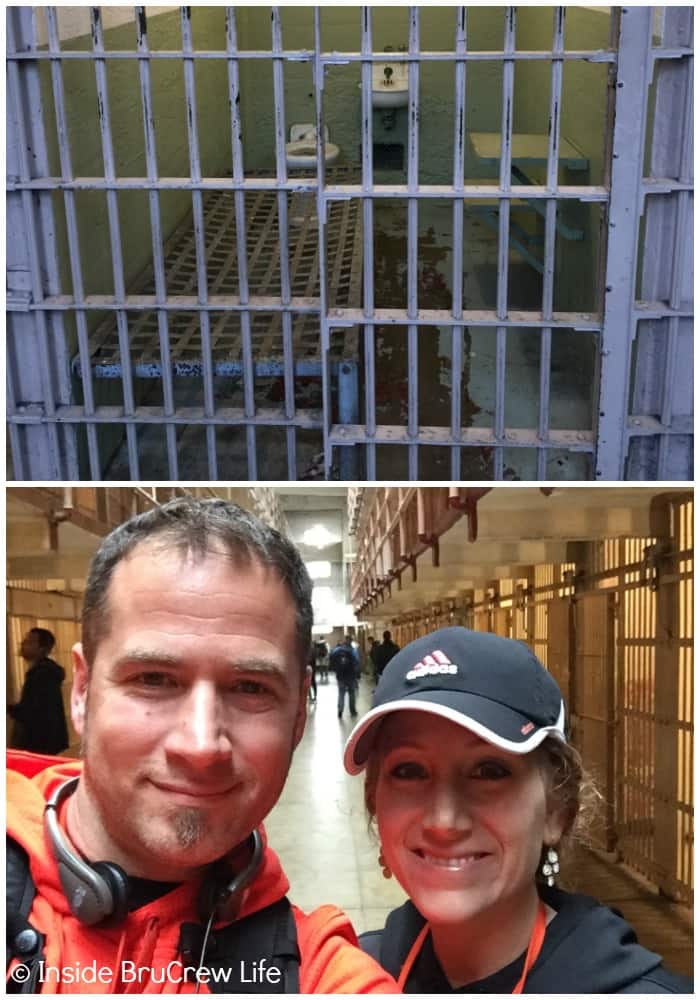 As we walked around, we saw many places where you could look over the edge. From the top, it is quite a ways down to the water.
Now I totally understand why they call this place "the rock". The buildings were literally built on top of a giant rock that was sticking out of the water.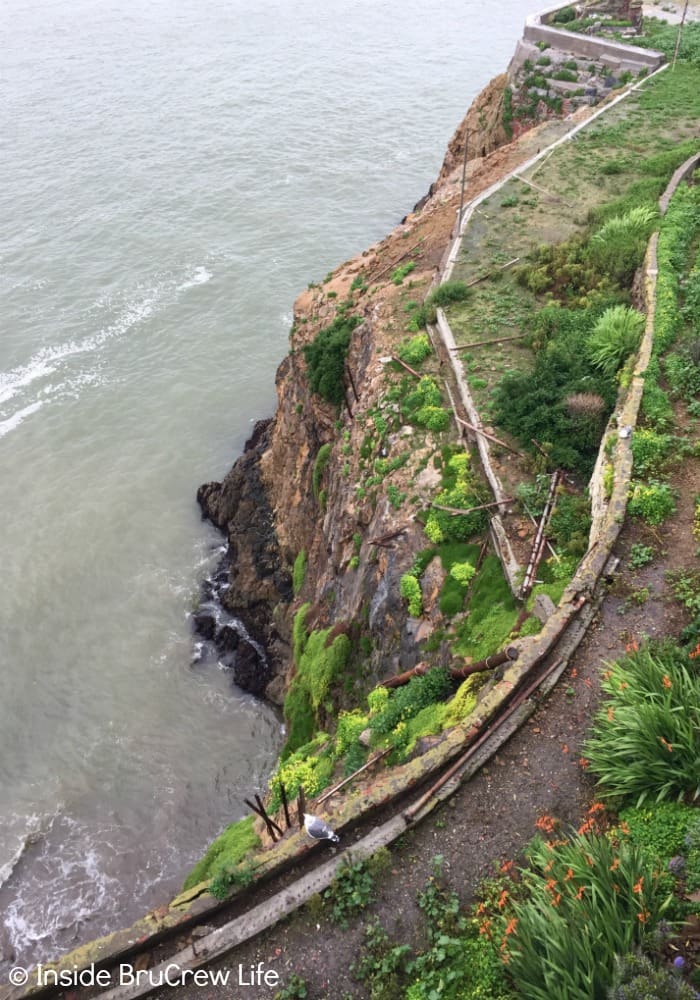 This desolate island is now home to many beautiful plants and birds. The historic national park has gardens, tide pools, bird colonies, and many views of the city across the bay.
The flowers are quite beautiful too.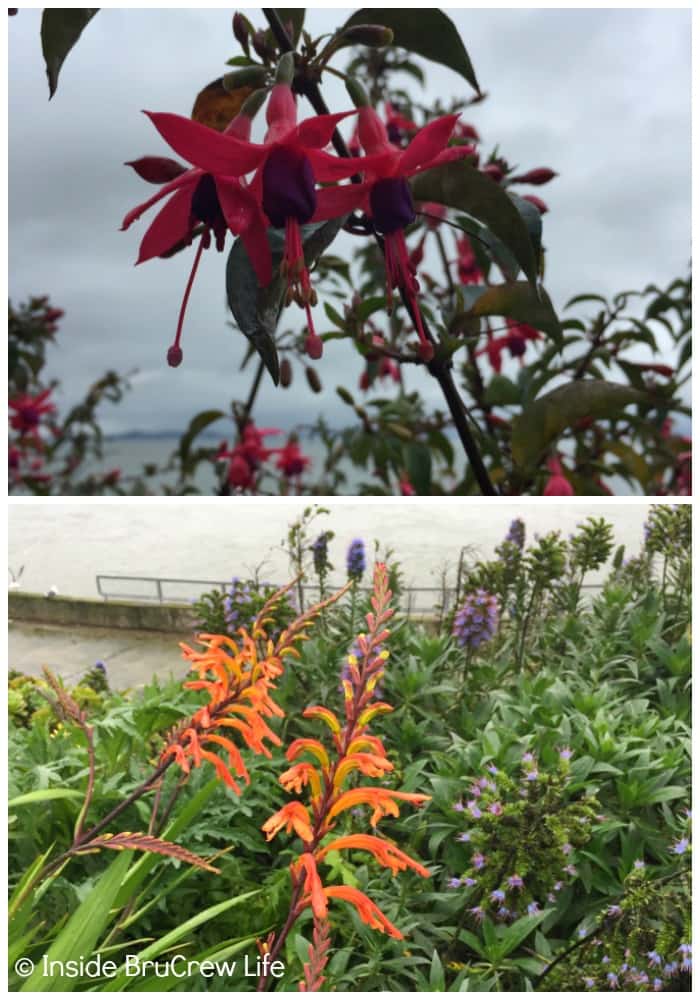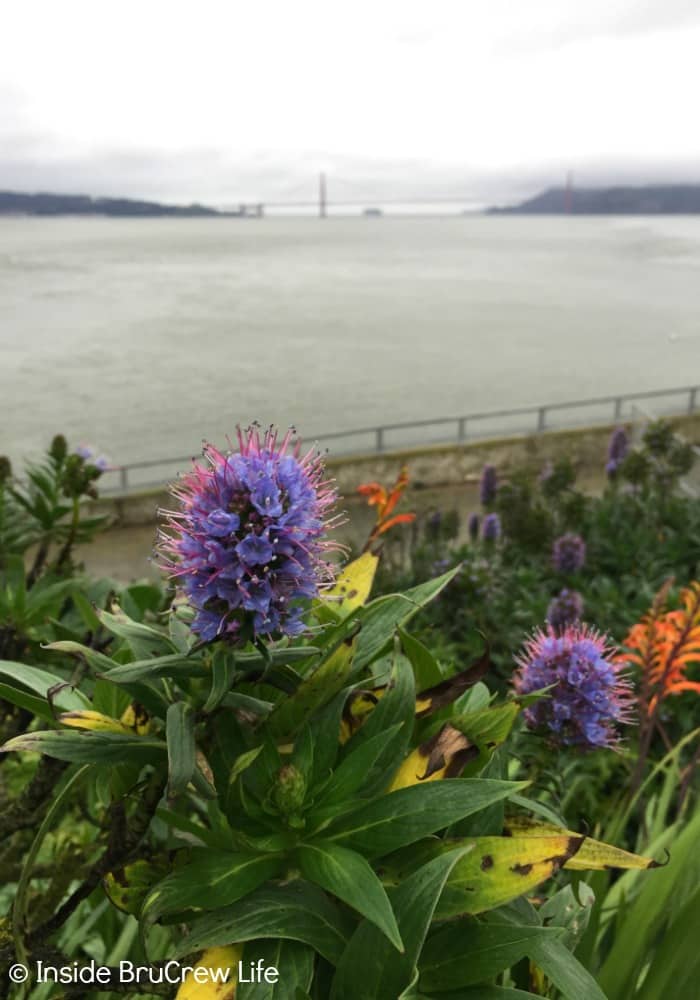 2. GOLDEN GATE BRIDGE
Seeing and going across the Golden Gate Bridge has been on my bucket list for a very long time. Of course, the day we drove across it, it was extremely foggy. The views of the massive red bridge were not the greatest.
But hey, it was still impressive to see. We drove across it on our way out to the forest. Of course, stopping at one of the scenic views was necessary because a selfie with the bridge had to happen.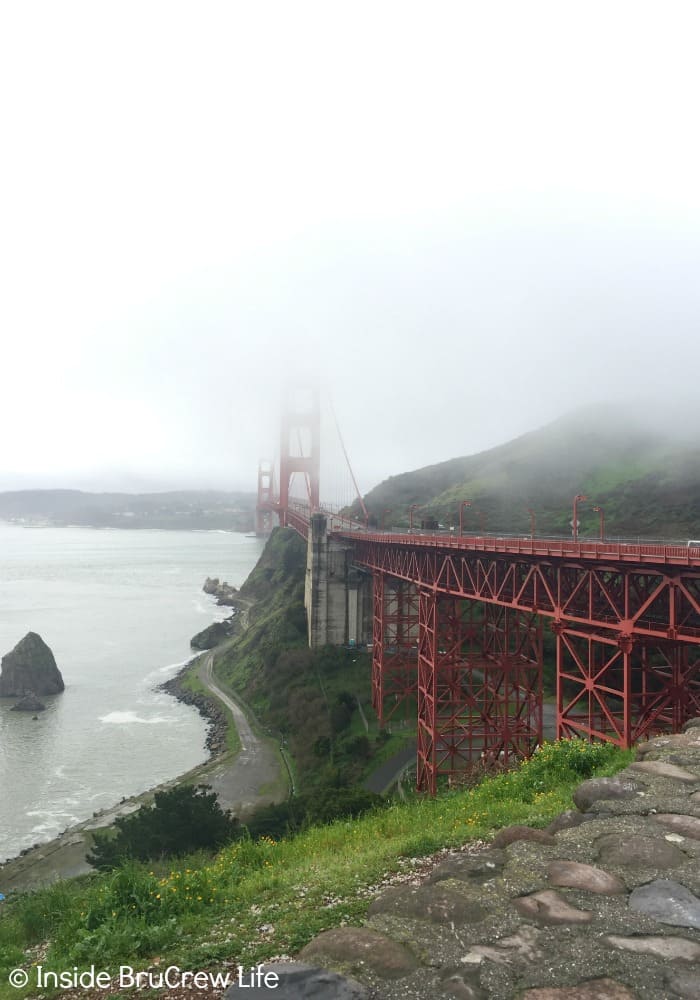 We also were able to spot the bridge from a few other places as we drove around the city checking out the different parks and walking trails.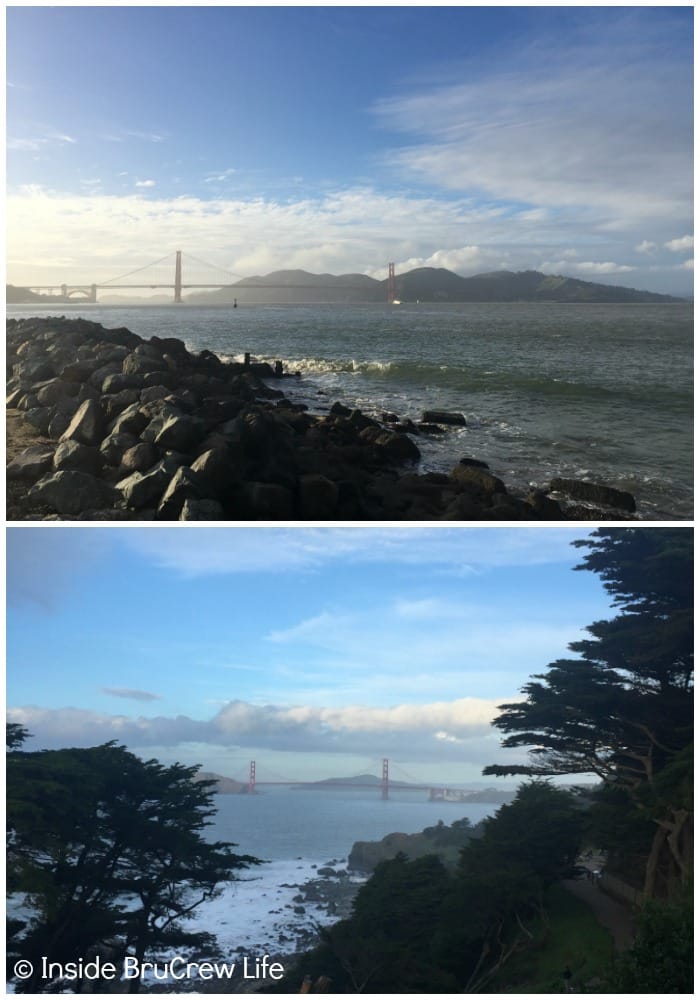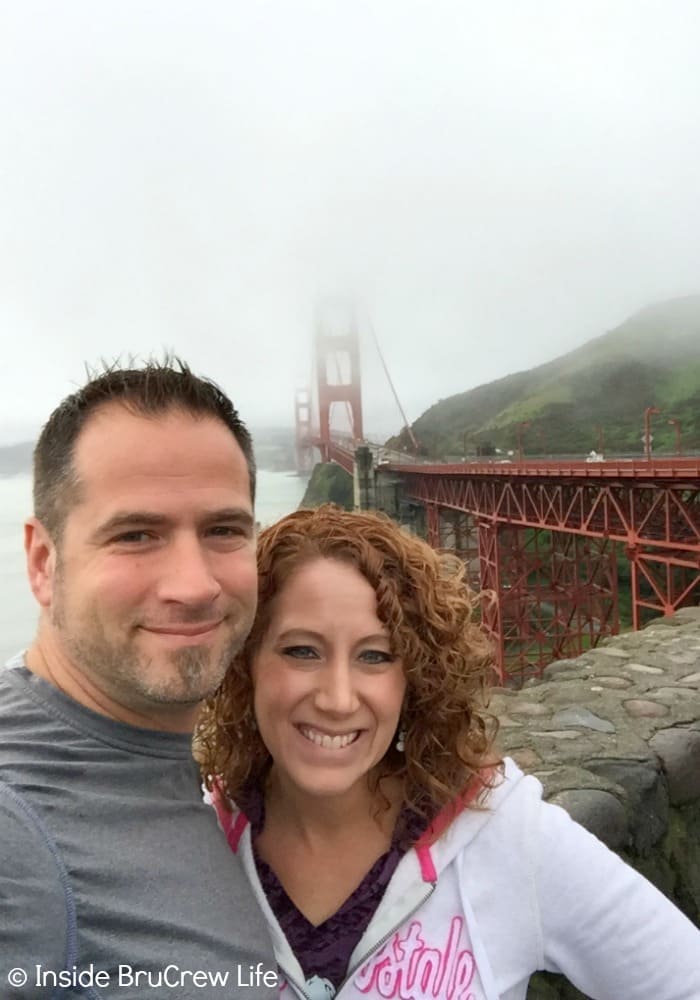 3. MUIR WOODS
We decided to hike at Muir Woods for a few hours while we waited for the clouds to lift.
The national forest is about 12 miles north of the Golden Gate Bridge, so we rented a car to get there that day. The roads to the park are steep and winding, so make sure you are watching carefully as you drive. There are also plenty of views to enjoy as you make your way to the park.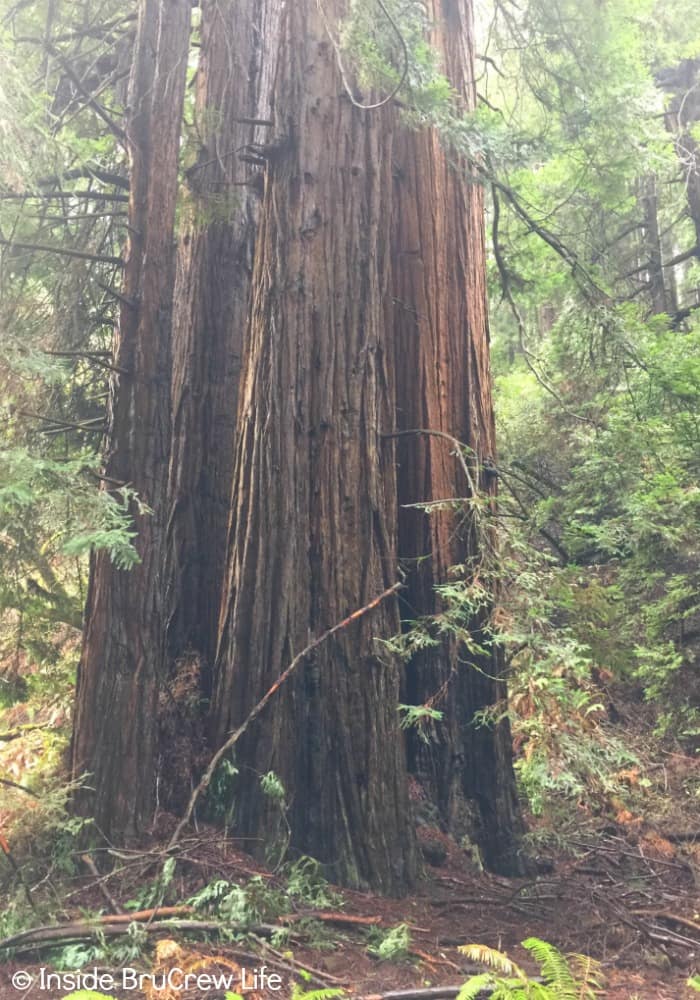 The huge redwood trees are absolutely stunning. It was incredible to see such large trees. And these aren't even the big ones.
You couldn't even see the tops of some of the trees because they were so tall.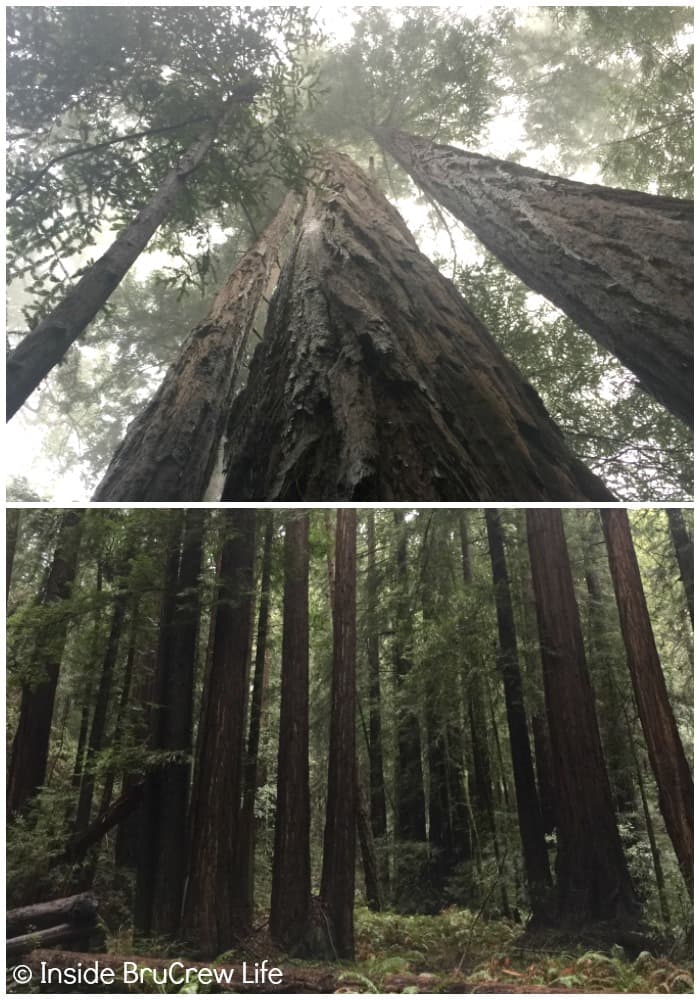 As we hiked along, we talked about how the forest made us feel like we were in Endor. Any Star Wars fans out there? I kept thinking an Ewok was going to run across the path.
We started out on the path that paralleled the river in the bottom, but then quickly headed up a path that climbed high into the trees.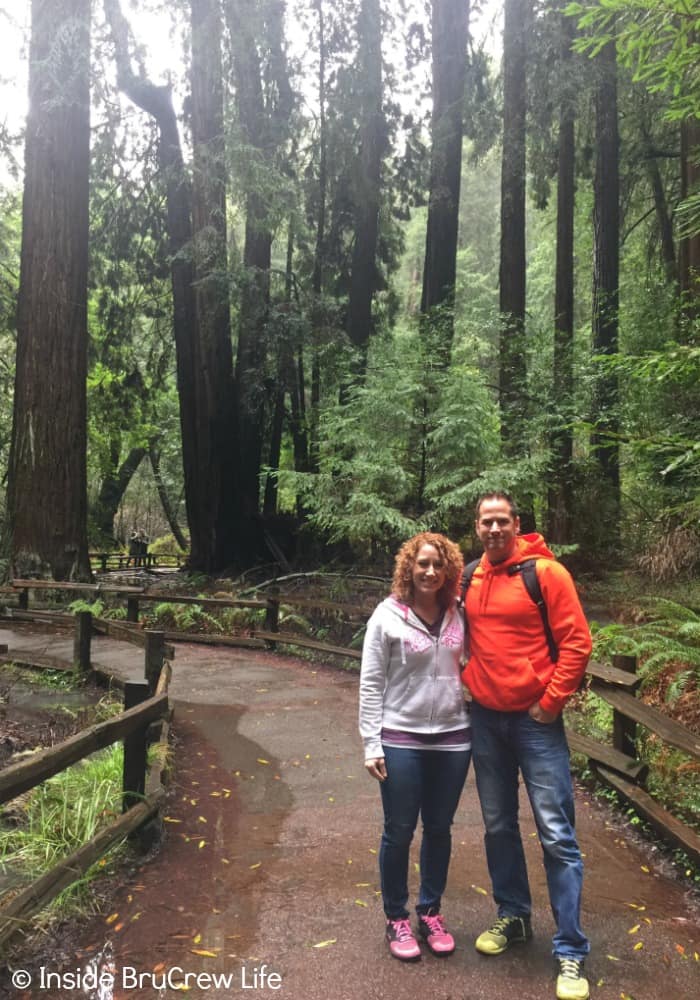 After an hour or so of climbing, we decided to turn around and head back. The climb down was so much easier and faster. Imagine that!
It was a nice quiet few hours as we walked and talked. Ok, so maybe I panted and complained a little as we climbed some of the hills. It definitely made me aware of how out of shape I was at the time.
4. TWIN PEAKS
Recognize that famous loop below? The road overlooking the city has been used in many movies and commercials. It was fun to see it in person.
As we headed back from the forest, we drove to the lookout point on Twin Peaks. The view from the top is amazing! You can see for miles out across the city and the bay.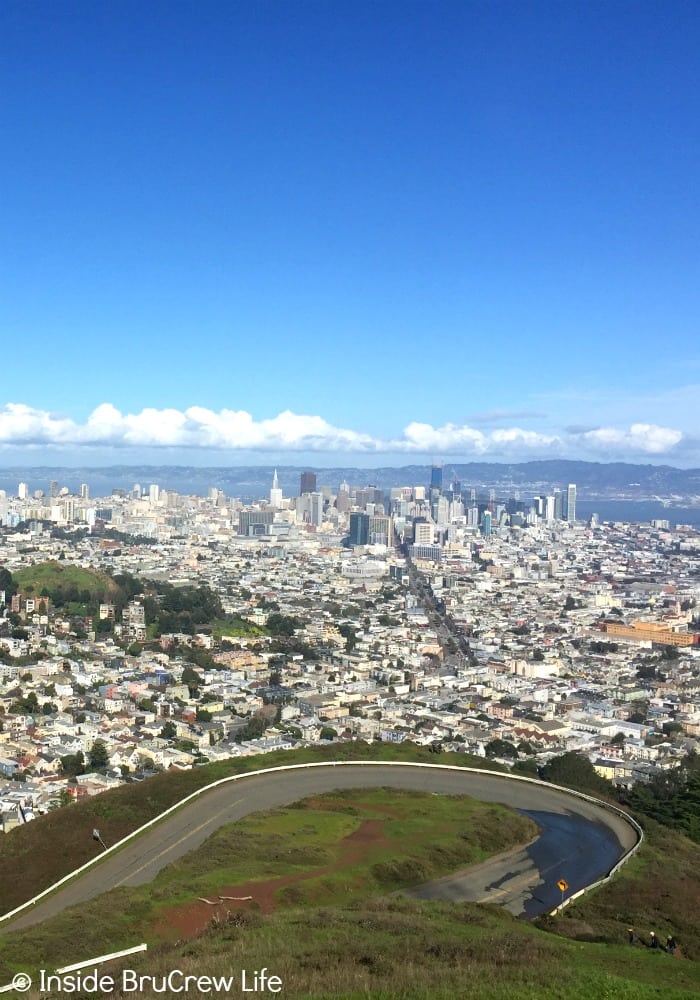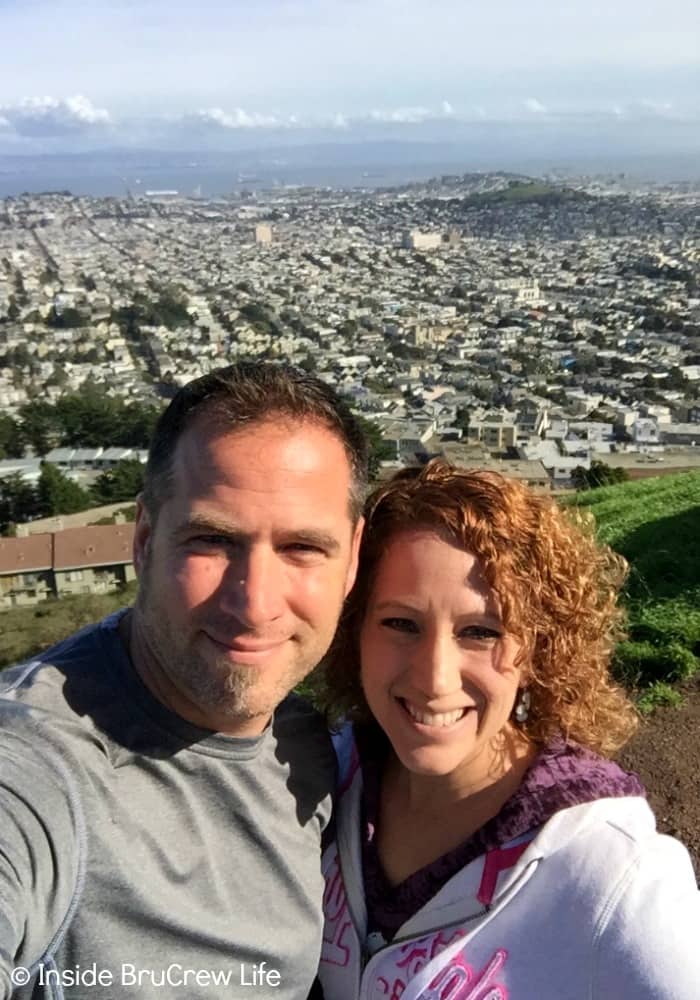 5. FISHERMAN'S WHARF
We spend quite a bit of time exploring Fisherman's Wharf. There are so many different piers and shops to go in or to eat at.
The one pier has sea lions just hanging out. We had quite a good laugh at two of them that kept fighting over the same place to sleep.
If you have time to explore, each pier has different things to check out. Wear good walking shoes and bring plenty of money for all the good food that you will find.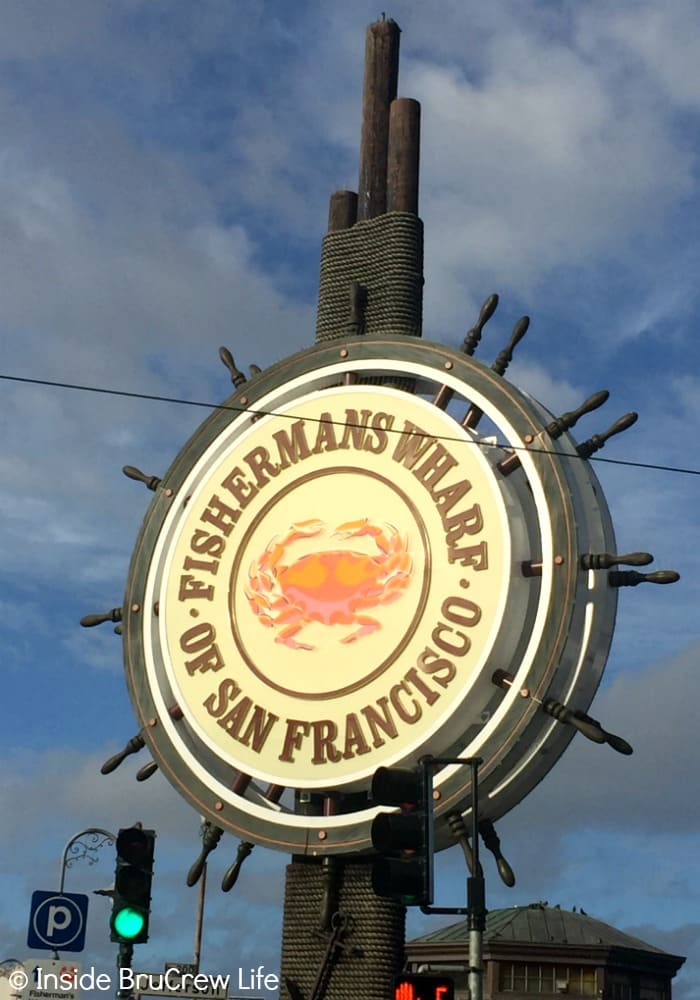 6. BOUDIN BAKERY
This bakery is actually in Fisherman's Wharf, but since we ate there a few different times, it made our top 7 list. Their sour dough bread bowls are delicious. The hot soup was perfect for those chilly days as we were out exploring.
Of course, as a sweets baker, you know I had to check out the desserts. I resisted the urge to buy one of everything, and just bought a bread pudding and a coconut macaroon cookie. Both were delicious!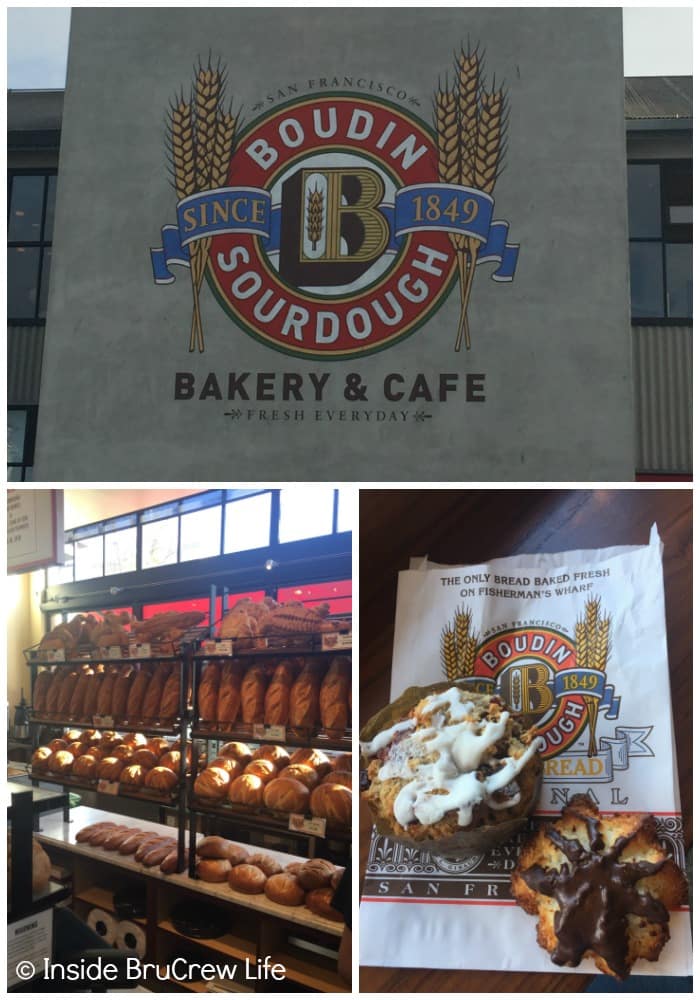 7. LANDS END
On our last night in San Francisco, we headed out to Lands End to see the sun set. We hiked down the steps near the ruins of the Sutro Baths.
The ruins of the bath house aren't exactly pretty, but it is interesting to see. There are some places that you can walk along the tops of some of the concrete ruins. Just be careful because it would be very easy to slip and fall into some green water or onto some rocks.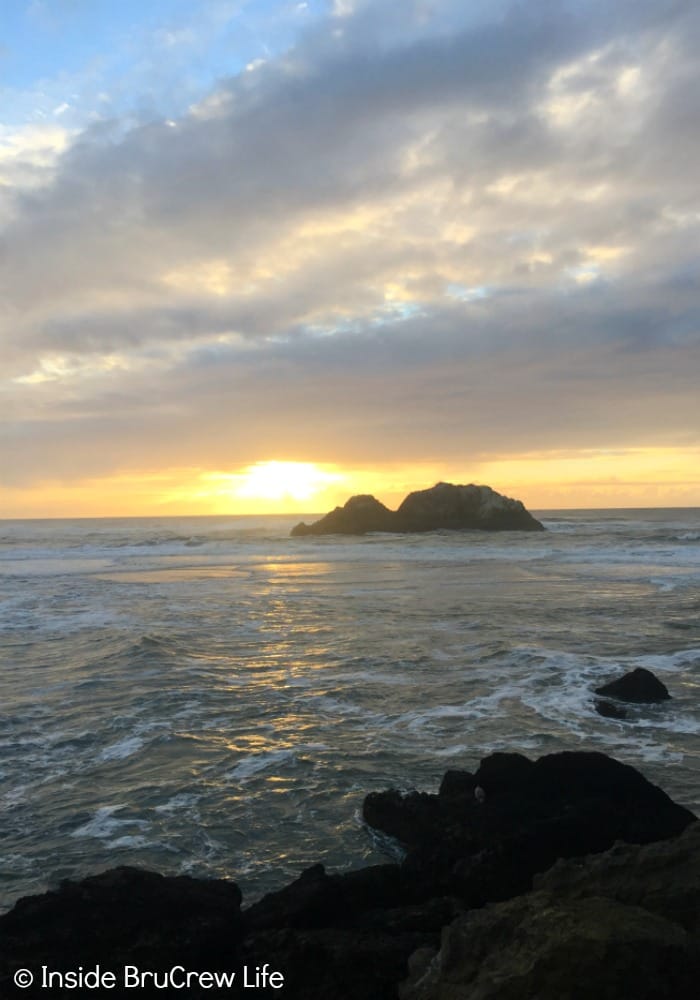 We climbed down into one of the rock areas and sat and watched the sun as it set over the water. It was the perfect ending to our little mini getaway.
Other fun places we have traveled over the years: