Looking for an easy and delicious dinner idea? These Spicy Bacon and Chicken Alfredo Stuffed Shells are full of flavor, and they can be made quickly for those busy nights.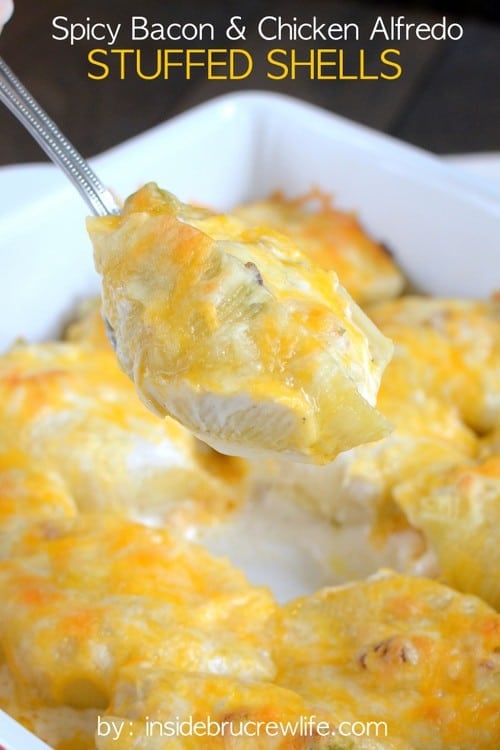 I have officially gone over to the dark side.
The dark side of making dinner and posting it somewhat regularly. And I call myself a dessert blogger...
That's ok. Pasta is my all time favorite dinner thing to eat, so I am happy to share more delicious pasta recipes with you here instead of more desserts. Trust me...there will be plenty more desserts coming your way. But today we are talking pasta, cheese, and bacon.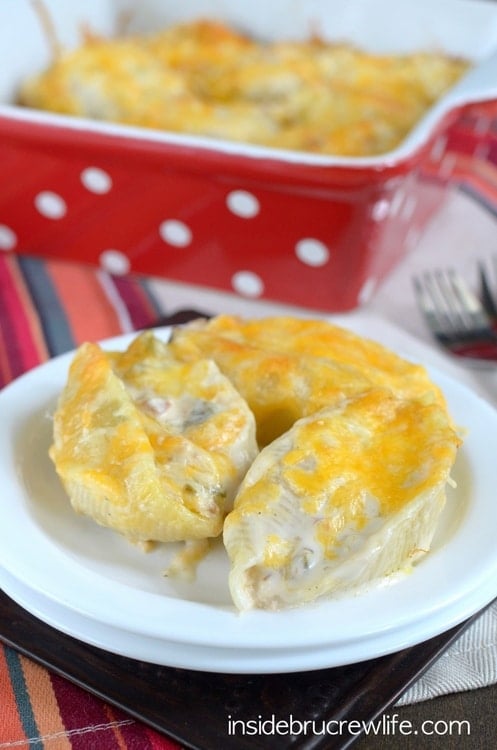 Have you noticed a common ingredient in some of my pasta dinners? Alfredo Sauce!!!! Yup, I used it in this Loaded Chicken Alfredo Gnocchi Bake, and then I also shared a homemade version in this Bacon and Shrimp Alfredo Pasta. Alfredo rocks my world in jar and homemade form!
I also just realized that most of my pastas include bacon in them. Which is really kind of funny because I am not that big of a bacon fan. (Ducks to avoid all those virtual things being throw at my head! )
I think I realized that I must have been eating bacon wrong all these years. Apparently I do like it...as long as it is covered in tons of cheese and sauce! It's pretty tasty this way!
There was an extra box of shells sitting in my cupboard and an opened bag of opened bacon crumbles sitting in the fridge. Yes, I cheat and buy the precooked crumbled stuff from Sam's Club, just so I don't have to cook bacon. Don't hate on me for that! Plus, there was some cooked chicken in the fridge that needed used up, so it was time to create another fun and easy pasta dinner.
If you cook the noodles the night before, you can have this dinner on your table in about 30 minutes. I like to cook the shells and place them individually on a baking sheet to cool. Then toss them with some olive oil and refrigerate until needed.
Melt the cream cheese, stir in everything else, stuff the cooked shells, and then cover with Alfredo sauce and cheese! Then wait impatiently for the cheesy goodness to be done, so you can stuff your face! Sounds absolutely perfecto, right?
Our kids gobbled this one down in a hurry! Guess that means time to think up another fantabulous pasta idea!!!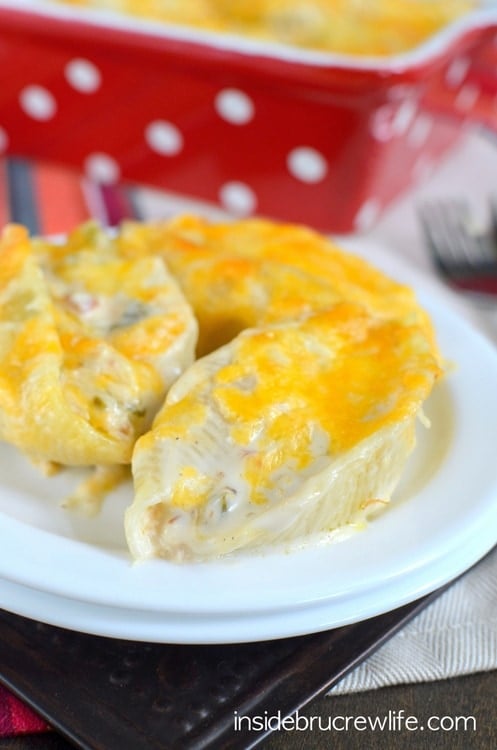 More chicken and pasta recipes that have been kid approved in our house: