The creamy cheese sauce in this Spinach Artichoke Chicken Pasta makes this skillet meal disappear quickly. Enjoy the taste of your favorite spinach artichoke dip in an easy pasta meal. It is a delicious dinner recipe that comes together quickly.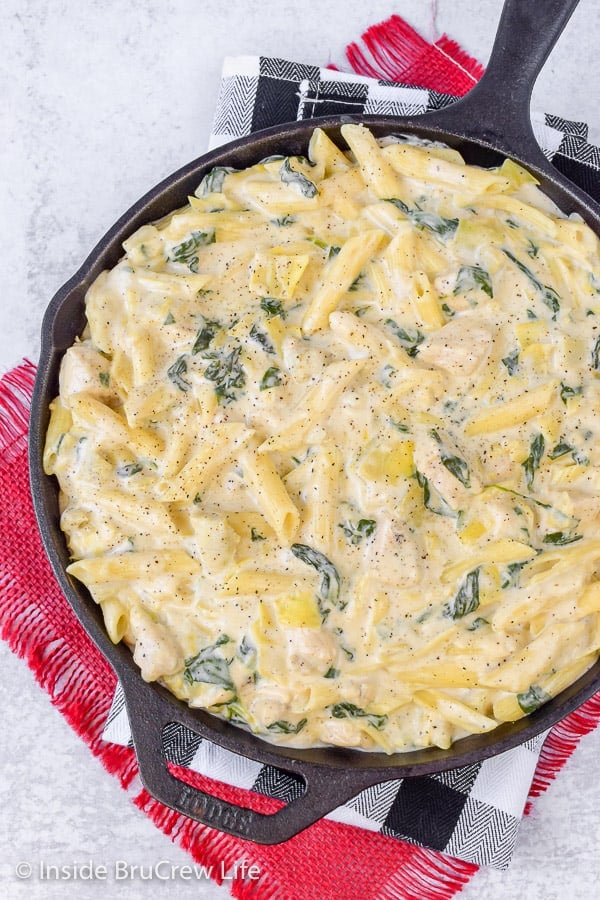 I love ordering spinach artichoke dip whenever we go out to eat at Olive Garden. Of course, right now we are staying home and not able to enjoy all the good food from restaurants.
So, I decided to combine one of my favorite dips into another easy pasta skillet. Adding buffalo chicken dip to pasta made this Buffalo Chicken Pasta Bake the most popular recipe on our site, so I knew this would be good too.
This creamy chicken pasta dinner is easy to make and tastes better than any meal you could order out. It's a delicious choice for a romantic date night at home.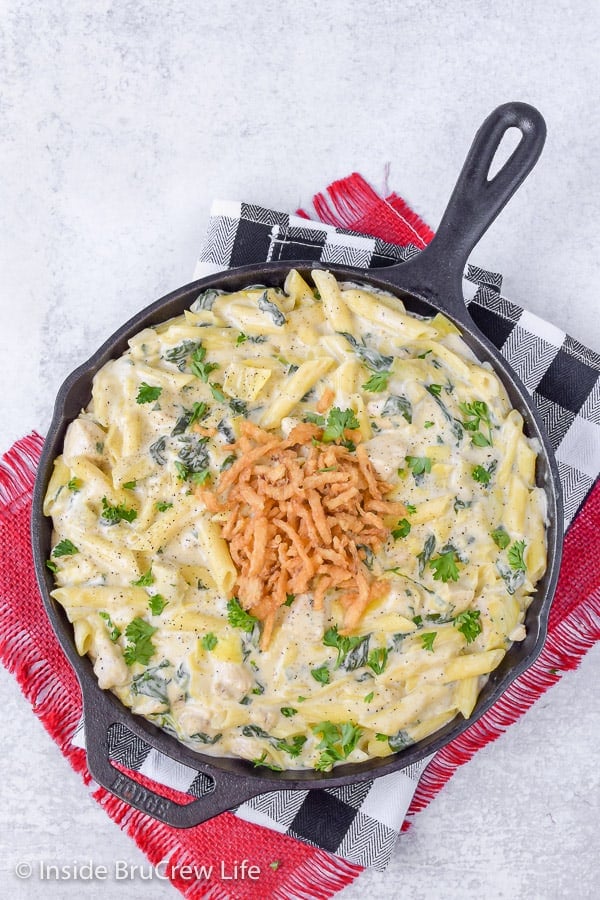 This week as I was staring into the fridge yet again, I realized I had a bag of spinach that needed to be used ASAP. Somehow other veggies had gotten in front of it and hidden it from my line of view. Luckily I saw it before it went bad.
We usually keep a jar or two of artichoke hearts in the pantry to make this easy Spinach Artichoke Egg Casserole for breakfast. So I pulled one out out along with some pasta and got to work creating this creamy and delicious chicken dinner.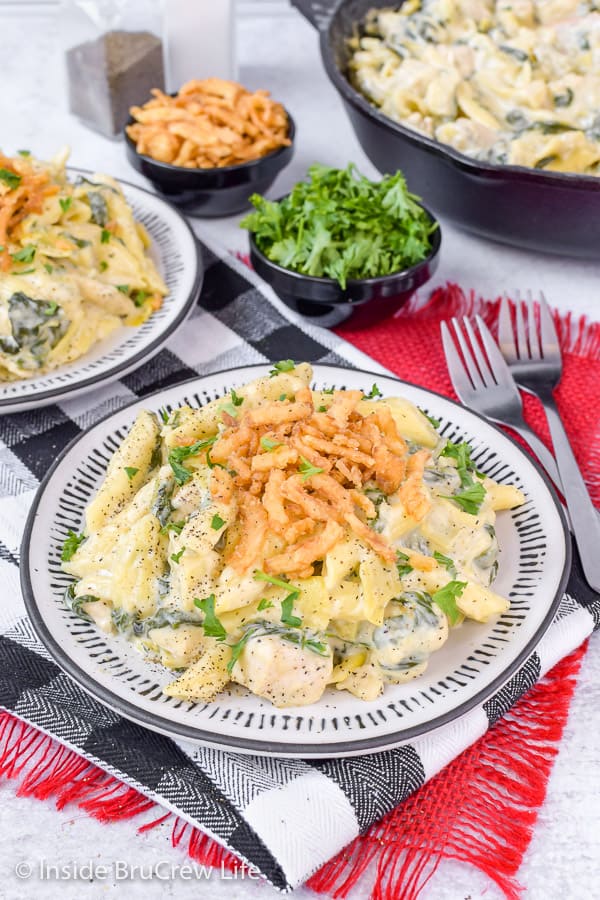 What you need to make this skillet dinner:
Pasta: Use a bigger heartier noodle in this recipe. We like penne, but farfalle, rotini, and ziti would be good too. Cheese ravioli would also be delicious in this.
Chicken: Use boneless skinless chicken breasts for this skillet dinner. You can also use already cooked chicken, rotisserie chicken, or canned chicken if that is what you have on hand.
Cheese: A mixture of three different cheeses creates a creamy sauce. This dinner uses grated Parmesan, cream cheese, and shredded mozzarella cheese melted together.
PRO TIP: If you want to add a little bit of heat to the recipe, use pepper jack cheese instead of mozzarella.
Milk: A can of evaporated milk makes it easy to keep milk on hand for this recipe. You can also use 1 ½ cups of regular milk, half and half, heavy cream, or a mixture of any of those if that is what you have.
Veggies: Fresh spinach and a can of artichoke hearts add a delicious flavor to this pasta. To use frozen spinach in place of the fresh, thaw it out and squeeze as much moisture out as you can. Add it to the recipe at the same point as the fresh. Marinated artichoke hearts will give it even more flavor if you like.
Chicken Broth: Adds a little more flavor to the sauce. Water or water with chicken bouillon can also be used.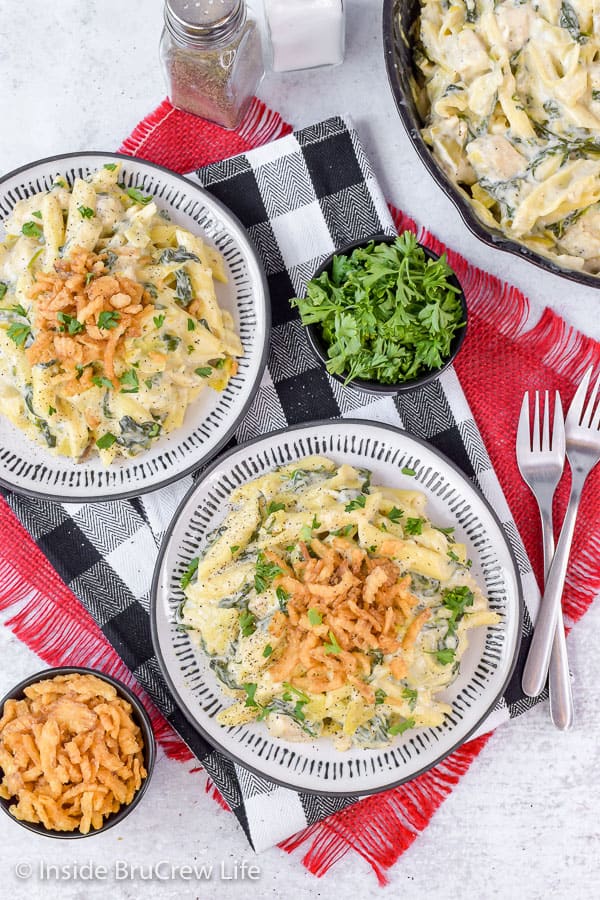 This creamy spinach artichoke chicken skillet is so easy to make. It's a delicious comfort food dinner for weeknights or fancy enough to make for stay at home date nights.
How to make Spinach Artichoke Chicken Pasta:
Cook the pasta to al dente. Drain and stir in a little oil. (full recipe at bottom)
Cut up the chicken and cook until done. Add garlic and spinach and cook until wilted. Remove everything from the pan.
Stir the milk and Parmesan cheese together and heat until it comes to a low boil and thickens.
Add the cream cheese, broth, mozzarella cheese, and salt & pepper and stir until creamy.
Stir in the cooked pasta, chicken mixture, and artichoke hearts and heat through.
Turn off the stove and let it thicken for a few minutes. Serve hot with crispy fried onions and diced parsley, if desired.
Can I use frozen spinach?
You sure can. Make sure to thaw it first, squeeze out as much moisture as possible. Add it to the recipe at the same point as the fresh.
Does this spinach artichoke pasta reheat well?
Yes, it does. Place the pan on the stove and slowly reheat and stir. The cheese sauce will melt again and become creamy. If it is too thick, add a splash of milk to help loosen it up.
What do you serve with a chicken skillet dinner?
These easy sheet pan Roasted Veggies are a delicious side dish that goes with just about everything.
A garden salad drizzled with Homemade Honey Balsamic Dressing is a fresh and flavorful addition to any main dish.
This Easy Garlic Herb Bread is simple to prepare and makes your kitchen smell so good as it bakes.
Finish off the evening with Homemade Chocolate Chip Brownies topped with vanilla ice cream and chocolate syrup.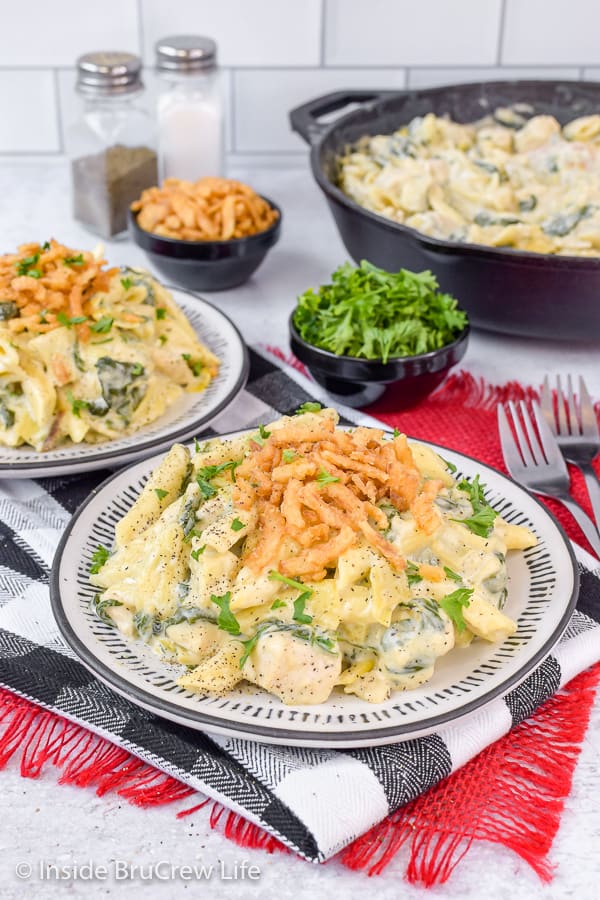 More easy skillet dinner recipes you may like:
Other easy pasta dinners: