These easy Sweet Potato Donuts are loaded with spices and glazed with a white chocolate marshmallow topping. It's a delicious way to start any day.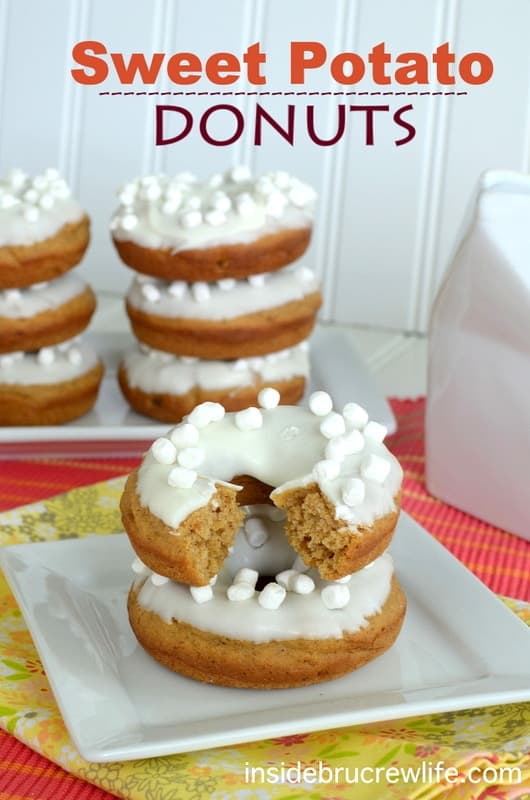 CLICK HERE TO PIN THIS RECIPE FOR LATER!
It's the middle of the week, and I figured homemade donuts would help you get through to Friday. Am I right???
Do you need a donut pick me up? I have been eating so many veggies that they are now showing up in my breakfasts and desserts! Crazy I tell ya!!!
My thinking is that I'm getting all the nutrients I need this way! Don't burst my bubble by telling me any different!
Trust me! You want your nutrition to come in the form of this baked donut! These Sweet Potato Donuts were sweet with a touch of spice!
They also were soft and dense, but had a slight crunch because of the chocolate on top.
Doggone it! Now I am wanting more of these, and they are long gone.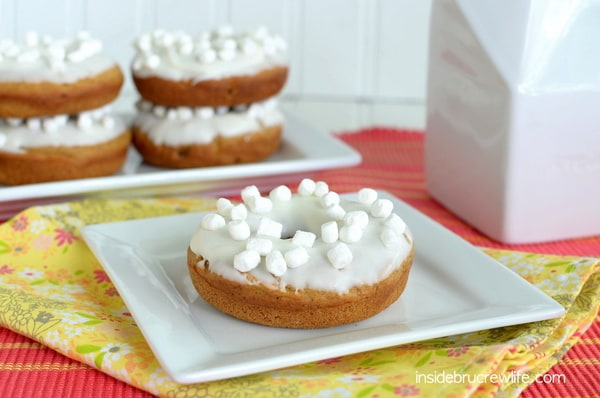 Sweet Potato Donuts
My kids even ate these Sweet Potato Donuts, and that is huge because they can't stand sweet potatoes!!!
I may have even made one of them gag one time because I decided to die on a hill one night as a parent. You know the time when you decide that you are putting your foot down because they are going to do exactly what you say!
I had made sweet potatoes for dinner, and all three were fighting me about eating them. There may have even been a token speech about starving kids in Africa...the speech that is to guilt your kids into eating.
The one that prompts ALL kids to say "well, wrap it up and mail it to them". They kept asking why I didn't make Homemade Hash Brown Casserole instead.
Two of the kids managed to choke down the potato. But my oldest has throat issues. Meaning if he doesn't like it it will cause him to gag!!! Let's just say the sweet potato never made it down!
Choose your battles wisely. Every time we choose a battle over food, it never ends well. I finally just gave up trying to get him to eat it. To this day he will not, WILL NOT try a sweet potato.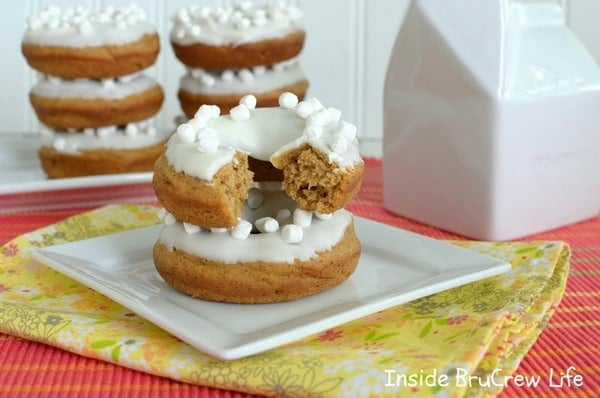 I let them eat quite a few donuts before bursting into evil laughter as I told them my secret ingredient!
Let's just say, knowing the secret ingredient didn't stop any of them from finishing off the entire box of donuts! Maybe they really do like sweet potatoes...
Sweet Potato Donuts recipe: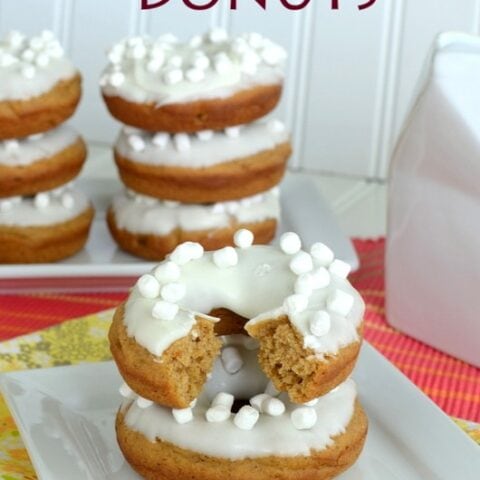 Sweet Potato Donuts
These easy Sweet Potato Donuts are loaded with spices and glazed with a white chocolate marshmallow topping. It's a delicious way to start any day.
Ingredients
½ cup butter, softened
⅔ cup brown sugar
1 egg
½ teaspoon salt
⅔ cup vanilla yogurt
1 cup cooked & mashed sweet potato
2 teaspoons cinnamon
½ teaspoon nutmeg
1 ½ teaspoons baking soda
1 ½ teaspoons baking powder
2 cups flour
1 cup white chocolate chips
½ teaspoon shortening
½ cup marshmallow bits
Instructions
Preheat the oven to 375 degrees. Spray a donut pan with nonstick baking spray.
Cream the butter and sugar until light and fluffy. Add the egg, yogurt, mashed sweet potato, and salt and cream again.
Sift together the cinnamon, nutmeg, baking soda, baking powder and flour. Slowly start to mix the flour into the butter mixture.
Place donut batter in a plastic bag and cut the tip off. Pipe into the prepared donut pan, filling them half full. Bake for 10 minutes. Let cool in the pan for 2-3 minutes before gently removing them to a wire rack to cool completely.
Place the white chocolate chips and shortening in a microwave-safe bowl. Heat for 30 seconds and then stir. Heat for 15-20 more seconds and stir until melted and creamy.
Dip the tops of the cooled donuts in the melted white chocolate and sprinkle with the marshmallow bits. Let set. Store in a sealed container. Makes 15 donuts.