This Homemade Hash Brown Casserole is the perfect side to any brunch or dinner. Potatoes, cheese, and veggies make this easy dish disappear at any meal.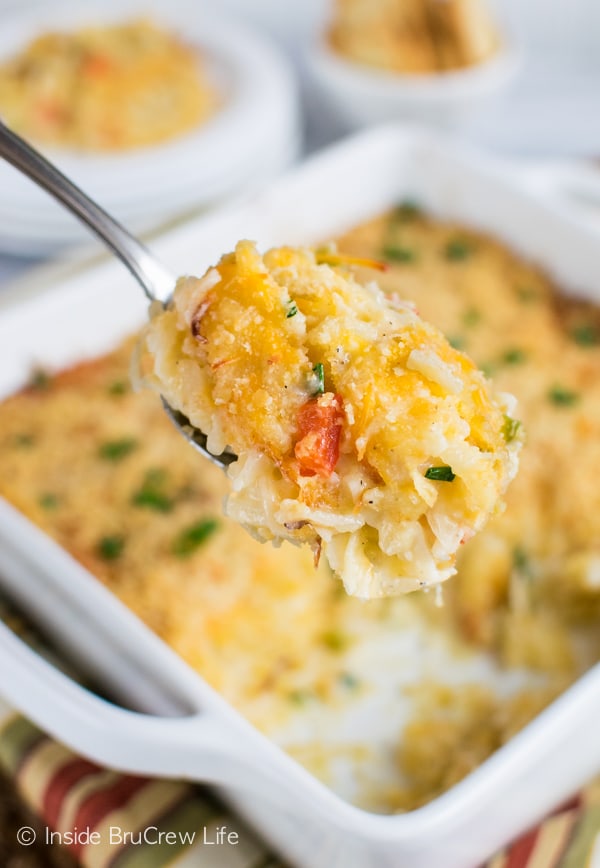 The other day my husband and I took our daughter rock climbing.  We found a a fairly new place that had opened in our town, so we decided to check it out one night when the boys had plans. I wasn't quite sure what to expect. We have done a rock climbing wall at an indoor water park before, but that was just one tower with 4 people attempting to climb each side at their level.
This climbing place had a giant boulder with hand and shoe grips in the center of the room with mats all around.  This was a free for all climb zone…meaning no harness was needed.  Around the side of the one wall was a different zone with ropes hanging down and different color grips all over it.  We learned how to belay and let each other down with our harnesses.  Man, is that ever scary the first time.  Ok, ok.  It was scary every time.
You climb to the top holding on for dear life, then at the top you are to just let go…trusting that your partner is lowering you on the harness correctly.  The first time I just clutched the top grips for what seemed like an eternity.  That internal fear of letting go and plummeting really gets to you, but then your hands and legs start to get tired. I know I say it all the time, but thank goodness for regularly working out.  Climbing to the top each time actually felt really good.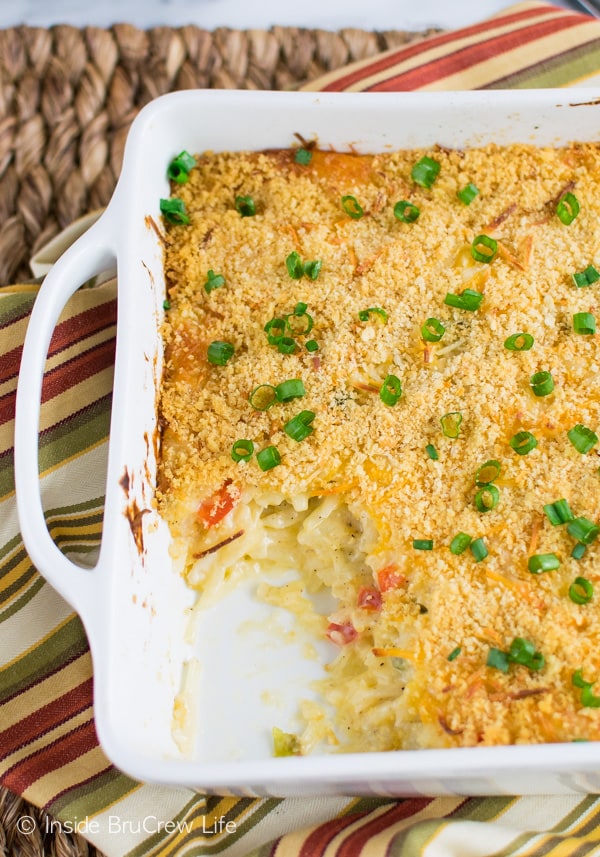 Want to know what else feels really good?  Eating a big pan of cheesy potatoes.  This is pure comfort food in a pan for sure!  Eating a pan of these potatoes will make all pain from climbing go right out the window.
These potatoes are a tried and true casserole.  I think everyone has a version of this side dish in their house.  I remember having them first at church potlucks where everyone called them funeral potatoes. They make a delicious side dish for Thanksgiving meals too.  We like having them along with stuffing, broccoli salad and turkey.  Of course a big slice of pecan cheesecake pie is also a big must!
You probably have your own variation to the dish, but I thought this time of year would be a great time to share how I make mine a little different.  Sometimes I make it with canned soup, but this version is completely homemade.  Just a few extra minutes of making a cheesy sauce stands in your way of dinner tonight.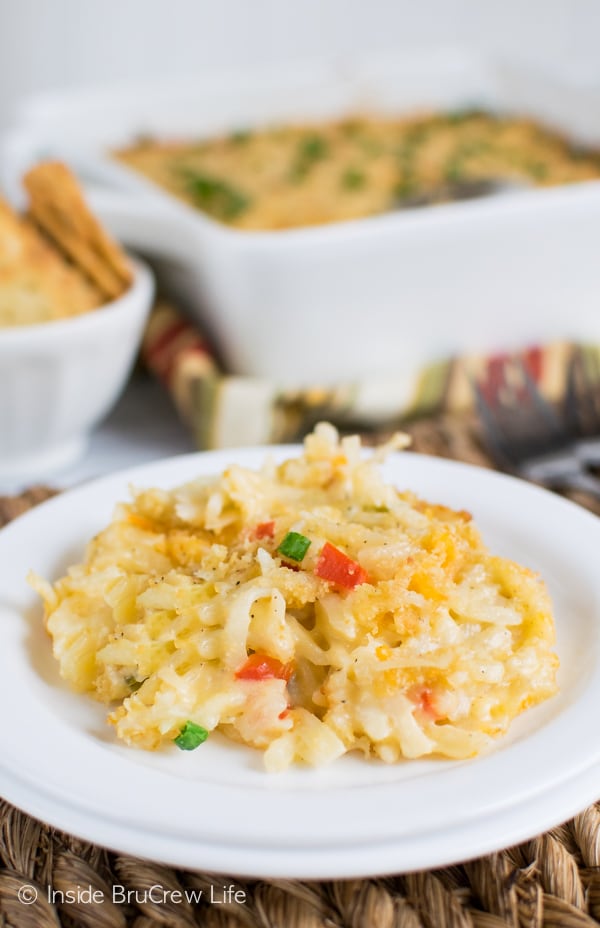 Start by sautéing onions in some butter.  No one wants crunchy onions in their cheesy potatoes, right?  After a few minutes add some peppers.  I like to do half red and half green for some color in my dish.  Feel free to leave them out if your family doesn't like veggies.  After the veggies are slightly tender, sprinkle with some flour and cook for one more minute.
Whisk in some milk and broth and let it thicken slightly. Then comes the cheesy goodness.  Stir in some cheese and sour cream.  I know you just want to slurp up some cheesy sauce, but let's add those thawed potatoes. Then we are going to stir in even more cheese.  Gotta love us some cheese, right?
Into the pan it goes, and then you guessed it.  More cheese sprinkled on top.  Now at this point you can be bake it and be done, or you can add a topping to the dish. You can also cover it and freeze it if you need a dish for later.  Just thaw it overnight before baking it.
You have probably seen this dish made with corn flakes, but if you don't have those on hand any cracker will do.  Ritz, butter, or my favorite, the Chicken in a Biscuit cracker works well.  Crumble them up and sprinkle on top.  Cover with foil and bake for about 30 minutes, then remove and continue cooking for about 10 more minutes.  The crumb topping will hide your gooey cheese, but trust me, it's in there. Prepare to have the dish emptied!!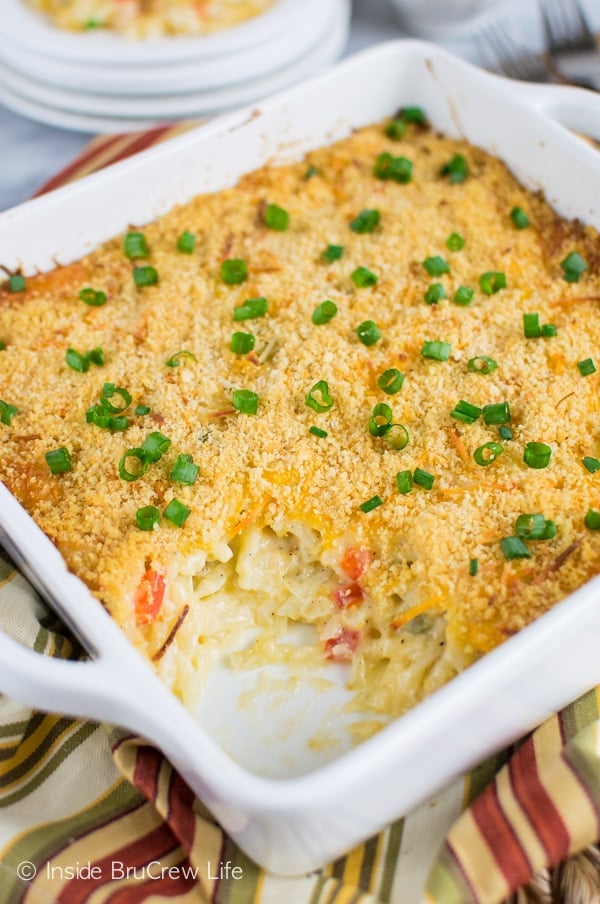 Stay up to date on all the BruCrew baking here:
FACEBOOK | PINTEREST | GOOGLE+ | TWITTER | INSTAGRAM | BLOGLOVIN
 Sign up to receive an email in your inbox for each new recipe:
EMAIL SUBSCRIPTION
Yield: 12 servings
Homemade Hash Brown Casserole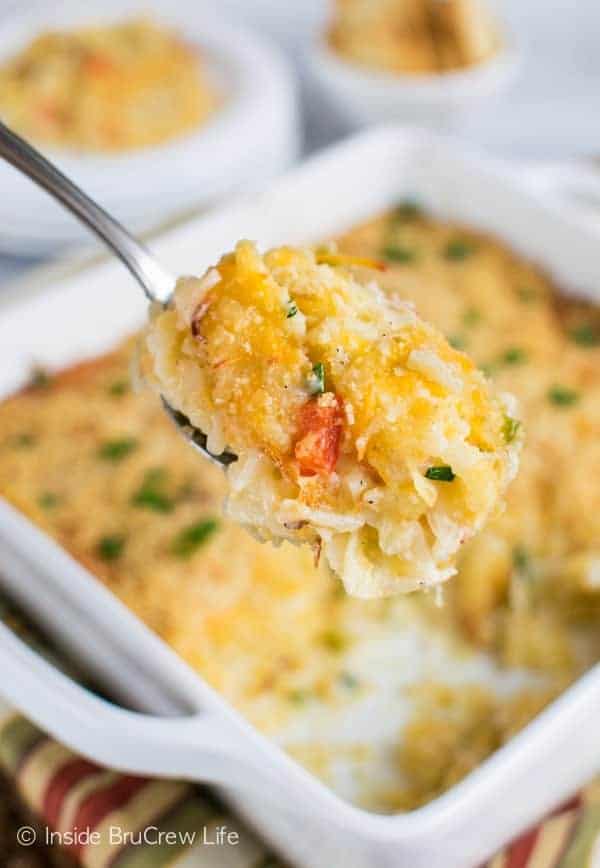 This Homemade Hash Brown Casserole is a cheesy dish that is perfect for brunch or as a side dish to any meal.

Prep Time 20 minutes

Cook Time 40 minutes

Total Time 1 hour
Ingredients
4 Tablespoons butter
1/2 cup diced onion
1/2 cup diced red pepper
1/2 cup diced green pepper
4 Tablespoons flour
1 cup milk
1 cup chicken broth
1 cup sour cream
4 cups shredded cheddar cheese, divided
1 - 30 ounce bag frozen shredded hash brown potatoes, thawed
salt and pepper
green onions
3/4 cup crushed crackers (we use Chicken in a Biscuit) (optional)
Instructions
Preheat oven to 375 degrees. Spray a 9x13 pan with nonstick spray.
Melt the butter in a large saucepan. Add the onions and saute for 2 minutes. Add the green and red peppers and cook for another 2 minutes.
Sprinkle the flour over the mixture and stir in. Stir and cook for an additional minute.
Whisk in the milk and broth slowly. Cook for a few minutes until thickened slightly.
Stir in the sour cream and 2 cups of cheese until melted and creamy.
Stir in the thawed potatoes until coated. Season to taste with salt and pepper. Stir in 1 more cup of cheese.
Pour into prepared pan. Sprinkle the remaining cheese on top. Top with the cracker crumbs if desired.
Cover with foil and bake for 30 minutes. Uncover and cook 10 minutes longer. Top with green onions and serve hot. Serves 12.
Notes
* You can add bacon or ham to the potato mixture before pouring into the baking dish.

**This is a great casserole to freeze for a later meal. Prepare and pour into a foil pan. Let cool, then cover and freeze. Thaw overnight before baking.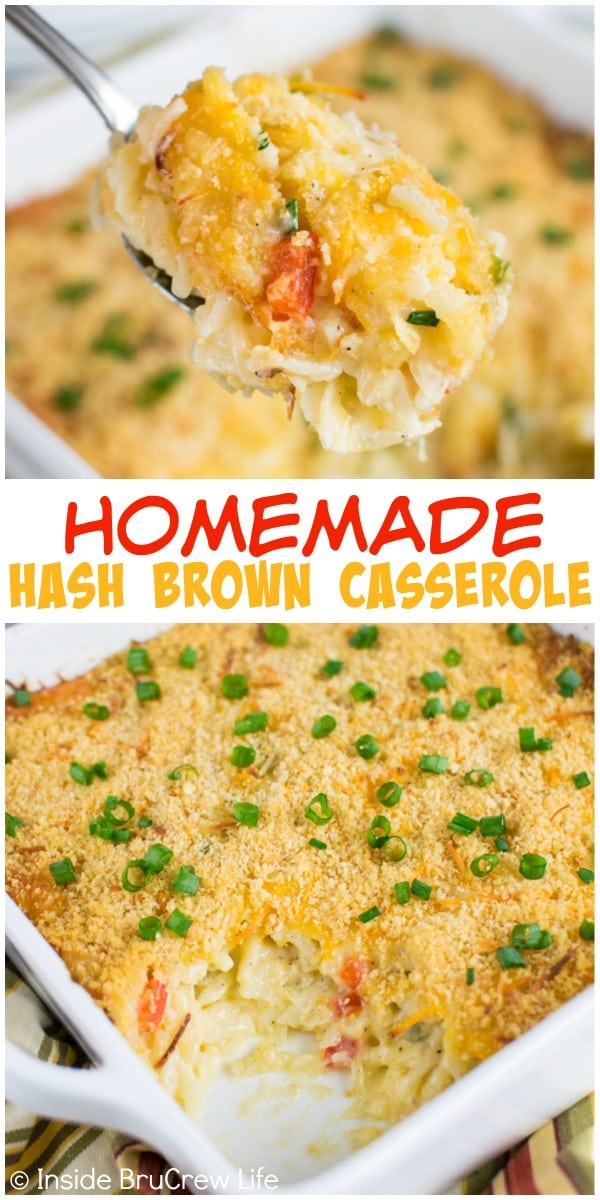 Here are a few more recipes we enjoy making for Thanksgiving dinners: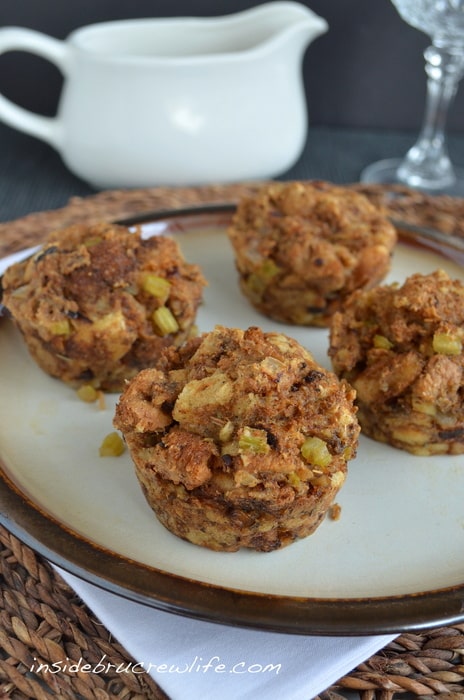 Stuffins (Stuffing Muffins)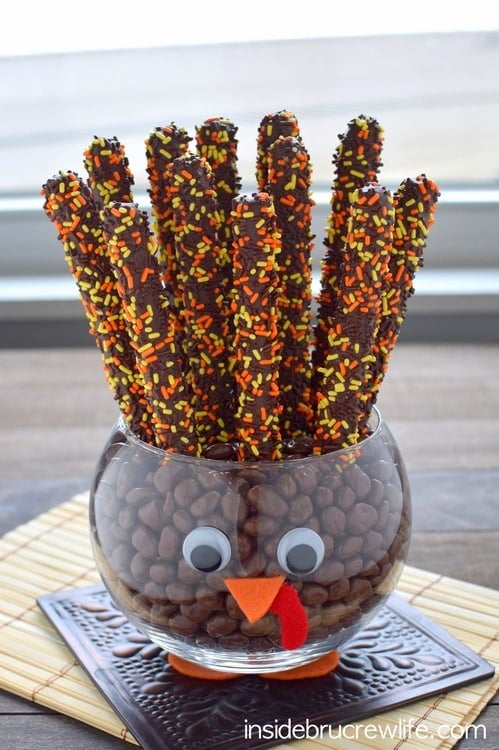 Chocolate Covered Pretzels in a Turkey Jar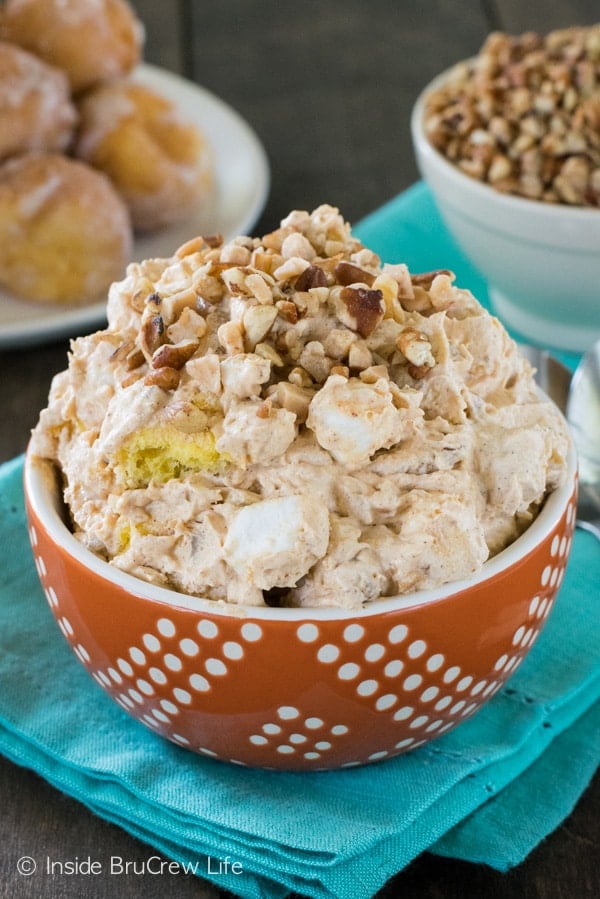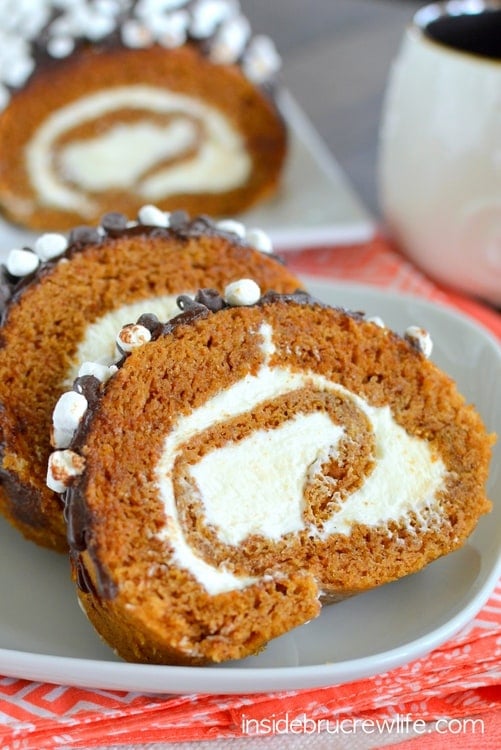 More delicious dishes to add to your Thanksgiving meal: