These homemade Vanilla Cherry Pie Cupcakes are a fun way to celebrate at any party.  The surprise cherry center will make everyone smile when they find it.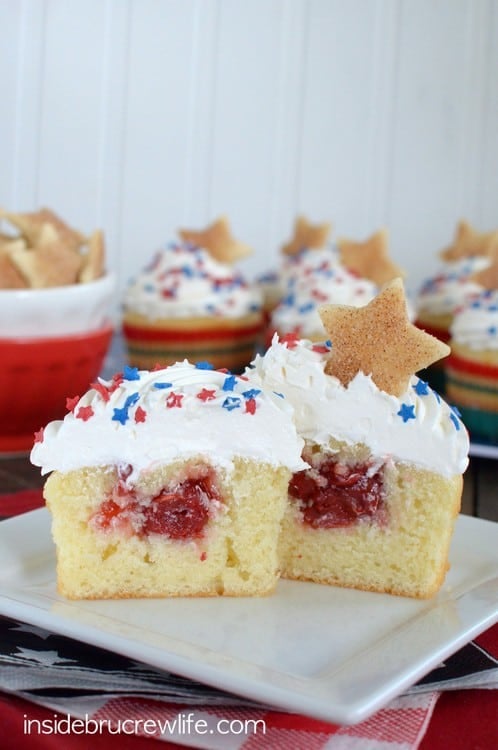 Do you long for the lazy days of summer?  It's been so long since we have actually had a summer with absolutely nothing to do.
I remember when our kids were little, and we would look forward to summer time because it meant nothing but pool days and park fun.
Then our kids started getting older, we changed jobs, started a new business, and realized that summer is really just another season with more things to do.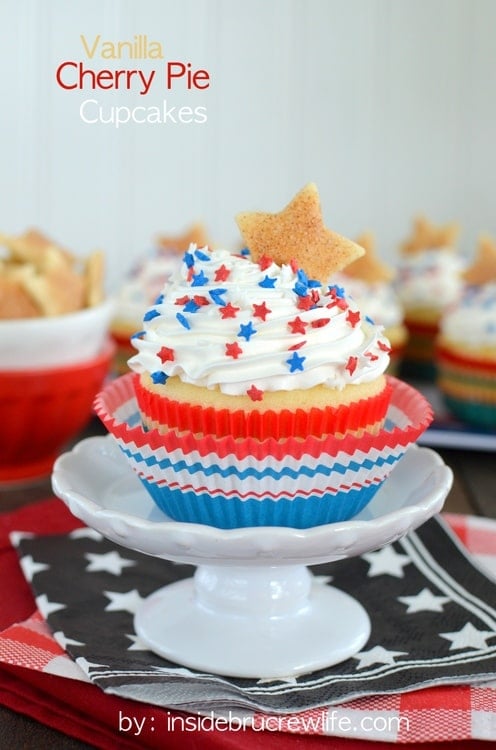 Now don't get me wrong.  There are still plenty of lazy days basking in the sun at the pool, going for a drive to get milkshakes, or making a frozen salted caramel mocha hot chocolate at home.
But those fun things are scattered among baseball practice, soccer practice, dance classes, church activities, and work time.  And don't forget about trying to get quiet time, work out time and baking in between all the running around.
I'm feeling a nap come on just thinking about all of it.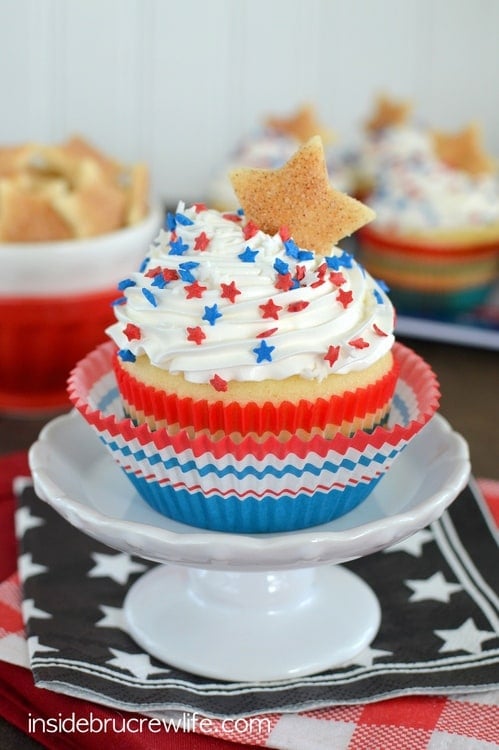 This week we are getting things together for my husband to lead a team into Haiti for another pastor's conference.  (You can read about the Haiti Pastor's conference and the lessons I learned from my trip to Haiti if you are interested.)
Plus, two of our kids will be celebrating their birthdays while he is gone, so we have a special birthday dinner for our family before he leaves.  I should probably finish the food for that…
And then just when I thought baseball was over, our youngest got chosen for the All Stars baseball team, so more practices and games just went on the next few week's schedule.  I am super excited for him though.
This year he really stepped it up and played his heart out.  It was so fun to watch the games and see that he knew where the ball needed to go each time he got it.  I love that our kids are so involved in sports and enjoy playing the game.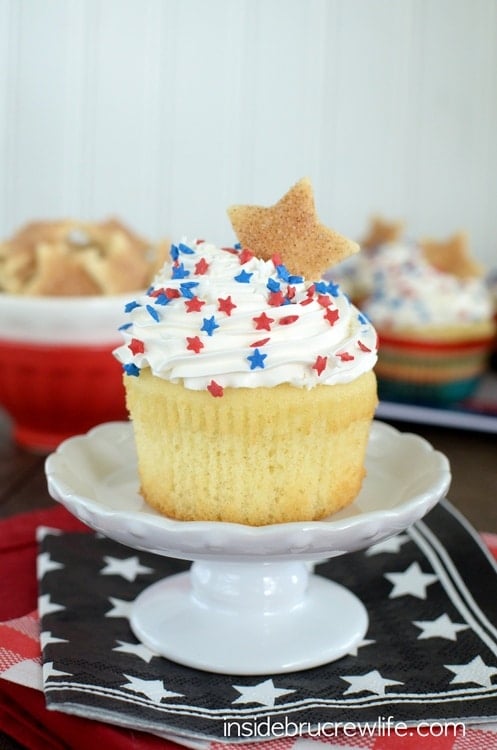 Thank goodness for taking time out of each week to just relax and live life.  A few weekends ago we had a birthday party for my father in law with our whole family.  It was a day of nothing but eating, talking, and playing frisbee.
Oh, and snuggling the little nephews and nieces.  One of my little nephews just adores my daughter, so it is so cute to watch him follow her around with stars in his eyes.  She is such a good big cousin and will play with him all day long too.
One of the ways I like to relax is by spending time in my kitchen.  Birthday parties need cake or cupcakes, right?  So the day before the party I finished everything early, so I could experiment with these vanilla cherry pie cupcakes.  Usually I am a cake mix kind of girl, but today's recipe is for a homemade cupcake.  If you want to use a box mix, go right ahead, but those will be slightly lighter and fluffier and might fall apart more with the filling inside.
This recipe is a little bit heavier making it perfect for hiding pie filling in the center.   I used a can of cherry pie filling, but you could absolutely use your favorite kind.  Lemon curd, chocolate pudding, hot fudge…the filling ideas are endless!  What would you fill yours with?
Since this is a cherry pie cupcake, we need to have some sort of pie crust in it, right?  You can use one refrigerated pie crust and cut shapes out of it.  Sprinkle the shapes with a cinnamon sugar mixture and bake.  Stars are great for the 4th of July, but you could do any small shape to go with your theme parties.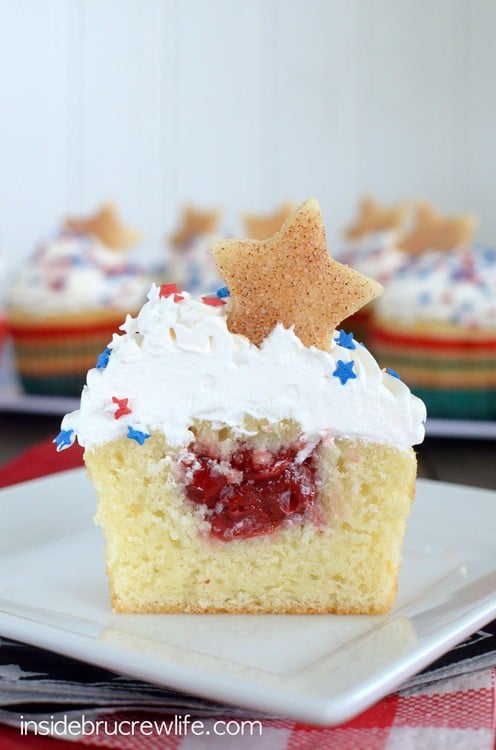 Stay up to date on all the BruCrew baking here:
FACEBOOK | PINTEREST | GOOGLE+ | TWITTER | INSTAGRAM | BLOGLOVIN
 Sign up to receive an email in your inbox for each new recipe:
EMAIL SUBSCRIPTION
These easy Vanilla Cherry Pie Cupcakes are a delicious treat for summer. A homemade cupcake with a cherry center will make every one smile!
Ingredients
For the Vanilla Cupcakes

1 cup butter, softened
1 1/4 cups sugar
4 eggs
2 teaspoons vanilla extract
1 1/4 cups buttermilk
2 1/2 cups flour
1 teaspoon baking powder
1/2 teaspoon baking soda
1/2 teaspoon salt
For the Topping and Filling

1 refrigerated pie crust
1 1/2 Tablespoons sugar
1 teaspoon cinnamon
1 - 21 ounce can cherry pie filling (you will only use 1/2 can)
2 - 10.6 ounce containers Cool Whip Frosting
colored sprinkles
Instructions
Preheat the oven to 350 degrees. Place 24 lines in a cupcake pan.
Beat the butter and sugar until creamy. Add the eggs and vanilla and beat again.
Sift together the flour, baking powder, baking soda, and salt. Add this alternately with the buttermilk until all has been mixed in.
Beat the mixture for another 1-2 minutes on medium.
Fill the liners with the batter. Bake for 16-17 minutes or until a toothpick comes out with just a few crumbs on it. Let cool completely.
Stir together the sugar and cinnamon. Unroll the pie crust according to the package directions.
Cut out mini star shapes. Place on a baking sheet and sprinkle lightly with the cinnamon sugar mixture. Bake at 350 degrees for 7-8 minutes. Let cool.
Use a cupcake corer and remove the center of each cupcake. Use a teaspoon to fill the centers with cherry pie filling. Top each cupcake with a generous swirl of Cool Whip Frosting.
Add fun colored sprinkles and a star pie crust topper. Makes 24 cupcakes. Store the cupcakes in a sealed container in the refrigerator.
Notes
*If you cannot find the Cool Whip Frosting, you can also use 1 - 3.4 box instant vanilla pudding whisked into 1 cup milk, then stir in 1 - 8 ounce container Cool Whip.
https://insidebrucrewlife.com/vanilla-cherry-pie-cupcakes/
Copyright Inside BruCrew Life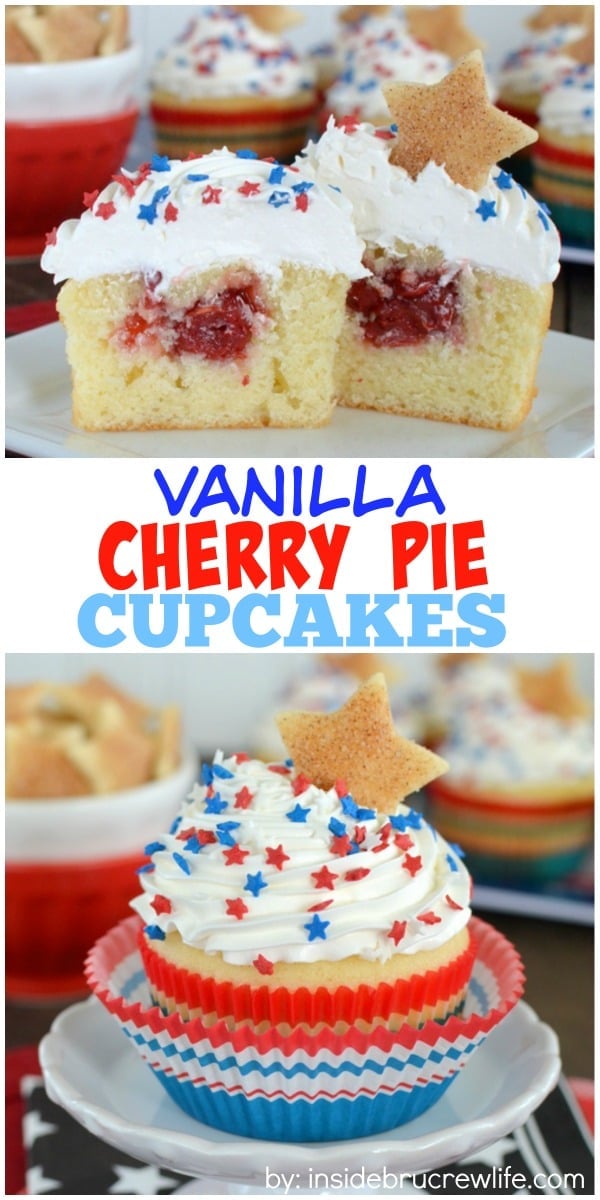 More fun cupcakes for summer from my friends: