This White Chocolate Peppermint Oreo Cake is loaded with cookies and peppermint candy cane pieces. It is an easy cake that looks impressive. Show off your baking skills at all the holiday parties with this awesome treat.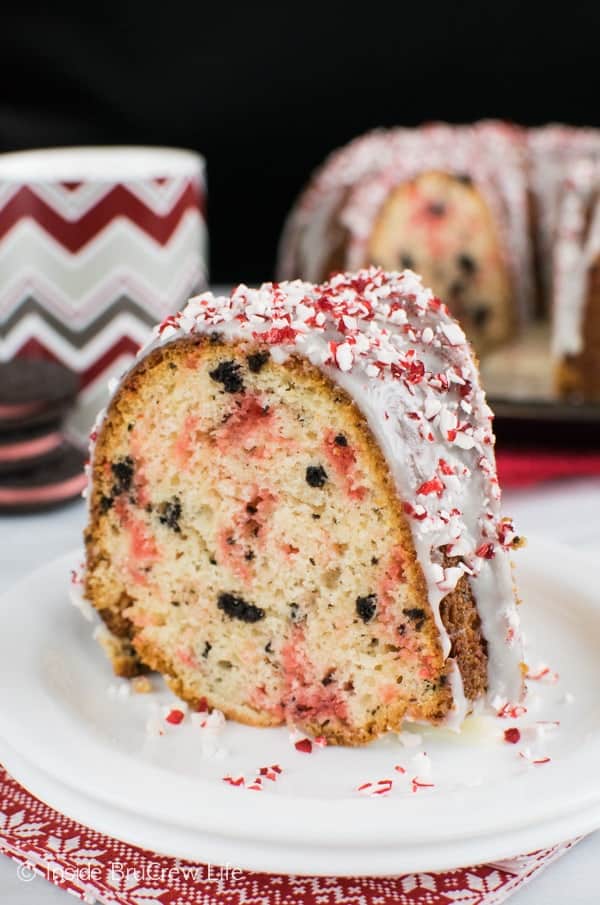 Falalalala...it's time to peppermint all the things. And I do mean all the things!!! As soon as December hits, I can't wait to add candy cane chunks to EVERY.SINGLE.THING that I bake in our kitchen.
Yes, I'm kind of obsessed with peppermint everything right now! I hope you don't mind, but I have quite a few treats to share this month with my beloved flavor.
And I realized as I was looking through all the things I made so far, that I paired most of these treats with Oreo cookies. It's apparently a flavor combo I can't stop making. I mean these Oreo Peppermint Crunch Cookies are still going strong, so why not, right? I hope you are ready for some peppermint cookie goodness!!!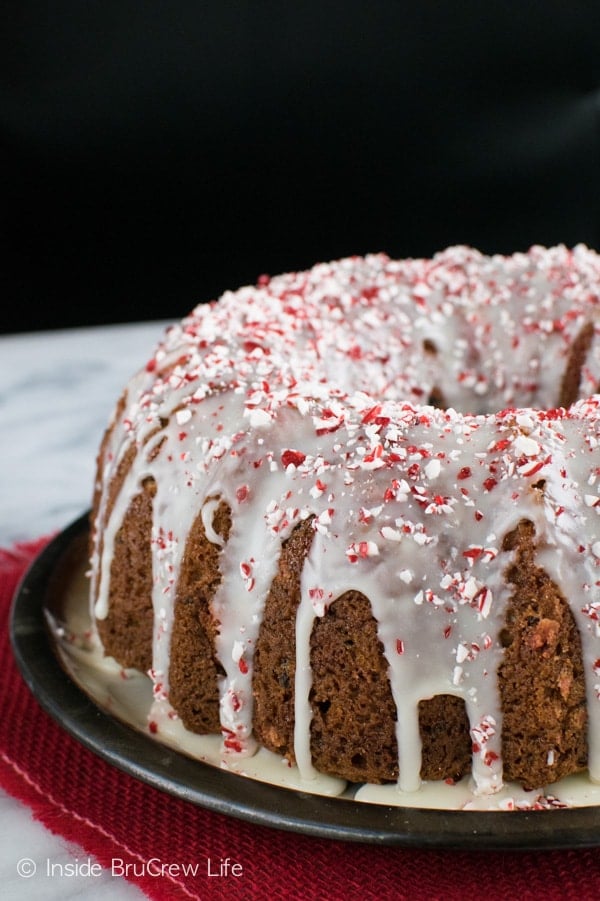 There are times when you want to make an over the top cake for holiday parties. Be sure to check out this Candy Cane Chocolate Cheesecake Cake for those dinner parties where you need that extra special cake.
But then there are times when you want a cake that looks super impressive, tastes amazing, and is very easy to make.
Since I'm all about peppermint chunks and Oreo cookies this month, I added both to an easy bundt cake.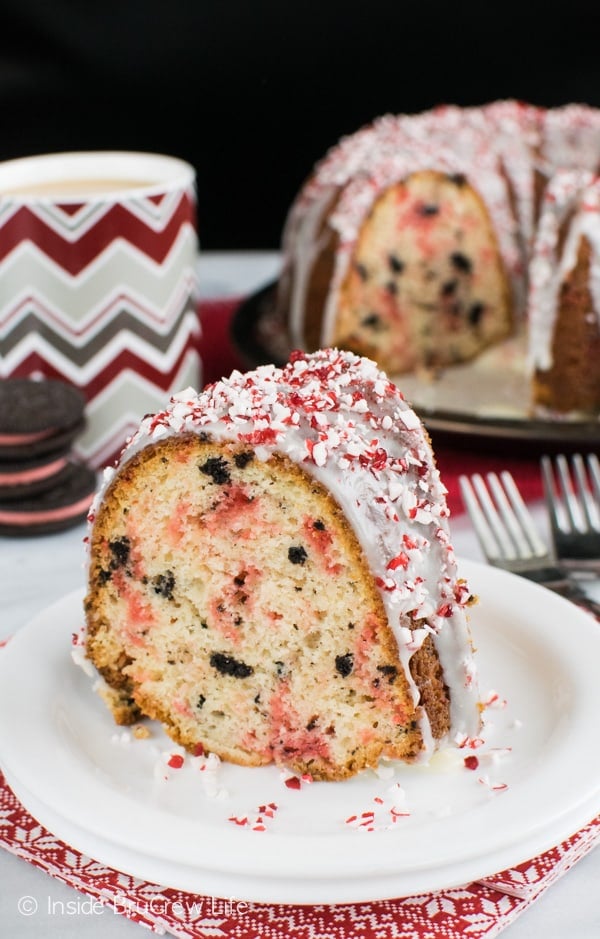 Something about a bundt cake makes me smile. I don't know what it is about those ridges, but I love them on a cake.
I know that sometimes bundt cakes can cause problems because they like to stick. My all-time favorite trick for baking with a bundt pan is using Baker's Joy. Knock on wood, but I haven't had one stick yet using this spray.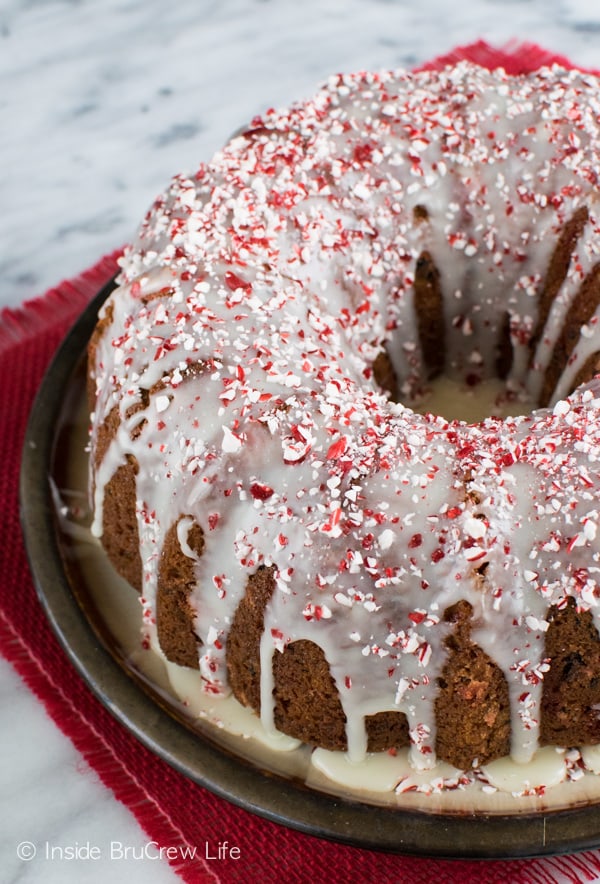 This jazzed up box mix has white chocolate pudding, peppermint Oreo chunks, peppermint candy pieces, AND peppermint mocha coffee creamer. I told you I was all about peppermint!
After the cake cooled, it got a drizzle of white chocolate ganache made with more peppermint creamer. Then you guessed it...more candy cane pieces sprinkled on top to finish it off.
My family went crazy for this white chocolate peppermint Oreo cake. My husband isn't usually a big sweets eater, and he kept taking slivers. Our daughter said this was the best cake I have made in a while. Thank you...I think. LOL!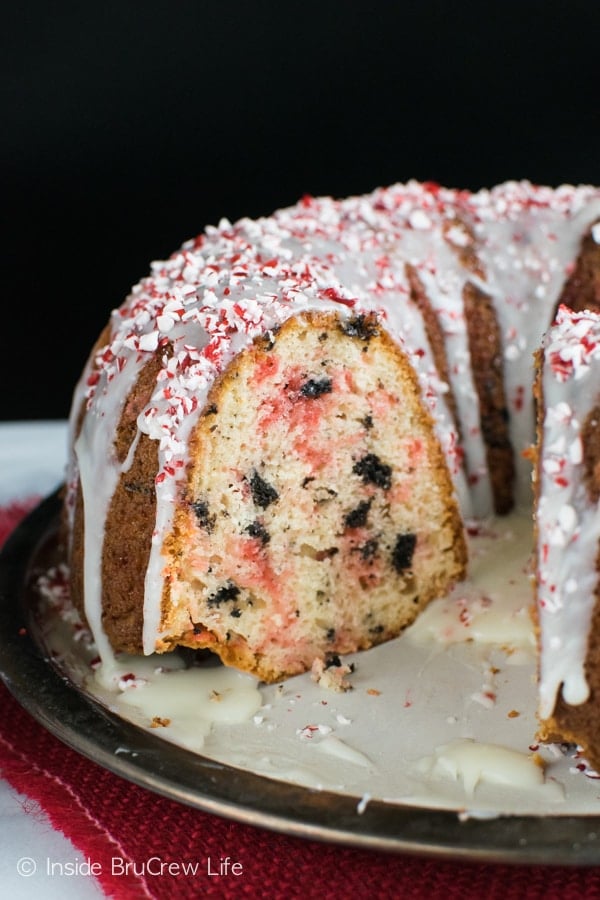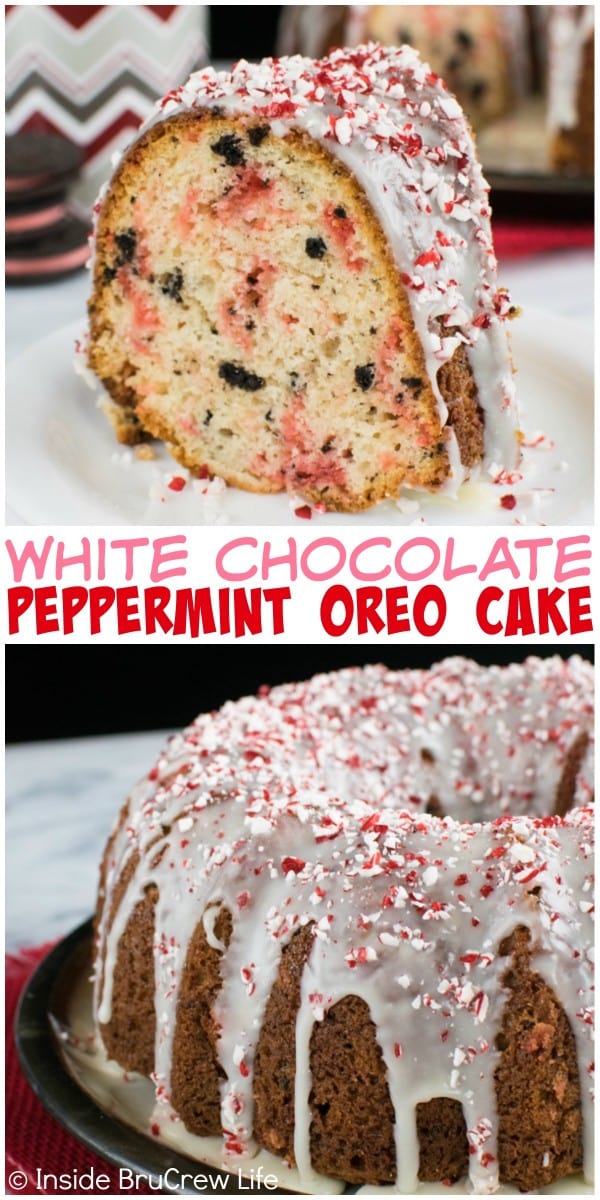 More peppermint treats from other bloggers: