Candy Cane Chocolate Cheesecake Cake: Chocolate cake and chocolate cheesecake come together to make an amazing cake. Adding peppermint marshmallow frosting and candy cane piece turns this cake into an impressive holiday cake worthy of sharing at any party.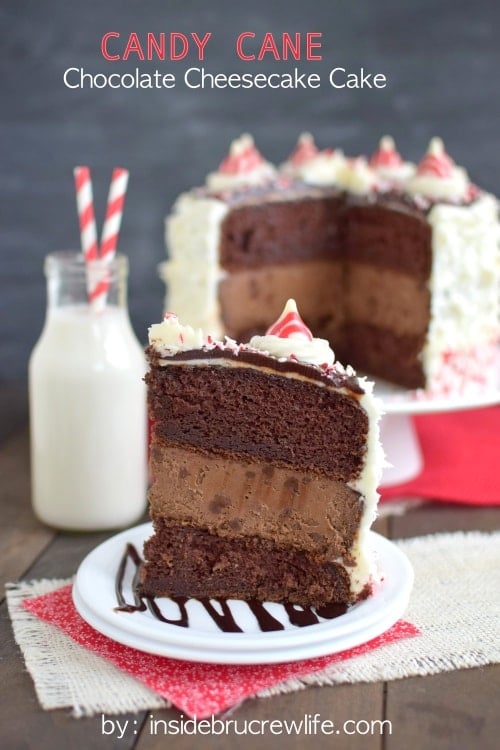 You guys...
this cake is about to knock your socks off. Like completely! Are you ready for lots of peppermint goodness now that it is December?
And just to warn you there are about a billion pictures because I couldn't decide which ones to share...I'm sorry for slowing your computer down with all the pics on a Monday. But seriously, get ready to drool all over your keyboard. #youarewelcome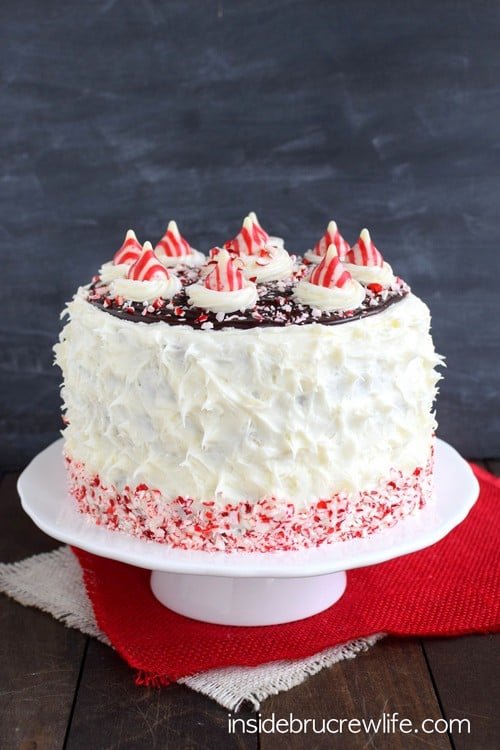 So most of the time I have a reason for making a dessert. There is usually some sort of meeting or class or life group that needs a delicious treat. Ok, ok, they might not "need" it, but I sure love making and sending sweets for them anyway.
But on Saturday I got the brilliant idea to make this cake because it has been way too long since I made a big layer cake. The last one was this Lemon Cheesecake Cake two years.
Two years??? I have made bundt cakes, icebox cakes, and eclair cakes, but layer cakes have been missing in action. It was definitely time for some cake fun to happen in my kitchen.
After I decided how I wanted it to be, I couldn't get it out of my head. So with no plan to get rid of this delicious monster of a cake, I went ahead and made it anyway. I figured it wouldn't be hard to find someone to help me out with devouring it.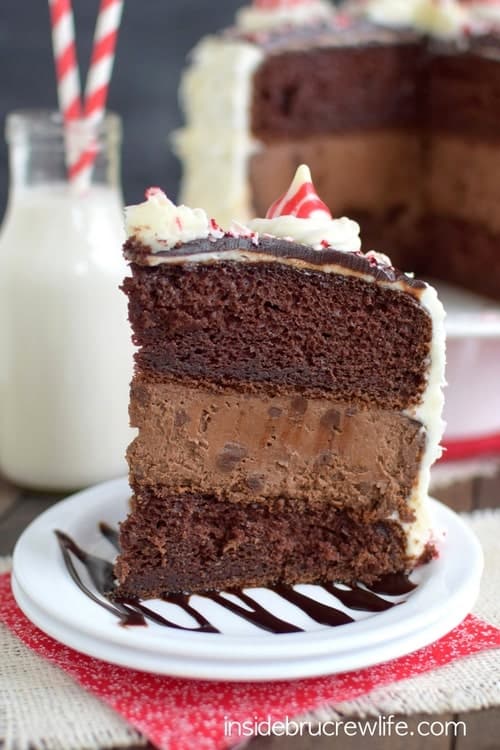 Time for another confession...I had most of the ingredients to make this cake already in my kitchen. We had to run some errands, so I was able to pick up the 2 ingredients missing from my recipe.
I really need to start baking things from just what is in my fridge and cupboards. #bakinghoarderhere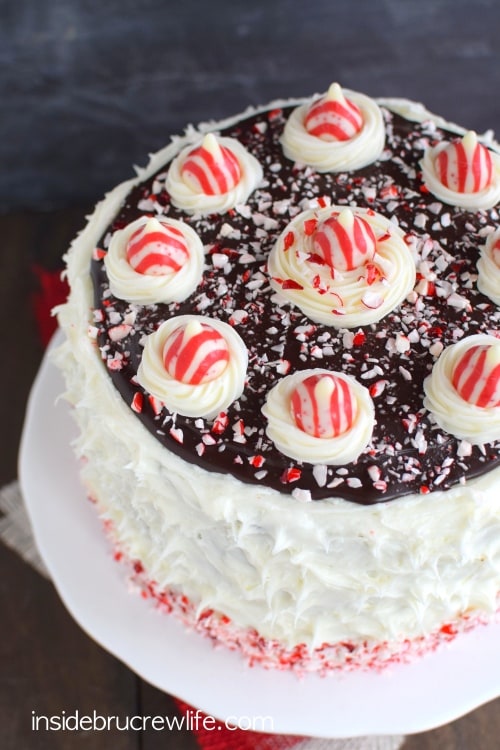 Do not let this holiday cake scare you from attempting it! It was actually so easy to do. The hardest part is waiting for all the layers to bake. It does take some time in baking and cooling, so make sure you have enough time set aside for that.
How to make the Chocolate Cheesecake Layer:
This one does take the longest to bake and cool, so it would be a good idea to make that the day before. Make sure to get the cream cheese out early and let it come to room temperature. If it is still cool, warm it up a few seconds in the microwave, removing the foil first of course.
Do not over beat your cheesecake mixture. Too much air is not a good thing for baking a cheesecake...I hear it can cause cracks!
Now for the baking...some people swear by water baths. I am not one of them!!! I do add water to my oven, but the cheesecake does NOT go in it.
Place a large baking sheet on the rack under the one you will be baking the cheesecake on. Fill it with hot water and turn the oven on. Let it heat up while you are getting the cheesecake batter ready.
After the cheesecake is finished baking, remove it right away. No need to let it sit in the hot oven over baking. After 5 minute, run a knife around the outside edges of the cheesecake to loosen it from the pan, but do not remove the sides of the pan. Let it continue cooling on the wire rack for another hour.
Chill the chocolate cheesecake in the refrigerator for 4-6 hours. Do not stress out if it does crack even after all the precautions. It is going inside the cake, so no one will ever know! True story!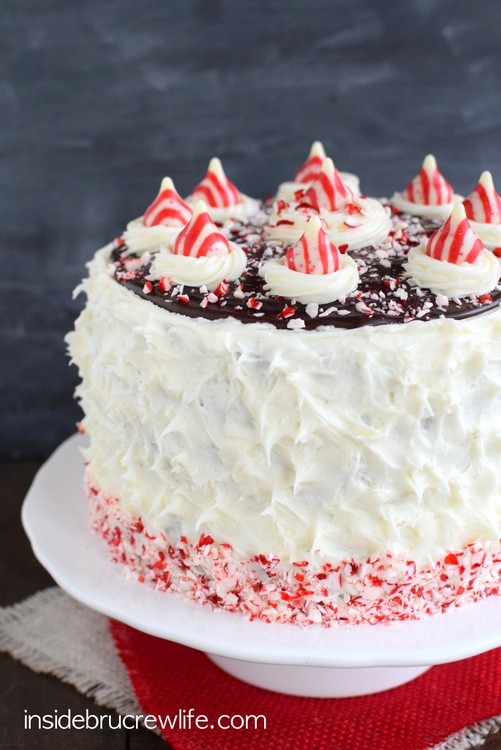 Tips for making this Candy Cane Chocolate Cheesecake Cake:
Now for the cake layers. Mix up the batter and divide it into 2 equal parts. Bake each portion in an 8-inch round pan. Let them cool in the pans for about 15 minutes and then flip out to cool on a wire rack.
You can mix up the frosting while these are cooling. Do not eat a spoonful of frosting when it is done because then you will want to keep eating spoonfuls and you will not have enough to decorate the cake with.
There is just enough frosting, so keep the spoons out of it, unless you plan on making a double batch. In that case, have at it! Just be sure to set ⅓ cup of frosting aside for decorating the top!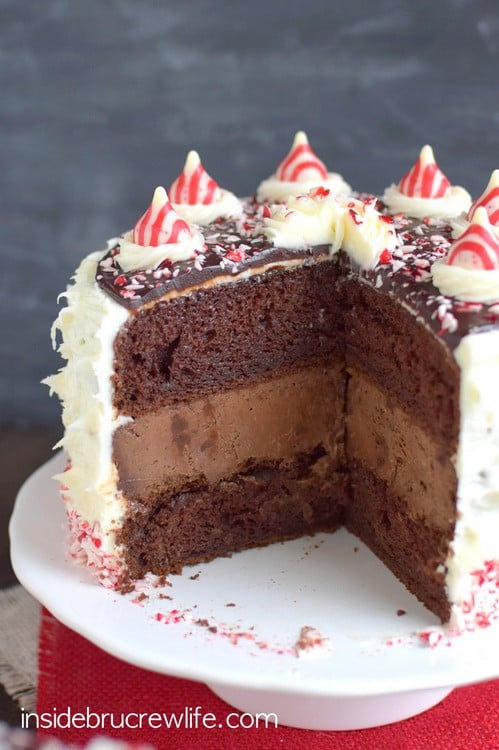 Now for the fun part...cake assembly! Place cake layer 1 on a plate and top it with the cheesecake layer and then cake layer 2.
Spread a thin layer of frosting on the top. Use the rest to frost the sides. Use the side of a knife to tap the frosting gently to give it the fluffy look.
Make a small batch of chocolate ganache for the top, but let it cool for 10 minute before spooning on top. Why? Because hot, melted chocolate and soft sugar frosting do not mix well, and you would have a cake flop on your hands.
While it is cooling, use a spoon to gently sprinkle the sides of the cake with candy cane chunks!
Spread out the ganache, sprinkle with crushed candy canes, and chill for 10 minutes in the refrigerator. Then swirl on the last of the frosting (if you haven't eaten it all already) and top it with the Candy Cane Kisses.
Now slice a large piece and reward yourself for all your hard work! You deserve it!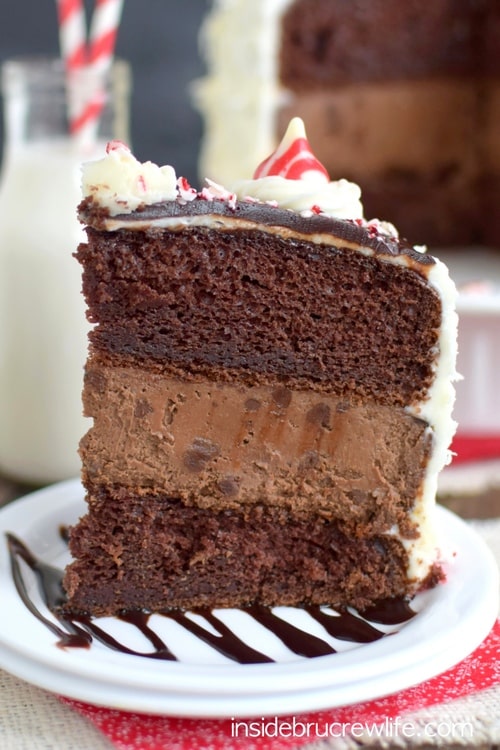 More delicious peppermint desserts for the holidays: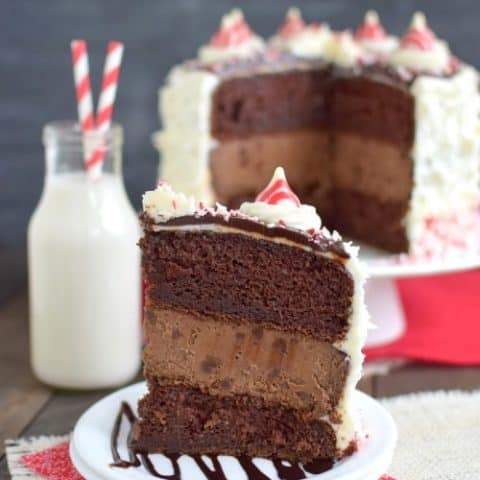 Candy Cane Chocolate Cheesecake Cake
Cook Time:
2 hours
15 minutes
Total Time:
3 hours
15 minutes
Chocolate cake and chocolate cheesecake come together in one amazing cake. Adding a peppermint marshmallow frosting and candy cane pieces makes it the perfect holiday cake for any party.
Ingredients
For the Chocolate Cheesecake
2 - 8 ounce packages cream cheese, softened
⅔ cup sour cream
⅔ cup sugar
2 eggs
2 teaspoons vanilla extract
2 Tablespoons flour
6 ounces baking chocolate, melted
½ cup miniature chocolate chips
For the Chocolate Cake
1 chocolate cake mix
3 eggs
½ cup oil
½ cup sour cream
1 cup chocolate milk
For the Peppermint Marshmallow Frosting
½ cup butter, room temperature
½ cup marshmallow cream
pinch of salt
1 teaspoon vanilla extract
1 teaspoon peppermint extract
4 cups powdered sugar
5 Tablespoons heavy whipping cream
For the Chocolate Ganache
¼ cup heavy whipping cream
½ cup dark chocolate chips
crushed candy cane pieces
9 Candy Cane Hershey Kisses
Instructions
Preheat the oven to 350 degrees. Place a large sheet pan on the bottom rack and fill halfway with water.
Line the bottom of an 8-inch springform pan with parchment paper.
Beat the cream cheese, sour cream, and sugar until creamy. Add the eggs, vanilla, and flour and beat again.
Melt the baking chocolate according to the package directions and slowly add to the cream cheese mixture while the mixer is going.
Stir in the mini chocolate chips by hand.
Pour the cheesecake batter in the pan. Bake the cheesecake for 50 minutes. Do not over bake.
Remove the cheesecake from the oven and place on a wire rack. After 5 minutes run a knife around the edge of the cheesecake to loosen the cheesecake from the pan. Do not remove the sides of the pan. Cool on a wire rack for 1-2 hours. Leave in the pan and refrigerate 4-6 hours or overnight.
Preheat oven to 350 degrees. Grease and flour 2 - 8 inch cake pans.
Combine the cake ingredients and beat on low for 1 minute and medium for 2 minutes.
Pour the batter into the prepared pans and bake for 25-27 minutes or until a toothpick comes out with only a few crumbs sticking to it. Cool in the pan for 15 minutes before flipping out on a wire rack to cool completely.
Beat the butter, marshmallow cream, vanilla, peppermint, and salt in a mixing bowl.
Slowly add the powdered sugar and whipping cream and beat for 1-2 minutes until light and fluffy. Set aside ⅓ cup frosting for the garnish.
Place one cake layer on a plate. Top with the cheesecake layer. Add the last cake layer on top of the cheesecake.
Spread a thin layer of frosting on the top. Use the rest of the frosting on the sides of the cake.
Use the side of the spatula to pull out the frosting to look fluffy. Use a teaspoon to sprinkle crushed candy cane pieces on the very bottom of the cake and press in with your hands.
Bring the heavy cream to just below a boil. Remove from the heat and stir in the chocolate chips until melted and creamy. Cool for 10 minutes.
Spoon onto the top of the cake and spread out keeping it from going over the edges. Sprinkle with crushed candy cane pieces.
Refrigerate until set. Swirl the remaining frosting on the top of the cake with a piping bag and icing tip 18. Garnish with the Candy Cane Kisses. Keep the cake covered and refrigerated.
Recommended Products
As an Amazon Associate and member of other affiliate programs, I earn from qualifying purchases.
Nutrition Information:
Yield:

14
Serving Size:

1
Amount Per Serving:
Calories:

733
Total Fat:

46g
Saturated Fat:

23g
Trans Fat:

1g
Unsaturated Fat:

19g
Cholesterol:

142mg
Sodium:

238mg
Carbohydrates:

74g
Fiber:

3g
Sugar:

61g
Protein:

8g