Looking for another fun treat to fill the Easter baskets with this year?  These Nutella Cream Eggs are easy to make and taste out of this world.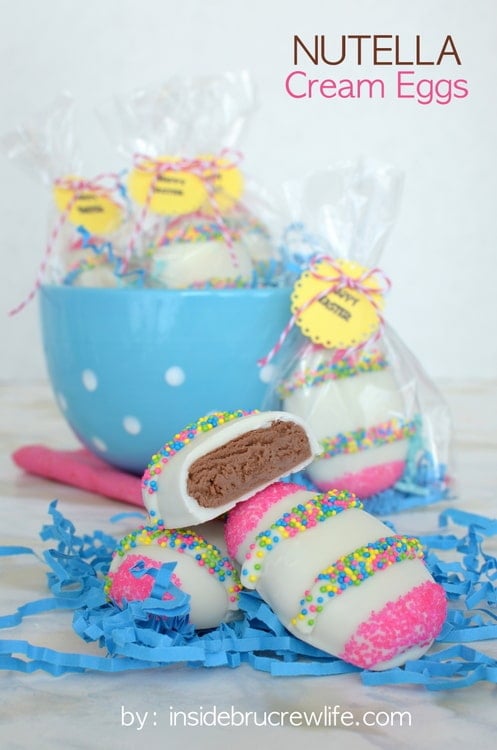 Do you have one thing that you remember getting in your Easter basket every year?  Every year my grandparents would get us these big peanut butter Easter eggs with our names on them.  I looked forward to those eggs! They were amazing!
The other thing I remember is the 2 foot solid chocolate Easter bunny that we would get.  If you are laughing because there is no such thing, go right ahead.  My husband chuckles every time I talk about it.  He says my bunny gets bigger every time I tell it.  But seriously, the thing was huge…at least 2 foot tall!  I swear we were still gnawing on it in July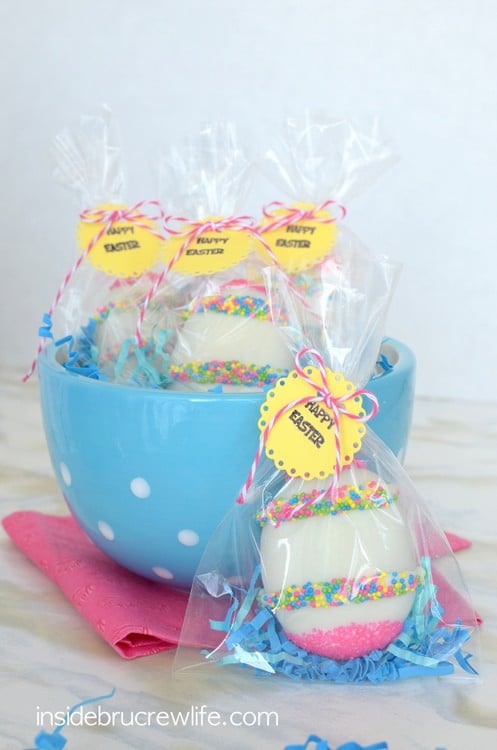 A few years ago I started making my kids a giant homemade peanut butter Easter egg with their names on them.  I like to think it's their favorite thing I put in their baskets.  It is a fun tradition that I am looking forward to continuing until they are out of college.  And then one day, I'll make them for the grandkids.
Oh, my!  Did I seriously just type that?  Nothing like making yourself feel old.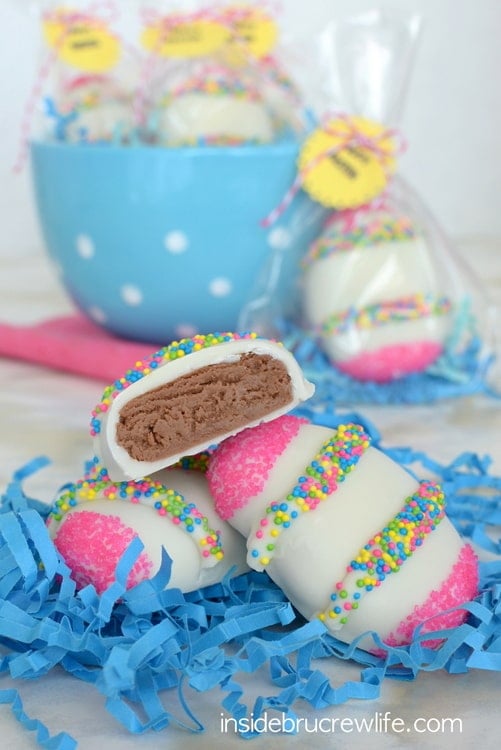 I have been experimenting with different homemade egg flavors each year too.   This year I pulled out the Nutella.  I had a feeling it was going to be absolutely delicious dipped in white chocolate.  Turns out I was right!  You will want to make a batch of these eggs for this Easter season.
One word of warning though.  Since they taste delicious, do not make them too early.  Otherwise they will not last long enough to make it into the baskets.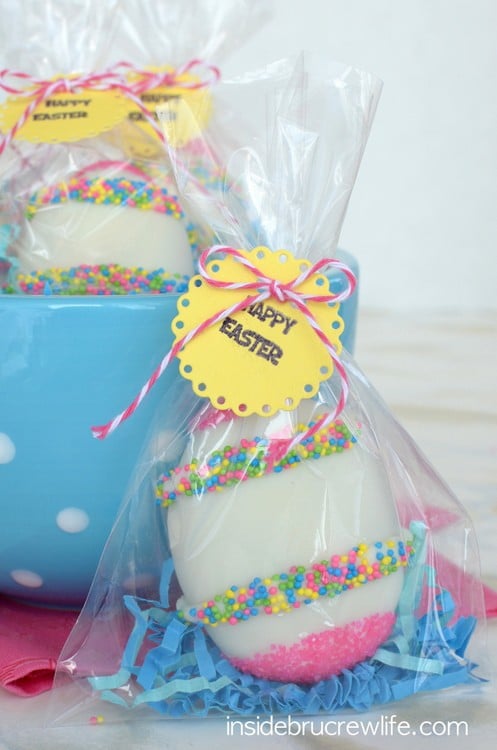 These Nutella Cream Eggs look so cute when they are all bagged and tied up with a cute little ribbon and an Eyelet Circle Punch.   These die cuts make the perfect little tag for gifting little food items like this.
Are you someone who enjoys packaging and sharing cute food gifts?  Check out We  R Memory Keepers/Lifestyle Crafts for so many fun die cuts that are perfect for food packaging.  You can also use the code BRUCREW on Shopwer to receive 20% off your order.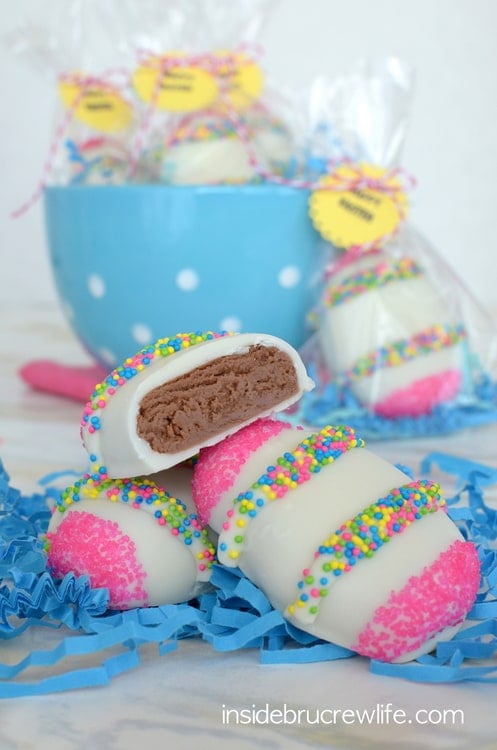 Stay up to date on all the BruCrew baking here:
FACEBOOK | PINTEREST | GOOGLE+ | TWITTER | INSTAGRAM | BLOGLOVIN
A few more fun Easter treats to make for the baskets: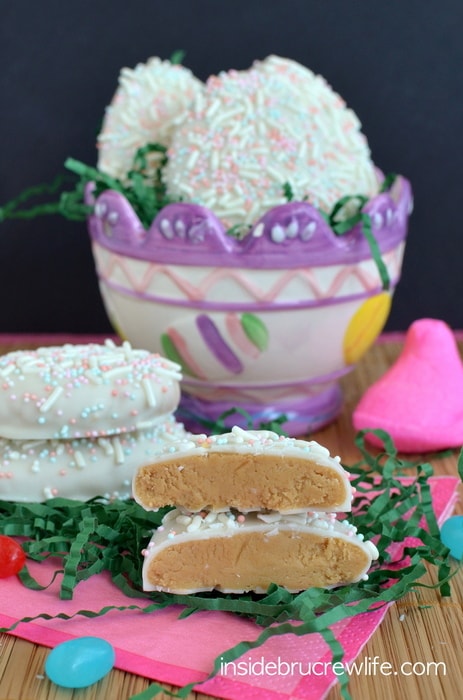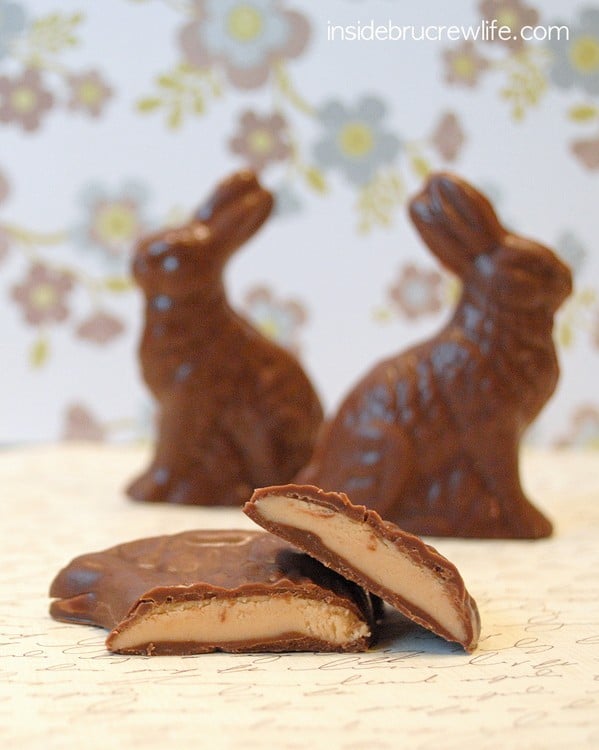 Peanut Butter Filled Easter Bunnies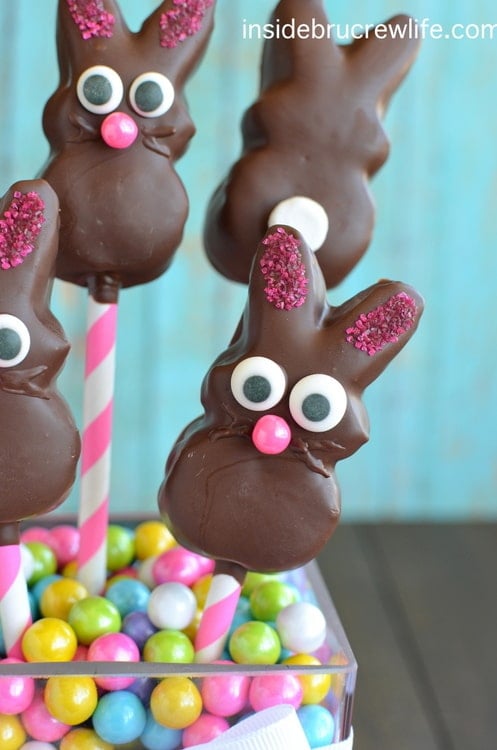 Chocolate Covered Marshmallow Bunnies
*I am a studio member for We R Memory Keepers/Lifestyle Crafts.   I am sent products in exchange for sharing fun projects on my blog.  No other compensation is given.  All opinions are 100% my own.